Nike Golf's new Course Classic shoe takes its heritage from the Nike Tennis Classic shoe. So much so, in fact, that it looks like a tennis shoe.
"This season we wanted to bring something special into our lineup. We wanted a shoe that would be clean, modern, and would work with anyone's style or taste level. We felt the Nike Tennis Classic was a perfect match," said footwear design director James Arizumi. "Golf and tennis are similar in many ways with regards to time honored tradition, sportsmanship, heritage, as well as being classic in every way."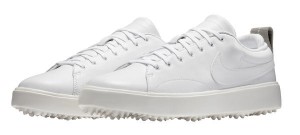 "In designing the shoe, we focused on how it would perform for the needs of golfers, while at the same time adding obsessive details that would make it modern, bold, and, most of all, distinctly ours. We kept the clean topline on the sidewall but re-engineered a new spikeless outsole, that would provide traction on and off the course."
Arizumi said the outsole's geometry was created in partnership with new technology created for Nike footwear designers. The team, according to Arizumi, input years of pressure map data into the system which then provided the designers with multiple iterations of an outsole shape that would provide both the superlative high points of the shoe and map for both comfort and traction.
The Course Classic utilizes what Nike Golf calls combination of "real and synthetic leather'' on the upper and military-grade webbing to create the large pull tab. A full-length Phylon midsole provides lightweight comfort and support.