TaylorMade-adidas Golf CEO Mark King will have a new title on June 1 – President of adidas Group North America. In that role, King will be in charge of all adidas and Reebok operations in the North American market.  Together with adidas Group CEO Herbert Hainer, King will continue overseeing the TaylorMade-adidas Golf business and will serve on an Advisory Board for the company.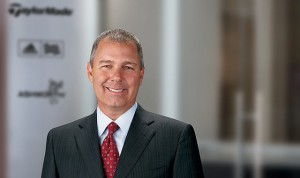 Ben Sharpe, currently executive vice president of adidas Golf and Ashworth, will become the new CEO of TaylorMade–adidas Golf, reporting to Hainer. Founder of Hack Golf and most recently appointed to the PGA of America task force.  King will continue his involvement in Hack Golf and remain on the PGA of America task force.
King, who started at TaylorMade in the 1980s, became company president in 1999 at a time when TaylorMade was an also-ran to Callaway Golf in the men market. TMaG's reported revenues of $1.7 billion in 2013. The company did not disclose its earning, but sources close to TMaG told GearEffectGolf.com it was in the neighborhood of $170 million.
"Mark King's appointment underlines our clear commitment to the North American market-place,'' Hainer said. "Mark has a proven track record of success and leadership excellence. In turn, TaylorMade-adidas Golf is in best hands with Ben Sharpe who has been part of the successful TaylorMade leadership team since 2006. I am convinced that Ben will lead our golf business into the next era of growth."
Sharpe spent six years as TaylorMade-adidas Golf's Managing Director in Europe, where his work doubled the company's business and made it the largest and most successful golf company in the region. Sharpe is also an acclaimed athlete, having represented Great Britain at the Sydney 2000 Summer Olympic Games as a member of the country's field hockey team.