Cobra Golf's new King F7 One Length iron set will be available Jan. 13. Cobra is the first major equipment company to market a "one length'' iron set.
"The 2017 iron offering is Cobra's most innovative and exciting yet," said Tom Olsavsky, head of R&D for Cobra Golf. "Not only have we improved our progressive sets this year, but we are introducing our first-ever One Length option that will help to bring more consistency and simplicity to the game of golf for all players.''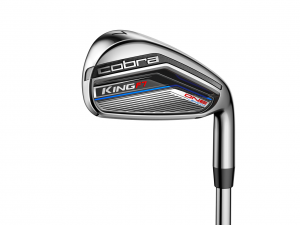 Inspired by the brand's relationship with rising PGA Tour tar, Bryson DeChambeau, Olsavsky says the King F7 One utilizes a similar "TecFlo'' construction as the new King F7 irons with PWRSHELL faces and T.O.P. technology.
Olsavsky said the King F7 One features constant length irons that have been re-engineered for 7-iron length and weighting throughout the set, and are designed with optimized geometry to produce consistent trajectory and distance gapping from long irons to wedges.
Cobra's research, according to Olsavsky, shows that across the board players testing King F7 One irons improved in accuracy, with tighter distance and dispersion variation from shot-to-shot, leading to increased confidence and better iron play. In addition, Olsavsky said, the clubs one-length design simplifies the set-up for one swing through the set leading to more centered club face impacts. Beyond long irons and approach shots, Olsavsky said, Cobra testing demonstrated improved short-game performance with the single-length set, due to the simplicity of set-up and execution.
"I approach the game of golf a lot differently than most, primarily from a scientific standpoint," said DeChambeau. "I have a more technical, unique swing than many other players, but there is a misconception that single-length irons are only for a single-plane swing like mine. That is simply not true. Regardless of how you swing and what your skill level is, you can benefit from the simplicity of a constant length set of irons.''
The King F7 One will sell on most shelves for $699 steel and $799 graphite (through custom only) and will be available in both right-hand and left-hand versions, in steel stiff and regular flex, and graphite stiff, regular and lite flex, and will feature a 5-GW standard set make-up.