Just a few days prior to the annual PGA Merchandise Show in Orlando (Jan. 25-27), Snell Golf has expanded its executive leadership team, coming off a year in which the company says its sales increased by nearly 400 percent. The golf ball company has added Mark Armistead, a 30-year veteran of the golf industry as its Vice President of Sales, and Jason Almeida as its Director of Marketing.
​Armistead, whose resume includes experience on both sides of the counter (as a PGA professional and as a company sales manager) for some of the biggest names in the game including TaylorMade, Cleveland Golf and Srixon, joins Snell after most recently serving as national Golf Buyer for Sports Authority.   Armistead is charged with leading Snell Golf's efforts to expand its sales opportunities in both the digital and brick-and-mortar retail spaces.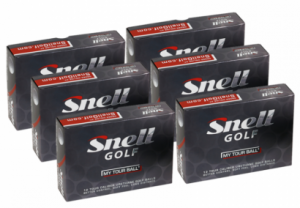 Almeida, whose agency Pin Tight Marketing served as marketing consultants to Snell Golf since its inception, brings a diverse background in digital marketing, social media programming, media buying and creative management to the Snell Golf team.  Almeida is charged with overseeing all of Snell Golf's marketing and promotional activities.            
"We couldn't be prouder of the team we've assembled at Snell Golf," said Dean Snell, President and CEO of Snell Golf.  "Mark has a long track record of success in golf industry sales and Jason has played an integral role in getting us to where we are today, so I am very excited to add both of these gentlemen to our team in a full-time capacity.
"We are coming off a year in which we grew our sales by nearly five times, are now sold in 10 countries and we have traditional golf retailers coming to us looking to stock our balls due to demand from consumers.  Things are great at Snell Golf and I believe we're well positioned to continue our rapid growth through 2017 and beyond."