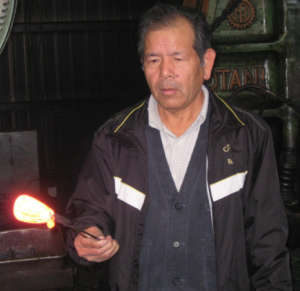 The photo at left shows Katsuhiro Miura in his natural element, on the shop floor of the golf club company he founded and leads, Miura Golf. The company's president, Adam Barr, drew on his long-practiced journalism skills to offer readers at TheAPosition.com a telling portrait of one of modern golf's premier artisan clubmakers.
In a coffee shop, between bites of lunch, I watched as he flexed his hands slowly. Fingers smoothly opening and closing like a cage around an invisible ball. Or club head. "I just realized," I said. "You haven't ground a club in…what, five days?"
Miura-san waited for the translation patiently, then answered in the affirmative. Hai.
"And when you get back, how long will it take for you to get back in the…well, you know, the grinding groove?" I said. The translator grinned, wondering how he was going to make that one work in Japanese. Miura-san listened, smiled. "Ano…," he began in Japanese, "Well…perhaps a half day," he said. "Until I really get back to where I want to be." I nodded. We both looked out the window at the rain falling out of a deep grey autumn sky in Half Moon Bay. He flexed his hands again.
Do not think for a moment that Katsuhiro Miura was not glad to be in Half Moon Bay. He was in the United States to meet with golfers who play — or want to play — the forged irons, wedges, putters and other clubs he makes at the company he founded in Himeji, Japan, not far from Osaka. We had attended three receptions so far in Canada and California, with a fourth on the way, and Miura-san was overwhelmed at the enthusiasm with which people reacted when they met him. Even accounting for the emotional exchange rate between western effusiveness and Japanese reserve, he could scarcely believe in his golf club stardom. He was enjoying it. But quietly.
The golf equipment media in Asia have more than once described Miura-san as possessing the "Hands of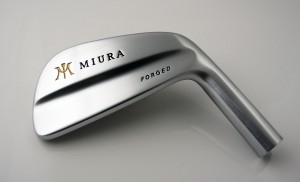 God," something his supporters are happy to quote in the seconds after they strike one of his clubs. But the man himself has never been entirely comfortable with such descriptions, although he politely does not object.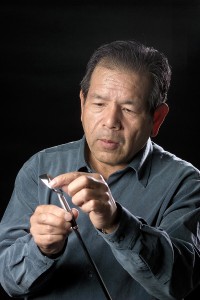 To him, they are the hands of a man, one who realizes that the world wants to know more about him and what he does. Hence his trip with me to the West Coast. But the real comfort zone of those hands is more than 5,400 miles away, in a modest factory in Himeji. Soon, he would be back there, with his hands around a club head, doing the things that he considers perfectly normal, but to which others attach attributes of deity.
The simple, low-slung building sits behind a rice paddy two turns and two minutes by car from the Amaji train station (25 minutes, JR Bantan Line, get your ticket at Himeji station). Today, the factory is hazed over by light smoke from spent rice plants being burned in piles, a fall ritual. Here you can see something that's rare in the industrial world: a company founder, age 69, on the production floor, producing. At a time when, in any culture, one could stay upstairs and tackle so-called weightier concerns of business — or for that matter, let everything fall on one's sons — Katsuhiro Miura would rather see his hands busy.
It is something of a happy addiction. One day on a recent visit, we returned from lunch after a morning of meetings in the upstairs conference room. All of us made for the stairs to pick up the afternoon session — except Miura-san. For awhile, no one could find him. And no one tried. After all, he is the patriarch; we'll start when he is ready.
But I was curious. I went downstairs and followed the hum of the grinding wheels. There, on his usual low stool, beside three or four of the employees he had trained (including his son, Yoshitaka), sat Miura-san. He was slowly and carefully grinding the delicately scalloped knuckles on the trailing edge of a Miura K-Wedge.
I watched. Grind on one wheel, polish on the other. He set the wedge head in his hand, carefully positioning it, feeling for a certain amount of pressure, and then insinuated it onto the grinding wheel in a seamless motion. And the same way, he let it come off the wheel, and examined it. Polish. Look. Turn in the light. Grind again, but so…tenderly. Look. Polish. And finally, place back on the rack by his side. Ready for paint-fill.
Back in the conference room, before business began in earnest, I said through the translator:
"Need 20 minutes at the wheel to reset your day?"
The translation. The small smile. "Hai."
I have seen, time and again since I first met Miura-san, evidence of a blending of industrial skill and sensory self-knowledge that is simply not commonly available in this world. It was obvious immediately when I first visited Himeji in 2003, then as a reporter for The Golf Channel. Watching Miura-san grind then, listening to the reserved expertise and passion with which he discussed golf clubs, it was clear that I had found a rare symbiosis of art and engineering. If a 16th-century Italian had told me he had the same feeling upon meeting Michelangelo, I would not have been surprised.
Some explain this mind-body connection by pointing to a lifetime of Eastern ways. Miura-san himself, like many of extraordinary ability, thinks of his gifts in much more workaday terms. He is aware of how good he is, but does not spend a lot of time thinking about it. He would rather….ano, do it.
But to this day, it still amazes me that this humble man can do the things he can do with a golf club. A finely designed muscle back, a subtle cavity, blending offsets into near invisibility, hefting a billet just before it is to be forged and knowing in a moment it is the right weight…what is workaday to him is amazing to us. It is expressed not in words, but in the purity of the strike — which, in golf, presents no  language barrier.
On that same Himeji trip during which Miura-san reset his day by grinding wedges, we played golf. On the practice range, next to me, Miura-san crouched behind the target line of one of our fellows as that man hit. As I pulled over my next ball, I looked back and saw that Miura-san had his eyes closed.
I looked at one of our party. "Yep," he said. "He's listening. He can tell a lot about the quality of contact that way." I lined up my next shot and grinned to myself. Well, of course he can.
Adam Barr is president of Miura Golf. For more information on Miura-san's handiwork, you can see the full line of Miura clubs at www.MiuraGolf.com."