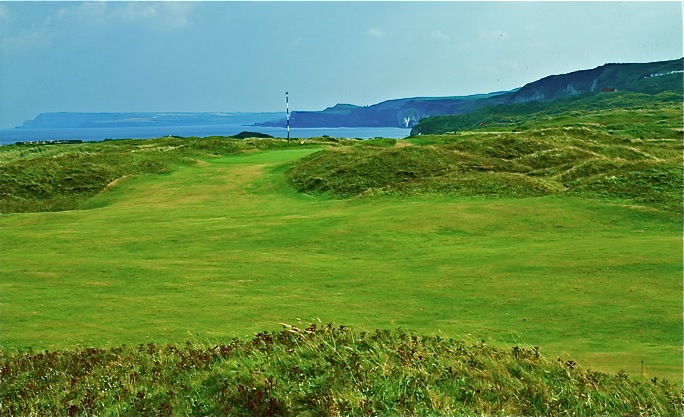 The writers at Golf's leading website—joined by two-time Masters (and one-time Irish Open) champion Ben Crenshaw—reveal what makes their hearts sing when visiting the Emerald Isle
It has been said that if the Scots invented golf, the Irish perfected it. For the journalists at The A Position, golf's leading website, there is no truer sentiment.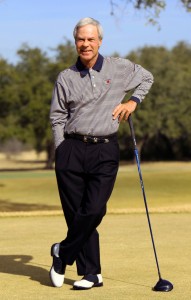 Ireland is blessed with an extensive menu of marvelous golf courses—tucked along the sea, rolling across the countryside, accessible to great cities, and in the middle of nowhere. But just as great as the golf are the intangibles, from the warmth of the people to the magic of the light; from melodious place names that lilt off the tongue to ambrosial potions lovingly raised to the lips.
Ben Crenshaw, this month's celebrity contributor, has deep feelings about Ireland. As a great player he is a past winner of Ireland's national championship. As a noted golf architect his sensibilities have been influenced by the Irish landscape. And as a student of golf history, it is no surprise that his most precious Irish memory combines the traditions of the game and the culture. In honor of St. Patrick's Day this month, we raise a glass to—and with—the Irish.
I have great memories of all of my many trips to Ireland. The people are wonderful, the topography and sandy soil make for outstanding and interesting golf courses—like Royal Portrush (above)—and the Irish love golf. I was fortunate to have won the Irish Open at Portmarnock in 1976, so there is a place in my heart with memories from that experience. But most particularly, when I think of St. Patrick's Day, I think of Bobby Jones, my idol: His birthday is St. Patrick's Day and he always carried a four-leaf clover for good luck.
—Ben Crenshaw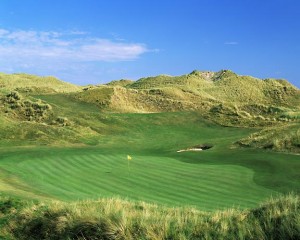 Pat Sweeney—who I will always think of as "Putting Pat"—understands the wiles of Enniscrone (right) as well as anyone. He knows that putting only on the green is as foolish as the idea of brewing Guinness Lite. Pat likes to putt pretty much from anywhere inside of 150 yards. "A bad putt is better than a bad chip," he offered in the course of a recent round as he wound up to unleash another 100 yard approach putt. To prove a point, or perhaps just for fun, Pat played Enniscrone's par-five, 514-yard 16th with a driver and a putter. After hitting his drive 225 yards down the left side of the fairway, Pat putted, putted, then putted again. His fourth and final putt dropped into the cup for par. Wielding our fairway woods and hybrid clubs post tee-off, my playing partner and I each managed a double-bogey.
—Chris Santella, chrissantella.net
Irish golf is inspiring, particularly its great links courses. But as heavenly as those great courses are, Irish bars are even closer to God. One reason is that they never close. I learned this one night when the proprietor of Maguire's Pub in Donegal locked the front door at closing time with me and 100 new-found friends still in it, still drinking, still ordering, and becoming happier by the passing hour. A few days later, relaxing in the bar of the Victoria Hotel in Galway City after a day on the links at Connemara, we were again chagrined when last call was announced—particularly because this time they were intent on clearing out the barroom. We needn't have been. Because as we were soon informed by a group of locals who'd befriended our bedraggled lot: "That's what night porters are for!" Off to the comfortable lobby we went, where as guests of the hotel we were allowed to carouse 'til dawn. What a country!
—David DeSmith, daviddesmith.com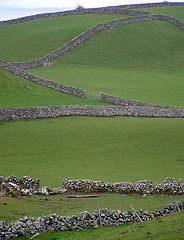 My favorite part of golf in Ireland has nothing to do with golf but stems from a long drive around the Dingle Peninsula and into a maze of dry stone walls rising out of green pastures, webs of rock dividing and encircling many hundreds of small fields, some with cattle and others with grazing sheep. This arrangement made the wood posts and barbed wire that we used on our 55 acres in Washington State seem downright impermanent and ineffective, which I guess it was given how often the cows busted out. Ireland apparently has a quarter-million miles of stone walls, mostly in the west. They look ancient—and the craft of creating them is more than 4,000 years old—but the fact is that most were built after the Great Famine of the 1840s, when Irish farmland was redistributed, cleared of rocks, and divided. It's thus a most practical thing, yet visually arresting and clearly memorable.
—Jay Stuller, jaystuller.com
Everyone knows about Pebble Beach and St. Andrews. To me, the best thing in golf is to find truly great courses that are off the radar, real hidden gems, and Ireland has more than anyplace else. All you need to do is drive down the coast and look for fairways amidst the dunes. Ardglass, just over the Northern Ireland border from Dublin, is a perfect example, with more dramatic oceanfront holes than Pebble for about the price of a PB yardage book. Or the Island, Dublin's best kept secret. Or 36-hole Ballyliffin, Ireland's northernmost golf, in the little sliver of the Republic's Donegal that sticks up past Northern Ireland. True links golf, formed by nature and the raw rugged North Sea exposure, two world-class courses bursting with Irish hospitality yet rarely visited—it's so awesome I joined. That's why I love Ireland (and the whiskey!)
—Larry Olmsted, larrygolfstheworld.com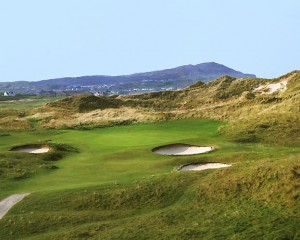 What I love about Ireland is the surprise, every visit blessed by a few moments of absolute serendipity. The first view of the rumpled landscape, looking like an unmade bed, at Ballyliffin. The soldier hidden in the grass (this was years ago, thankfully) using his rifle to track our approach to a checkpoint. The ridiculous hill climbs to the tees at Portstewart. The chance conversation in a pub that turns into a night-long party. Realizing that I can drive a stick shift, five-speed no less, from the right-hand driver's seat. The sheer golf awesomeness of Portrush, Ballybunion, and Waterville. The inevitable rain showers followed by the inevitable rainbows. The muttered "Ohmygod" when my best friend, having never played a true links course before, came around the clubhouse at Rosapenna (above) and saw the course, the sea, and the sky at all once and as he'd never seen them before.
—James A. Frank, jimgolfrank.com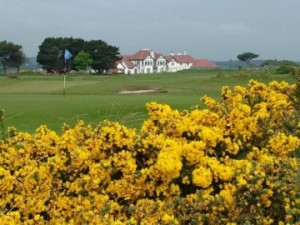 The first thought that pops into my mind when I think of golf in Ireland is the distinctive bright yellow of the gorse in bloom. It creates an eerie, almost lunar quality to the experience. At Portmarnock the blooming gorse framed the shots in a way I had never experienced. Each hole might as well have been surrounded by amber water, the gorse was so forbidding if you hit your ball into it. I feared at night the Hound of the Baskervilles must patrol this moor, tearing the throat out of lost souls still searching for their spheres in the tangled underbelly of the Irish brake. Yet it was so pleasant to look at and walk by that it was like playing in a giant nursery.
—Casey Alexander, caseyalexandergolf.com
As I struck the lob wedge as hard as I could on the 8th hole at Donegal Golf Club, aka Murvagh, in northwest Ireland last July 23rd, I felt and heard a pop just after an ideal impact. The first thing I said after hitting the ground was "did it clear the bunker?" It did, but alas, I did not. After a brief visit to Now Doc Urgent Care—where the doctor turned away after seeing the hematoma in my left hip—I was off on an hour-long ambulance ride through the dark night. On the upside, I was treated like royalty at Letterkenney General Hospital at three in the morning, orthopedists, internists, and physiotherapists diagnosing a strained hip abductor, ruptured tendon, and dislocated hip. On the downside, I thought it was socialized medicine over there but my bill came to 1,350 Euros, and that after spending the night in a room with three guys I was sure were either going to die or kill me, whichever came first.
—Peter Kessler, peterkessler.com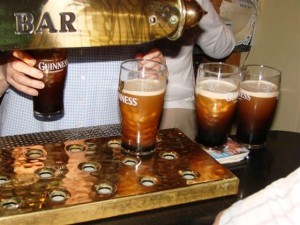 Nobody has perfected the pursuit of perfection like the Irish. My clearest memory (and none of them are all that clear) of my first visit to Killarney was the dedication with which my hosts sought the perfect Guinness on any given night.  It often involved sampling pints in a dozen different pubs, declaring each delicious draught to be a wee bit too warm or too cold, or that it wasn't allowed to settle quite long enough or perhaps the pub door opened while it was pouring. And so it was on to another cozy establishment because you never knew quite where the absolute perfect Guinness might await on that particular evening.  Not unlike golf, really—and no place on earth has better links golf courses than Ireland—where you continue to chase after a level of perfection that is by all indications unattainable. But what would be the point of not even trying?
—Jeff Wallach, jeffwallach.com
I could talk about Ireland as a total sensory experience. The countless shades of glistening green, from pea to emerald. The pungent smell of burning peat in an earthen-floored pub, and the steady din of the fiddlers, pipers, and strummers who play in them. The irrepressible cheerfulness of the Irish, and the spoken poetry of their lilting speech, have been well documented. Guinness? An entirely different beverage in Eire and the finest 19th Hole refreshment ever invented. As for the golf, Ireland simply has the finest natural linksland in the world. The great Henry Longhurst said it best: "Some of the Irish links, I was about to write, stand comparison with the greatest courses in the world. They don't. They are the greatest courses in the world, not only in layout but in scenery and 'atmosphere' and that indefinable something which makes you relive again and again the day you played there."
—Brian McCallen, brianmccallen.com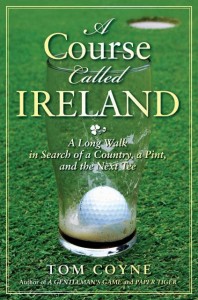 Ireland mainly exists in my imagination. I've fallen in love with all things Irish, from Guinness to Jameson Whiskey, but I've never truly experienced the country. I actually was in Dublin for the 2006 Ryder Cup, but it was a waste. We stayed in a drab suburb, and for all the great links venues, they played the matches at the K Club, which looked like a course you would see in North Carolina. Missed opportunity. Unfortunately, I didn't have time to stay longer, but a couple trips to Dublin's Temple Bar area did give me a taste for the music and drink. The closest I've come to returning is Tom Coyne's excellent book, "A Course Called Ireland." As I read through his tales of golf and Irish characters, I envisioned my trip to Emerald Isle when I would do it right. One of these days.
Ed Sherman, edshermangolf.com
I don't know what makes it different over there—the proximity of the brewery, perhaps, or maybe it's something in the air and the light—but there is a definite difference between the Guinness that oozes from an Irish tap and the muted version available here on the western side of The Pond. A true pint of the black stuff is more than a quaff, more than a beverage. It's a balm, a meal, a restorative, and taken in hand between the morning and afternoon rounds at Baltray—that quintessential links known formally as County Louth, deliverer of so much of what Bernard Darwin called "pleasurable excitement"—it's as much of heaven as we poor humans deserve here on earth, and as much as we need.
—Jeff Neuman, neumanprose.com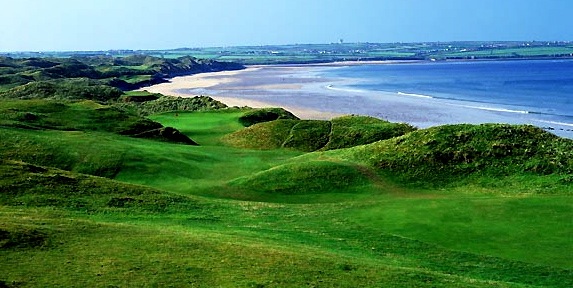 An ode to Irish golf wouldn't be complete without a nod to the wild west coast where Lahinch, Ballybunion (above), and Tralee will knock your socks off. Lahinch is an eccentric hoot with enticing blind holes, the narrowest fairway in Europe, and resident goats that predict the weather (not that it ever rains; it's just an Irish mist). At Ballybunion you might be spooked by the strange Vision of Killsaheen, a blurry mirage of a woman on a bridge stretching across the sea. Tralee's back nine will definitely scare the bejesus out of you. Every green is protected by a yawning chasm and located on the side of a cliff. All this local color makes for great craic over a Guinness or two. Sure and begorrah, you can't help but have the best of times in Ireland—both on and off the links.
—Anita Draycott, anitadraycott.com
What I love about golf in Ireland is being in Ireland, and the near-inevitability that at least part of the day will be spent near a bar where a few pints of the black stuff will be poured. And it's not the drink itself that's the main appeal, it's the craic: that barely definable Celtic word for the lively and lovely life of the Irish pubs. It doesn't take long to see how it goes: if willing, one simply steps into the current and flows, no doubt on a wave of stout, from one eddy to the next, alighting in whatever venue momentum provides. And there's plenty of momentum. Friendly, the Irish are. And curious: one never drinks alone for long. Order a pint and conversation is imminent; one is jostled into the crowd, caught up in the noise, talk, music, drink, and movement, and ultimately clasped into the fold. That's the craic, and it's nigh irresistible.
—Tom Bedell, tombedell.com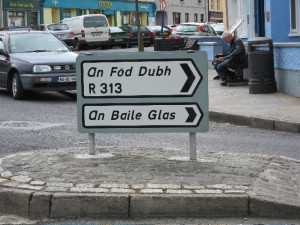 Given the jaw-dropping natural scenery, it's easy to overlook the vivid manmade visual stimuli of Ireland's riot of names and accompanying signage. I'm entertained by it every time I visit. Golf courses can be prime examples, especially the ones with two equally romantic-sounding names: Donegal and Murvagh, Sligo and Rosses Point, Carne and Belmullet. Not only are they fun to bandy about, they're onomatopoeic: Can anyone imagine a club named Ballyliffin consisting of two dog tracks? Doesn't Royal Portrush sound like the great course it is? Of course, the Irish love of language—and the admixture of English with the native tongue—is evident throughout the culture, whether it's an alliterative Tipperary or a self-deprecating Burnfoot. A few town names culled from a recent trip there: Culfadda, Dromoghille, Ballyfarnon, Castlebar, Tobercurry, Crossmolina, Tuam, Bealaclugga, Lisdoonvarna, Drumshanbo, Muff, Ballyconneely, Glennamaddy, Lahardaun, Cloondaff, Kilcolgan, Gubaveeny, Kilmallock, Castlecoot, Templeboy, Gorteen, Rathmelton, Murrisk.
—Tom Harack, tomharack.com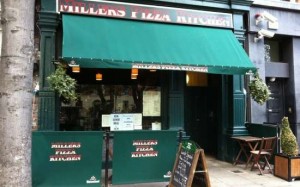 Knowing the Guinness, golf, and greenery are being well covered by my colleagues, I'm voting for Millers Pizza Kitchen, at 50 Upper Baggot Street in the leafy Ballsbridge District of Dublin. This little find was an absolute delight when we were staying at the nearby Airel House. Millers Pizza Kitchen is one of few restaurants in this mostly residential area. It's small and generally crowded, and its specialty pizzas are 3-D works of culinary art. Here, flavored dough serves as a foundation for a cacophony of flavors. Like the Satay Pizza (red chili dough) with Satay vegetables, noodles, spring onion, peanuts, bean sprouts, mozzarella, chili jam, coriander, and prawn crackers. Or the Seafood Pizza (citrus dough) with tiger prawns, smoked mackerel, mozzarella, garlic, anchovies, semi-dried tomato salad, chives, and parmesan. They even have duck, lamb combinations, and oh yes, traditional pizzas, which include pepperoni and cheese.
—Susan Bairley, susanbairley.com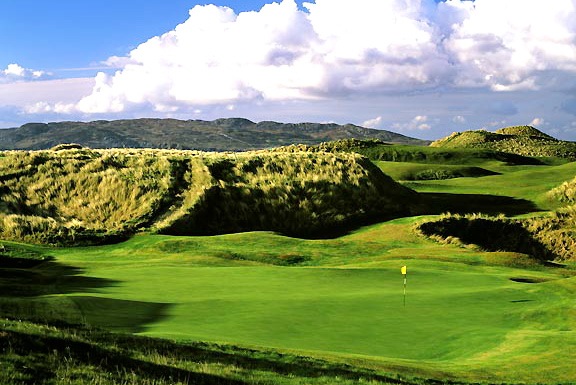 I love so much of Ireland, but the North & Western area of linksland courses may be the best-overlooked menu of golf in the entire world, my secret until now. Home to Darren Clarke, Rory McIlroy, Graeme McDowell, and David Feherty, what you won't find are trophy courses that remind you of Bethpage on a Saturday morning with luxury busloads of loud, slow-playing Americans swarming like locusts. Instead you will discover quiet, world-class courses with spectacular scenery and tee times available at far better values. You will also encounter unusual rock formations, vintage Irish Whiskeys, quiet country inns, charming Bed & Breakfasts, and comfortable quaint seaside hotels. Remember these names: Royal Portrush, Donegal, Enniscrone, Carne, Narin & Portnoo (above), Ballyliffin, Ardglass, Rosapenna, Portsalon, County Sligo, and Connemara. These are fantastic true Irish links with three or four that I rank among the best in the world. I love this place!
—Bob Fagan, robertfagan.com
Golf course photographs courtesy of John & Jeannine Henebry.