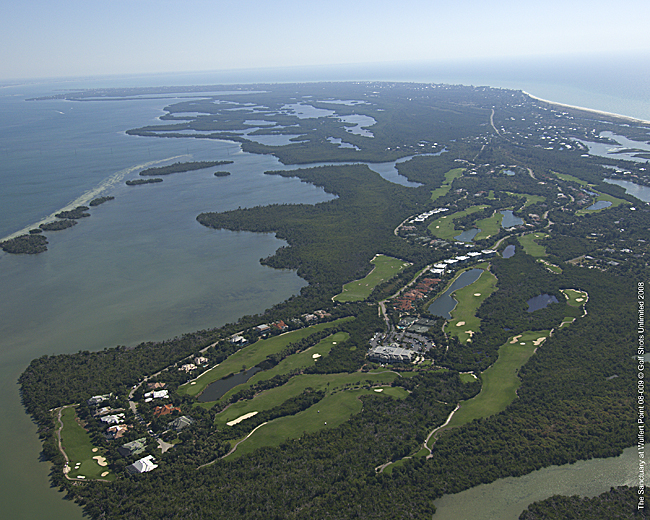 Sanibel Island, Fla. – Take a trip to this barrier island on the serene southwest coast of Florida and it seems to be a place where time has stood still.
Ubiquitous fast-food chain restaurants are nowhere to be found. There are no buildings higher than three stories tall and brightly lit billboards and obtrusive retail signs are practically non-existent. Nor will you find any traffic lights.
Basically, bikes are the preferred mode of transportation on Sanibel, as well as the tiny contiguous isle of Captiva, and the speed limit is merely the pace of one's pedals. And all of this makes perfect sense, considering Sanibel-Captiva is arguably the most pristine and peaceful coastal destination in Florida.  In fact, almost half of Sanibel's 11,500 acres are part of the federally protected J.N. "Ding" Darling National Wildlife Refuge and nearly 70 percent of the island, which measures 12 miles long by five miles wide, is protected through local or federal government agencies and private foundations.
Simply put, Sanibel – known for being the "Seashell Capital of the State" – is a rare stronghold for smart growth sentiment. And that's precisely how many of the island's 6,000-plus full-time residents prefer their tropical paradise to be preserved – a place where the environment harmoniously coexists with development, commerce, transportation or any other man-made influence.
                In some respects, Sanibel-Captiva is the epitome of eco-tourism or sustainable development – yet it's been this way long before these catchy concepts became popularized around the planet. Indeed, in many ways, modern-day Sanibel is the same place it was when native Calusa Indians inhabited the Siamese twin sanctuaries 2,500 years ago, and when famed explorer Juan Ponce de Leon was credited with discovering Sanibel in 1513 en route to finding Florida's "Fountain of Youth."
At a time when Florida's massive coastline continues to be consumed by countless condos, Sanibel-Captiva is almost too good to be true – a peaceful haven from the hectic pace of progress that pervades booming coastal cities like neighboring Fort Myers. Last year, a new causeway bridge connected Fort Myers to Sanibel, making the hidden island gem even more accessible. Despite this newfound access, however, the end result hasn't changed one bit.
"When you're going through the toll-booth and start driving over the span, all of a sudden your pressures just go away," says Jim Nelson, whose family started vacationing on Sanibel 20 years ago and now lives in a 2,300-square-foot beachfront condominium with gorgeous Gulf of Mexico views. "It's just so laid-back (on the island) and pretty. Our condo is on the third-floor, which is as high as you can get, and when you look at from the lanai which wraps all around the front and part of the side, the views are just spectacular."
                Bill Coats, whose family owns a luxurious 21,000-square-foot contemporary home listed for sale at $18 million on Captiva's "Gold Coast," has been happily living on the island for 14 years after retiring from Michigan. He echoes Nelson's feelings about their special oceanfront lifestyle, saying the "peaceful, laid-back nature and privacy" are what stand out about Sanibel-Captiva.
If there's one change he would make, though, it would be the $6 toll he has to pay to get across the new bridge.
"I've always said Blue Cross Blue Shield should have to pay for your toll because the moment you cross that bridge, your blood pressure automatically drops about 10 points," Coats says with a smile.
All kidding aside, this rich appreciation for Sanibel's "old Florida charm" is nothing new. As far back as the turn of the century, numerous high-profile people became regulars on Sanibel-Captiva, including inventor Clarence Chadwick, who made a fortune by developing the first forgery-proof paper for checks. Subsequently, Chadwick made a name for himself after converting most of Captiva into a key lime plantation that now serves as the home of the acclaimed 330-acre South Seas Resort.
Others drawn to the islands' tranquility were wealthy Northern industrialists such as Fort Myers neighbors Henry Ford  and Thomas Edison, who would sail down from his winter estate to study native plants and stroll the beaches. Gradually, other famous visitors began to frequent the islands, including Charles Lindbergh and his wife, Anne Morrow Lindbergh, who sought refuge when public opinion turned against the "Lone Eagle" for his isolationist views in World War II.
Perhaps the islands' most influential visitor was Pulitzer Prize-winning political cartoonist Jay Norwood "Ding" Darling, who first discovered Sanibel on a trip in 1935.  "Ding," a noted conservationist, wintered on Captiva for years to come, and actively campaigned for federal protection of the island's fragile ecosystem. 
In 1945, approximately 6,400 acres of mangrove, bay and estuary became the J.N. "Ding" Darling National Wildlife Refuge, and today is home to more than 300 species of birds, 50 species of reptiles and amphibians, and more than 30 types of mammals. More than 800,000 people annually take the wondrous "Wildlife Drive" through Ding Darling, making it one of the top five most visited refuges in the United States.
One of the prouder stewards of Sanibel is Sanctuary Golf Club, an exclusive private club that features an Arthur Hills-designed 18-hole masterpiece on the island's northeastern tip. Located on the island's prime Wulfert Point peninsula that juts out to the calm waters of Pine Island Sound, the low-density 465-acre luxury golf course development is America's only private golf course situated in the heart of a national wildlife preserve.
Actually, as part of the Sanctuary's painstaking three-year, $3.5 million-permitting process in the early 1990s, developer John Naumann deeded 220 acres that surrounded the course to the U.S. Fish and Wildlife Association, preserving it as part of the Ding Darling National Wildlife Refuge.
Limited to only 272 residences, the Sanctuary Club's unofficial slogan, "Paradise Preserved," is no hokey tagline. Surrounded on three sides by the Ding Darling Refuge, the Sanctuary is all that and more as the course meanders through 6,657 yards of nature preserves and lakes, providing panoramic views of  the Pine Island Sound and majestic mangrove forests. Hills, who is one of the leading golf course architects in the world, calls the Sanctuary "an island masterpiece, a property that is truly elegant, exquisite and rare."
Arguably, the most picturesque spot on the course is the signature 187-yard par-3 fourth hole, which offers unmatched vistas of the bay and marvelous opportunities for wildlife viewing. The special stretch of six custom homes laid out on the hole is believed to be the only golf and waterfront property on Florida's entire west coast.
"As golf courses go, I still think the Sanctuary is the best example – if you have to build a golf course," says Erick Lindblad, executive director of the Sanibel Captiva Conservation Foundation. "The Sanctuary was developed probably more sensitive than any other golf course in the U.S."
Recognized by Audubon International as a certified cooperative sanctuary for its environmental conservation efforts, the Sanctuary Club is one of three courses on the island, but the only private club (equity memberships start at $175,000). And certainly the only one that features Florida Bobcats, awesome alligators, dozens of bird species, otters frolicking on the banks, a rare North American crocodile, protected gopher tortoise habitat plus hundreds of native plant and tree species that thrive in the area.
"People ask me do you go to John Ding Darling and I say no, our club is just an extension of it," says Sanctuary board president Gerry Risch. "The animals come to us!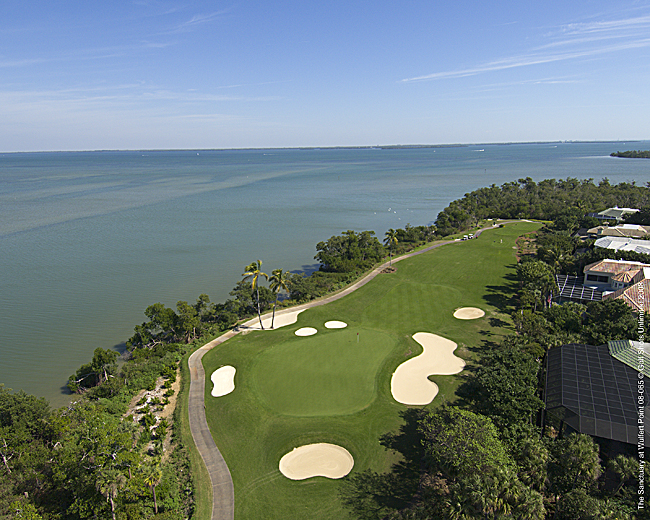 The $32 million golf course even has a 22-acre bald eagle buffer zone – deeded to Lindblad's non-profit foundation — that's surrounded by the 10th green, 11th tee, 12th green, 15th green and 16th tee. As Naumann put it, "Those eagles are sitting on about $9 million worth of land."
 To be sure, the Sanctuary's wondrous course is the centerpiece of the community, which also includes tennis courts, a first-class fitness center and a casually elegant clubhouse that recently received a $4.5 million facelift. As much as Risch enjoys his club's many marvelous natural and man-made amenities, what he and so many other members really relish are the people.
Like the rest of Sanibel, the Sanctuary's membership is mostly a laid-back unpretentious bunch of island-goers. Even though many of the Sanctuary members have made fortunes as successful entrepreneurs or top executives at name-brand companies such as IBM, Kraft Foods, General Mills or Xerox.
 "No one is trying to impress anyone and that's pretty unique," says Risch, who's now on his second home at the Sanctuary after moving there in 1995 from Chicago. "It's like one big family. Sure there are other places and clubs that are special, but in my experience at other clubs, people are always jockeying for position. At the Sanctuary, it's not about glitz. It's really special.
 "A lot of us have really become best of friends at the Sanctuary. The fact is what we all have in common is first, a real love of the island and a rich appreciation of nature. At the end of the day it's more about family values and more about Mother Nature."
In essence, the Sanctuary Club epitomizes the lifestyle of Sanibel with luxurious yet understated homes of all sizes and styles. According to some recent real estate data, the average price of a home on Sanibel Island was $1.286 million, almost double the value of a home in 2002. The median price was $920,000.
The average price of a condominium was $683,000, with the median price being $617,000. On adjacent Captiva Island, home values were much higher, with the average price being $2.275 million for single-family homes and $1.3 million for condominiums.
When it comes to residential real estate, though, perhaps the most appreciated piece about Sanibel-Captiva is the dearth of it.
Mike McMurray of McMurray and Nette of VIP Realty Group, has been specializing in luxury real estate and lifestyle properties in Southwest Florida for many years and says Sanibel-Captiva was indeed affected by the country's deep recession.
"The real estate market like any has been affected by the down economy," McMurray says. "Some segments of the markets more than others. However unlike most markets, the island market did not experience the run up in prices as most vacation or resort markets around the country did for reasons known within the time period of 2004-2007.
"For this reason the island market will flourish much sooner than most."
McMurray notes Sanibel-Captiva's "run-up" was somewhat kept in check due to several factors:  the devastating damage left by Hurricane Charlie in 2004; a severe outbreak of red algae that swept the beaches after a string of bad storms in 2004-05 and the reconstruction of the new causeway bridge.
"The time to buy has never been better," adds McMurray, who is representing the sale of the Coats home as well as a $13.5 million Mediterranean-style mansion that features 200-feet of ocean frontage on Sanibel. "The true island lovers understand this and have already begun to pick and choose their slice of paradise before the herd realizes the opportunity that exists at this time.
Sanibel and Captiva are known for their laid-back atmosphere and non-flashy environment. It also has a very conservative and very friendly feel with people that enjoy and appreciate that from all walks of life and different levels of wealth."
Coats is banking on his piece of the Gold Coast, even though Sanibel-Captiva's high-end luxury real estate market is experiencing a little let down at the time.
"It's comparable to anywhere, but I still think these are the areas that are going to hold their value," Coats says, referring to one-of-a-kind ocean homes. "I think Will Rogers said it, "Buy oceanfront, God isn't making it anymore."
Definitely not like the kind at Sanibel-Captiva.