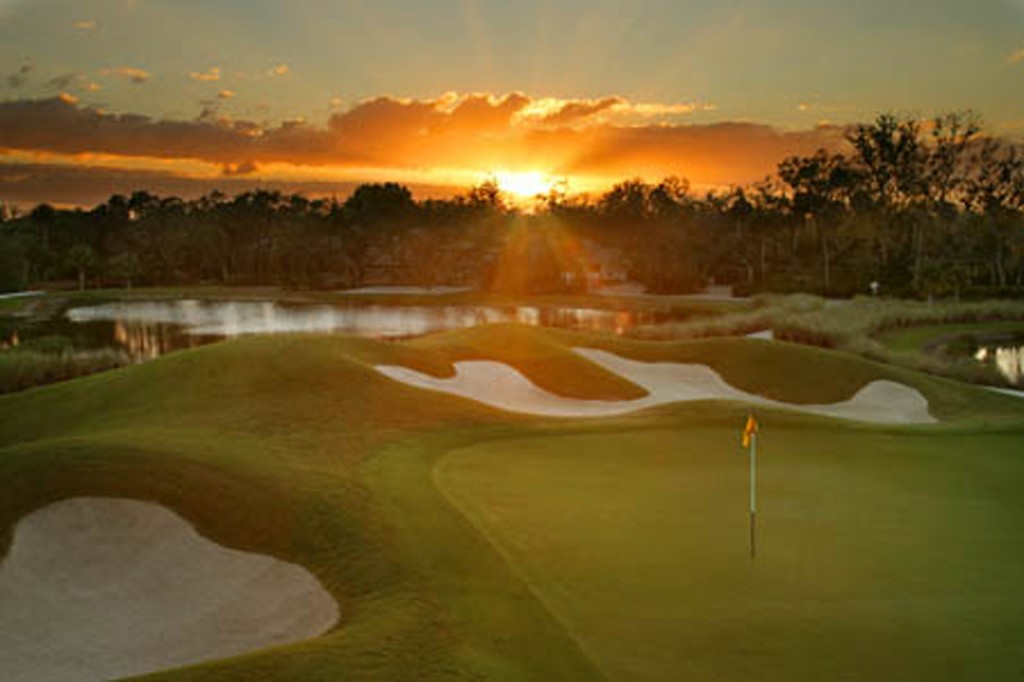 In the words of the late Rodney Dangerfield, who played that classic country club golfer from the iconic movie, "Caddyshack," golf just gets no respect. At least that's been the longstanding case from the environmental front. And it's understandable, considering golfs historic reputation as an elitist sport and the common perception that courses do nothing but consume gluttonous amounts of precious water and dangerous chemicals.
 The Masters golf championship played each year at Augusta National, home to one of the most exclusive private clubs in the world, doesn't help matters when it broadcasts images of beautiful blooming azaleas and lush green fairways and greens — strengthening the public's notion that all golf courses look like this or should. Golf insiders even refer to this as the "Augusta National" syndrome.
 But golfers – and a growing number of non-golfers – are beginning to understand that many golf courses are actually more friend than foe when it comes to the environment. One environmental organization that understands this as well as anybody is Audubon International, a Selkirk, N.Y.-based non-profit agency that started registering golf courses in its Audubon Cooperative Sanctuary Program in 1991. Today, the program has 2,346 Audubon Cooperative Sanctuary members, 2,178 of which are golf courses, according to program manager Joellen Zeh.
 Of the 2,178 golf course members, 590 have the distinction of being "Certified Audubon Cooperative Sanctuaries," an honor members earn by implementing and documenting extensive efforts in six environmental quality areas: Environmental Planning; Wildlife and Habitat Planning; Chemical-use Reduction and Safety; Water Conservation; Water Quality Management and Outreach and Education.
 Not to be confused with the famous National Audubon Society, Audubon International is the brainchild of career environmentalist Ron Dodson. A one-time regional vice-president for National Audubon Society, Dodson started his own group after growing tired of the "incendiary, anti-growth rhetoric of old."
 "After 20 years (of environmental advocacy), 1 realized we weren't moving the agenda," says Dodson, whose organization also certifies entire real estate developments, small towns or practically any entity committed to the concept of sustainable living. "1 spent years suing people, and I kept seeing the same people over and over. 1 thought maybe we needed a different approach."
 That approach was to become environmental partners rather than adversaries.
 Even if it meant aligning himself with the very interests often portrayed as eco-enemies: real estate and golf course developers. The changed attitude worked.
 One year after Audubon International began certifying golf courses, Audubon started the popular Signature (Cooperative Sanctuary) Program for courses in the planning and developmental stages. The Signature Program, comprised of Bronze, Silver and Gold certification, entails a much more comprehensive level of environmental planning and standards, and a significant $9,000 or $12,000 fee to join.
Among the minimum standards required for Signature Program certification are drainage systems prohibited from piping water directly into any body of water without first being filtered, maintenance buildings with separate pesticide storage areas and covered self-contained fuel islands and wash-pad facilities where irrigation water used to rinse off mowers and other maintenance equipment is captured and cleaned by high-tech filters, then later recycled back onto the golf course. Today, there are 147 active members in the Signature Program, according to Zeh, 61 of which are certified as either Bronze, Silver or Gold courses.
 For people like Joel Blaker, director of agronomy for the upscale Tahoe Mountain Resorts in Truckee, California, Audubon's Signature program is a great opportunity to showcase the golf industry in a different light and dispel all those negative perceptions. Blaker has already built one course, Old Greenwood, to Gold Signature status, and is in the process of adding a second: the private Gray's Crossing scheduled to be open next June.
 "People don't understand the positive impact we have on the environment," says Blaker, whose Old Greenwood course is one of just 12 gold certified courses in the world and the only one in California. "There's huge wildlife out on our courses because we have massive amounts of wildlife corridors and habitat. Also, turf grass is nature's best filter. It filters all the stormwater runoff from the entire development, all the water being irrigated and it recharges the groundwater system – not pollute it.
 "Plus, with all the advances we've made with turfgrass research and new technologies we have in construction and other practices …. we're becoming more environmentally friendly. For instance, we have new turfgrass varieties that use less water today and they're more disease resistant so they need less pesticides. All of these new standards — together with the environmental standards already in place – add up to being a benefit to the environment, not a negative."
 Two of the biggest supporters of these sentiments, and Audubon International in general, are Florida-based WCI Communities Inc. and the Bonita Bay Group, two of the country's leading developers of private high-end golf course communities. WCI believes in Audubon International so much that it signed a $1.4 million contract four years ago to develop 10 future "sustainable communities," including 12 courses currently enrolled in the Gold Signature Program (five are already certified, including the first-ever resort course, Raptor Bay Golf Club in Bonita Springs, Fla.).
 "Nature is an amenity," says Karen Childress, former Environmental Stewardship Manager for WCI. "Whenever we can save nature and offer it as an amenity, it's a win-win financially and environmentally."
 At the Bonita Bay Group, six of the company's private courses are certified, including Bonita Bay Club East, the world's first private 36-hole Audubon Signature Cooperative Sanctuary (bronze status), and Mediterra, the first 36-hole Silver Signature Sanctuary.
 "The difference between environmental agendas from the normal regulatory views and Audubon International is Audubon International has gotten people to voluntarily move down the pathway of environmental stewardship rather than adversarily trying to beat people into doing it," says Ed Rodgers, who formerly oversaw Bonita Bay Group's golf operations.
 Before Audubon International, Rodgers added, "nobody championed the cause of golf course superintendents and the golf industry."
 That's one reason former golf course superintendent John Kopack was such a staunch supporter of Audubon when he oversaw the Legacy Club at Alaqua Lakes in Longwood, Fla., an upscale private  golf community developed by Taylor Woodrow.
 "We didn't get any extra rounds of golf out of (Audubon status) and we didn't get any extra members," says Kopack, whose former club, a certified Bronze Signature
 Sanctuary, is now under the ownership of Heritage Golf. "What Audubon International did was give us the opportunity to showcase our environmental stewardship."
 David Lucas, longtime chairman of the Bonita Bay Group, says eco-conscious sustainable living within the confines of an upscale gated golf community is no passing fancy.
 "I think the thing that we're committed to is the environmental sensitivity and the attention to detail and the quality," Lucas adds. "What price it's going to be or what market segment. .,. The market's going to tell us where to go.
 "But whatever we do, we're going to try and do it as well as we can and be proud of it. And hope that we're leaving a legacy."
 Editor's Note: This story was originally published in a 2008 edition of the Robb Report Collection