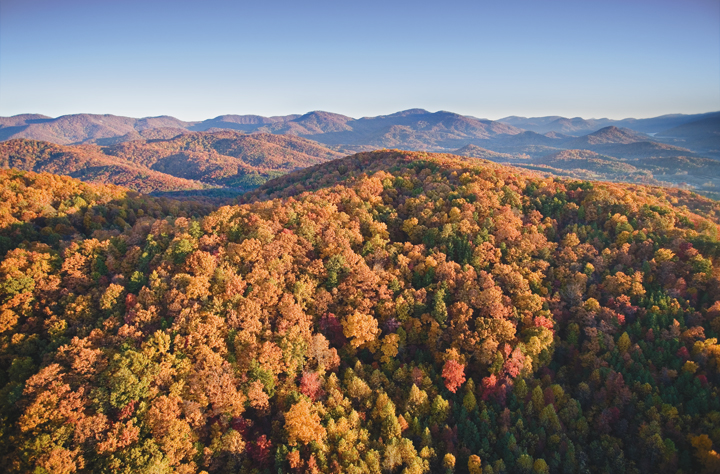 Travelers Rest, S.C. — For decades, developers have used Gary Player-designed golf courses as integral elements in a variety of residential developments, golf resorts and other high-end master-planned communities. Now, after designing more than 250 courses around the globe, the man billed as the "World's Most Traveled Athlete" finds himself in unchartered territory: real estate development.
            And the Hall of Fame golfer couldn't have picked a better place to start his newfound real estate interests than The Cliffs Communities. A little more than a year after the Gary Player Group announced it was partnering with The Cliffs at Mountain Park here in the Western Carolinas, it's evident there's tremendous momentum behind Player's recent move into the real estate arena.
            For example, this July, the Cliffs and Gary Player Group broke ground on the future Black Knight North American headquarters at The Village at Mountain Park, a European-inspired village that also will feature a bakery and sidewalk cafes, an outdoor outfitters shop, doctor's office and more – all within the picturesque setting of a 13-acre lake overlooking the soon-to-be constructed Gary Player Signature golf course.
            Meanwhile, just a few minutes away several dozen homes are already in the process of being built at Mountain Park, including several inside the inaugural Gary Player Estates section, a 300-acre gated enclave of approximately 100 Gary Player-inspired custom homes. Overall, Mountain Park calls for only 1,500 homes within the 5,000-acre property, including up to 1,000 acres of preserved parkland and open space connected by a managed trail system, as well as botanical gardens created by Clemson University, a 10-acre organic farm and a Gary Player Golf Performance Center.
            The fact so many homes are under construction in a development still in its infancy says a lot about the pent up demand for this unique green-friendly property, which represents the seventh and newest private master-planned golf community in the Cliffs portfolio.
            "With a lot of developers you don't have the confidence to build until the infrastructure and amenities are completed," says Scott Beville, president of sales and marketing for the Cliffs Communities. "With our 16-year track record, though, we already have 25-30 homes started."
            Of course, two of the signature homes inside the Gary Player Estates will be those of Gary Player and his son, Marc Player, chief executive officer of the Gary Player Group. Naturally, Gary Player has one of the best lots in the mountainside enclave, a homesite that features fantastic views of the seventh fairway that double-doglegs along the Saluda River (14 of the 18 holes actually feature the river).
            At the recent groundbreaking event in July, a passionate Gary Player could already visualize how his typical morning at his namesake real estate project would unfold. First, while his wife, Vivienne, cooks breakfast, Player said he'll run down the stone path from his Gary Player Estates home onto the apron of the seventh fairway, chipping and putting balls and greeting golfers. Then, after Vivienne calls him for breakfast, the fitness nut will run back up and enjoy a healthy meal with his wife of 50 years.
            "It's a very, very beautiful place," says Player, referring to his new home and company headquarters located on the southernmost edge of the Blue Ridge Mountains between Greenville, S.C., and Asheville, N.C. "Very few places in the United States can compare to this as far as overall beauty throughout the year. To have our offices here, close to Atlanta for people that are flying internationally, to visit us in our offices or our homes, or to see our golf courses that we've designed personally, I think the overall situation couldn't be better for us."
            That's exactly how former Cliffs chief operating officer Ken Costanzo feels. As the president of the new Gary Player Real Estate division, Costanzo couldn't pick a better first project in the States (Gary Player Real Estate has already started another project in British Columbia, Canada, called Wildstone).
            "The Cliffs is a great first development," says Costanzo, who joined the Gary Player Group in March 2006. "What you benefit with the Cliffs is not only their history, but they are wonderful marketers. (Cliffs founder) Mr. Anthony is not afraid to put dollars into marketing.
            "A lot of developers look at the cost of doing a development from the infrastructure to the hospitality to all these things that have to be done and then they kind of leave marketing to the end. But because there's so many projects out there, in order to get your name out you really have to be willing to spend money in marketing and Jim Anthony doesn't lose sight of that. So the Cliffs put a lot of money in marketing and even with a lot of clutter out there they get their name on the front burner. That can only help us."
            Conversely, the Gary Player name and real estate association can only help the Cliffs further distinguish itself one of the leading private club communities in America. Case in point was the phase one release of Mountain Park real estate in October 2006. In that successful initial launch, the Cliffs sold all 125 homesites that were released for $62 million, an average price of $496,000 for 1-to-5 ½ acre homesites (lot prices ranged from $300,000 to $1.8 million).
            According to Beville, the Cliffs will likely release another 100 lots in late September, including approximately 20-25 of the first homesites in the Gary Player Estates.  Pricing is expected to range from the mid-$300s to $2.5 million for similar-sized homesites.
            Beville says the limited release of lots in the Gary Player Estates will be around Gary and Marc Player's homes. Beville anticipates a similar success in the phase two wave of sales.
            Not surprisingly, golf's "Global Ambassador," is generating "a lot of overseas excitement," according to Beville.
            And to be clear, Costanzo points out, Gary Player Estates is by no means just some kind of marketing or licensing arrangement.
            "Everything we do, and what makes us unique from the other golfers that are getting into real estate, is no one has the opportunity to create their own individual branded architecture," Costanzo recently said from his downtown office in Greenville. "Gary has that because of his roots in South Africa. The others can get into real estate and use their name to extend their brand, but Gary actually has something that provides a point of differentiation.
            "We have South African architects that we have working with us and what I'll do is bring them in when we're at a point where we're finalizing the architecture. So whether it's a project we're doing in Arizona, Canada, Panama, or wherever, there's a certain time when we will get our architects involved in the project so we make sure the development is differentiated with our brand."
            Basically, the objectives of Gary Player Real Estate are twofold: create distinctive interior and exterior designs that fit with the local setting and style of the community, and  ensure its Gary Player-branded architecture always captures a South African flair that makes each neighborhood representative of Gary Player's image and lifestyle.
            So what does that mean at Mountain Park, where Gary Player Estates feature some of the largest and highest-elevated lots in the community, affording remarkable views of the valley floor and Saluda River that snakes through the property.
            "In reality the marketplace will begin to see the differentiation of Gary Player Real Estate once these homes are built and the gated community inside the gated community takes shape," Costanzo says. "This isn't just building a home and putting a South African boma in the backyard. As soon as you enter the gates, you will see from the flowers to the trees to the way the streets are cut to the way the lighting is to the way the architecture is, that this is different.
            "This is unique. This is Gary Player. That's when our real estate program will really become very vivid to the marketplace and provide differentiation. It's what we really bring to the table that no one else can bring."
            Another differentiating element being developed at the Gary Player Estates enclave is the Player House, a separate amenity that is more or less a little gathering place for the residents of the estates section.
            "You'll have to live in Gary Player Estates to go there and it's probably the best place to read a book on South Carolina for example," Costanzo says. "It'll be that kind of setting. You know you'll have a Gary Player library. You'll have an honor bar. You can go in there and have a granola in the morning and something healthy that typically gary would have.
            "Maybe you'll want to watch Gary Player videos in the library. But it's just going to be kind of a natural setting that is a unique to the community."
            In terms of pricing and size of the nearby homes, Costanzo said preliminary discussions show minimum-sized 4,000-square-foot Gary Player Estate homes probably starting at $3 million, and going up to as much as $8 million or $10 million for homes in excess of 10,000 square feet.
            The Gary Player Cottages, which will be the only other branded Gary Player Real Estate at Mountain Park, will be less than 3,000 square feet and most likely located down the mountain toward the Village at Mountain Park. According to Costanzo, the cottages will likely be initially priced at below $1 million.
            "And they'll be very attractive," Costanzo adds. "We're not sacrificing quality. Everything in Gary Player Estates will be of the highest quality."
            Beville is looking forward to the Gary Player Cottages because they plan on incorporating some interesting new architectural and design elements, namely the use of more glass.
            "The cottages are exciting because the window package becomes a premium," Beville adds. "We'll also have a lot of overhanging roofs where you bring the outdoors in. Some homes may have great views of the river, and some might have two miles of mountain views.
            "Everything's going to blend in with the natural environment, but the lines will be a little different. … It'll just be a little more contemporary."
            Beville expects the first Gary Player Cottages to be available for sale sometime in late spring or early summer 2008.
            "We'd like to have some models up before we start selling those," Beville added.
            Regardless of what goes up for sale in the Gary Player Estates section, Costanzo is extremely optimistic about the outcome.
            "I think we'll be oversold from day one," Costanzo says in a matter-of-fact tone. "My point of comparison is two fold. One is from my history with the Cliffs. I know the excitement that's going to be around this product from (Cliffs) prospects and the enthusiasm that the current owners have shown and enthusiasm from the last group (in October '06).
            "The first release at Mountain Park did not include Gary Player product but we had Gary there and people were lined up telling Mr. Player their excitement in the community and buying into the community because of his involvement. So I know we've got a lot of interest here. That's clearly why I expect an oversold situation from the moment we release."
            Costanzo's second point of comparison comes from Gary Player Real Estate's first overall development  and the first-ever release of real estate this June at Wildstone.
            "We had our first sales release, on Fathers Day in British Columbia, Western Canada, and we sold 75 homesites in one weekend," Costanzo points out. "In western Canada – all 75 we released there we sold. So if we can do it in Western Canada, I know we can do it at the Cliffs."
            Especially when the legendary golfer himself is so passionate about the place.
            "It's like Switzerland," Player says. "You get a big shock when you go up there. Particularly this time of the year with all the leaves going golden. These high mountains and these beautiful lakes. … It's like being in Switzerland."
            Actually, inside the Gary Player Estates, you might even feel like you're in South Africa.
            –30–