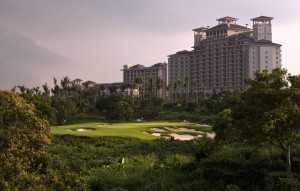 Hainan Island, China – The golf course design team Schmidt-Curley announced four more of its courses have opened at Mission Hills Hainan, a new master-planned golf resort-style community in China.
The Stone Quarry, Shadow Dunes, Double Pin and Stepping Stone courses now bring the resort's grand total to 10. With long-time partner Mission Hills, Schmidt-Curley has transformed Hainan Island's ancient volcanic terrain into a golf destination featuring playing experiences of unmatched variety.
"At Mission Hills Hainan, golfers can select from a global menu of golf design genres," says Brian Curley. "Each layout has a distinct personality — levels of difficulty, bunker styles, green sizes and undulations, landscaping, par and yardage were intentionally varied to distinguish the resort from competitors and celebrate its status as an international golf destination."
A tribute to the genius of Pete Dye — mentor to the Schmidt-Curley team — Stone Quarry showcases the iconic hallmarks of his designs: railroad tie sleepers, abrupt mounds, long waste bunkers, devilish greens and railroad car bridges. These elements are made even more dramatic by a routing that snakes through volcanic quarries supported by steep rock walls and timbers. Remnants of coal cars, railroad tracks and abandoned mining equipment complete the setting. Dotted with 215 bunkers, the course demands shot making over brute strength — a welcome alternative to today's typical emphasis on length to protect par.
Bringing sand to the city, Shadow Dunes incorporates the towering dunes and native vegetation found along the vast, unspoiled beaches of Hainan Island. It features sweeping contours that will send balls running and some of the largest (averaging 11,500 square feet) and wildest greens at the resort. Pinpoint accuracy with the short game is a must, as the course is designed to avoid being overpowered by bombers. Intimate green-to-tee connections make it eminently walkable.
Double Pins' arboretum-like surrounds of colorful trees and flowers ideally complement the blue skies and clean air of Hainan. Meanwhile, Stepping Stone's dramatic islands of turf framed by lava rock and rugged, sandy expanses are similar to those found on the Blackstone Course. Only open to walkers, the layout seamlessly blends with the landscape of black rock and thick vegetation. Although short, it is no pushover and a great place to polish your short game.
"I am very optimistic Mission Hills Hainan will help show Asian golfers and developers it is more about offering a great experience — that may or may not involve length — and less about presenting a standard scorecard," says Curley. "Some of the courses, like Blackstone and Lava Fields, will play long and test the best players. However, we also designed courses that are still challenging and thought-provoking but tailored to be more forgiving to mid- and high-handicappers."
Only 15 minutes from Haikou Meilan International Airport, Mission Hills Hainan's other amenities include a 518-room, five-star hotel; spa oasis; Hainan's largest mineral springs; 12 world-class restaurants; fully-equipped sports and recreation center; state-of-the-art meeting facilities; opulent villas; resort-themed residential towers and more.
Founded by partners Lee Schmidt and Brian Curley with offices in Scottsdale, Ariz., Haikou, Hainan Island, China and Kunming, China, Schmidt-Curley is a full-service, international golf course architecture and master-planning firm with more than 100 layouts in 24 countries. The tandem is responsible for crafting 10 of the 12 courses at storied Mission Hills Shenzhen — and designed and built all 10 golf courses at Mission Hills' new Hainan Island resort. Schmidt-Curley's recently unveiled 54-hole Stone Forest International C.C. near Kunming is also garnering global acclaim.
 Other high profile, award-winning projects from Schmidt-Curley include Bali Hai and Siena Golf Clubs (Las Vegas), Amata Spring Golf Club (Chonburi, Thailand, four-time host of the PGA European Tour's Royal Trophy), Terra Lago Golf Club (Indio, California, site of the Skins Game from 1999 – 2002), Twin Creeks Golf Club (Cedar Park, Texas) and Crosby National Golf Club (Rancho Santa Fe, California).