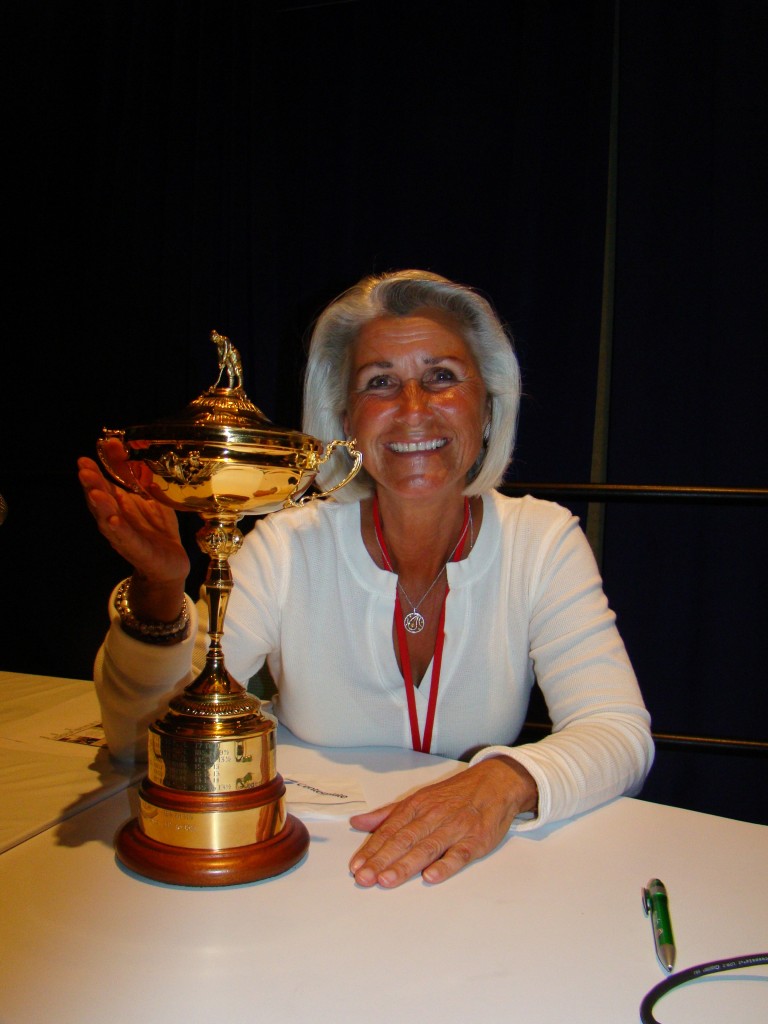 Janina Parrott Jacobs is a multi-media consultant specializing in golf, business, music, nutrition, fitness, community, and women's issues.  As a freelance writer, television host and producer, her writing appears in national international, regional, and local publications and her shows have aired regionally and locally.
Previously a correspondent for Fox Sports Net's '20/20 Golf TV with Rick Smith', Janina wrapped up hosting duties in 2008 on 'Michigan Golf Weekly', after 4 seasons on CBS-TV-Detroit. She also co-hosted 'GolfWrap' on WJR-AM-760 for 5 years and has made numerous television and radio appearances locally and nationally.  A professional speaker, Janina entertains clients nationwide with her varied experiences.  A former columnist with Detroit Monthly, Crain's Detroit Business, and the Detroit Free Press, and current columnist with Weekend Golfer Magazine, Navy Recruiter, Michigan Golf Magazine, and Michigan Links, she was the first woman to sign on with The A Position.  Along with Sports Psychologist Dr. Jackie Odom, she crafted and teaches The Positive Golfer programs, which help golfers create new mental habits and course management techniques to lower their scores.
Janina carries a 3-handicap and was often ranked among Michigan's top-ten women amateur golfers throughout a competitive career spanning 5 decades.  The first woman to compete on men's golf teams both in high school (Pershing High School, Detroit) and in college, Wayne State University (WSU) in Detroit after the passage of Title IX, Janina was inducted into the WSU Athletic Hall of Fame in April 2000.  She was also the first woman invited to serve on Golf Digest Magazine's "100 Greatest Courses" selection panel, and has been consulted by various architects and golf professionals on several golf course design projects for her opinions on marketing and playability features for women.
Janina founded the Metro Detroit chapter of the Executive Women's Golf Association (EWGA) in 1993, part of a national organization that facilitates businesswomen entering into the world of 'client' golf.  She is an adviser and mentor to several women's  and youth golf organizations and serves on many Boards and committees, including the Michigan Women's Golf Association (Adviser, MWGA), the Golf Association of Michigan, Club Corp's Detroit Society, Catholic Youth Organization (CYO).  From January 2011 -2013 Janina served as Chairperson for the U.S. Navy's (NRD-MI) Recruiting District Assistance Council (RDAC), the first woman to do so.  She now is a member and Marketing Chair of the Metro Detroit chapter (METDET) of the Navy League of the United States.  She is Vice-Chair of the Clear Purpose Foundation's Board of Directors and also serves on the Board of Directors for a new charter school in cooperation with the U.S. Navy, the Detroit Academy of Naval Sciences and Technology (DANST).  She assists the Metro Detroit Veteran's Coalition (MDVC) and the newly formed Veteran's Assistance Council (VAC) and is also a member of Detroit City Council President Gary Brown's Veterans Task Force, all which help in promoting veterans' issues and events.
Recently, Janina partnered with the Navy, community organizations, and businesses to create and implement far-reaching nutrition, fitness, and sports initiatives to combat the growing epidemic of obesity and health woes among our youth.  Focused primarily on the Metro Detroit area, these pilot projects are quickly growing toward regional and national proportions. Janina is a member of the Wayne County Health Authority's MOTION Coalition, which was created to combat childhood obesity.
Janina is also a professional musician, recording artist and Director of Music at St. Basil the Great in Eastpointe, Michigan and is a part-time staff and substitute musician at many parishes including St. Dennis and the National Shrine of the Little Flower, both in Royal Oak.  She has owned Capers Steakhouse in Detroit since 1982, and operates Capers Organic and Natural Foods Catering Division to address the growing nutrition crisis.  Janina also serves as Health Team Leader at St. Basil's and authors weekly nutrition and fitness articles which appear in several publications in cooperation with St. John Providence Health System.
Janina can be reached via this website or at Jjacobs2456@gmail.com.