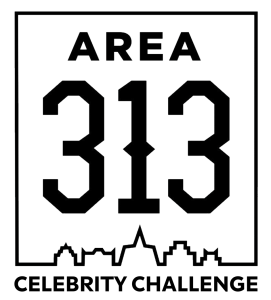 Detroit, Michigan – Detroiters are proud of their 313 area code, often sporting it on T-shirts, jackets, hats and other paraphernalia. This week's PGA Tour event, Quicken Loans' Rocket Mortgage Classic, is using that popularity to host the AREA 313 Celebrity Challenge scheduled from 3-5 p.m. on Tuesday, June 26. This event will officially open the most unique and exciting three-hole stretch on the PGA TOUR with a fun and spirited competition featuring top players and celebrities. Three teams of golfers, each captained by a PGA Tour star will take on holes 14-16 at Detroit Golf Club, playing a scramble format to see who can be the first to register scores of 3 (eagle), 1 (ace), 3 (birdie) on the three-hole stretch.
The teams feature some of the biggest names on the PGA TOUR, plus national, regional and local celebrities with plenty of Detroit ties:
Team Rickie will include:
Rickie Fowler –Five-time PGA TOUR winner, World No. 14 and Rocket Mortgage ambassador
Kid Rock – Musician and Detroit native
Justin Abdelkader – Veteran Red Wings left wing
Blair O'Neal – Professional golfer and model, Golf Channel host
      Team DJ will include:
Dustin Johnson – World No. 2, 2016 U.S. Open champion and 20-time PGA TOUR winner
Jerome Bettis – Pro Football Hall of Famer, Detroit native
Dylan Larkin – Red Wings All-Star center
Paige Spiranac – Social media personality and professional golfer
       Team Bubba will include:
Bubba Watson – 2012 and 2014 Masters champ and 12-time PGA TOUR winner ranked No. 22 in the world
Tom Izzo – Michigan State men's basketball coach
Jimmy Howard – Veteran Red Wings goalie
Troy Mullins – Female World Long Drive competitor
The '3-1-3' feat may seem impossible or unlikely, but it has happened here in Michigan at least twice, during state tournaments: The Michigan PGA, in cooperation with Boyne USA, created the Tournament of Champions which has been played at Boyne Mountain's Alpine and Monument Courses in Boyne City since 1992. Men, women, and senior professionals and amateurs, as well as juniors who had won sanctioned state events were invited to compete in this unique 3-day tournament equalized by tee placement. Golf Professional Dan Olsen won the inaugural event by coming from behind and finishing 3-1-3 on the Monument Course to beat out local Detroit pro Bob Proben by one shot. Ironically, the Proben family often played at Detroit Golf Club's neighboring public course, Palmer Park, back in the 1960's and competed in the Detroit Free Press Junior Golf Schools held at Detroit municipal courses.
Another 3-1-3 was achieved by…….me.  During the 1993 Michigan Women's Amateur at Black River CC in Port Huron; I birdied the dogleg par-4 10th, aced the 191-yard 11th with a 2-iron,  then lipped out a 4-iron approach shot on the par-4 12th, with a tap-in for 3. It was my first ace, 30 years in the making. My brothers and I also grew up with the Detroit Free Press Junior Golf schools, playing at Palmer Park and other Detroit courses, two of which were Donald Ross designed gems: Redford (Rogell), now closed, and Rackham. Years later, while playing on the Wayne State University men's golf team, post Title IX, I often played Detroit Golf Club on Monday 'caddie' days.
To see the PGA come back to Michigan, and for the first time ever, to Detroit, is something that this reborn and emerging city has needed for decades. Detroit Golf Club is one of few Donald Ross designs on which the iconic architect ever set foot. Back in 1899 travel around the country was limited and unlike today, with top architects frequently flying in to tweak course design projects, most golf architects circa-1900 worked from topographical maps, using horses and plows to move earth.
Continuing the 313 motif, during tournament play Thursday-Sunday, the first PGA TOUR player to score 3-1-3 on holes 14-16 cumulatively over the four days of tournament play will win $313,000  – with half to be donated to several youth-based local non-profit partners and half to a charitable group of the player's choice. In addition, this three-hole stretch will be the epicenter of activity both inside and outside the ropes. AREA 313 is comprised of the 555-yard par-5 14th, the 160-yard par-3 15th and the 446-yard par-4 16th hole and is located fairly close to the clubhouse. This area of the course will be home to the tournament's best fan atmosphere, offering premier sightlines with general admission stadium seating options and upgraded hospitality venues.
The AREA 313 Celebrity Challenge is supported by the Children's Foundation. The Children's Foundation will have their mascot, CHAMP, walk inside the ropes during the event with two members of the Little Champions program, which honors children who have overcome major obstacles in their young lives. Many other charities will benefit from the 'Birdies for Charity' program.
The Rocket Mortgage Classic is far more than simply a golf tournament. It is one week of community, family, and charitable fun-filled events, not to be missed. Tickets for Tuesday are just $10, and kids 15 and under receive free admission with a ticketed adult (limit four kids per adult). The Rocket Mortgage Classic is also honoring the military: Active duty and retired military receive complimentary tickets, and veterans can purchase reduced-priced tickets.
The Rocket Mortgage Classic will mark the first PGA TOUR ever held in Detroit. Many years in the making by Quicken Loans Founder Dan Gilbert, the tournament is drawing great interest among Tour players and the field now boasts four of the top 25 players in the world rankings and 10 of the top 30 players in the 2018-19 FedExCup standings. The field includes:
Dustin Johnson – World No. 2, 2016 U.S. Open champion and 20-time PGA TOUR winner
Woodland – The 2019 U.S. Open winner, who jumped to No. 12 in the world rankings
Patrick Reed – 2018 Masters Champion
Rickie Fowler – Five-time PGA TOUR winner and World No. 14
Bubba Watson – The 2012 and 2014 Masters champ and 12-time PGA TOUR winner ranked No. 22 in the world
Top-30 players Kevin Kisner (27th in world) and Hideki Matusyama (28th)
Former World No. 1 Luke Donald
Three of the top 10 finishers at the U.S. Open, and four of the top 12 (Woodland, Chez Reavie, Chesson Hadley, Viktor Howland). The RMC field also has three of the top 10 players in the PGA TOUR's 2018-19 standings as projected after the U.S. Open – Woodland (5), Johnson (6) and Fowler (10).
 The area golf community has enthusiastically embraced this event and while some tickets are still available, Grounds passes are sold out for Saturday, June 29. For more information, visit www.RocketMortgageClassic.com.