What if someone built a golf resort without a resort? If it happened in Vegas, you'd have Las Vegas Paiute Golf Resort, 54 holes of sheer design artistry and not a hotel room in sight.
And it's the best place in town to have a golf getaway.
Now if only you could actually stay there.
Located on tribal land in a long broad valley bracketed by mountains about a 30-minute drive northwest of Glitter Gulch, the Paiute tribe's golf complex is the largest in greater Las Vegas. (Lake Las Vegas was on the way to 54 resort holes, and Angel Park does have twin full-length 18s, a lighted short course and a putting course, but it ain't Paiute.) Pete Dye's firm handled the design work, though from a mechanical pencil-on-paper and visual standpoint, there are in essence two styles.
The first two courses, Snow Mountain and Sun Mountain, opened in the mid-1990s and are decidedly kinder gentler perhaps-more-sensible Dye routings. Both courses hug the land, with a generous mantle of rolling fairway edged by native vegetation and, in season, a riot of wildflowers. Forgetting for a second the fact that turfgrass is antithetical to the desert, these could be the most "natural" golf courses in Sin City.
Forced carries are minimal and the deep bunkers and shouldering waste areas for which Dye gained fame at PGA West and Sawgrass gave way to subtle yet effective doglegging, the natural rise and fall of the land, and constricted landing areas as the means to put bite in the courses (and with ratings pushing, 74 there are plenty of teeth out there). More amazing, at least to me, is his incorporation into the design of "traditional" architectural features: multiple drive and approach angles—shorter, more aggressive; longer, more forgiving—shallow-bottom bunkering that looks like it belongs with the course, green openings that put chipping back in the game. It's strategic, sometimes heroic, but not penal, golf. I've played a lot of Pete Dye courses and these are about the most enjoyable.
If forced to choose, I opt for Snow Mountain. But I don't suffer from the decision, as at one point Sun Mountain was my favorite and it might be again some day. Snow Mountain gets the nod because there's more sleight-of-hand to the routing, more risk-reward doglegging, a classic cape hole, and as memorable a trio of bring-you-home holes as you'll find in these parts.
The par-4 7th and 13th holes are proof that there's more than one tried-and-true recipe for barely 300 yarders. From the tees I play, I try to drive seven each and every time, because other than some bunkers, there's not much deterrence, and the wind—and Paiute can be downright Texan in that regard—typically helps. On 13, uphill, hurting breeze, all-desert carry, I slap 'em out safe and sound with a 4-iron and hope not to commit seppuku with a wedge. These two holes are separated in length by seven measly yards, yet the strategies couldn't be more different.
Ten is the aforementioned cape, a leftward-arcing 380-yard par-4 with the obligatory lake a constant companion on the left and a look that's flat-out gorgeous with cactus and mountains, no stinking condos, houses, villas, or estates (anywhere on any of the courses), and water so Crater Lake clear and blue that if Steve Wynn owned the place, you'd just know it was manufactured in some secret laboratory. And the closing holes burn into the memory circuits: a sometimes reachable five (17) that's all about placement; a vicious watery par 4 (18) with passion and pain played out before the assemblage in the bar just beyond; and a top-5-in-Nevada-worthy par 3 requiring a longish iron over water to a green that runs away. If the hole is deep-left and you're anywhere near it, it's an accident, not anything planned (and for some unique planetary alignment I've twice birdied it back there).
This is no slight to Sun Mountain, which during my first couple Paiute visits inched just ahead of Snow Mountain. As hinted at above, Sun Mountain puts everything out there in front, what-you-see-is-what-you-get golf, with brain decidedly being more important than brawn. And the course is notable for its "eyelash" bunkers—alternating reclining strips of wood and grass—sprinkled about.
The newer Wolf Course, opened in late 2001, looks even less like a "Dye" course than its siblings. Sure, there's a hit-or-die island green (the par-3 15th) and one or two building-swallowing traps, but that's about it. Wolf is situated on a higher portion of the property, with less elevation change, but a seemingly endless supply of mounds and hummocks that give each hole a feeling of isolation, like some of Nicklaus' flatland courses, but with less artifice. You just know a lot of dirt was moved here, but exactly where?
Like my changing allegiances with the other two courses, within Wolf I've had varying dalliances. Three holes, however, always stay with me: the easy-birdie/easy-double-short par-5 6th, the mid-400-yard, 90-degree-right, desert-interceding 14th, and the home hole. Six is all about rewarding a true drive. A waste area runs most of the way down the left, ultimately cleaving the hole into two parts. Most of it plays downhill, until the approach, and while desert, hummocks, and traps short portend trouble, Dye left plenty of room deep for those who want to have a go for it, and in this day and age not a whole lot of courses present a par 5 that's conceivably in most players' wheelhouses. The 14th is just flat rude, demanding a long straight drive that leaves a long approach to a double-bubble green, unless your name is J.B. Holmes and you can reach the far side of the two-part fairway that, when viewed from the tee, produces a certain Earhart-desperately-scans-the-horizon quality to it. Another long par 4 brings it home. The lake on the right shouldn't be in play, and good drives funnel down a v-ditch fairway. Second shots come with mid- or short-irons from hanging downhill lies—oh joy—to a pushed-up green with a couple of sinkholes for bunkers short-right.
The best tip on Wolf? Forget your "usual" tees and play the appropriate yardage. On a course where it pays to think about from where you want to hit the next shot, with wind, a Library of Congress-sized array of potential lies, and middle tees set at 6,500 yards, consider playing the beta male.
OK, so there's no resort at Las Vegas Paiute Golf Resort. I'm kind of getting to the point, however, where I'd prefer they scuttle those long-dormant plans and not make it so blatantly inviting. And for the money saved not playing one of the overpriced wannabes back in town, I can buy a lot more gas than I'll burn getting back and forth.
Celebratory howls no extra charge.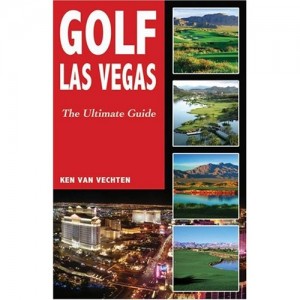 This is one in a series of greater Las Vegas golf reviews from the book, Golf Las Vegas: The Ultimate Guide, published by Huntington Press.