Tiger is out ahead of me, or so I was told during the limo ride to the course this morning. I seek verification in the pro shop, grill, and locker room, but mum's the word when it comes to Shadow Creek Golf Club's patrons. Hell, I inquired before my round as to the course record and was told that couldn't be divulged.
Secrecy Creek.
Kinda.
Poker-pro Phil Ivey is definitely part of the two-ball behind me, or he is until we blaze through a slow, animated, obviously heavy-money game on six.
The heir-apparent to Jack Nicklaus … the whiz-bang poker genius … me.
I'm pretty sure I can beat Ivey at Tiger's game. I wonder if I can take Tiger at Texas hold 'em. It would have to be a limit game, of course; I am but a lowly scribe.
Great golf abounds across the West; I honestly don't think I'd be placed between two of the best at two of today's hottest games while playing at Pumpkin Ridge, and I love Pumpkin Ridge, don't get me wrong. And any day could be, say, MJ-sighting day at Shadow Creek. Yet seeing Michael Jordan, or any of these other guys, isn't what makes the course special. Shadow Creek scores because it's as good as they come, spoken about in knowing circles as on par with the best in publicly accessible golf courses: Pebble Beach, Bandon, Whistling Straits, Pinehurst No. 2.
That's Q rating.
Unlike Cascata or overstuffed Wynn GC, you can't play if you aren't staying at one of MGM Resorts' hotels. And if you're not an "invited guest"—high-roller or superstar of some sort—play is limited to the first and last couple of openings on the tee sheet, Monday through Thursday. Oh, fork over five bills, too. And don't stiff your (fore)caddy at the end.
The course record is a tidy 60, with a penalty stroke taken for a shot in the lake on the fourth hole. I'm no threat to Tiger's record and I certainly hope I haven't divulged any state secrets, but it's not really my fault they have a copy of his scorecard taped over every freakin' urinal in the locker room.
Secrecy Creek.
Kinda.
Yet I imagine I get at least as much enjoyment out of my round. Shadow Creek, like today's Las Vegas for those who haven't been here since Elvis didn't need stretch fabric, can't be fully grasped without first-hand experience.
The par-3 5th doesn't appear in many pictures (as a matter of record, little in the way of gratuitous photographic evidence makes it out of Shadow Creek, unless you're willing to fork over the extra coin for the glossy coffee-table book sold in the pro shop). Locally, the void between teeing ground and green is known as "the Abyss." Before Shadow Creek, the land was flat barren desert. Now, the abyss harbors a forest of pines, and I think a six-story building could rise from the bottom and not obscure the putting surface. Since my sense of direction is wholly off-kilter in this golf equivalent of Oz, I'll venture a guess that the long-range view is the crest of Sunrise Mountain, seemingly bearded by ribbons of pine that run back from the hole in tiers. The green is suspended, seemingly, held aloft by the tips of the trees rising from the cañon yet disallowed from floating off by the backing curtain of bark and needles and the geology far far beyond. It's a cold calculated artifice of architectural design by Tom Fazio, pulled off by who knows how much earth-moving equipment, and it's positively real.
Five: Shadow Creek in miniature.
There's not a throwaway hole or even a single incidental shot at Shadow Creek. The piney woods-in-Vegas effect works, simply because no corner was cut in bringing it together. This isn't Desert Pines near downtown, where pine litter was strewn between rows of trees to give the false if not attractive-for-the-location impression of Pine Valley or the Carolinas. Shadow Creek is an entirely new world created from scratch. Almost every hole is self-contained, a microcosm. Lakes are crystalline. The eponymous stream looks like it's always been here. All else is green or flowered or done up in shrubs that likely only Augusta Natural beats for exuberance. There are no ball washers or gangly tee signs or cutesy markers. The driving range, sorry, the Practice Field, is a sanctuary, outfitted with several semi-private areas where a foursome can warm up together and hit fades or draws to what are essentially golf holes. The forecaddies are friendly knowledgeable workhorses. And there's never anything wrong with a ride to the course in the back of a limo (included in the fare).
I shun superlatives like the plague; they are warranted at Shadow Creek—every last one of them.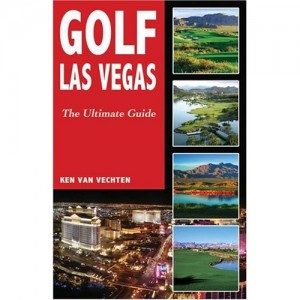 This is one in a series of greater Las Vegas golf reviews from the book, Golf Las Vegas: The Ultimate Guide, published by Huntington Press.