I'm Larry. I love golf and I love travel, and for the past 15 or so years, I have been playing golf and traveling the world for a living. I am one of the most widely published travel journalists in the United States, and a longtime expert on golf who has written books and articles on just about every aspect of the game, from course design to hotels to equipment, but first and foremost I am interested in playing the best courses possible at the best values while having the most fun, and I want to share that with you.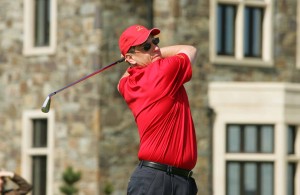 Even though I have written for many top magazines – and still do – travel magazines never tell you the whole story. They run only positive articles and rarely criticize a place or tell you not to go somewhere, but it is your hard earned money you are spending, and your time, so you deserve better than that. Also, some magazines pander to advertisers, and some editors to publicists.
In my blog, if I tell you I like a course, or hotel, or restaurant, it is because I do. If I don't I will say so.
Ten years ago I founded a golf travel newsletter called The Golf Insider whose motto was "Play the Best and Skip the Rest," just like those pizza box ads I grew up with. We had no advertising, and readers paid top dollar to subscribe because it was one of the only ways they could get honest to goodness critical judgment they could trust. We would say that the year's subscription was a lot cheaper than one bad or overpriced round of golf we could help them avoid, and we meant it.
I sold The Golf Insider, but I still believe in the philosophy of telling you the truth about golf and travel.
Day in and day out, friends and relatives and even travel industry professionals contact me asking where they should go on vacations, golf trips, ski trips, honeymoons, anniversary and birthday celebrations and so on. They ask me for the best safari lodges in South Africa and the top city hotel in Hong Kong and best bistro in Paris and how to get a cheap room in New York. Oh, and what golf courses they should play.
They ask me these things because they know me and they know that I know the answers. I don't want to go on and on about my qualifications, so I have listed a bio below. The short version is that I have covered, experienced and worked in every aspect of the travel journalism industry, and every aspect of the golf journalism industry and a whole lot more, including skiing, culinary topics, and all kinds of adventure travel. I've played golf with some off the world's top pros, with celebrity chefs and with rock stars. I've also played with dentists and accountants and couples I met on the first tee, and it was all good. I've had dinner with Julia Child and I've had dinner alone in airport bars. I've played most of the best courses on earth, and some of the crappiest courses you can imagine.  I've stayed in hotels where I had to push furniture against the door and still didn't feel safe. I want to give you the advice you need to have the great experiences, and the warnings you need to avoid the bad ones.
Like I said, I love travel. The way I look at it, there is no amount of vacation time that is possibly enough. There is more of the world than you could see if you had every day of the rest of your life to try. So when you take a golf trip, or any trip for that matter, whatever your budget or taste is, it should be the best trip it can be, and I can help you do that.
Just go back to the home page…
Larry Olmsted is an award winning journalist and one of the most prolific freelance writers in the United States. He is the author of Getting Into Guinness (Harper Collins, 2008) and Golf Travel By Design (How to Play the Top Courses By the Game's Best Architects), co-author of Fairways: America's Greatest Golf Resorts, and has contributed to numerous travel guidebooks including those published by Frommers and Michelin.
He writes the weekly column "Life on Vacation" for USA Today, the nation's largest newspaper, and the "Beyond the Course" column for worldgolf.com, the world's largest collection of golf travel websites. He is the contributing travel editor to Cigar Aficionado Magazine, the "Celebrated Traveler" columnist for American Airlines' Celebrated Living, and a contributing editor to Lexus Magazine. He has been a resort medalist rater for Golf Magazine and panelist for International Golf Course Guides.
Olmsted has also held many notable editorial positions, as a golf columnist or contributing editor to USAToday.com, US Airways Magazine, Elite Traveler, Investors Business Daily and The Golf Insider. In addition to golf, Olmsted writes frequently on food, wine and spirits, vacation real estate, and other participatory sports, especially skiing, as well as cycling, SCUBA diving and adventure sports. He has published more than 3000 articles on a very wide variety of golf, travel and lifestyle topics for numerous major newspapers and national magazines including Golf Magazine, Playboy, Men's Journal, Outside, T&L Golf, Men's Health, Popular Science, LINKS, Golf & Travel, Cigar Aficionado, Robb Report, Sports Afield, New York Magazine, Caribbean Travel & Life, Arthur Frommer's Budget Travel and many others.
Olmsted regularly makes television and radio appearances as an expert on golf and travel, and has served as a media advisor to several major hotel chains. He has traveled to dozens of countries around the world, played golf on every inhabited continent, belonged to golf clubs in Scotland, Ireland and Australia, and has skied, climbed, biked and cooked all over the globe. He personally broke the Guinness World Record for golf travel, has twice been an ESPN Sportscenter "Top 10 Play of the Day," and was named one of the nation's "10 Most Extreme Journalists" by the Society of Professional Journalists.