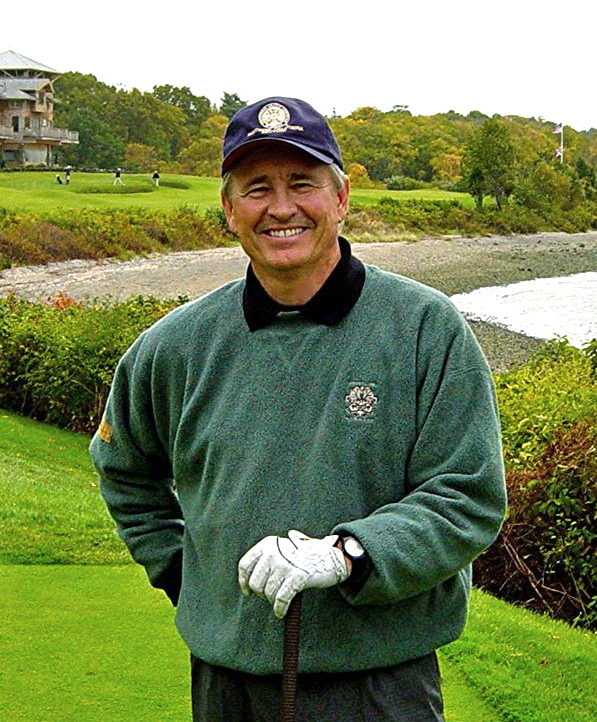 Your Contributor & Coach Bob Fagan
Golf writer, Bob Fagan, features one of the most interesting and accomplished backgrounds in all of golf:  as a player, teacher/coach, PGA Section Executive Director, golf company executive, "Expert Golf Witness," extensive traveler, consultant, and, of course, a highly acclaimed golf writer and reviewer. As such, Bob has become golf's guru of information:  courses, coaching, critiques, contacts, and consulting.
Playing since 1962, Bob was dubbed the original "Wandering Golfer" and is likely the best-traveled living golfer in America, playing more than 3,000 courses there including more than 1,100 Golfweek Magazine Ballot Courses, and more than a 175 more abroad including 51 in Ireland and 40 in New Zealand. In 2005, he became what is believed to be the first and still only person to play the Top 200 Courses in America as defined by Golfweek Magazine. He has also played at least three courses in all fifty states including the top rated ones, and has now branched abroad. Bob has studied golf course architecture since 1966 and produced a tutorial on the subject as well as a dissertation on golf shop operations. Such an extensive background has allowed him to become one of the most creditable travel and golf critics in the business.
A former teaching and playing golf professional that won at the state, collegiate, and professional levels and established several dozen course records, Fagan also served as the Executive Director/CEO for the Northern California PGA in which he led an unprecedented turnaround of a very challenged situation (1991-98).  As a "Golf Expert Witness" in the legal arena since 1993, Fagan also continues to consult with facilities and in litigation regarding golf safety and risk management, golf course design, the rules of golf, service, marketing, and golf business and operating practices. More than sixty golf legal assignments have included working for the US Department of Justice and testifying before the Internal Revenue Service, as well as in California and North Carolina Superior Courts, and Maui District Court.
Fagan's golf writing has included more than 1,250 articles and has served as Associate Editor for Golf Today Magazine, America's largest regional golf monthly, and is a contributor to China's Golf Vacation & Lifestyle, www.worldsbestgolfdestinations.com, and amateurgolf.com. Bob writes about golf and travel, equipment, books, people, and the business of the game. He is an International Golf Course Rater for Golfweek Magazine where he is that publication's most prolific contributor. He has co-authored "California Golf,"  "California Golf Survival Guide," "California Golf Universitee," and has authored "Hawaii Golf,"  "Golf in the Forest," "Golf's Higher Plane," "Business Traveler's Golf Guide," "A Course in Golf Miracles," "Running Golf Fundraisers and Corporate Events," and "Classic Golf Courses of America." He has "The American Golf Course Book of Lists" as well as a mainstream self-improvement book entitled "The Bliss-ipline Factor" ready for publication. Bob has also contributed to USA TODAY, GRIP, CEO Magazine, Private Clubs Magazine, Golf Magazine, Golf For Women, Medicus Golf, and Golfweek and has, himself, been the subject of feature articles in South Korea, Sweden, Dubai, the British Isles, Austria, and the United States as the "World's All-Time Golf Nut."
Bob has resumed his golf teaching career to now include a unique mentoring practice in what might be described as a holistic approach to golf that transcends the standard swing and sports psychology approaches to also include spiritual/emotional/energy methodologies.  This is highlighted in the highly acclaimed DVD and audio book entitled "Golf's Higher Plane," as well as "The Best Damn Golf Calendar Ever," and the internet-based series, "The Course in Golf Miracles."
In November, 2008, Jack Nicklaus confided to Bob that no one had ever in his entire life shared with him such teaching points, but that he has always privately embraced them and considered them his "secret advantage," though he continued, "most modern pros don't understand or apply them." Fagan has developed this coaching practice and DVD/CD products not only for golfers, but also for business executives and general folks who are interested in improving their performance and their lives. Bob was honored as the sole teacher to be approved to write the only spin-off project for the highly successful mainstream product called "The Secret." Join his fan clubs at www.facebook.com/golfshigherplane or www.facebook.com/thebobfagan.
Fagan's business accomplishments may actually exceed his golf ones. Off the course, Bob Fagan relishes building businesses, and empowering and creating heroes and has added coaching to that. Most of his career has been focused upon improving operations, strategic planning, and organizational and market development. In addition to his work with the PGA, as Chief Marketing & Sales Officer for a high tech startup, he helped build the company from scratch to a $2 billion valuation, and as COO for a dot.com moved that organization from a $10K investment to more than a $20 million valuation. He has also worked for such companies as Southwest Airlines, UPS, General Fabricators, American Travelers, and an industry-leading division of Armstrong World Industries, and was the Interim-COO for the San Jose State University Research Foundation, in addition to working at a C-level capacity or consulting in the software, manufacturing, distribution, financial services, high tech, retail, and service industries. Fagan has a Ph.D. in Counseling, a D.D. in Religious and Spiritual Studies, an MBA with Honors, is a Six Sigma Black Belt & Champion, and an Ordained Minister and Ordained Interfaith Chaplain who once lived as a homeless street person in San Francisco for the experience of it. He holds accreditations in both management consulting and life coaching. Supplementing his work and golf, Bob has been active as a corporate, association, and charitable board leader and in 2008 established a Charitable Foundation where he shows people of average means how they can "do well by doing good." Last, but certainly not least, Bob Fagan is the proud father of a daughter, Kelly, and son, Matt.
Bob has been written about for his amazing energy and stamina and has many interests beyond golf, business, and philanthropy to include:  health and fitness, spirituality, body surfing, hiking, photography, music, history, reading, learning, and the arts.
Because of his personality, knowledge of business leadership, golf, golf courses, life coaching, and service, Bob makes for an outstanding teacher/trainer/guide/speaker for any corporate or travel outings. His positive enthusiasm, energy, easy personality, coaching experience, and golf and business acumen allow him to provide valuable insights and contributions to most any project he tackles. When not coaching, traveling, or playing golf, Bob actively seeks consulting, and travel/golf and equipment review assignments.
Disclosure Statement:  As is customary in the travel and golf industries, this writer may receive discounted or free travel, lodging, products or services.