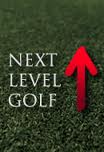 So often I see young golfers being counseled about how to get to "the next level" in their golf games.  The advice typically includes work with a swing instructor, time in the gym exercising or running on trails, and careful nutrition.   It might also include consulting a sports psychologist and most definitely competition and practice, lots of it.  The same scenario goes on in other sports and the business world as well.  Physical preparation and mental strategies will only take you so far.
When competitors fall short, the blame story sounds like "you didn't want it badly enough or work hard enough."  The translation to the individual is that they must work harder, practice and exercise more – all assumptions that success in competition is predicated upon physical prowess.  Though well intended, this is a blow to the psyche and spirit of our aspiring competitor.  How sad!
Blame creates shame, a first-cousin of fear.  And no one succeeds at the highest levels driven by or holding onto fear.  Taking your game to "the next level" is always accompanied by a vision of love, passion, and joy – minimizing fear, judgment, scarcity and the like.  In essence, you must become more comfortable in your own skin.  The reason is that every swing, every hit, and every thought had to be validated, if even instantaneously by your spirit.  The spirit is the third leg of the three-legged stool, in golf, sports, and in life.
While technique, preparation, and delivery are all important, they become wobbly without you being comfortable in your own skin, trusting and confident in your style of play.  As you embrace yourself (faults and all), you gain the stability and consistency to be able to play closer to your potential.  Golf, like life, will throw all sorts of circumstances and challenges your way, and when you are better grounded with yourself, you can calmly face them with greater confidence.  It is the emotional stability and sage decision-making that separates the winners from the talented – not their physical prowess.
If you want to take your game to the next level, be it on the sports field or the boardroom, take action and email me at rsf4653@aol.com.