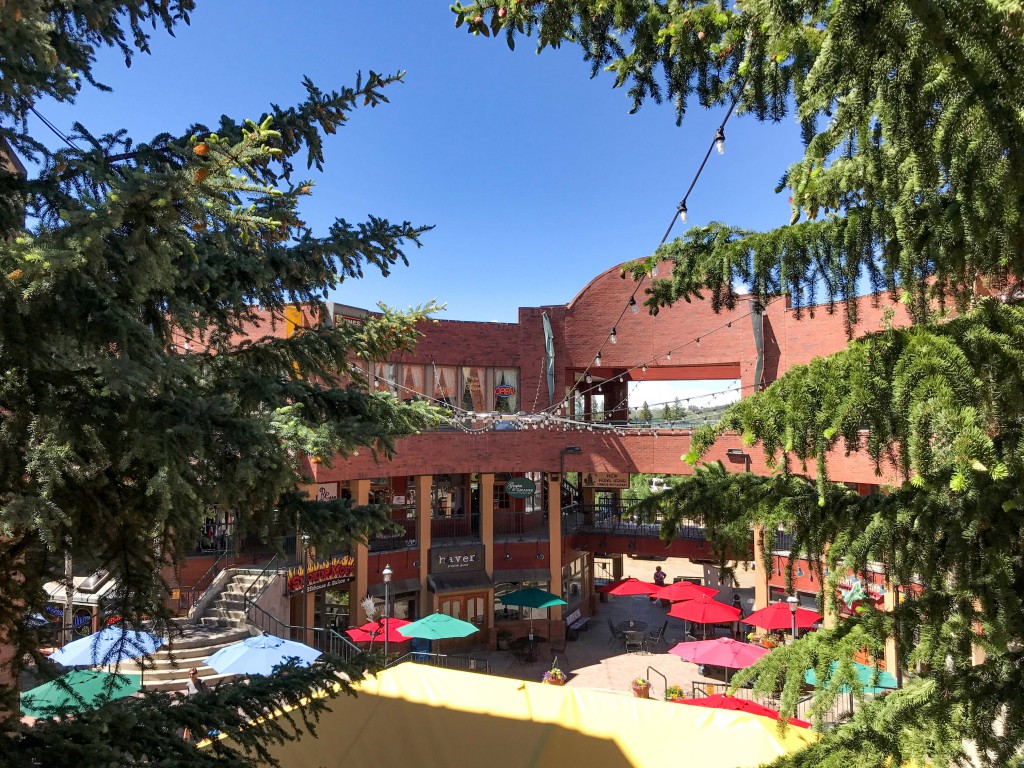 Winter Park offers easy, convenient, walkable shopping.  (Photo by Robert S. Fagan)
"Folks are attracted to Winter Park's fantastic skiing, but stay for Grand County's glorious summers." Those are the words of 30-plus year resident Gaylene Ore and they so squarely hit the mark. A vast array of outdoor summer fun awaits you!
Yes, there are other gorgeous ski areas throughout Colorado that also attract summer visitors, but for a host of reasons, Grand County may be the "Capital of Colorado Summer Play."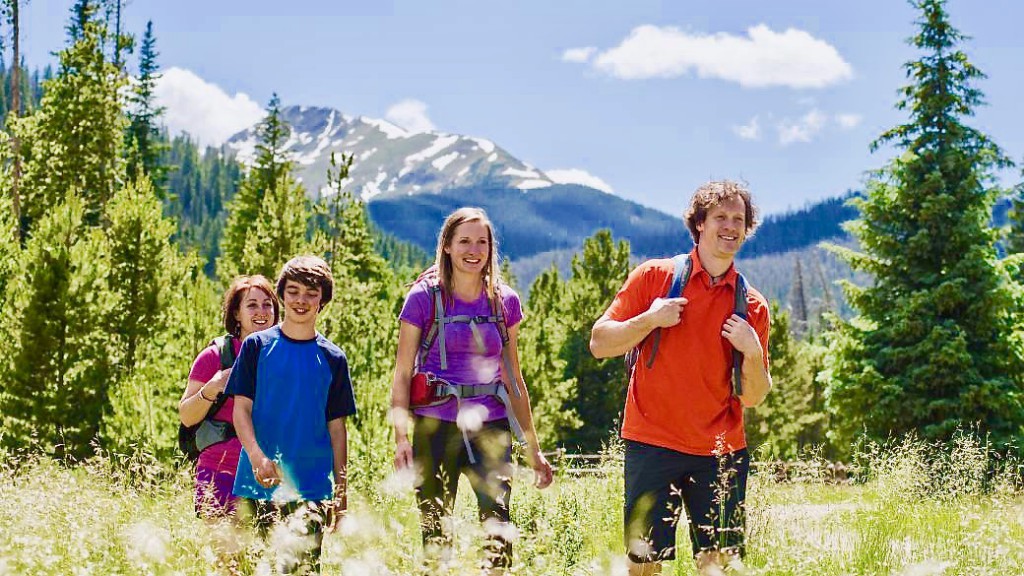 Grand County naturally transforms from a winter wonderland into a plethora of summer outdoor fun!  (Photos courtesy of www.playwinterpark.com)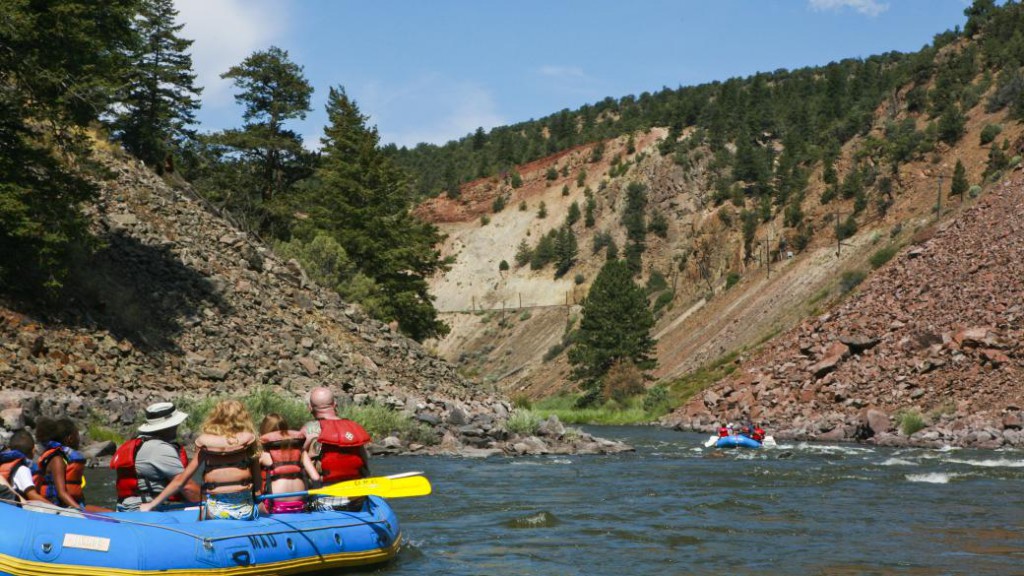 Conveniently situated west just over the Continental Divide from Boulder or 67 miles from downtown Denver, your heartbeat quickens and your cares fade as you climb toward Grand County with its cobalt blue skies or puffy clouds. Here life is unhurried. Grand County's tall peaks, pastoral valleys, lakes, reservoirs, fresh streams and rivers, and clean, clear crisp high-altitude air spell the perfect restorative tonic – and a daily, weekend, or seasonal summer retreat.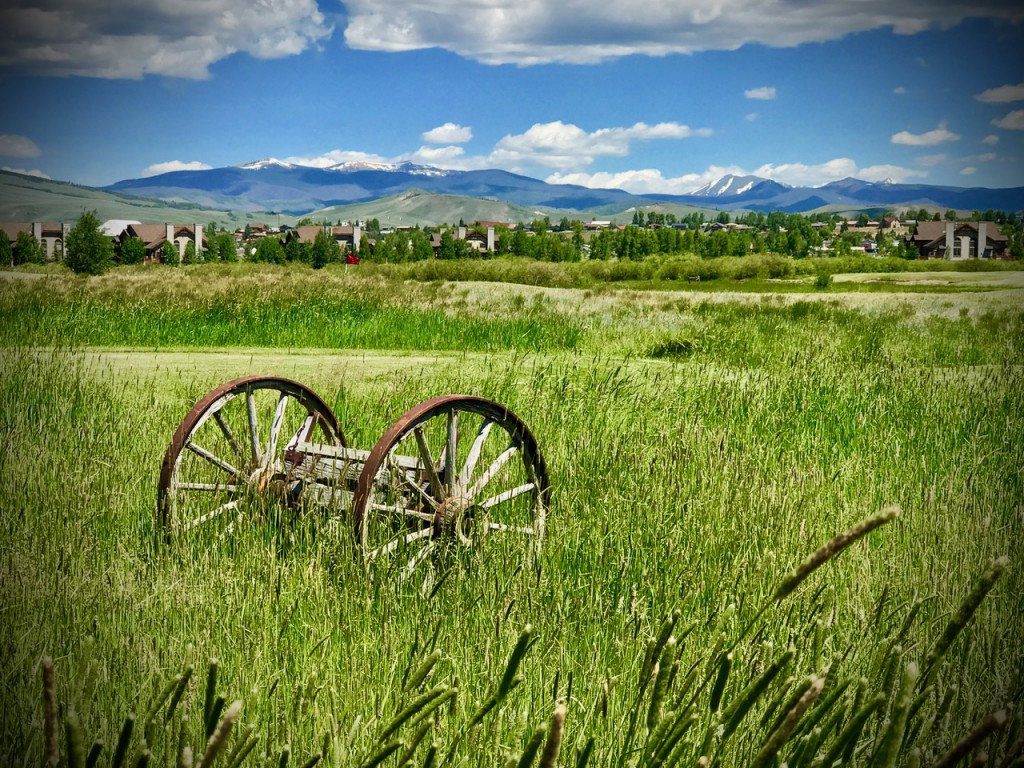 Rustic, wide open spaces, majestic mountains, and blue skies are a summer fixture as illustrated by this scene on the Grand Elk Golf Club in Granby.  (Photo by Robert S. Fagan)
Yes, easy to get to, Grand County is just little more than a 90-120 minute drive west from the Denver metroplex along Interstate 70 with a turn onto Route 40. Or alternatively you might choose to rest, relax, and enjoy the amazing scenery aboard the Amtrak train from Denver to Granby. Either way, you will melt into the 9,000-1,300 foot mountains that beckon you. Alternatively approaching from the West, the Amtrak adventure makes for a compelling entrance as well.
Grand County is composed of several small towns that play perfect hosts for families, adventurers, and outdoor athletes, but it is Winter Park that has the rooms and more amenities to call your base camp from which to explore and play. Absent in the summer are crowds, traffic, and congestion – just good, clean, family fun and adventure!
Wildlife is all around you in the Rocky Mountain National Park. Above a herd of elk was checking us out as we entered the Park.  (Photo by Robert S. Fagan)
The town of Grand Lake is a mere five-minute drive to the less frequented west side gateway of Rocky Mountain National Park that boasts more than 600 miles of hiking and biking trails for all abilities and is the source of the mighty Colorado River. Or if you are into auto touring, its Trail Ridge Road is the highest continuously paved road in North America. It's no wonder that the Park is one of the ten most visited National Parks in the United States.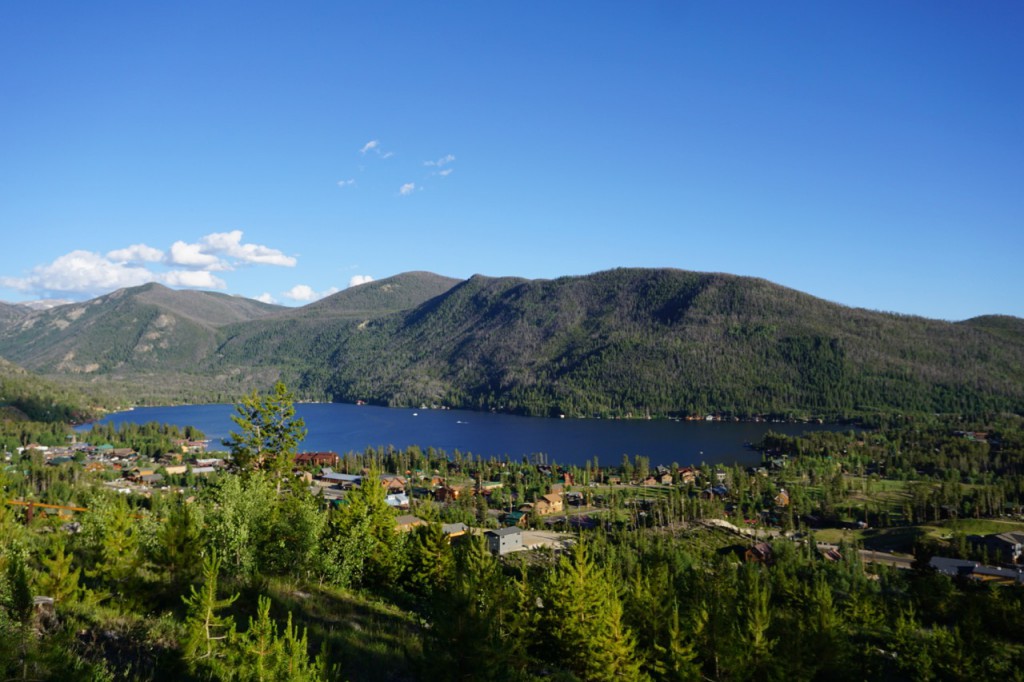 Water activities abound at scenic Grand Lake.  (Photo by Robert S. Fagan)
Whether for family fun, adventurers, athletes, or casual recreation, world-class outdoor activities await. For water sports, Grand County is home to scenic rivers and the State's largest natural lake, Grand Lake, as well as beautiful reservoirs. Swimming, boating, water skiing, fishing, sailing, rafting, and kayaking in such beautiful surrounds is, indeed, something to behold. In fact, the twenty-mile stretch of the Colorado River downstream from Granby gains a "Gold Medal" Trout Fishing Rating. Or perhaps you like to hike, mountain bike, horseback-ride, camp, zip-line, wind-surf, or try a dude ranch ("Colorado's Dude Ranch Capital"), alpine slides, hot air balloon, spas and retreats, all–terrain vehicle sports, rock-climbing, jeep tours, or one of my favorites – golf!
Are you a golfer that wants the thrill of seeing your drives fly further and straighter? At 8,000 feet or more, that's exactly what you will encounter in Grand County. It is estimated that you will hit it up to 15% further here. Four excellent golf courses await and each is refreshingly different from the other – and affordably a good value!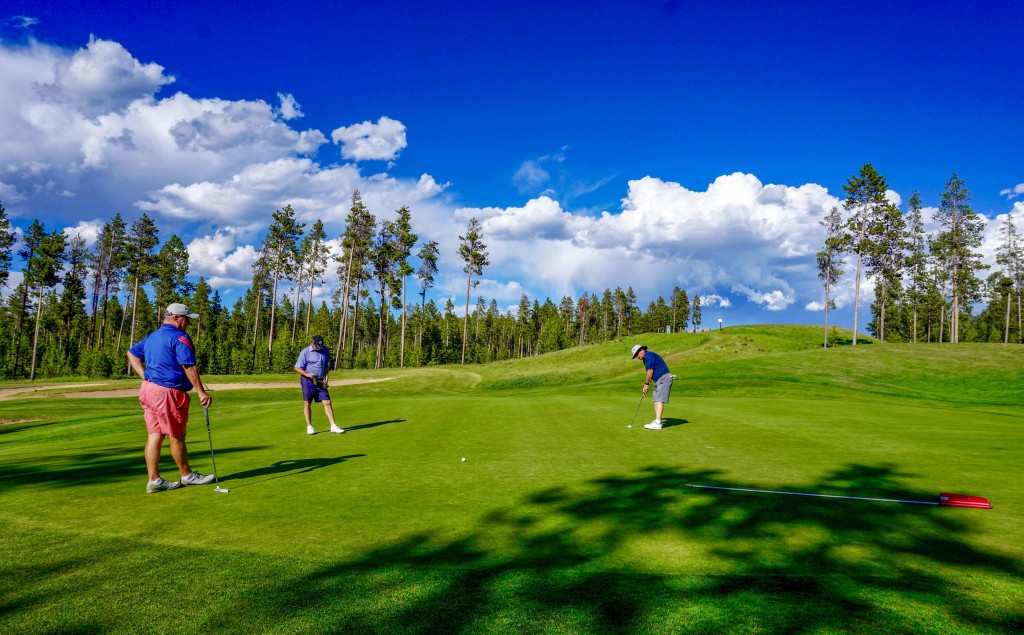 Challenging fun and spectacular scenery greet golfers in Grand County as shown above at the Pole Creek Golf Club.  (Photo by Robert S. Fagan)
The Grand Elk Golf Club is a beautiful facility with a charming, modern clubhouse, full golf and food amenities, and a challenging Tripp David/Craig Stadler Signature Design. Some describe it as a heathland-style course. I would rather term it a wetlands style one with water and its vegetation more often defining the challenge and the routing. Built in a flat meadow setting with housing on the perimeters, it nonetheless has lots of character, moguls, and even blind shots caused either by the mounding or wetlands vegetation. This nicely maintained layout would definitely be described as a "local knowledge" test as it will require a round or two to discover where you want to hit it and where you don't. Also, beware of your attention, as you will be continually attracted to the gorgeous mountain backdrops that surround you at Grand Elk.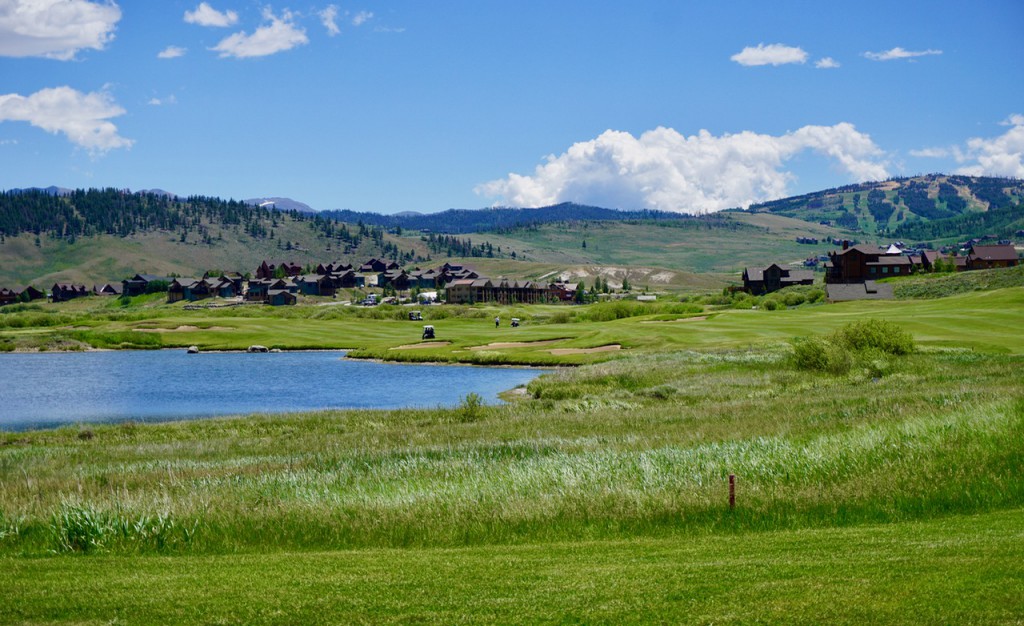 Lots of water hazards and long, native natural grasses are the theme on flattish, valley setting of the Grand Elk Golf Club. Above is the par-5 17th that is reachable in two shots with a courageous tee shot.  (Photo by Robert S. Fagan)
While the Grand Lake Golf Course never affords you a view of that same-named body of water, you are treated to bucolic surrounds of the mountains that seem little more than a short par-five away. Rolling terrain with some interesting elevation changes and smallish push-up putting surfaces form much of the defining characteristics. While thousand of trees were wiped out years ago from infestation there are still more than enough to attract and occasionally test you, but the positive aspect is that it has opened up the beautiful vistas and highlighted the interesting topography within the layout. There is a nice variation between wide and narrow corridors, but it will ultimately be your ability to hit accurate approach shots that will help you score well at Grand Lake. If you are inclined, Grand Lake is the most walkable of the area courses.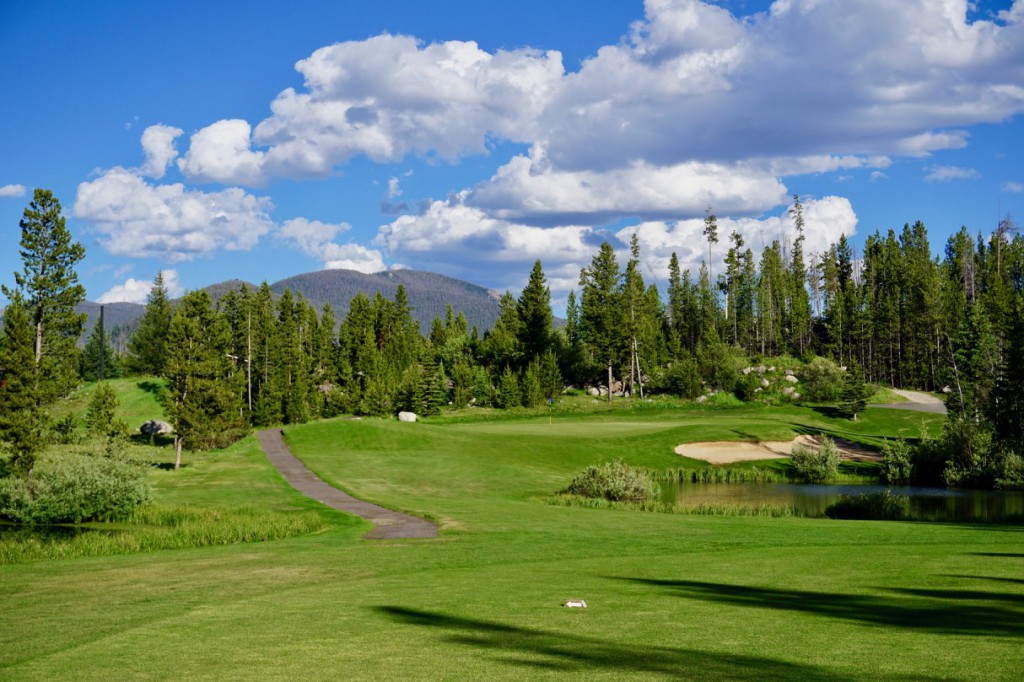 There is an enticing risk-reward option for bigger hitters hoping to reach Grand Lake's par-5 18th hole in two shots.  (Photo by Robert S. Fagan)
The newest of Grand County's primary golf facilities is Granby Ranch redesigned by Nicklaus Design. Its rustic, scenic setting combining a spacious on the Fraser River valley floor on the outgoing nine contrasts in relationship with a more adventurous hilly incoming one that will no doubt get your attention in a most positive manner. The conditioning is excellent, but the somewhat bizarre back nine routing has several awkward transitions between holes so as not to be walkable and several of the putting surfaces were severe. That aside, I loved the golf course.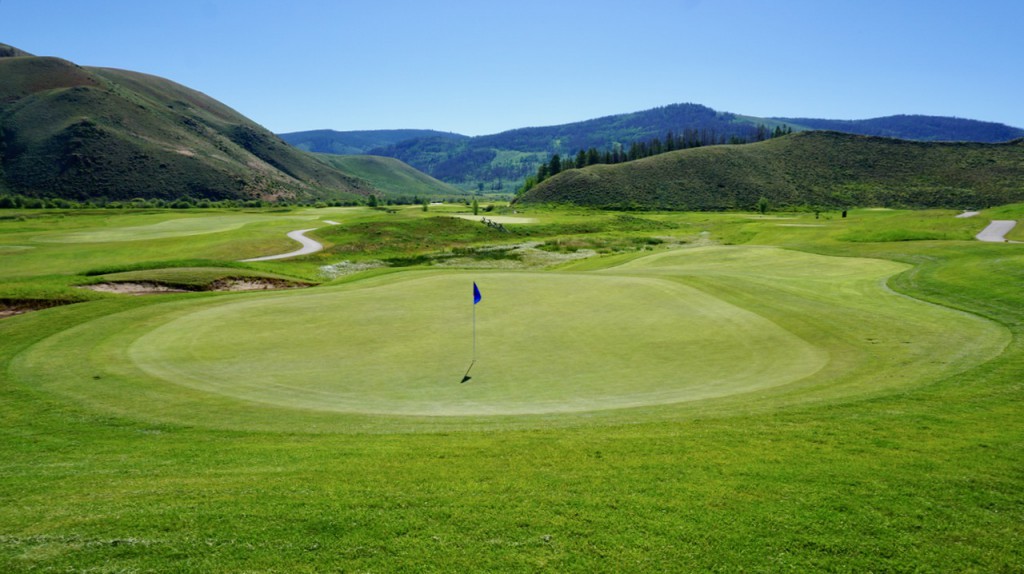 Whether tackling the most flat front nine or navigating the hilly back nine, the challenge is always on at Granby Ranch. Above is looking back on the long, par-3 2nd hole.  (Photo by Robert S. Fagan)
The 27-hole Pole Creek facility always gets ranked by golfers as one of the top public-access courses in Colorado – and I have no disagreement with that whatsoever. Sitting in its beautiful hillside clubhouse, you look down upon the beautiful vistas comprising the practice facilities and the original Denis Griffiths 18-holes – now the Meadows and Ranch Nines. Griffiths was brought back to build the new Ridge Nine above the clubhouse on even more spectacular wooded terrain and the results are impressive. This is traditional golf, big bunkers, big greens, water in places – and very playable or testing depending upon your choice of tees. Again, magnificent views and backdrops are all around. Particularly the newer Ridge Nine will have you reaching for your camera and wanting to return.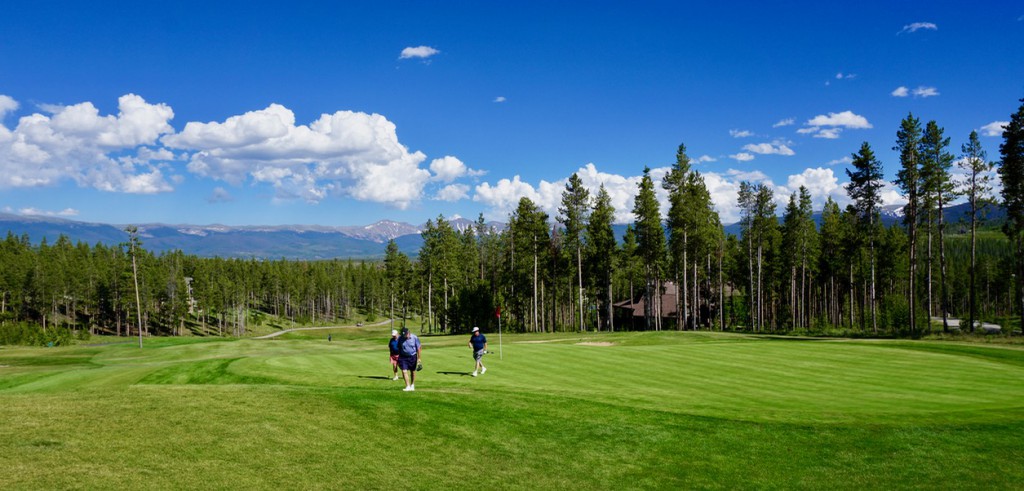 The Continental Divide is seldom out of sight when playing at Pole Creek. Here golfers depart the difficult, uphill par-four 10th hole on The Ridge Nine.  (Photo by Robert S. Fagan)
As far as you might want to stay, I recommend you check out www.staywinterpark.com. They are a good source for information offering a portfolio of 270 properties that range from hotel rooms to spacious, upscale vacations homes. And for more information on fun activities anytime in the region, go to www.playwinterpark.com.
Speaking of wanting to return, I can't wait for my next visit to Grand County, Colorado. For all that fun I described, it will take you an entire summer just to scratch the surface as I hope to. For all its amazing outdoor attractions and activities, the clean, fun, ambiance and friendly folks make Grand County a uniquely low-key and wonderful natural and healthy place to visit or even live!