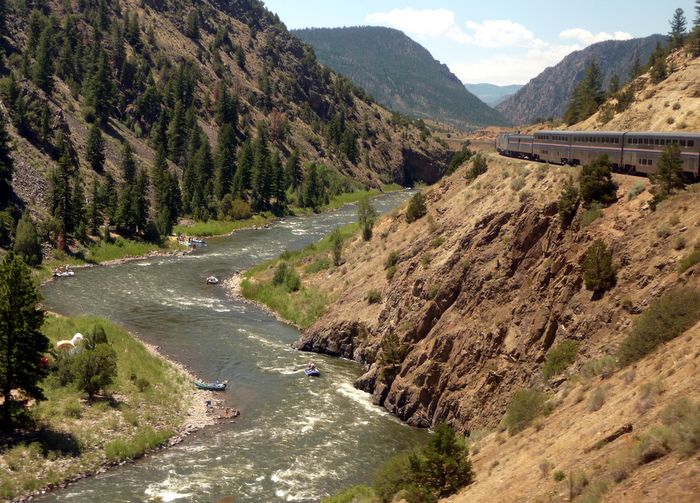 The river gorge scenery on Amtrak's California "Zephyr Line" is spectacular between Granby and Grand Junction, Colorado!
"Though trains may no longer be the most common mode of travel, they lend a tough of history, heritage, and nostalgia to any vacation. A not-significant bonus of train travel: not driving. Instead, settle in and enjoy the epic views in an eco-friendly, low-stress fashion." So wrote Page Buono and I completely agree.
When you leave the eastern plains of Colorado by Denver and climb into the Rocky Mountains or head from the California's Sierra Nevada Mountains eastward through Colorado, you're in for one of the most beautiful train rides in all of North America.
Add to that the opportunity to share spectacular views that otherwise are available only to hikers, rafters, or locals, you have the Amtrak stretch between Granby and Grand Junction, Colorado. I recently had the privilege of taking this five-plus hour trek that also included the scenic canyon community of Glenwood Springs – all while hugging the quickly flowing Colorado River. All three towns are worth staying and enjoying a side trip.
And if you play golf, Denver, Granby, and Grand Junction all have special courses you may want to stop over and play.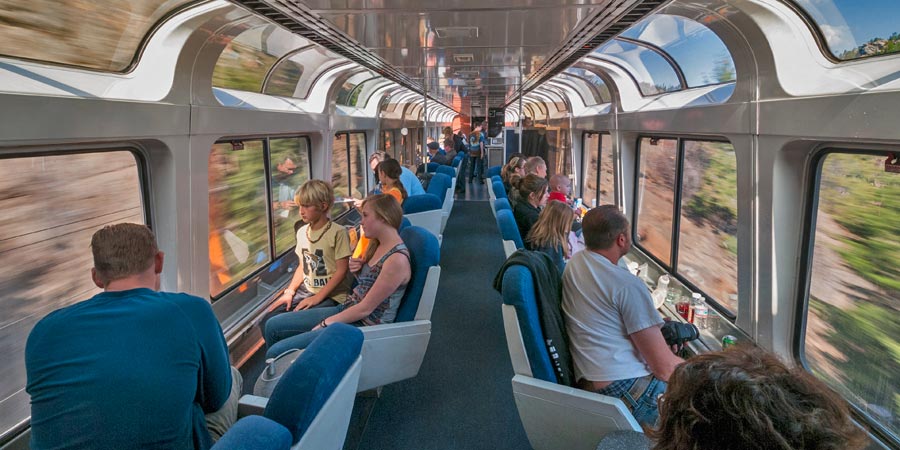 These passengers were lucky enough to commandeer a seat in the Observatory Car. If you are taking pictures, there are portions of the trip that it's best to be on one side as opposed to another so check with the staff.
While you may begin or end your trip in Oakland, California or Chicago, Illinois, this breathtaking portion of your trip will take you past Class-5 rapids, rafters, hikers, orchards, and canyon walls sometimes so deep to can barely see the tops. Add in a comfortable reclining chair, add in a libation and meal in the dining car, or commandeer a seat angled to better absorb the view in the observation car, and "life is pretty darn good!" What I am try to say is that this portion of the trip is not the time to be sleeping or working on your laptop or Smartphone, but rather to make sure your camera is ready and available.
Amtrak's California Zephyr Line and especially its Colorado segment make for a bucket list experience!