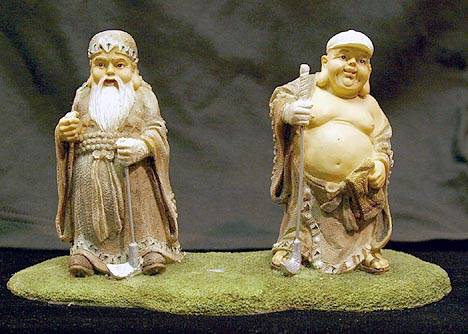 Author Mark Button brings the two golf gods, Ti Ming and Tem Po, to life in "Finding Ti Ming & Tem Po."
Seldom would a book aimed at a market between the ages of 8 and 18 grab me, but there's always a first time.  And I am always a bit nervous when asked to review a book written by a friend.  Wow!  Author Mark Button's first effort "Finding Ti Ming & Tempo" effectively "drives the green."
Mark Button is a very fine and accomplished Texas golf writer.  I have also observed first-hand that he is an excellent golfer so it interested me when I learned he had come out with book aimed at junior golfers.  And as a friend of mine, my nervousness stemmed from how do I critique a friend's work if it doesn't resonate with me?  As a pyscho-spiritual golf and performance coach, I am pretty well schooled in what golfer's proper beliefs are and how they should be feeling so at least I would be prepared and qualified to comment on the work.  Fortunately, my initial uneasiness was unfounded and now I sit here writing a glowing review with a big "two thumbs up."
The idea for the book was sparked by Paul Buckley's belief that all golfers are affected by the understanding in the very broad sense of two of the most important elements of the game – timing and tempo.  (Buckley is a passionate golfer who enjoyed a distinguished career with Hilton Hotels).  His friend Button took the concept and has weaved an illuminating tale of the two golf gods, Ti Ming and Tem Po, through four sections in which the two golf gods appear in the dreams of golfers and impart the wisdom of confidence, respect, judgment, and perseverance to impact not only their subject's golf games, but their lives.  Suffice it to say that Button weaves the lessons into an entertaining narrative far better than I ever could.
Though "Finding Ti Ming & Tem Po" is a great way for aspiring young golfers to learn some fundamental mental foundations, it goes much further than that.  In a very simple, quick, and entertaining fashion, Mark Button touches the souls of all golfers.  A quick and fun read, the piece is a timeless checkpoint for all of us as we move along our journey in golf and life.  As such, I recommend you gift this to every junior golfer you know, but be sure to also sneak in your own read as well.  You will understand why I believe "Finding Ti Ming & Tem Po" has the makings of a classic.
For more information go to:  www.timingandtempo.com.