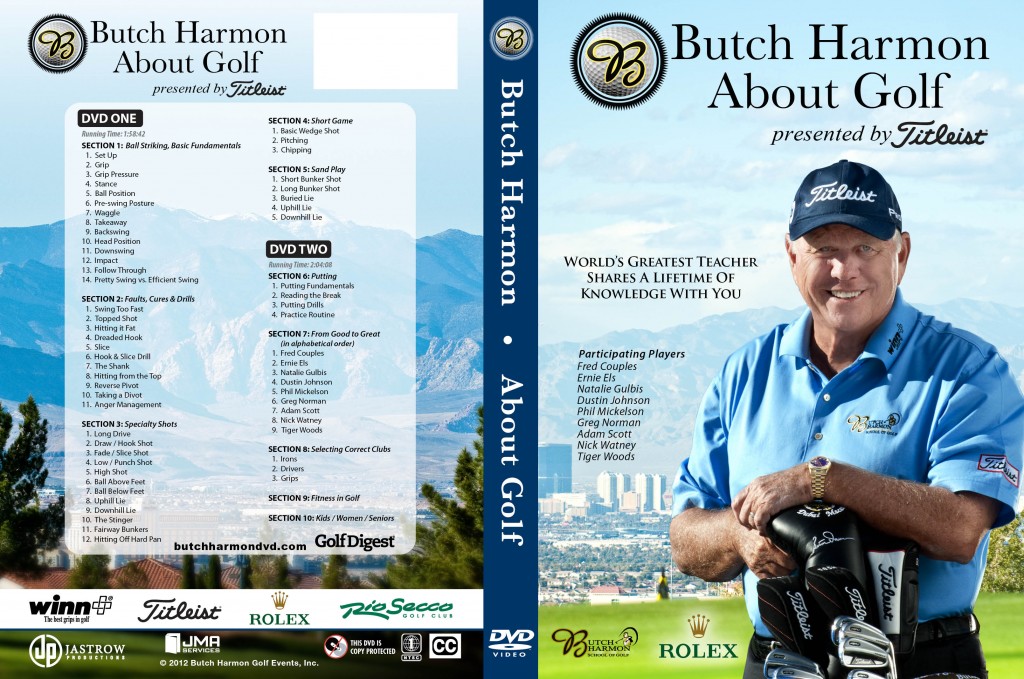 As the Hollywood film industry is well-known for its nepotism, so too are some of the top echelons of the golf instruction business – many have had their roots pass through Claude Harmon and his four sons in one way or another.  Unlike the use of money and power, however, in golf this dynasty relates more to golf wisdom and the ability to successfully communicate it with others.  When Butch Harmon, the oldest of the four sons speaks, I listen!
Father Claude Harmon's roots reach into many areas and he was a good enough player to win the 1948 Masters.  His long-time position at the golf professional at Winged Foot in New York and Seminole in Florida had a virtual "Who's Who" pass under his tutelage.  Among them were his four sons, all outstanding club or teaching professionals.  Butch was the oldest and good enough to attempt the TOUR, but teaching was his forte.  Of the father and four sons, Butch has become the most prominent, arguably the best teacher of his generation.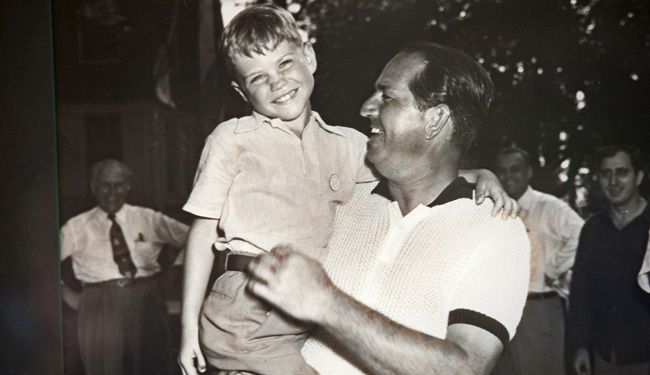 Butch Harmon and his Dad, Claude.
There is a little secret in the golf industry that not all the "great teachers" are really that great.  Some are better marketers or may have simply benefitted from the notoriety of a "star player" they worked with.  There are those who will go so far as to say that a few have even ruined their pupils' progress.  Whether true or not, that certainly does not apply to the Harmons and Butch in particular.  His stable of clients is deep and includes Tiger Woods, Greg Norman, Phil Mickelson, Ernie Els, Fred Couples, Seve Ballesteros, Nick Faldo, Corey Pavin, Se Ri Pak, Dustin Johnson, Adam Scott, Lee Westwook, Nick Whatney, and on and on.  And they all speak impressively about Butch.
As you might imagine, Butch Harmon is busy and expensive, but "Butch Harmon About Golf" is not at $79.95 plus shipping and handling.  It's a great value and like enjoying an "Encyclopedia of Butch Harmon."  I've heard Butch speak on numerous occasions and I am always entertained.  More importantly I also always learn something.  This production is an extensive 57-chapter library of more than 250 pieces of instruction in covering every part of the golf game in a 2-DVD four-hour set.  In fact, there is so much information that you will likely be best served visiting different sections and trying the instruction on the practice area as opposed to trying to digest it all in one or two sittings.
Whether discussing the swing and ball-striking or the short game, specialty shots, and putting, you will find Butch Harmon to be direct, clear, and concise – and his messages easy to grasp and entertaining.  The production quality is excellent.  Another interesting aspect were his interviews with such stars as Phi Mickelson, Tiger Woods, Greg Norman, Fred Couples, Ernie Els, Dustin Johnson, and Natalie Gulbis.  They provide a unique inside-the-ropes perspective of what a world-class player goes through in keeping their game sharp – not all that different from yours or mine.
"Butch Harmon About Golf" is a useful, comprehensive resource for you to refer to whether your game needs help or you want to progress to the next level and will be one of your best investments in your golf instruction video library.  I give it an enthusiastic "two thumbs up."
Refer to: http://www.butchharmondvd.com.
P.S.  Behind the scenes:  This video took more than a year to shoot.  In the beginning you will note that Butch is a bit on the chubby side.  He went on a diet and now looks great losing more than forty pounds.  The slimmed-down Butch was shot toward the end.