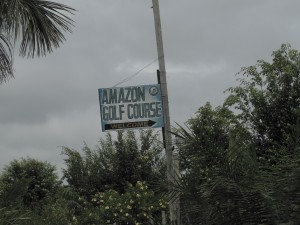 "Don't shoot him! He just climbed the fence and only wanted to take some pictures of the golf course." This is what my new friend cried to the operator of the Peru's Amazon Golf Course just minutes after I had trespassed in broad daylight. As I soon discovered, they were not joking. Maybe?
Such was the beginning to my latest golf adventure – to play one of the world's most remote inland golf courses. I've played Augusta National, Cypress Point, Seminole, St. Andrews and many places in between, but the Amazon Golf Course counts as one of those unusually fun golf experiences. Located in the Upper Amazon, the city of Iquitos, Peru is akin to an island, a growing city of more than 500,000 that is accessible only by air or boat, so isolated that relatively few Peruvians venture there. About seven kilometers out of the city lies the semi-private Amazon Golf Course. The little, rustic 9-hole layout situated on flat former pasture land would prove to be my 2,601st golf course played, a far cry from the upscale Streamsong Golf Resort in Florida that was my previous round a couple of months earlier.
Aside from playing in such an exotic location, I was going to be hosted by my new friend, a real-life Master Amazonian Shaman by the name of Hamilton Souther. Souther is a transplanted Northern Californian who has made the region his home for nearly a dozen years. What's more, he was a founding member of the club and touts a low-handicap game. A left-hander the height of Bubba Watson only with muscles, this 35-year old can really hit it – even with the rusty 1960's clubs we would be provided. Could this be my "Golf in the Kingdom" experience?
Hamilton had cautioned me that we were going to be playing on the tail end of the rainy season and so the greens might be too long to be able to use a putter. The Amazon and its tributaries were a full 40' above their normal levels and with the water tables only about 11' below the surface, the clay-based soils don't drain very well. When I discovered that their current mower was one weed-wacker, I scaled back my expectations. Truth be told, I encountered the Amazon Golf Course at its worst, without its proverbial make-up, but who cares?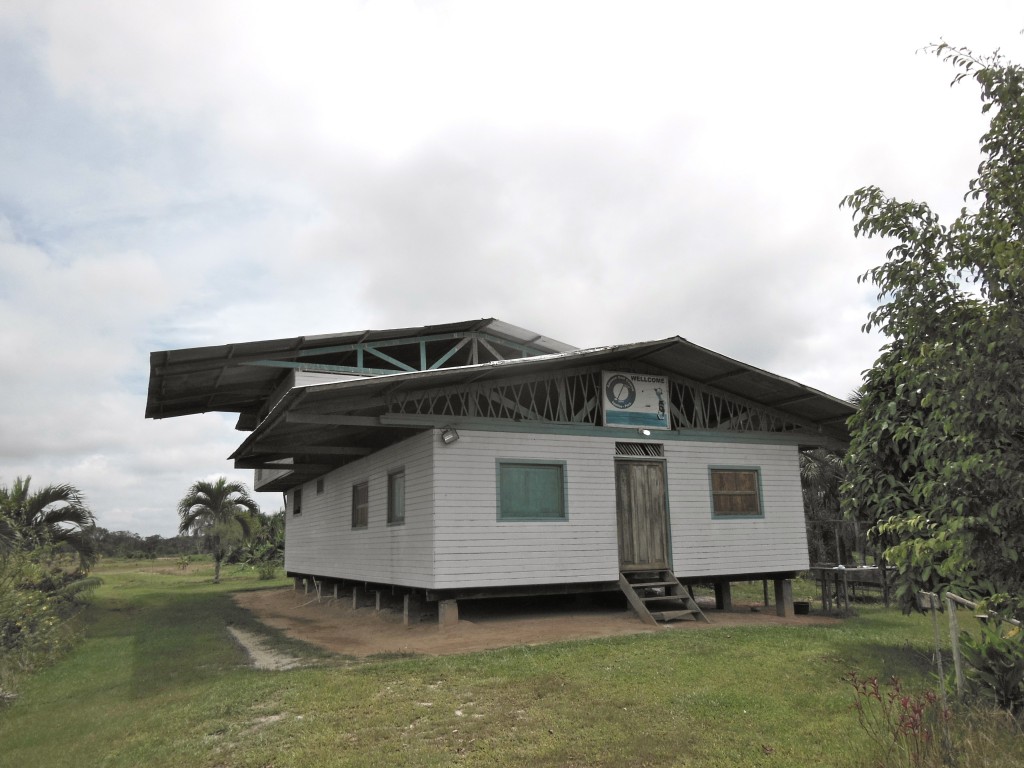 My quick jaunt around the tidy, locked clubhouse (above, and note the "Wellcome" sign) revealed the par-four 9th green looking back down the hole. It would turn out to be the best or only manicured hole at the Amazon Golf Course as the rainy season had not allowed any mowing for some time. While there was a good bit of "causal water," the day would turn out to become a golfing delight!  (Photo by Robert S. Fagan)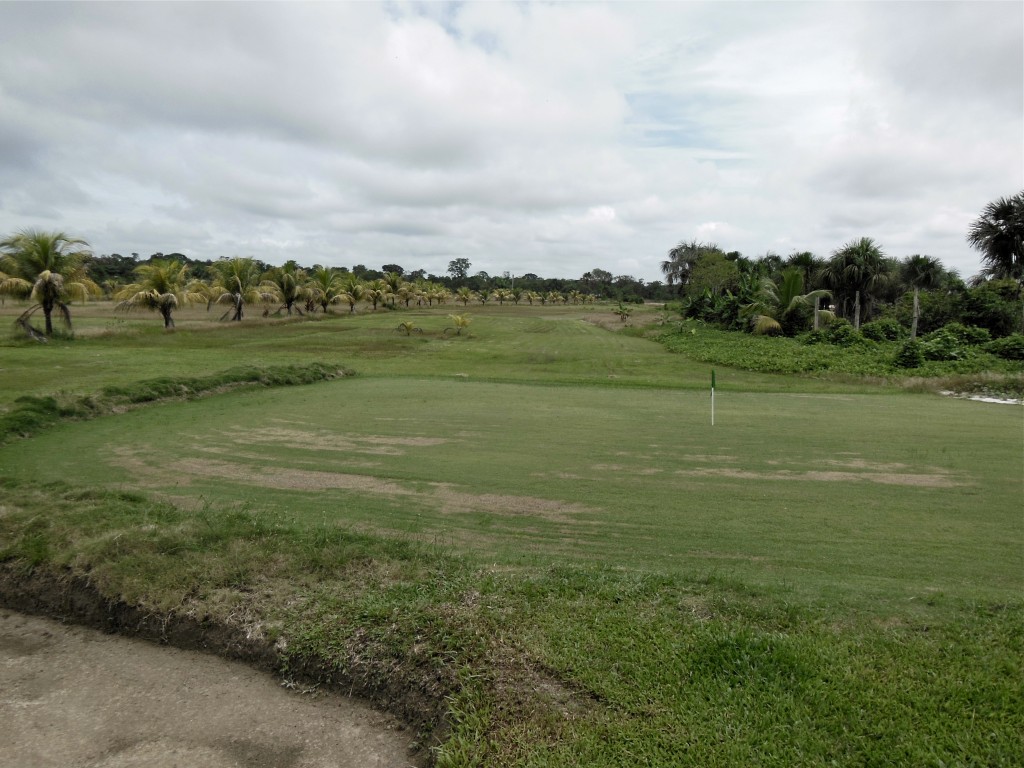 (Photo by Robert S. Fagan) 
My schedule provided me with only a single day to play golf, but thankfully the weather cooperated with cloud-laden skies shielding only part of the typically oppressive Amazonian heat and humidity. Never mind that, I was set. With Hamilton as my guide, driver, and host, we took a bumpy, puddle-filled, mud road off the main highway that was reminiscent of the treks I had taken in rural India to play golf. Nonetheless I was stoked!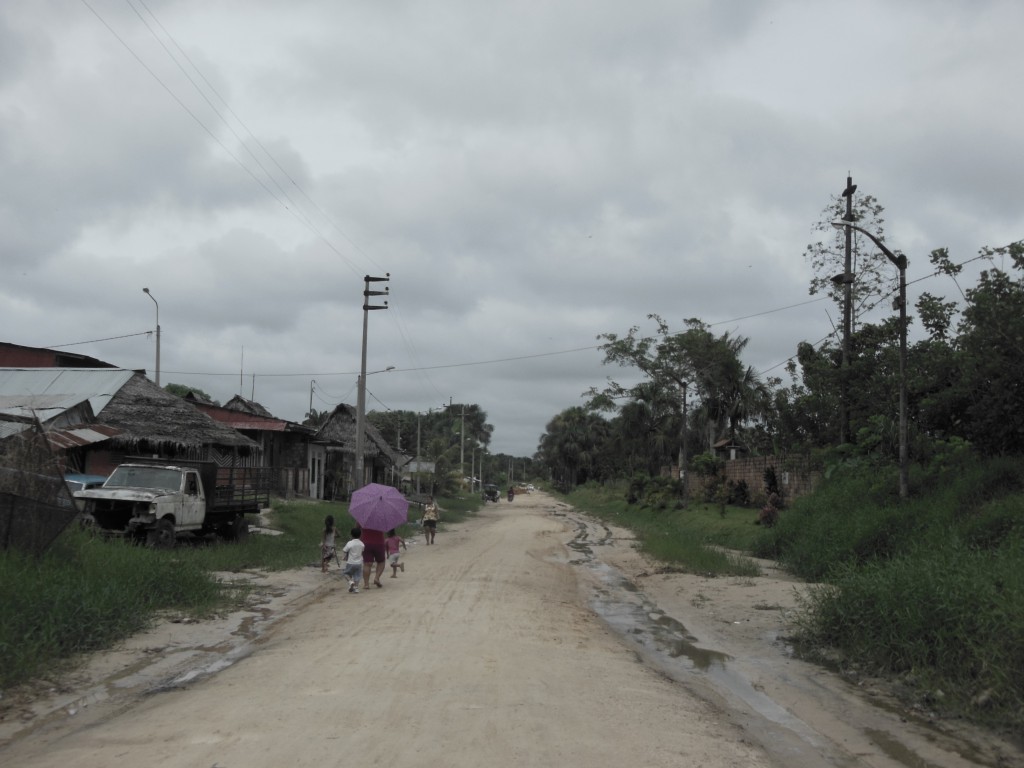 This is not exactly "Magnolia Lane," but the Amazon Golf Course is just down this road on the right-hand side. And who minds the threatening skies? I guess this is one of the reasons I was tagged as "The Wandering Golfer" more than twenty years ago for I will play anywhere. What I uncovered is that special golf can be discovered anywhere in the most unexpected places!  (Photo by Robert S. Fagan)
As we approached the entrance, Hamilton noted that the gate was closed and locked. How could this be? Had I traveled so far to be disappointed? Mr. Souther must have chuckled to himself as I excused myself, exited the truck, and climbed the barbed wire fence. Camera in hand, this old guy was not to be denied. I had to check this Amazon Golf Course out. While Hamilton guarded the vehicle, I ran up the path by the practice putting green to the clubhouse and quickly surveyed the par-four ninth green and par-three first hole. This was so fun though the conditions were ruggedly pristine to state things politely.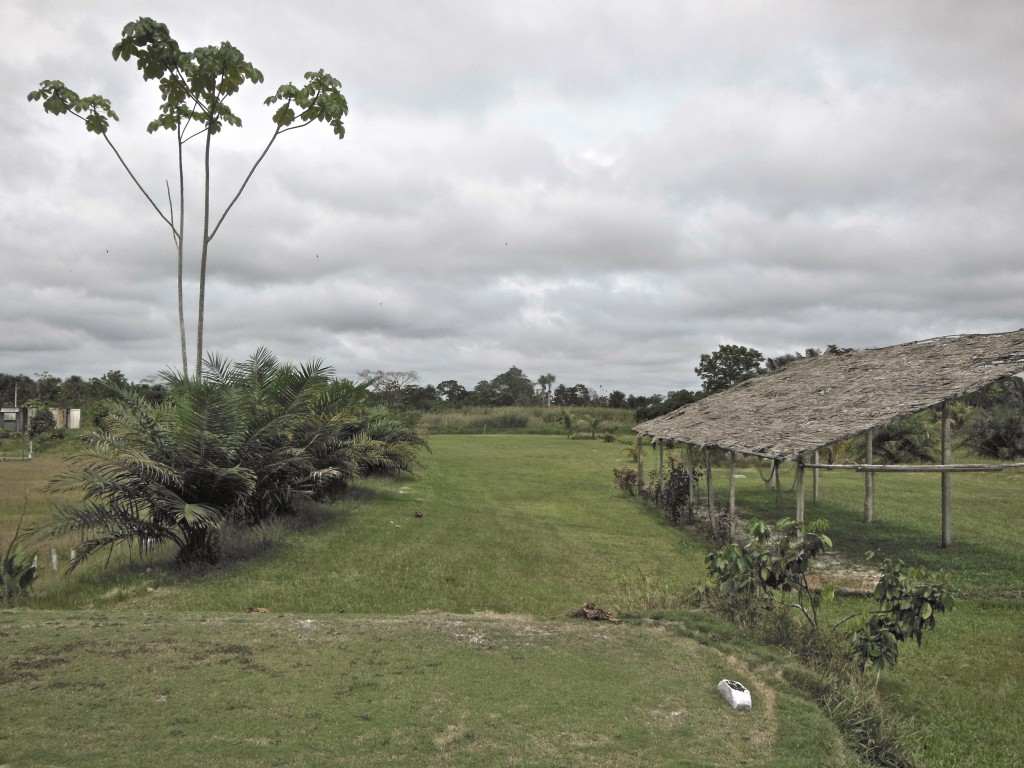 My quick tour of the property revealed the 122-yard first hole of the Amazon Golf Course where hopefully my "Golf in the Kingdom" experience might await. Rather ordinary wouldn't you say? The course was founded and designed by a group of golf-loving expats.  (Photo by Robert S. Fagan)
The ground was sloppy wet and the grass was high. Hamilton was right; the maintenance had been almost non-existent due to recent rains. I circled the wooden clubhouse and then raced down the first hole and stood by the second tee trying to imagine a fairway. Nonetheless, I still wanted to play. Disappointed I thought that I'd better return to the truck and we'd head back to town. Oh, I had come so far only to be disappointed.
Suddenly I heard Hamilton calling my name. At this point, a dark-skinned well-toned man with a machete and a woman carrying a weed-wacker were accompanying Hamilton to the clubhouse. Was there a problem? Here they had temporarily left the facility to get fuel for their weed-wacker, but the best news was that Hamilton and I were going to play golf and the man would caddie for me. And no, they were not going to shoot me!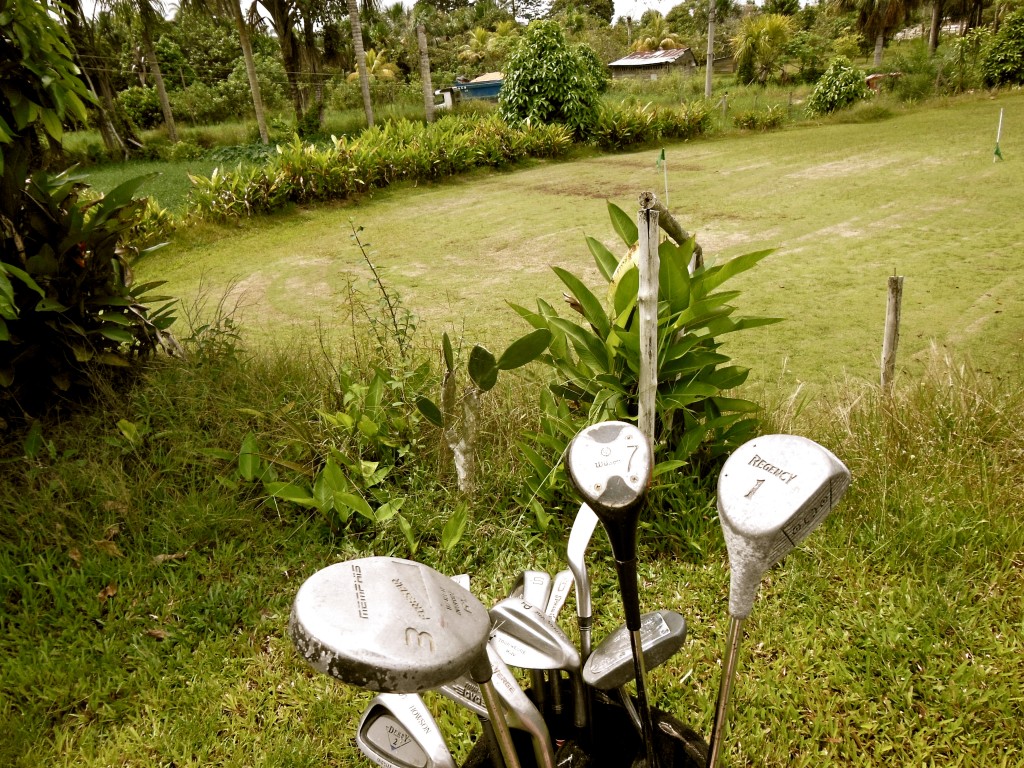 Pictured is my set of clubs that included a couple of sand wedges with the practice putting green in the background.  (Photo by Robert S. Fagan)
Talk about a little kid on Christmas morning? I could care less that my clubs were rusted and old, they provided me with a dozen shiny, white balls with my green fee. I had brought about ten balls along with tees with me, and didn't even take them all. That was nearly a grave golf mistake as I would soon find out.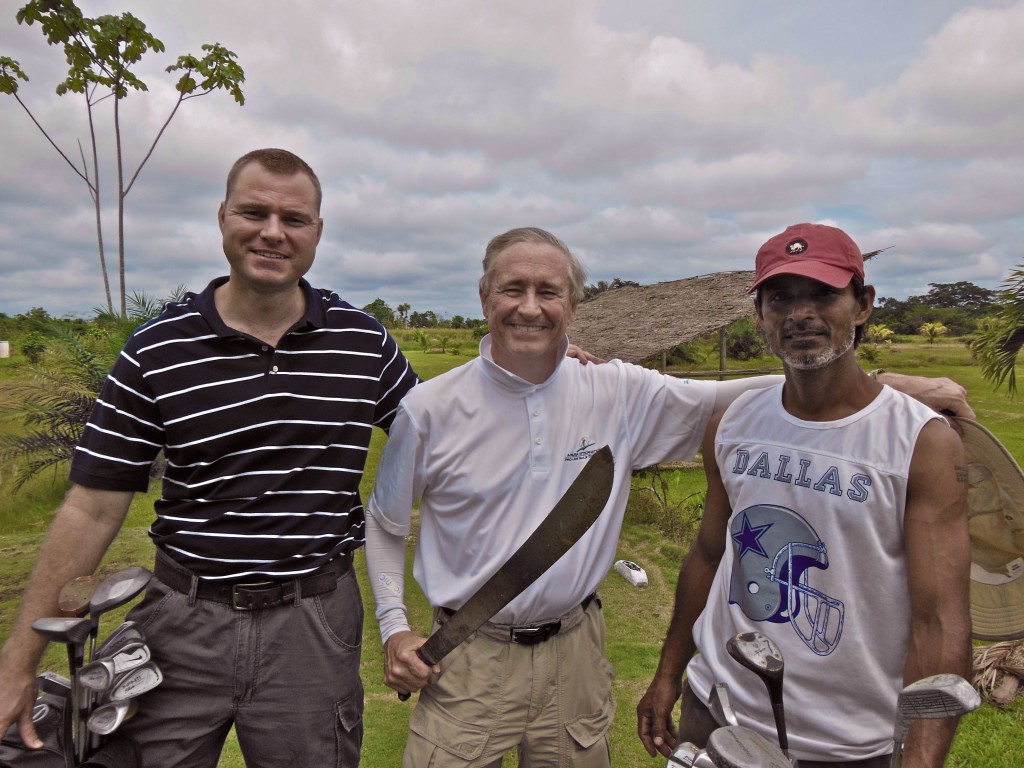 Master Amazonian Shaman and one of the Amazon Golf Course's Founding members, Hamilton Souther and my caddie, Rodrigo, surround me as we were about to begin our 9-hole adventure at the Amazon Golf Course. 
Yes, the man with the machete, Rodrigo, was my caddie. How cool. At the Amazon Golf Course, the machete is an essential either for protecting one's self or creating a playable lie in the grass. Hamilton assured me that during drier periods, the fairways and putting surfaces were more playable, but on this occasion they were like the rough at Winged Foot or Merion before the US Open.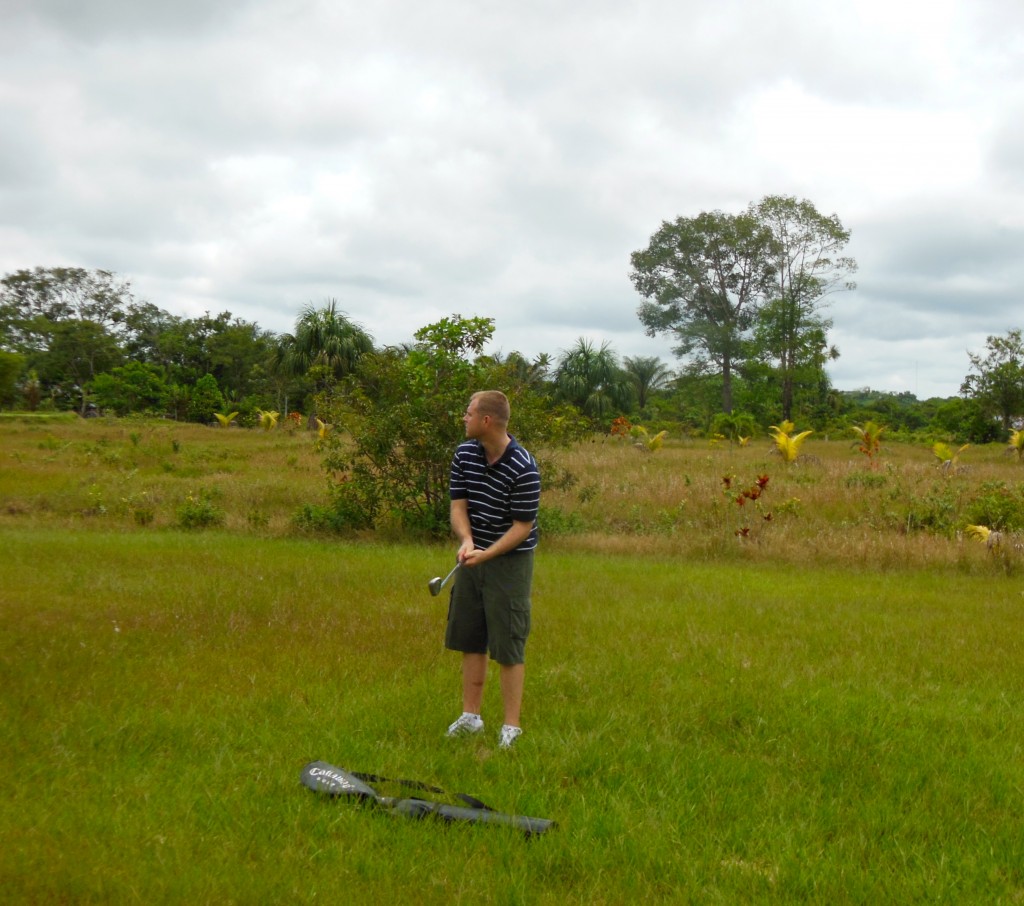 Hamilton Souther surveys his wedge approach shot (with his rented clubs) from the "fairway" on the third hole that he nearly holed – placing the shot a mere 3-inches from the hole!  (Photo by Robert S. Fagan)
Anyway, we were off.  With the club's canine, Geronimo, we had a most unusual gallery. I hadn't swung a club in six weeks, but my first shot was solid and straight on the 125-yard first. Plugging just short of the green, I pitched close to the hole and made my par. On the third hole, Hamilton quickly showed his skill nearly holing his wedge approach. His birdie putt was a mere three inches, but only just inside the "gimme zone" as the putting surfaces were pretty ragged.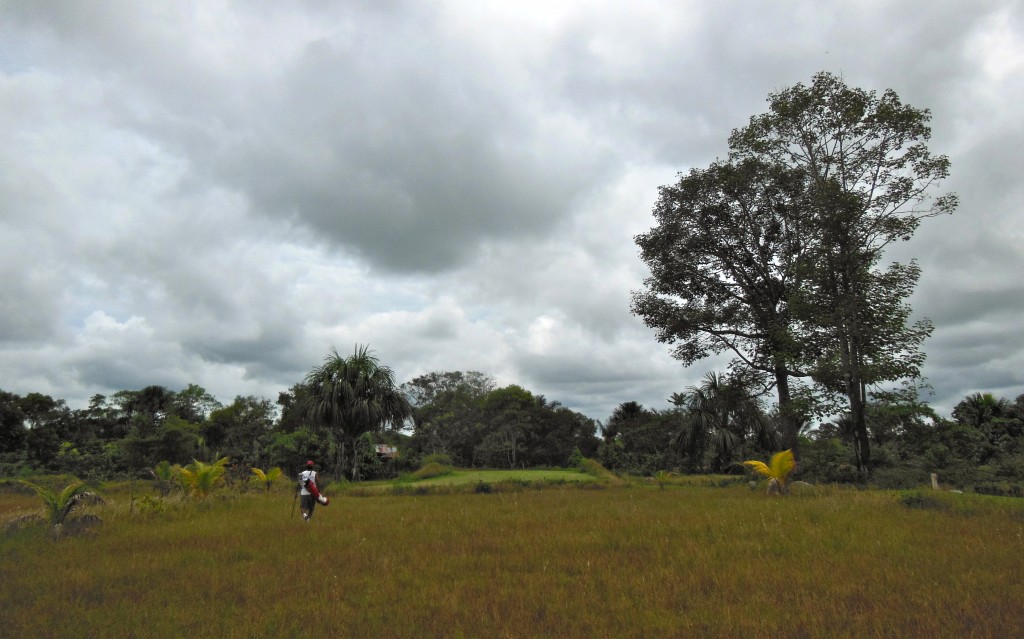 My caddie, Rodrigo, is ahead of me in the fairway on the 6th hole that was to be my sole birdie on the golf course. The flagstick was missing a flagstick so he placed his machete in the hole as a target. Below Hamilton attempts his birdie putt on the same hole, but as was often the case Geronimo provides an additional challenge.  (Photos by Robert S. Fagan)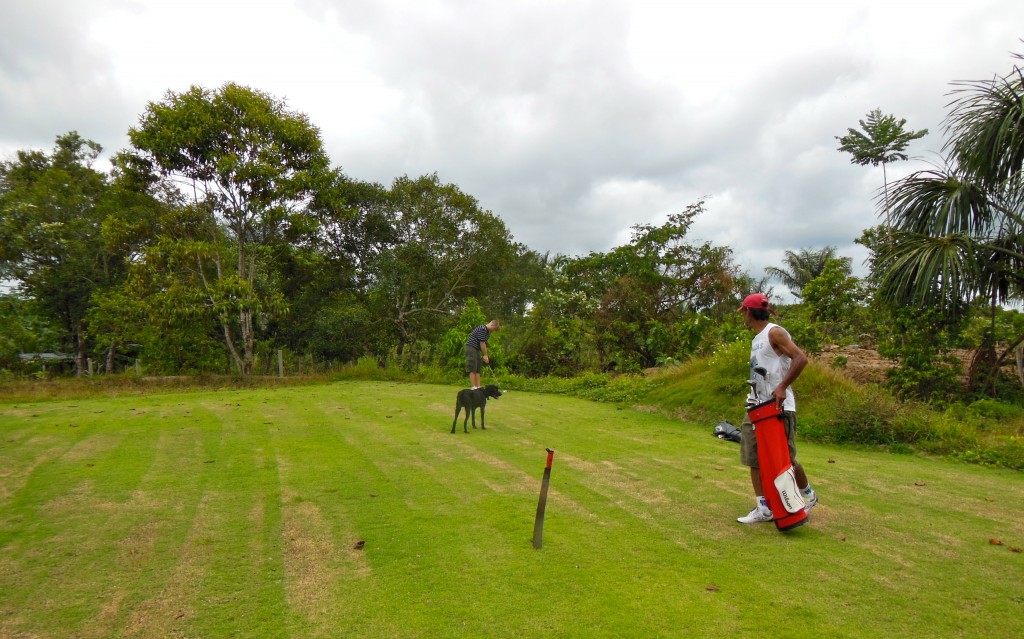 So just how ragged was the Amazon Golf Course? The pictures say it all. The fairway grass was well above my ankles and knee-high in spots, the tiny bunkers' sand was washed away from the rain, and in a few cases the cup or hole was only wide enough to allow the pin to fit. Casual water conditions were abundant. I could imagine many if not all of my American golfer friends would laugh and never pay a dime nor venture out in these conditions, but for me in this instance, the rougher the better for this was a true golfing adventure!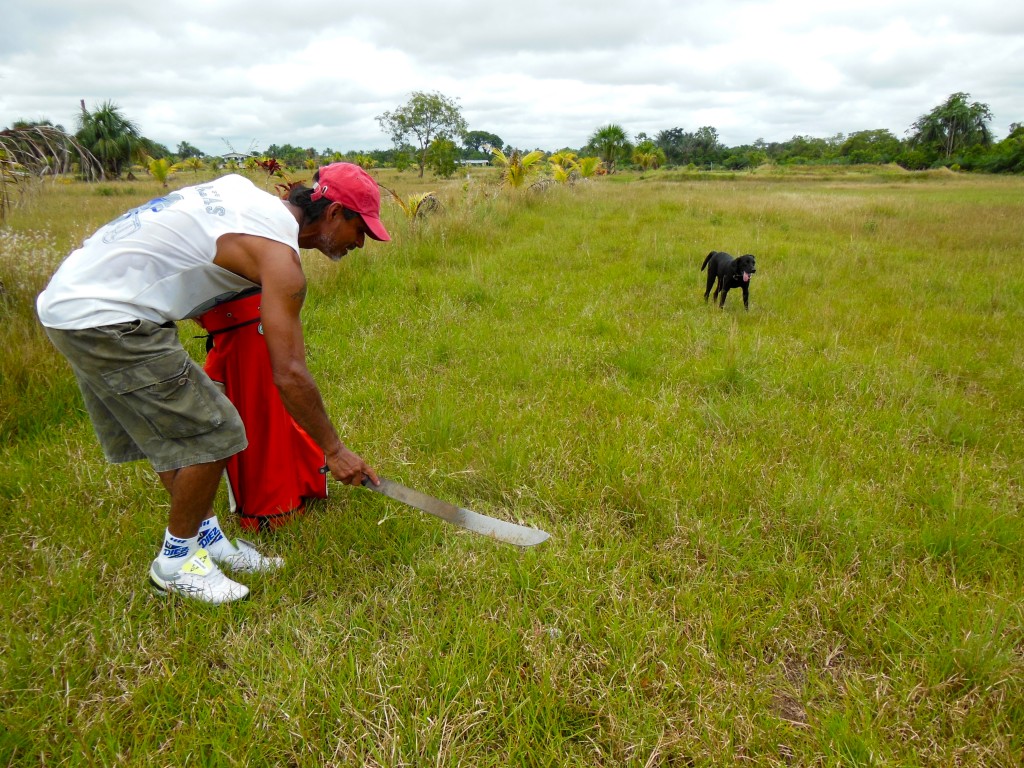 How many places have you played golf where a machete is required equipment? (I almost titled this piece "Machete Golf.") Here Rodrigo prepares a "playable lie" for me in the 5th fairway with the everpresent Geronimo preparing to pose as an additional obstacle in the background.  (Photo by Robert S. Fagan)
Our mascot, Geronimo, was completely useless as an aid. He wouldn't fetch a single ball, but once we found one, he was as likely to carry it away. Some help! He would sit on the tee and we'd have to move him to play away – same on the greens. Nevertheless, he was the happiest club mascot I've seen. My caddie, Rodrigo, spoke no English as Hamilton happily translated yardages and informed me where the holes went (it was not always apparent). Hot and sweaty, was this really golf? You bet it was!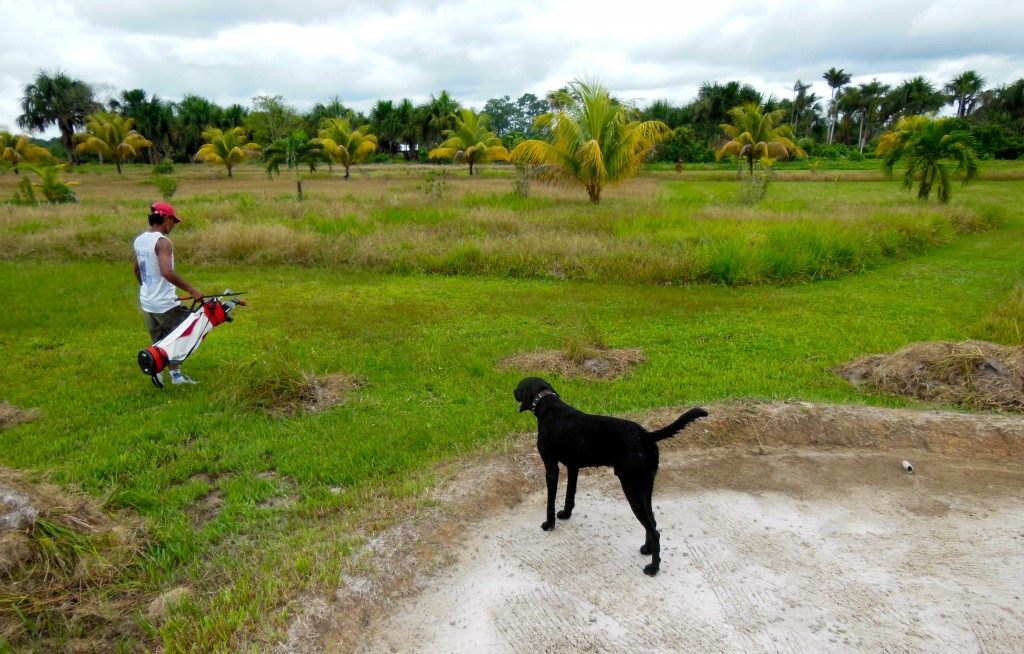 Obviously Geronimo has no regard for golf etiquette, but he was one happy dog as he followed Rodrigo!   (Photo by Robert S. Fagan)
The golf course itself is not going to make any Top Ten Lists. It has a back-and-forth routing of parallel holes, narrow fairways, with tiny push-up greens. There are many seen and unseen water hazards. To complicate things, the flagsticks are only 3' tall, causing the targets to look further away than they actually are. As you can imagine, I over-clubbed the first few holes. Nonetheless, hundreds of miles from the nearest other golf course, the Amazon Golf Course became my "Golf in the Kingdom" experience.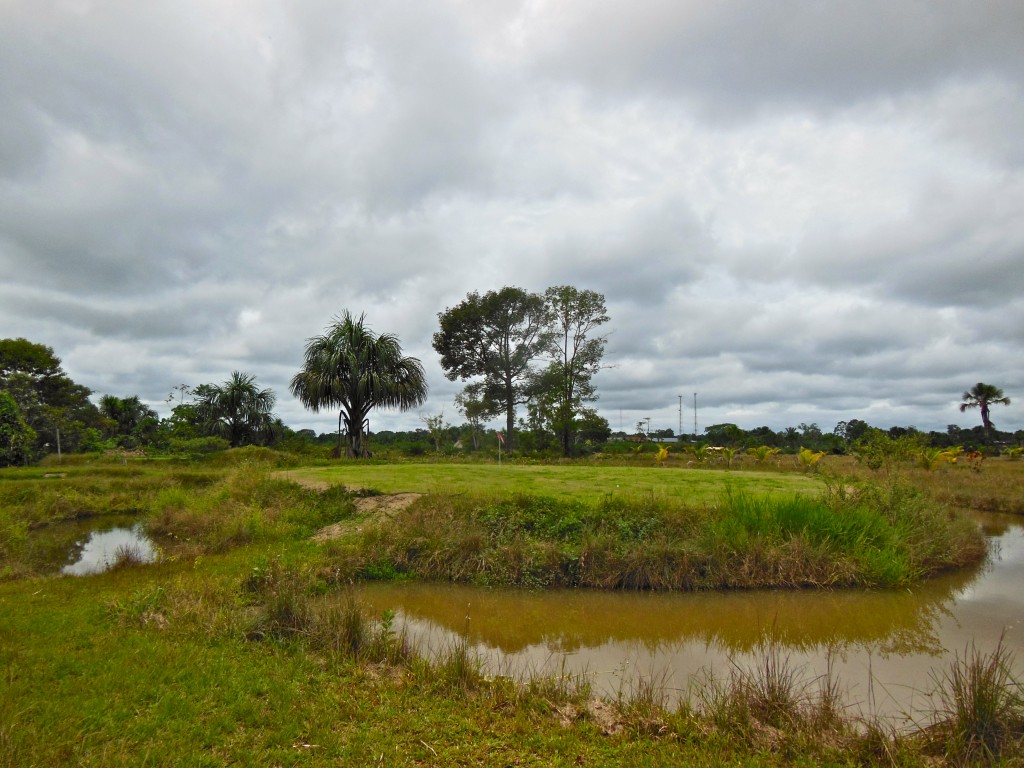 The Amazon Golf Course has its own "island green par-three." Pictured above it the testy 110-yard 4th. With its tiny raised green, it is no easy hole. Hamilton Souther made an easy par (his ball is the tiny white speck on the putting surface), while I succumbed to a double-bogey five.  (Photo by Robert S. Fagan)
Here I was, isolated in the Amazon far from home, playing golf with a real-life Master Shaman. I had a caddie that carried a machete and a quirky dog. My playing companion Hamilton Souther could play and soon we were talking a little bit of smack with one another or alternatively rooting each other on so as to keep our best ball near par. Our score was not important as we lost balls in the prime fairway spots, though we both birdied.  For not playing recently, neither of us embarrassed ourselves. With these ancient clubs, we were hitting some pretty fair shots. While I would like to say it was a fun walk, it was more like a measured trek in swampy conditions, but that doesn't matter. As for leaving most of the golf balls in the truck, I had stuffed eight balls in my pocket and finishing the last hole had but a solitary one left. Whew!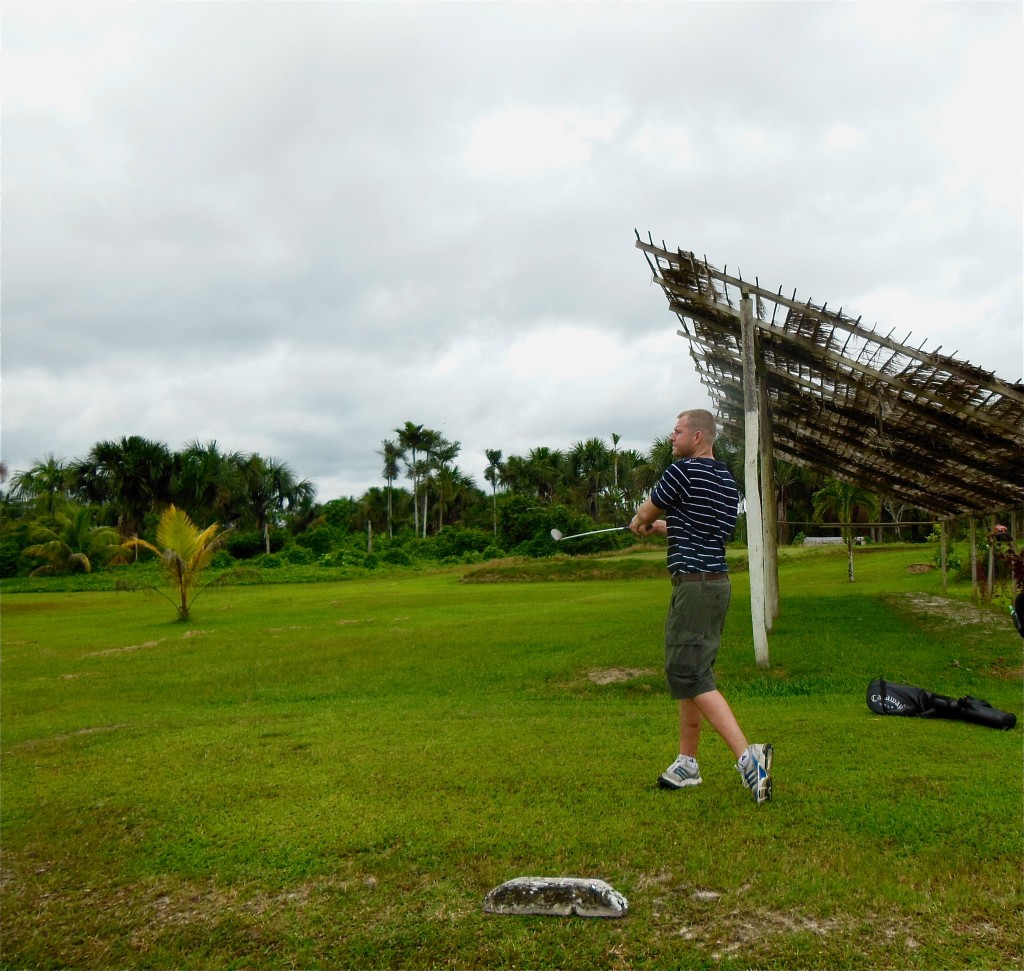 It was a treat to watch Hamilton Souther smash a golf ball. Here he is teeing off on the 388-yard 8th hole. Playing with his own clubs on a previous round, he hit a tee shot with no wind just 10 yards short of the green on this flat hole…whew!  (Photo by Robert S. Fagan)
As you can imagine, a two-ball playing with a caddie on a short nine-hole course doesn't take too much time, but the day and the experience will live on with me as a most fun and unusual one. Making a new friendship via golf, enjoying a walk in a totally exotic location with a dog that could care less about golf, and stepping outside my self-imposed boundaries of what I term "great golf" all made this brief round memorable and special. And reflecting back, playing the Amazon Golf Course with Hamilton Souther was a good reminder that either by yourself or with good company, "Golf in the Kingdom" is wherever you are.
P.S. As the cloudy day I spent at the Amazon Golf Course didn't make for the best photography, it did  hide the oppressive heat. My next day in Iquitos, it would rain incessantly hard the entire day making the course unplayable for days. When it was all said and done, I was lucky enough to experience a wonderfully special golfing adventure on the only day it would have been possible. How fortunate!
Below I happily donated my golf equipment to the Amazon Golf Course – with such nice people too – and she never would have shot me!