If you've ever traveled the historic El Camino Real, also known as Highway 101, one of the main thoroughfares that links Northern and Southern California through the Central Coast region of California, you passed through the town of Paso Robles. I have traveled this route many times previously, only now I will pause, stop, and enjoy the many offerings that this charming farming/ranch community has to offer. Best of all, you won't find any community that is more hospitable to outsiders.
Paso Robles means "The Pass of the Oaks," and the town's convenient location between San Francisco/San Jose to the north and Los Angeles to the south really does make it the perfect place to pause and break up your trip. As mentioned, the town is a marriage of farming and ranching, and heading out and about town is just as exciting with many gorgeous and bucolic vistas.  Huge, ancient oaks dot the hillsides in all directions and it's only a short drive west to the Pacific Ocean and Hearst Castle.
You may already know that Paso Robles is California's fastest growing wine region, with more than 250 wineries. Regardless, you will definitely want to visit a few. Or you may know that the town has a premier golf course in Hunter Ranch with its tumbling terrain and large-scale outback feel, but if you haven't been around lately, you will also discover that the Paso Robles Golf Club is a thoroughly fun and enjoyable layout that has been caringly restored and upgraded and is likewise worth playing. If you're still yearning for more golf, still more waits just south of town.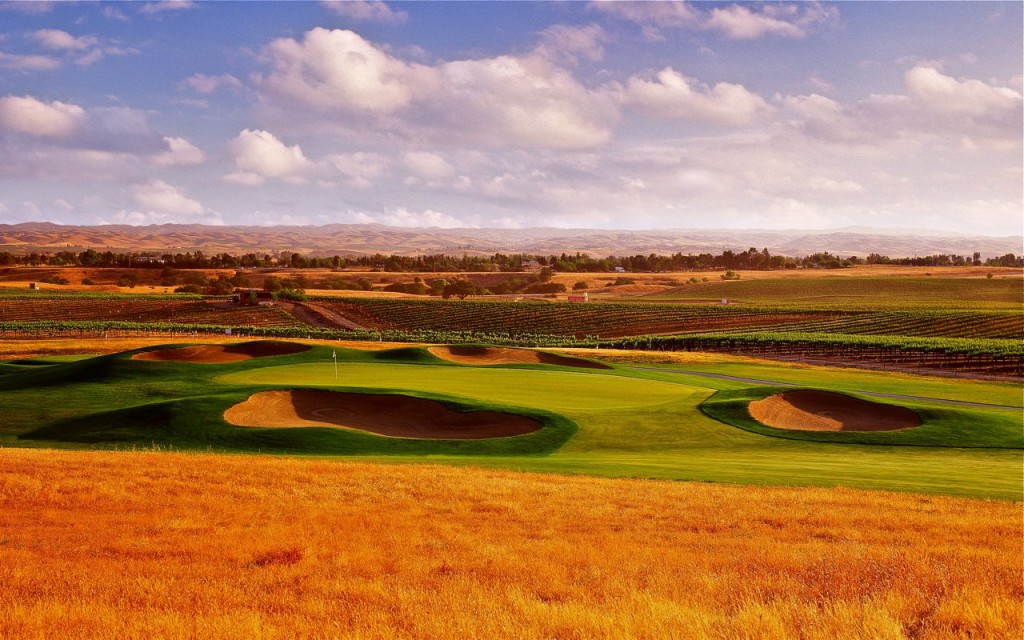 Golf and vineyards mix well in Paso Robles as evidenced at the fourth hole at the Hunter Ranch Golf Course.
While wine was introduced here in 1797 by Spanish conquistadors and Franciscan missionaries and has blossomed commercially since the 1880s, Paso Robles has also been known as "California's oldest watering place," referring to the thermal hot springs that inhabit the area and are still an attraction. For a time, the area enjoyed yet a third designation as "The Almond City" as growers had created the largest concentration of almond orchards in the world. Today, many of these ranches have become the vineyards, which are ostensibly the main tourism draw—but there's more.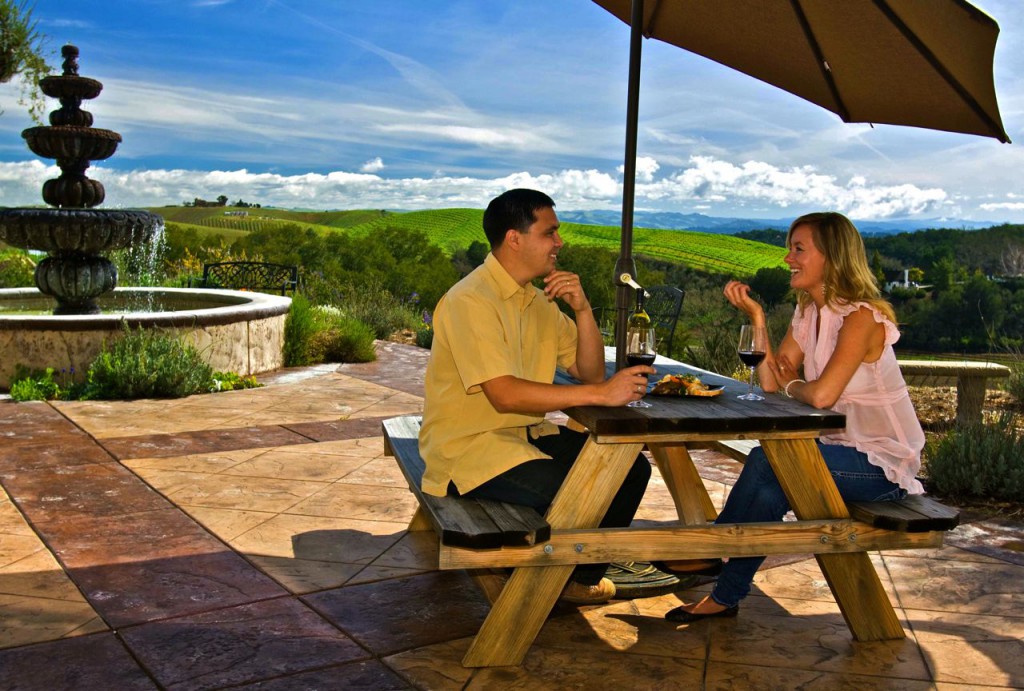 What surprised me as much as these historical activities was the present-day energy of the scenic downtown area. Why, Paso Robles has more festivals than there are weeks in the year! A host of savory restaurants have opened up in the very spacious town square that is the hub of the town. When I visited, there was a 12-day national festival for those involved in the Cutting Horse Association. Around town and especially at night, there were folks of all ages strolling around enjoying the gourmet food, music, unique shops, galleries, and fun events. Downtown is the place to be in Paso Robles.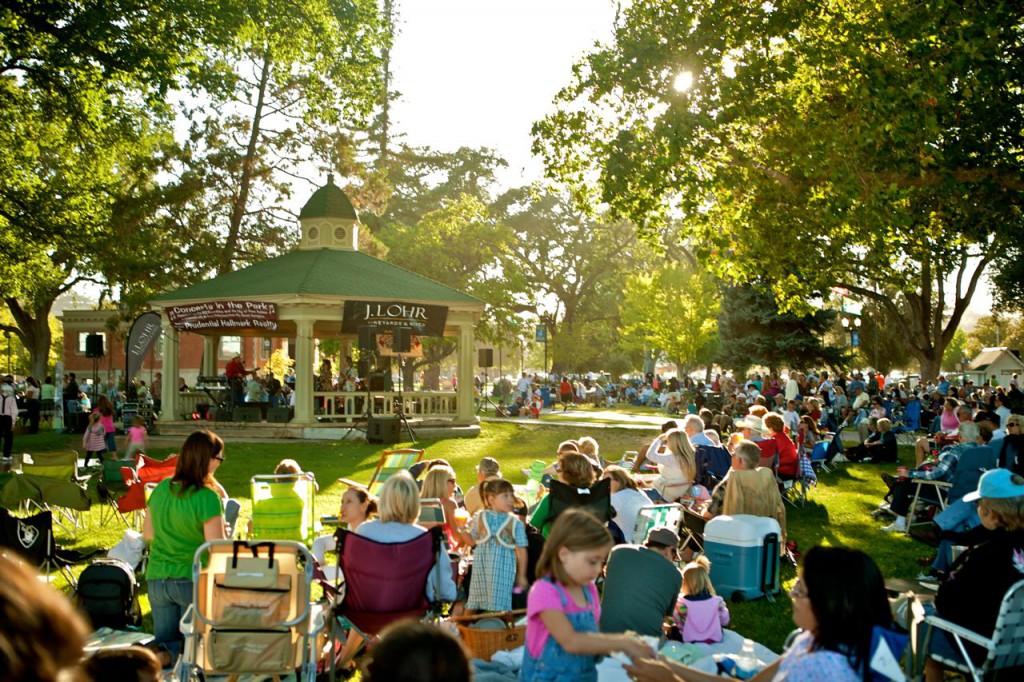 Concerts, festivals, interesting shops, and gourmet dining are but a few of the many activities to attract you to Paso Robles' downtown square.
There is way too much to do in just a day here, so you will also want to spend at least a night or two. The newly renovated Paso Robles Inn is situated right on the square, and with its Old West Charm might be my first choice. Once owned and operated by town founder Drury James (Uncle to the infamous outlaws, Frank and Jesse James), this
historic landmark with its mineral waters really did put the town on the map. You might also choose to partake in their "Mexican Land Grant" libation in the hotel's popular watering hole. Additionally, there is a host of other lodging options conveniently located to make your Paso Robles stay a restful one.
Speaking of watering holes, if you want to try something uniquely different, visit the little Villicana Winery off of Adelaida Road where husband and wife owners Alex and Monica Villicana have discovered an innovative method to convert the prized free-run juice usually discarded before wine fermentation into top-shelf spirits. Their vodka and gin are not only extra tasty, but this is an exciting sustainable development (see: www.villicanawinery.com).  When combining alcohol, it's always a good idea to have someone else driving. The Wine Wrangler specializes in area wine tours and is worth checking out at www. TheWineWrangler.com.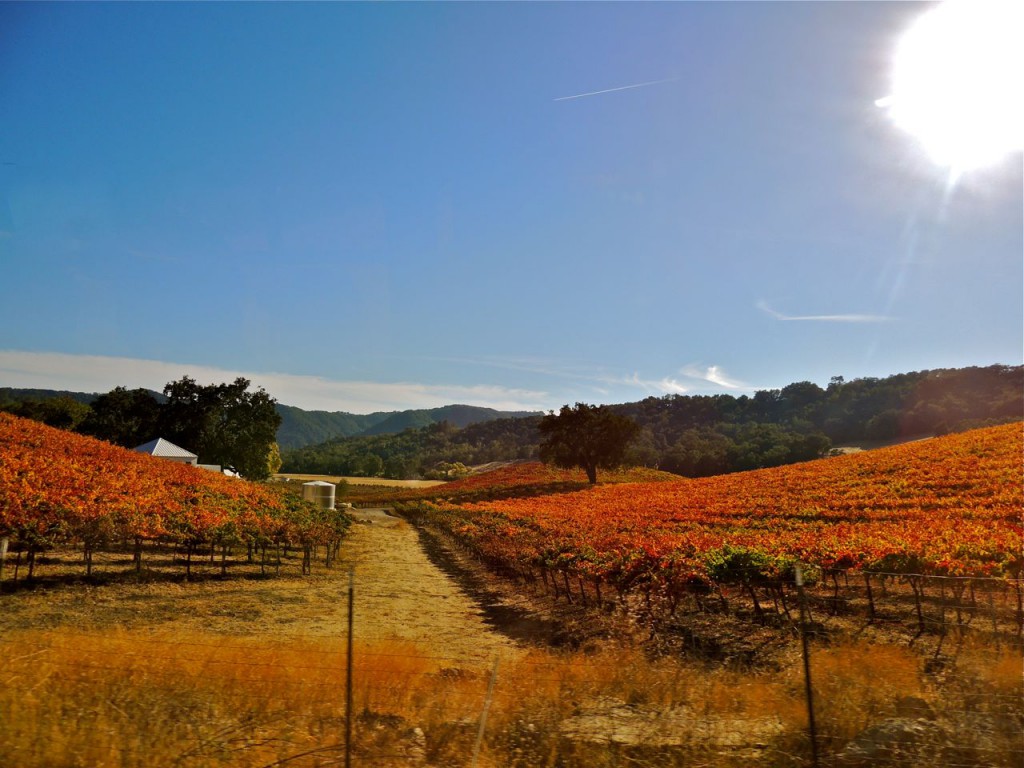 The winding country roads around Paso Robles are sure to allure and excite you with new possibilities at every turn!  (Photo by Robert S. Fagan)
As I mentioned at the beginning of this article, the Paso Robles folks are as friendly as they come; there is no pretense about them. So if you want a little more information about activities, lodging, food, or logistics, be sure to check out the official visitor website, www.travelpaso.com.
I have only two regrets regarding Paso Robles, California. The first is that I didn't discover the town sooner and the second is that I couldn't stay longer. That said, I'll be back and you should plan a stop here as well – it's just perfect!