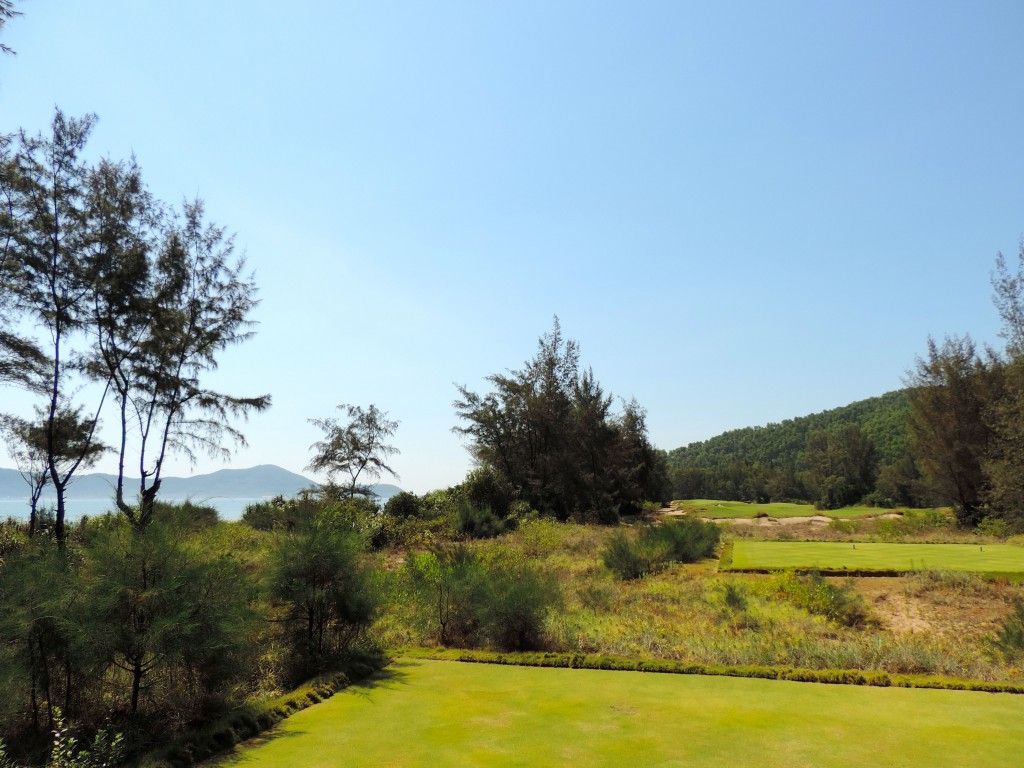 The very challenging, but short par-four 9th at the Laguna Lang Co Golf Club is but one of only two holes at the three Vietnam Golf Coast courses where you catch a glimpse of the water, but that doesn't mean that the golf is not spectacular! (Photo by Robert S. Fagan) 
Wouldn't you agree that just being an undiscovered golf destination doesn't count for much? There may be a host of good and less than desirable reasons why an area might not be discovered, but the best are indeed newsworthy and eventually become known. Now for me to consider any location a "golf destination," there must be at least three very good golf courses. Golf Coast Vietnam (greater Danang area) certainly qualifies!
Talk to any golf course operators and if they are unknown for golf or perhaps off the beaten path, they talk about having some other options for visiting golfers. Once you have three attractive golf options, it's worth a trip. In all my travels, I've seldom been surprised as I just was with the three outstanding golf courses I found in Denang, Vietnam or otherwise known as the Golf Coast Vietnam. The Danang Golf Club, The Montgomerie Links, and Laguna Lang Co Golf Club make up a triumverate that will both test and delight the most discriminating golfers.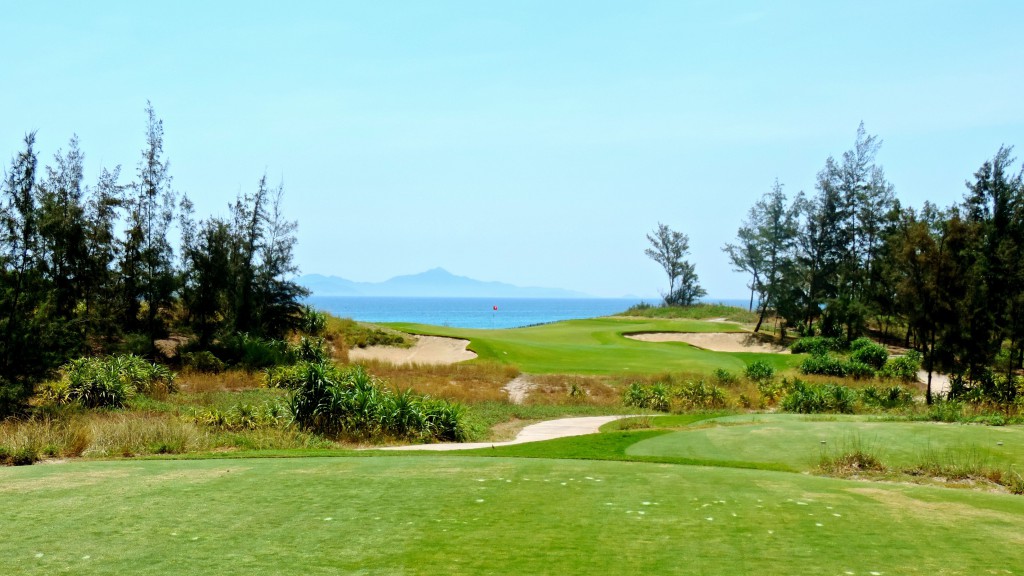 The gorgeous par-three 16th at the Danang Golf Club provides the only clear view of the South China Sea among the three first-rate golf courses of Golf Coast Vietnam. It will definitely have you reaching for your camera! (Photo by Robert S. Fagan)
Danang is the fourth largest city in Vietnam and in recent years has transformed itself from a sleepy little town known for where the Americans first landed in the American or Vietnam War depending upon what you call it. Today, it is a city built on tourism with an iconic river splitting the downtown and one of the world's great beaches,  My Khe Beach, just a few blocks to the east. Two of the golf courses are but a twenty minute drive to the south, the Danang Golf Club and The Montgomerie Links, literally adjacent to one another. The third and newest course is about 75 minutes north of the city – Laguna Lang Co Golf Club. It is situated in a gorgeous secluded area separated by a mountain where you drive through a tunnel. If there is any golfer regret, it is that the developers for all three properties did not allow the golf courses to take advantage of the spectacular waterfront frontages, but rather saved them for hotels and residences. Nonetheless, together they form three outstanding golf courses that every good, discriminating player should want to experience!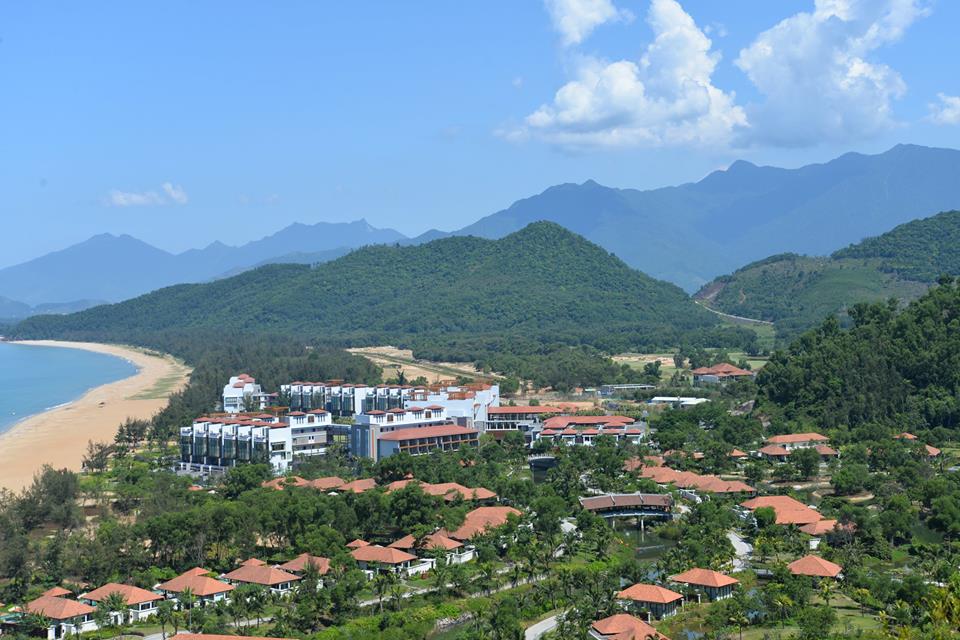 Surrounding mountains feature spectacular views of the secluded Laguna Lang Co Golf Club (just beyond the Angsana Lang Co hotel). Note the beautiful stretch of beach.
While the moniker, Golf Coast Vietnam might suggest ocean golf, the South China Sea does not come into play on any of the courses and is just visible on the par-three 16th at the Danang Golf Club and the par-four 9th at Laguna Lang Co Golf Club. That misnomer aside, there are three outstanding golf course, each with a different look and feel from the other. Where normally I am pretty anxious to call a "best" or a "favorite," this writer can't figure either designation out in this case. And as for service, these three courses all feature expert women caddies that make for a most fun and memorable day of golf.
The Danang Golf Club was designed by Greg Norman and therefore has a resemblance to the Sand Belt courses he grew up with in Australia. Gazing from the first tee, I immediately thought to myself this course looks in superb condition where there is grass, but it's darn rugged and penal where it isn't. Actually of the three courses, it proved to be the most playable. As intimidating as it is off the tees, Norman provides mostly generous fairway landing areas as well as run-ups to most of the putting surfaces. Sand, trees, and native wild vegetation dominated the firm, fast gently tumbling fairways. The greens are very speedy and have lots of sweeps, but they are quite puttable. While I got my first glimpse of water beyond the par-three sixteenth green, water did not really come into play until the par-four 17th in the driving area. As I enjoyed a cold brew in the beautiful modern clubhouse and reflected, it's going to be tough to equal this course.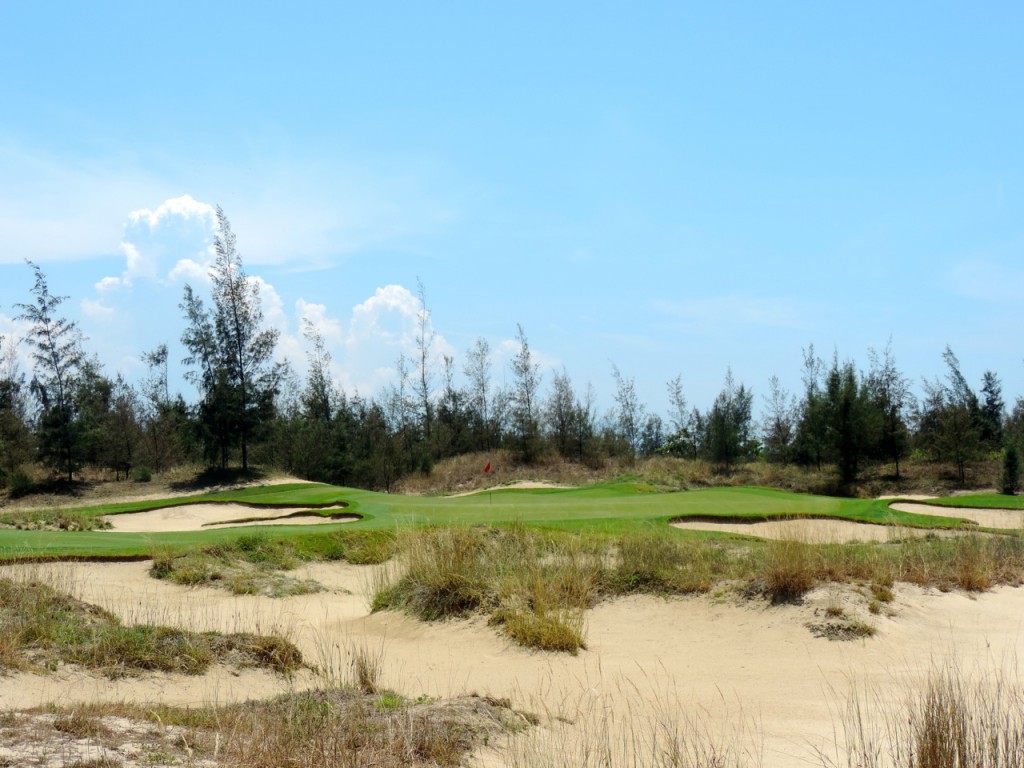 The Danang Golf Club features attractively situated bunkers throughout. Some feature the natural wispy look while other are neatly trimmed. (Photo by Robert S. Fagan)
The adjacent Montgomerie Links is credited to Colin Montgomerie with significant input by Brit Stenson of IMG and it did not disappoint. (Stenson happens to be one of the best, most prolific golf course architects designing courses worldwide for his clients who usually then garner the credit.) The layout is anything but the rugged wispy look that Danang featured, but is rather of the parkland variety with lush green fairways, huge sweeping greens, lots of boldly flashed bunkers, and unlike its neighbor, The Montgomerie Links has plenty of water that comes into play. Unlike, however, the other two golf courses, there are no glimpses of the South China Sea. The course did not start all too hard or impressively, but mid-way through the front nine, it got better and better. By the back nine, my playing partner and I were continually impressed with each upcoming challenge. There are any number of holes that for challenge or a "Wow Factor" really caught our attention. Stenson also added  some false fronts, deception bunkers, and some greenside mounding to make local knowledge a valuable commodity. Now given two different flavors of golf course themes, I was perplexed as to which was the better or my favorite. and how would the remaining golf course fare?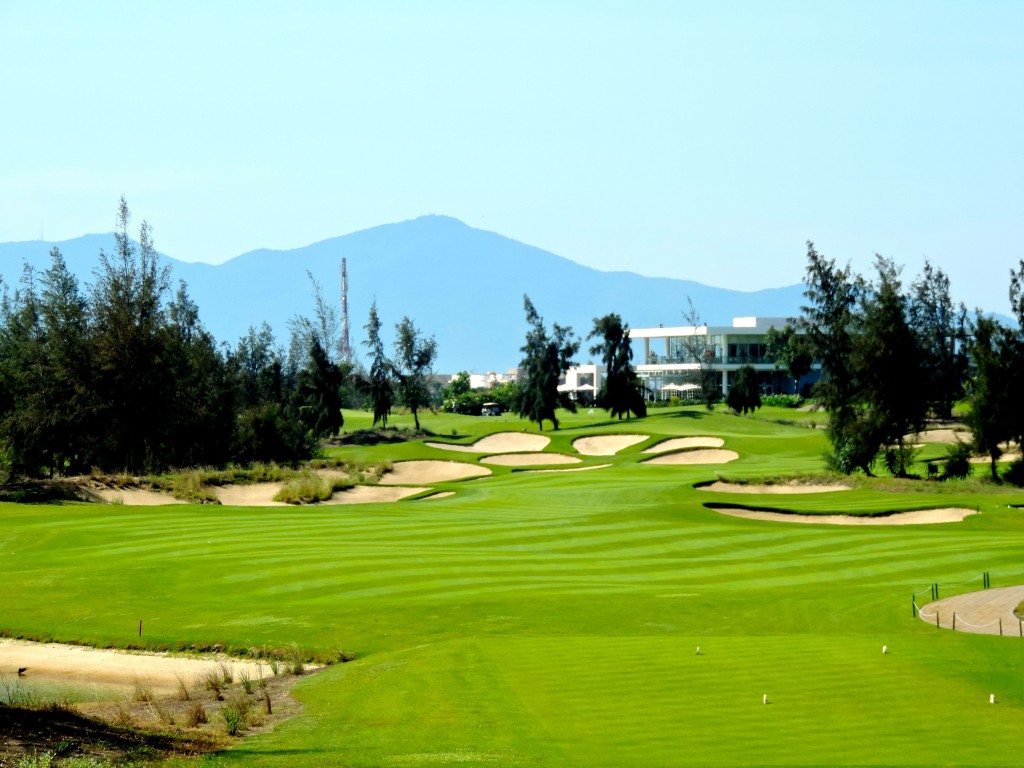 The par-five 12th hole at The Montgomerie Links is both picturesque and reachable with the clubhouse forming an impressive backdrop. (Photo by Robert S. Fagan)
Paul Jansen with input from Nick Faldo fashioned the Laguna Lang Co Golf Club. Sandwiched in a valley setting between the mountains that saw fighting when the Americans fought in Vietnam and the superlative beach, this layout is the toughest of three tough golf courses. After three holes, my capable playing companion and I looked at each other and said, "This is a demanding golf course!" We had experienced nothing yet. The meat of the golf course lay before us. From the first tee until the 17th, there was not a single tee shot where you did not have you not only monitor your accuracy, but also gauge your distance. Pot bunkers, wild rough, mounded waste areas, and the like either closely bordered or were smack dab in the middle of the landing areas. Think of Pine Valley, Tobacco Roach, or other penal American golf courses and you begin to get a sense of what Laguna Lang Co presents. The aesthetics are spectacular, but this is not a course for novices, beginners, or casual golfers on holiday. Laguna Lang Co may be the "best" of the three courses for the accomplished player, though all are memorable in their own way.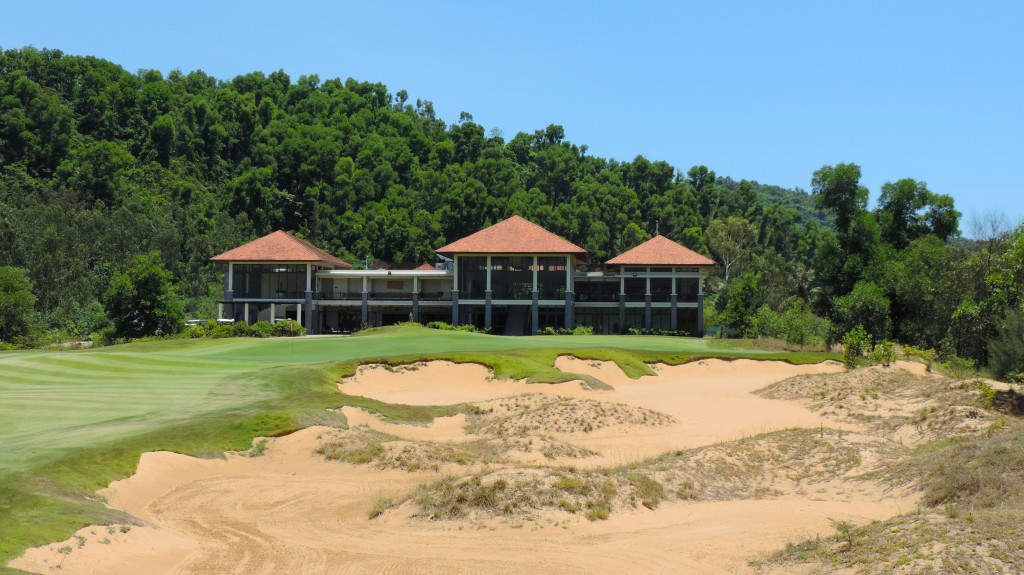 The par-five finishing hole is a fitting end to a special test of golf at Laguna Lang Co Golf Club. (Photo by Robert S. Fagan)
There is convenient 4 and 5-star lodging available to all three properties. I stayed in the 4-star Holiday Beach Danang Hotel & Spa in Danang and the 5-star Angsana Lang Co adjacent to the Laguna Lang Co Golf Club. The Holiday Beach property has been renovated and its small, but nicely appointed rooms and convenient location adjacent to the beach and close to downtown make it a sensible choice. In contrast, the Angsana Lang Co property is secluded and self-contained with spectacular pools, spacious beachfront, and several delicious eating options.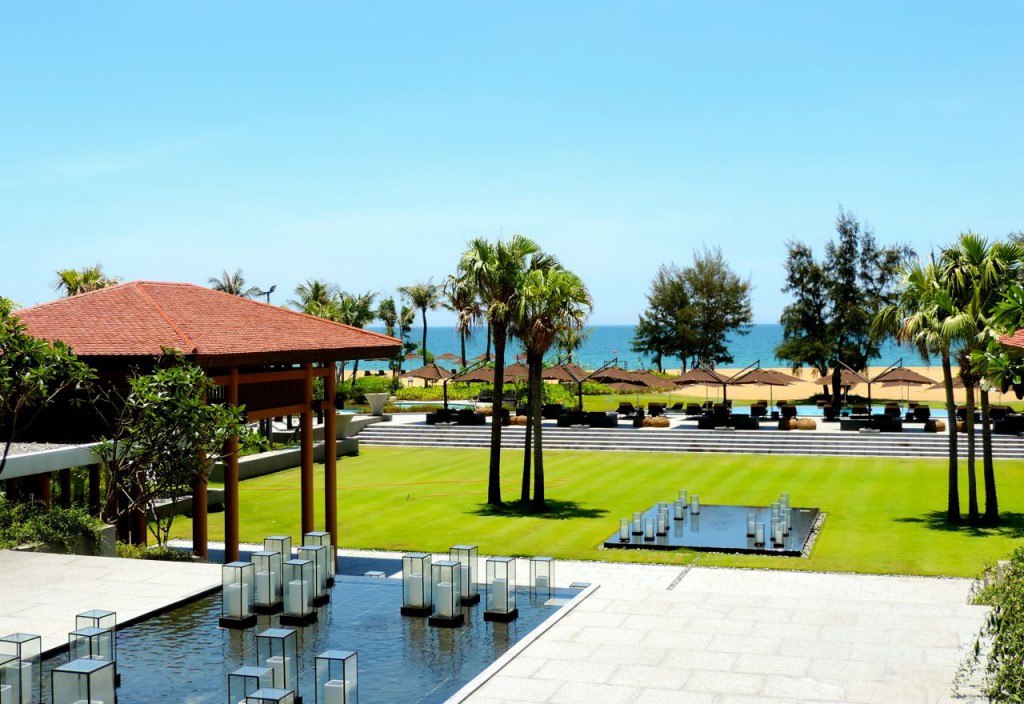 My stay at the luxurious Angsana Lang Co hotel with its  idyllic setting was most refreshing! (Photo by Robert S. Fagan)
I was also fortunate to have all my golf travel arrangements and ground transportation furnished by GolfAsian Vietnam. They are the leaders in orchestrating unbelievable golf tours in Southeast Asia and for more information, contact:  www.golfasian.com.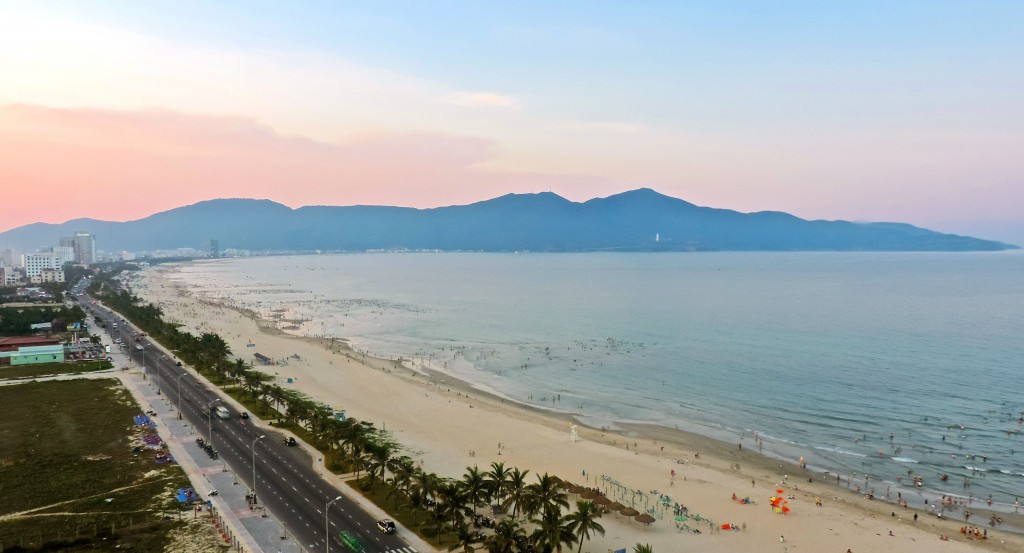 This is the sunset view from the rooftop of the conveniently located Holiday Beach Danang Hotel & Spa. (Photo by Robert S. Fagan)
If there is a "Bandon Dunes of Vietnam,"  a place where serious, discriminating golfer want to congregate, Golf Coast Vietnam would be just that. It has been said that golfers seldom travel far for the golf courses themselves, but with this trio they just might. Or maybe I should say, "They should!"
For more information, contact:  www.golfcoastvietnam.com.