Prepare yourself for head-twisting golf vistas when you visit Northern California's Mayacama. Shown above is the par-three 5th green and the par-five 4th hole in the distance.
If you are fortunate to play America's best golf courses as I have, the Mayacama golf experience is certain to be indelibly etched into your mind. And make no mistake; my assumption is that Mayacama is one of America's best modern golf experiences!

 The picturesque vineyards of Somoma County make for engaging neighbors for Mayacama, the toast of Northern California's Wine Country.
Picture a 675-acre retreat ensconced in valleys of live oak-studded steep hillsides of Sonoma County. The noise of planes, trains, and automobiles is but a distant memory. Ribbons of green fairways twist their way around the undulating terrain punctuated by dazzling white bunkers that populate the landscape. From its quiet majestic Mediterranean-styled clubhouse on its hilltop location you can take in much of the eastern and southern view. Taller hilltops surround you, as well as the ever-present wildlife, and, of course, your friends. As much as Mayacama is a place to escape, it is also a place to gather and enjoy life's finer things – good friends, superb service, the best of wines and food, 5-star resort-like amenities, and last, but not least, one of Jack Nicklaus' best golf course designs.

 The 525-yard 2nd hole offers a valiant aggressive avenue or a sage route left. What's your choice?
Over the last thirty years, many projects and great deal of money has been unsuccessfully spent around America toward creating superlative yet classy offerings, something that Mayacama has already achieved. Yes, many for whatever reasons have fallen short, but not Mayacama. While a few palatial homes gaze down upon the property, they are far from intrusive and the land plan has kept them to a minimum. The appreciative membership is largely a national or at least a weekend one; apt to stay at one of the several nearby homes or many beautifully appointed spacious one-bedroom casitas or three-bedroom villas that you only notice on your walk between the ninth and tenth holes. Picture the look and feel of a wine and land baron's estate, and you begin to get the feel and ambiance of Mayacama.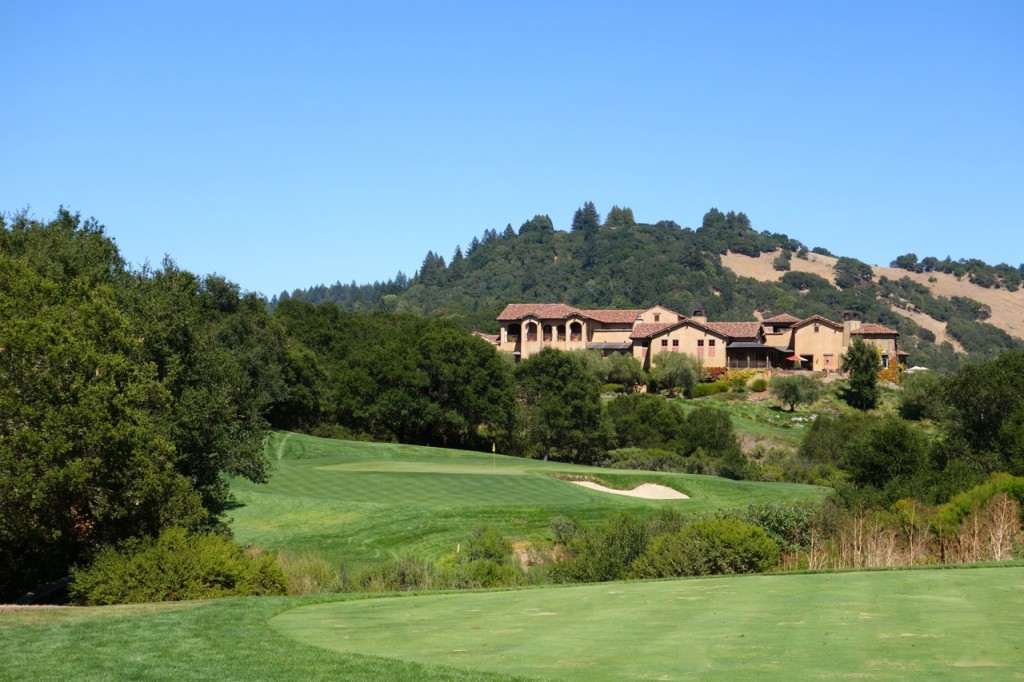 The clubhouse poses an impressive backdrop for the 205-yard 12th. (Photo by Robert S. Fagan) 
When asked, I am quick to opine Mayacama to be the best design work of Jack Nicklaus in California, if not beyond – and definitely one of my favorite half dozen of all his projects. Interestingly for all the land provided, Mayacama is a relatively short test, but it is also a very demanding one (6,785 yards from the tips). In fact, it has been rated as the most difficult golf course in Northern California (slope/rating of 150/73.8 on a par-72 frame). Nicklaus mixes in some testy short holes with a fair element of risk-and-reward along with some brawny ones.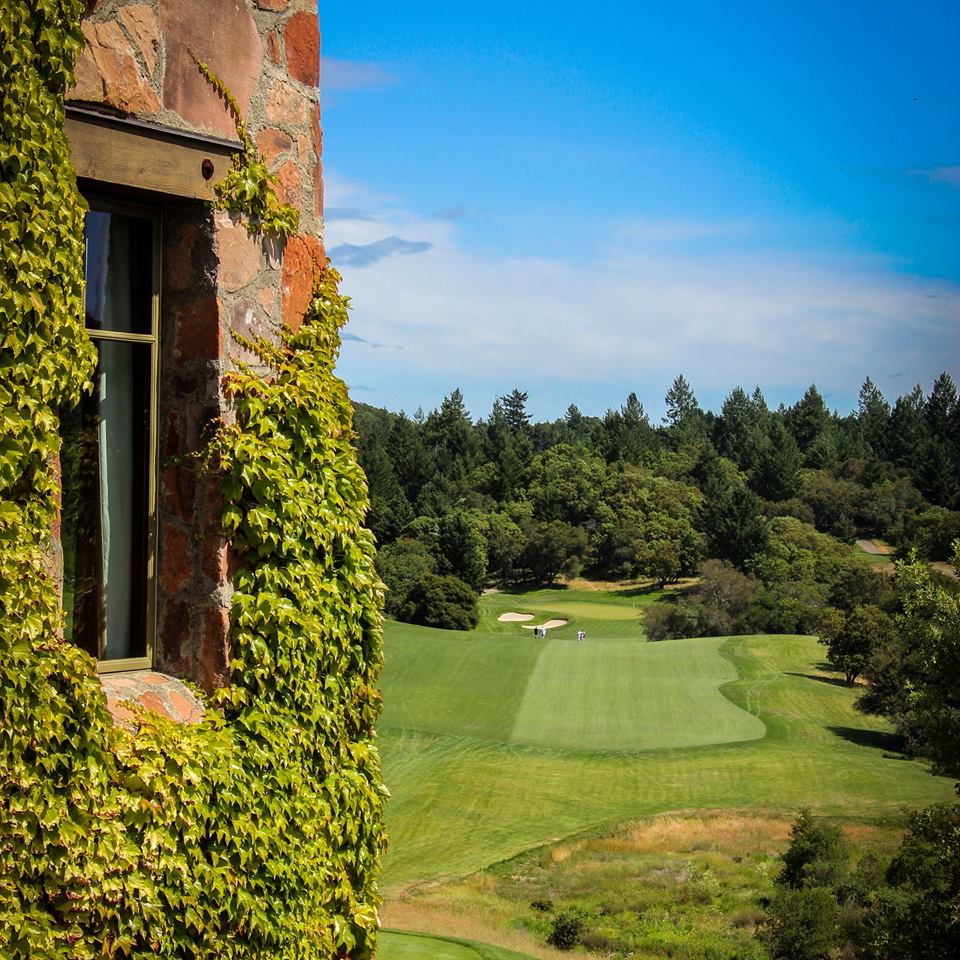 As you turn the corner of Mayacama's clubhouse, the 434-yard opener bares itself and the adventure begins. 
This is a layout for serious, discriminating, and especially reasonably skilled golfers. Playing from both the tips and more forward tees, I never felt the layout to be overly long, but some of the targets, particularly the one-shotters are intimidating – as in pucker-up material! For shorter hitters and most women players, holes such as the par-three 3rd, 14th, and a few others have firm, sometimes elevated putting surfaces that just don't have quite enough depth to accept the trajectory of their incoming shots. That is a bit too penal in my opinion, but my only criticism. Otherwise Nicklaus squarely hits the bull's eye.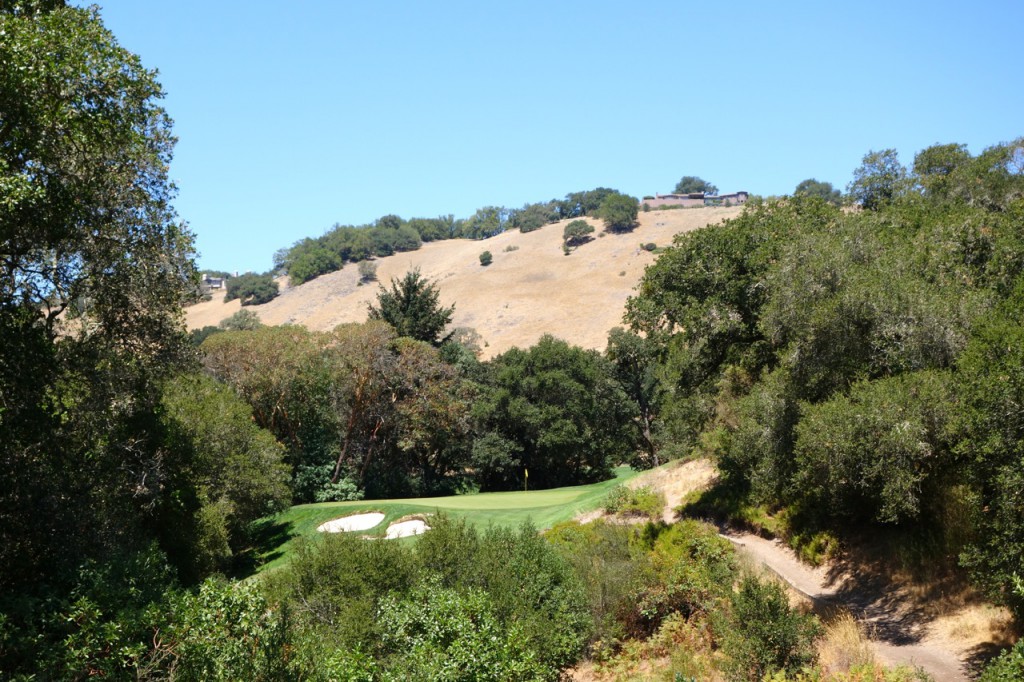 This view of the gorgeous, but treacherous 3rd hole was taken about 140 yards from the green (near the forward tees). As you can see, the pressure is on to find the small putting surface with your tee shot. (Photo by Robert S. Fagan)
Though no hole at Mayacama is "easy," there is a nice pacing and flow with two fairly benign starters (generous landing areas) that play out and back from the hillside clubhouse. It is not a long hole, but actually one of the shortest that really ups the ante at the third. This 178-yard hole is an all-or-nothing tee shot. Hit the smallish, sloped green and a birdie or at least a par is a strong possibility, but miss it and you could finish with a double-digit tally before you even finish spelling M-A-Y-A-C-A-M-A! The outgoing nine continues with mostly adequate to generous landing areas, and doesn't quite seem too awfully difficult provided you are not overly wayward.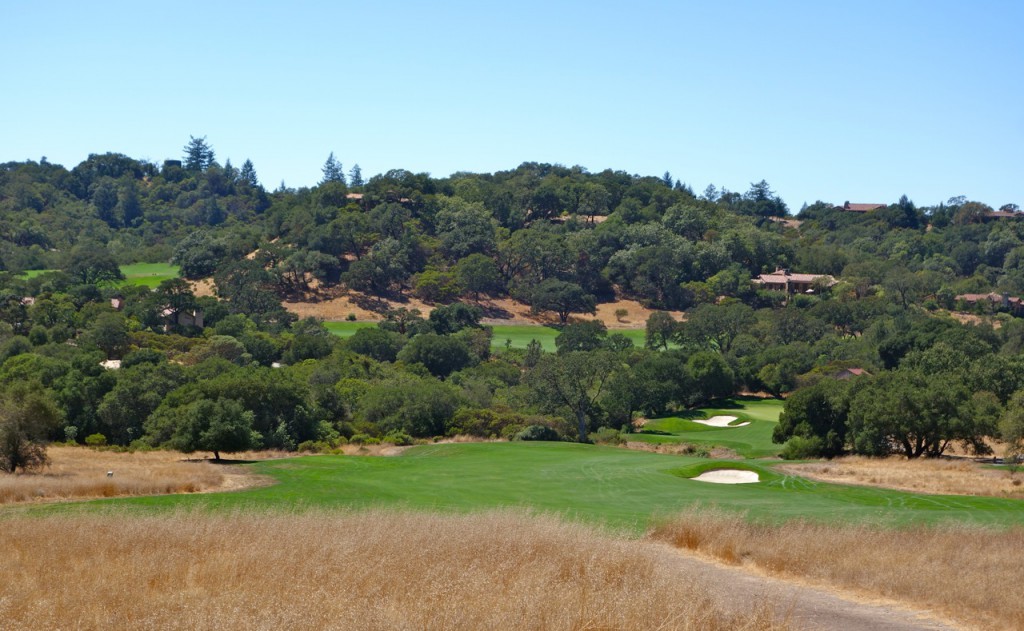 As illustrated by the tee shot on the 420-yard 6th, Nicklaus encourages you to work the ball providing a nice balance of holes bending both right and left. (Photo by Robert S. Fagan)
Returning to the clubhouse, the incoming nine is an entirely different affair. The routing takes you into hillier, more forested terrain where many of the elevations are steeper and the fairway corridors slightly more narrow. You will soon realize that accuracy and a deft touch trumps brawn every time at Mayacama. The flattish par-five finish around the lake toward the clubhouse provides a delightful decompression to what amounts to a complete golf examination. With its clubhouse as a backdrop it provides a fitting conclusion to a thoughtfully crafted test that doesn't waste space or resources on gigantically long holes.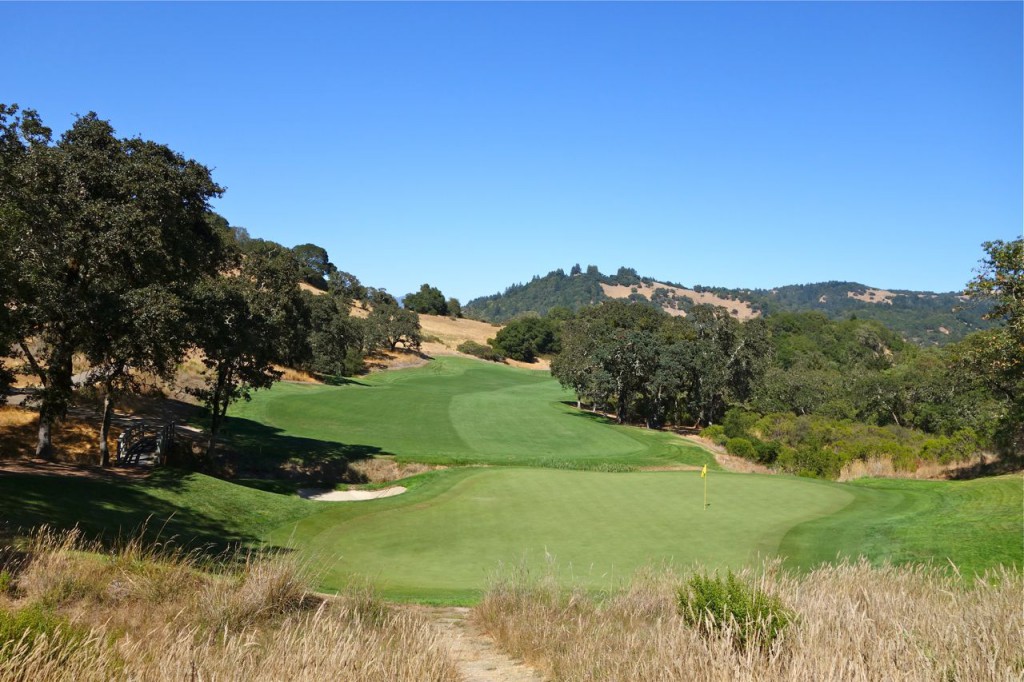 The 404-yard dogleg left 13th plays to a slightly elevated green and just seems to seamlessly follow the contours of the terrain. (Photo by Robert S. Fagan)
There is remarkable balance and character to the Mayacama layout. With only a couple of straightaway holes, there is a nice complement of ones bending both left and right. Nicklaus also provides one very short par-four on each side, while the two shortest par-threes can be the most demanding holes on the entire golf course!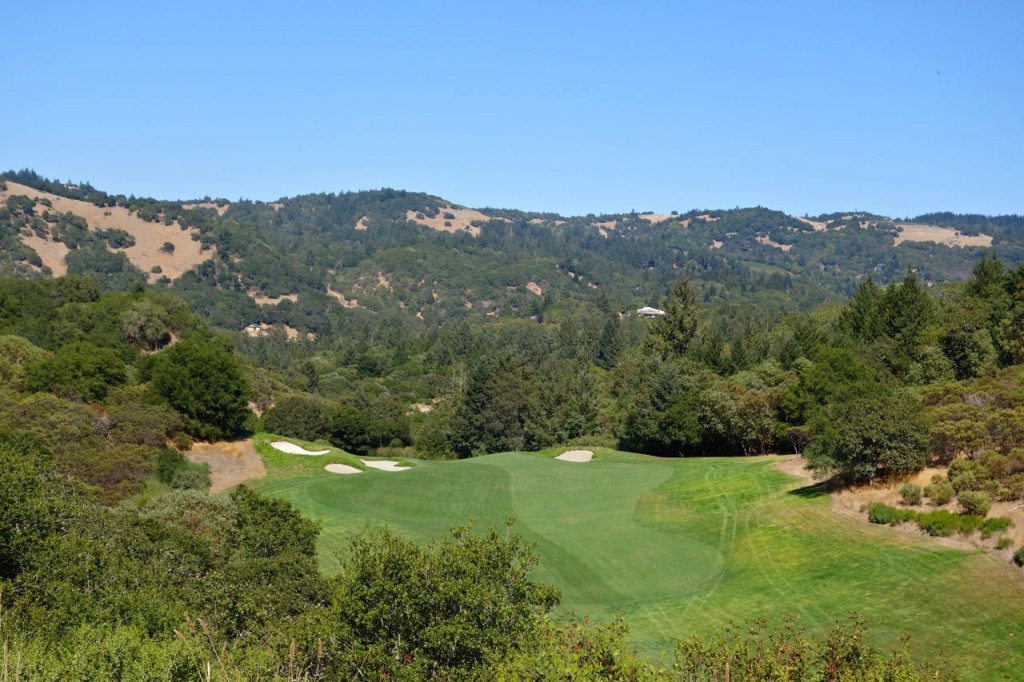 The par-five 15th is just one of several "Oh Wow!" tee shots at Mayacama. Carry the right bunker of the cluster on the left-hand side of the fairway and you will pick up about forty more yards and likely have a reasonable go at the green. Below is the approach shot from the bottom of the hill. (Both Photos by Robert S. Fagan)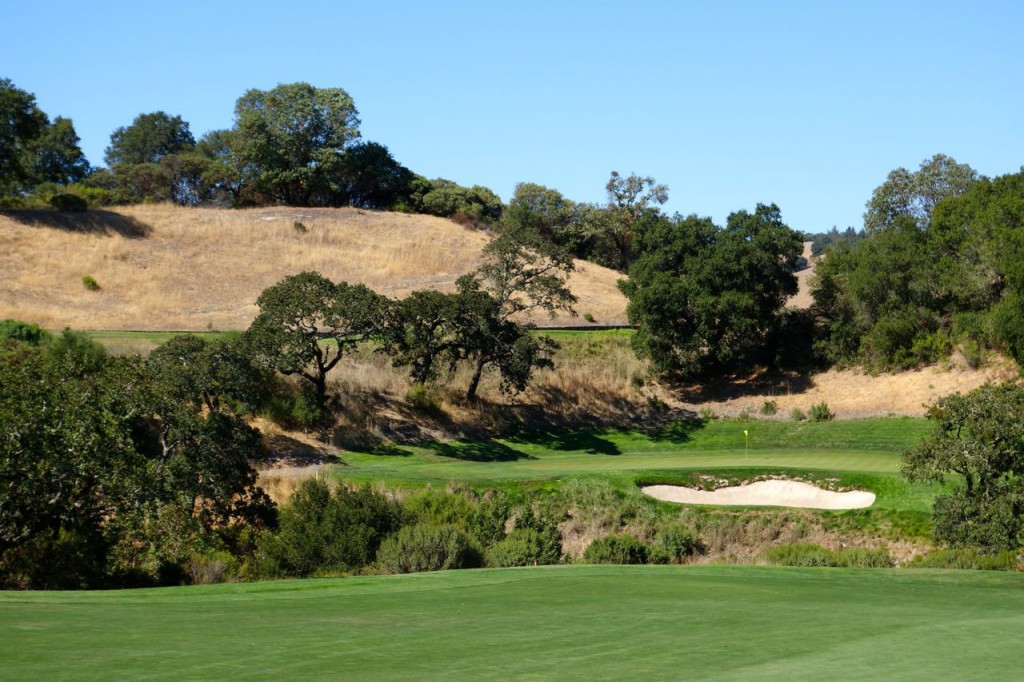 Some greens are perched on elevations while others are fully visible. Interestingly, all five of the par-fives feature risk-and-reward options for the strong players and are definitely often reachable in two shots. The putting surfaces are firm, fast, and smooth, and vary from small to average-large with enough undulation to demand your best touch, as do the green surrounds.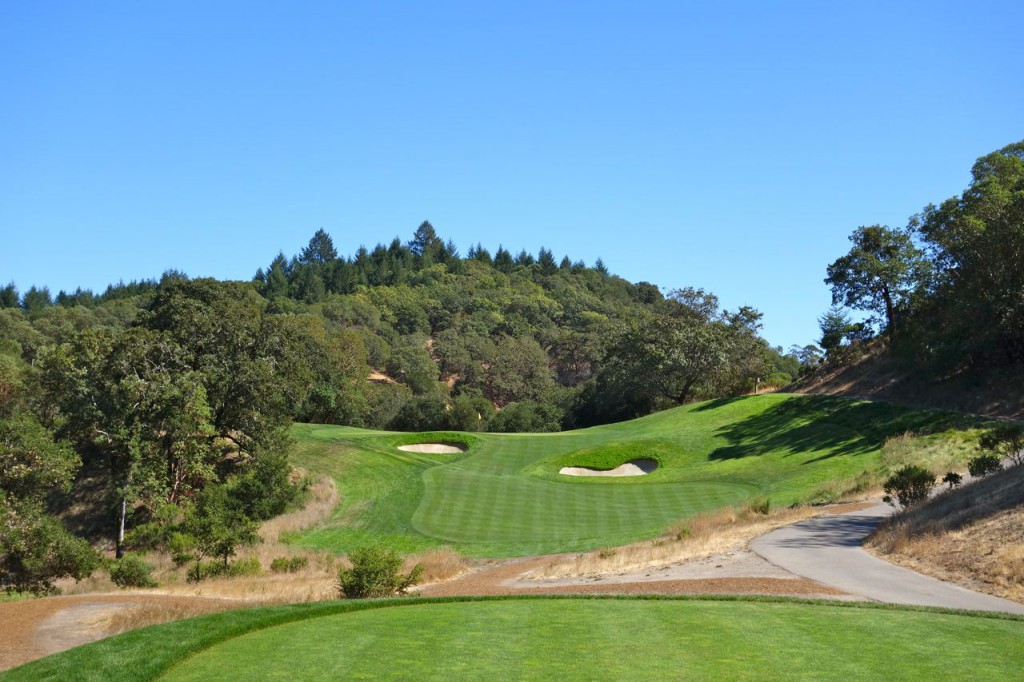 The uphill 149-yard 14th is the shortest hole at Mayacama, but your club selection and execution must be precise if you expect to master this gorgeous hole with its shallow, elevated green. (Photo by Robert S. Fagan)
Play is essentially walking with caddies, and you will discover this group to be several notches above what you will experience elsewhere – as is the course conditioning. In fact, everything about Mayacama is that way. And being situated in the midst of one of America's most noted wine regions, area vintners exchange their best for consideration in their membership. The Club's wine cellar is amazing! There is also a spa and boutique, swimming pool, hiking, and tennis on site set with the allure and service of a five-star resort.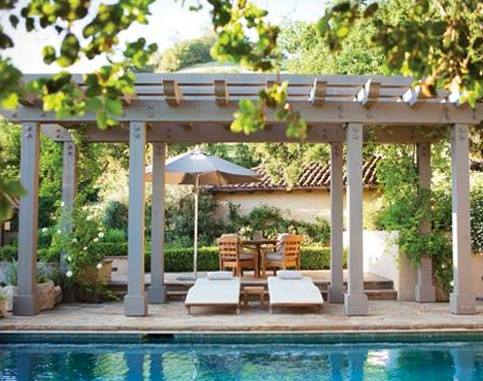 Do you think you would be able to unwind in this serene Mayacama setting? I know I could!
For all the beautiful countryside in the Sonoma-Napa region north of San Francisco, there are surprisingly few golf offerings, but thankfully there is Mayacama. If the most discriminating golfer is visiting and wants to experience superlative golf in the complete ambiance of the region, Mayacama is the one and only place – a true antidote for the soul!
The tranquil finishing hole:  whether for comfort, congeniality, golf, or more, Mayacama is a special place!