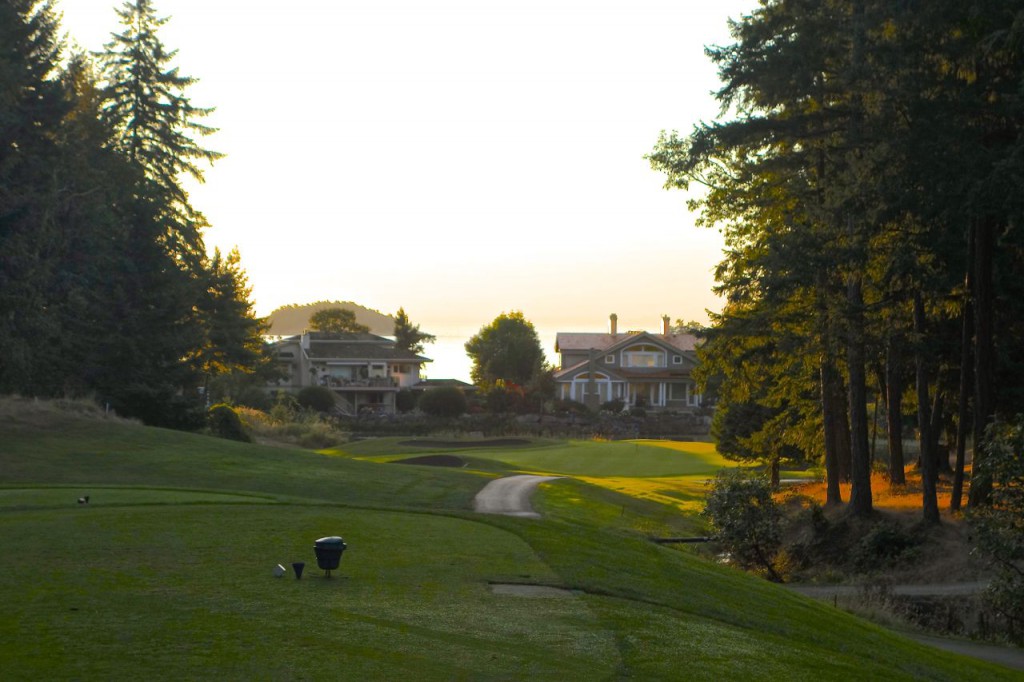 This early morning glimpse of the par-three 2nd hole at Fairwinds is the first and last time you will catch a glimpse of Nanoose Bay, but the course doesn't disappoint – a lovely and very popular course!  (Photo by Robert S. Fagan)
The highlight of a master-planned residential community, the Fairwinds Golf Club sits nearly at the water's edge in Nanoose Bay on the eastern shore of Vancouver Island, B.C., Canada. Having said that, the water never comes into play and barely a glimpse of of the Georgia Strait is possible except for in the distance beyond the attractive par-three second green. As for the homes, they are attractive and nicely set back from play.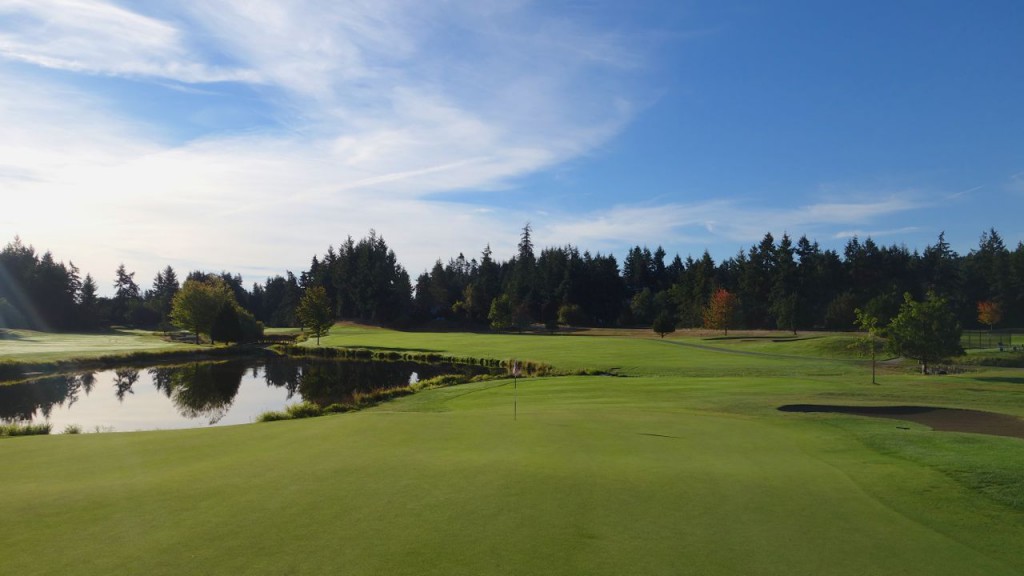 While the Bay never comes into play, water does as evidenced by this view looking back on the par-four 11th hole.  (Photo by Robert S. Fagan)
Fairwinds certainly fits into the golf course category of a "wolf in sheep's clothing." It has several tiny par-fours, but most are wrought with difficult and all but force most strong players to keep their head covers on. The course sits on rolling terrain in the forest of Douglas Fir and Garry Oak trees, and if the fairway corridors aren't always restricted, the green sites are well-protected. Even the early morning and late afternoon shadows add to the challenge making gauging distances and locating your target areas just a bit more challenging.
Looking back on the uphill par-five 12th hole, a creek guards the golfer's entire left-hand side.  (Photo by Robert S. Fagan)
Golf course architect Les Furber incorporated subtle nuances into the putting contours making them more challenging than they first appear. Patient golfers will uncover numerous birdie opportunities whereas the brash player will likely be frustrated. Adding to the beauty is the abundance of wildlife that inhabits this popular layout.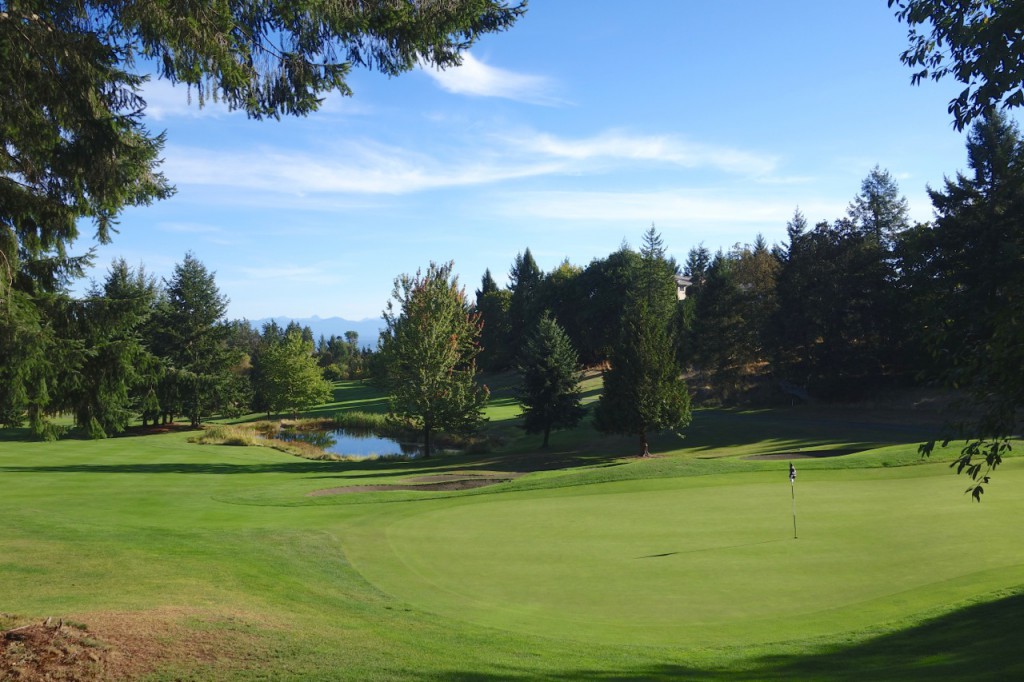 The par-four 15th is but one of many scenic and challenging short holes.  (Photo by Robert S. Fagan)
If there is a tougher par-three on Vancouver Island than Fairwinds' 235-yard 14th, I've yet to play it. The tee shot is directed at a narrow green that falls off to the left, but is protected immediately to the right by rock outcroppings. The deep narrow surface has several levels not even assuring an easy two-putt. It's a gorgeous, but really tough hole!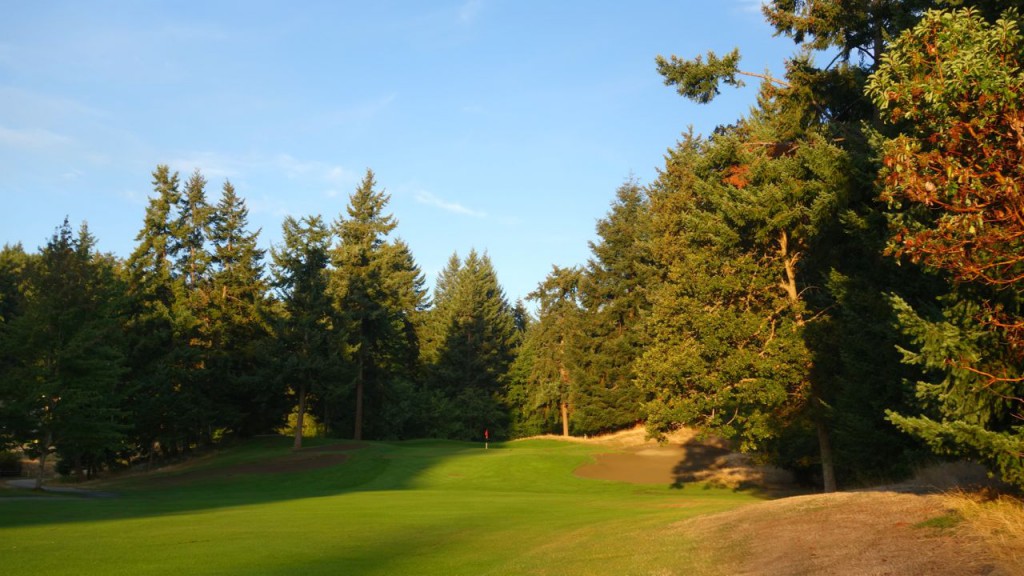 Above is the approach to par-five third hole and below is a view from right of the putting surface. Thread the needle twice and you might be putting for an eagle, but trouble waits.  (Both photos by Robert S. Fagan)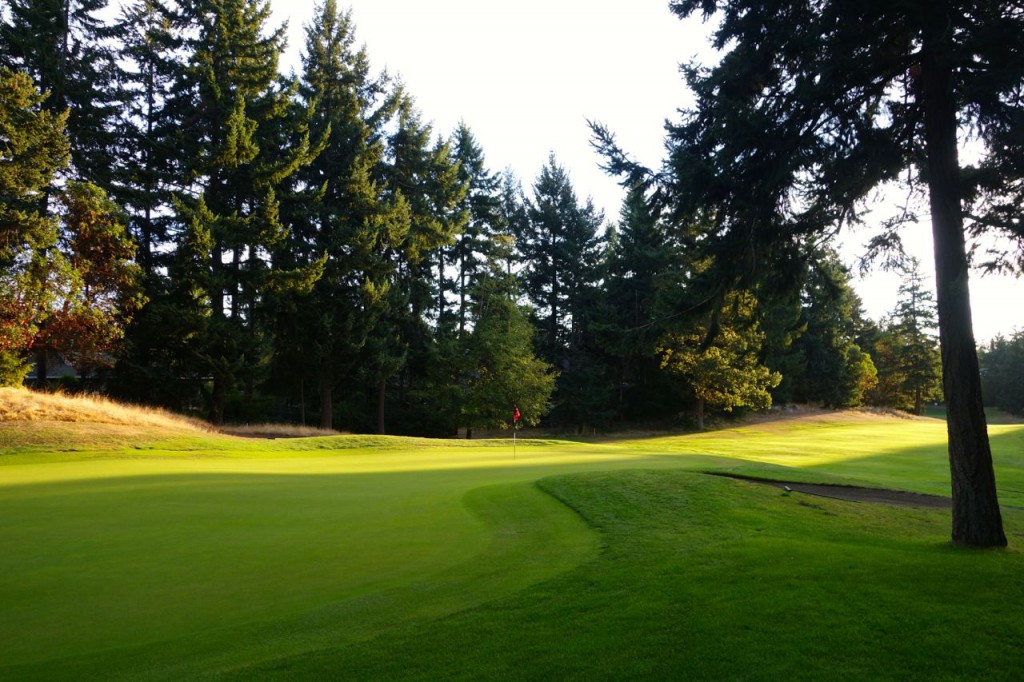 As for spectacular, the 206-yard second hole that heads out to the Bay just beyond the ring of homes has water right and long, with two bunkers left. Short is definitely the place to hit it there. Speaking of short, the 310-yard first, 337-yard fifth, 296-yard 9th, 303-yard fifteenth, and 330-yard sixteenth holes, all within drivable distances for today's power hitters are anything, but easy. The par-fives play similarly. Each requires accurate, make that precise placement, if you want to go birdie-hunting. Otherwise bogeys or worse await. At just 6,151 yards from the tips, this par-71 test is immaculately groomed layout requires lots of local knowledge, but is a delight to play!