Antigua Golf Apparel – Look Good, Feel Good, and Play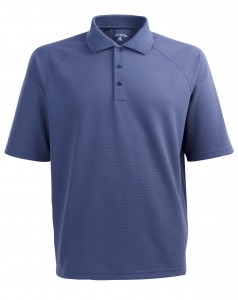 Hot weather has been visiting most of us and I just got an opportunity to sample some gorgeous summer golf clothing from Antigua in the form of their DESERT DRY XTRA-LITE shirt and DESERT DRY shorts.  What a delight!
In golf, it certainly helps to look good and it is just as important to feel good, because if you do, you might also play well!  Wearing an Antigua Exceed royal blue shirt and their Conserve tan khaki shorts, I immediately received compliments – a rare treat.  (And it's certainly not because I look like either Freddie Couples or Rickie Fowler.)  And let's face it; the day always starts better when we get noticed in such a positive manner.
With such new styling fashion, I might have expected some notice, but what caught me by surprise was how truly excellent the two pieces felt.  Both were so light that I almost felt like I was naked. – no exaggeration!  Now that may not be a pretty sight, but it surely feels like nothing else.
I haven't felt anything this comfortable so I did a little investigating.  The shirt is Antigua's "DESERT DRY- XTRA-LITE Exceed Model" ($60-65) and the shorts were their "Conserve DESERT DRY" ($45) models.  As technology has enhanced golf equipment, so too apparel technology has grown by leaps and bounds.  As I received compliments on my new state-of-the-art wardrobe, I would invite my friends to feel it.  Like me, they couldn't believe how soft and light it was.
According to Antigua's Head Designer Sean Gregg, ""We've developed lighter and lighter fabrics with the intention of them performing faster with regard to wicking speed, while simultaneously being less restrictive and minimizing garment friction during release with our Desert Dry Xtra-Lite (D2XL) fabrics."  What this all means is that with the lighter weight, your moisture wicks more rapidly and less heat is trapped on the body making you feel much more comfortable.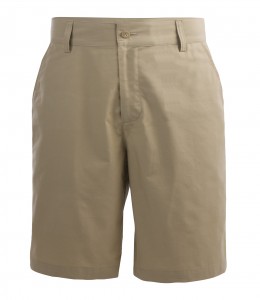 Good looking, exceedingly light, and comfortable especially in hot weather, I also noticed that in swinging the golf club, my shoulders didn't grab the material and I did, in fact, feel as if I was wearing nothing at all – the shirt was not at all restrictive. And we all know that a bigger, better shoulder turn translates into added distance.  Once home, I will add that the shirt and shorts laundered quite nicely too.
Yes, when the Desert Dry concept was conceived, the focus was on warmer climates. The improved technology is ideal in those warmer places.  As it's turned out this year, it's become hot nationwide during the summer months and now all Desert Dry products are distributed nationally.
Buoyed by the popularity of the Desert Dry and Desert Dry Xtra Lite lines, Antigua doesn't plan to mess much with success. Jewel tone colors will be the focus for women, while classic colors will dominate the men's line.
Updated performance will be featured in both men's and women's golf shirts from the company that is a leading designer and marketer of men's, women's and children's lifestyle apparel and sportswear. The reputation the Antigua Group, Inc. has earned over the last 32 years is for producing the finest knit shirts in the industry.
As for my golf game, feeling cooler in the hot weather made for a much more comfortable game and the clothing received the same compliments at the picnic, ball game, and shopping mall as it did on the golf course.  I give the Antigua DESERT DRY lines an enthusiastic "two thumbs up!"
Check them out at: www.antigua.com and shop.antigua.com.