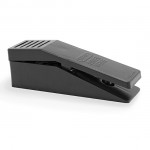 Along with myself occasionally, I observe many golfers lose their balance and with it their power by shifting their weight and their right knee (right-handers) away from the target on their backswing – the dreaded "sway." You cannot deliver power to the ball or your target when you are falling or shifting away from it.
In the past, I have used golf or tennis balls to brace myself and my students to correct this and keep in a better position, but SKLZ has come along with something far better, the Power Wedge. Anchored by using two of your tees, this ingenious little wedge device helps you learn to position your body by making a proper backswing coil and avoid swaying off of the ball (it works for both right and left-handers).
Just as you would thrust yourself off a pitching rubber on the mound to pitch a baseball, the Power Wedge encourages you to duplicate that same powerful thrust toward the target in the golf swing, something all good players do.  You simply place the Power Wedge on the outside middle of your back foot (not target one) and hit shots. The neat thing is that there is an audible clicker that sounds when you drive through the ball toward your target signaling a proper weight transfer.
At only $14.95, this is a fantastic simple little tool that can teach you or simply bring you back into the groove to make a better balanced, more powerful and consistent golf swing.  I heartily recommend it.  Refer to www.sklz.com.
Swing with the Power Wedge and listen to hit it better!