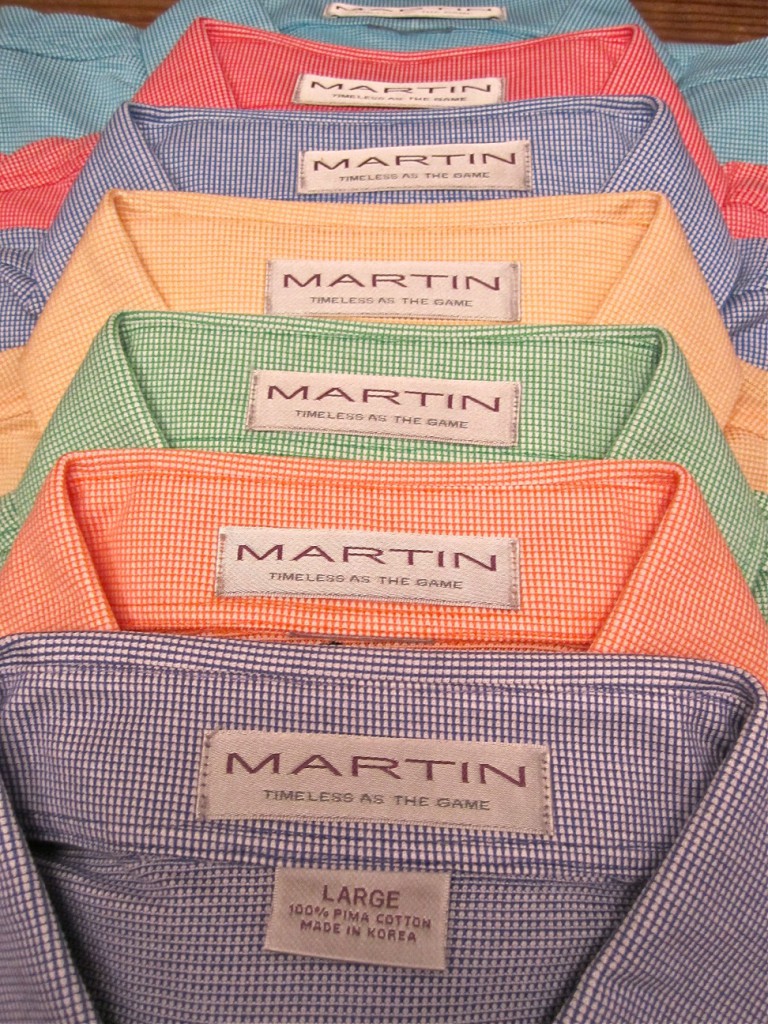 It is always exciting to learn of a new quality apparel supplier and remember the name, Martin Golf Apparel. Quality and style never go out of fashion so I was tickled pink to review the 100% cotton lisle golf shirts fashioned by Rick Martin.
While the brand may be new, the name Rick Martin isn't – at least within the apparel industry. Martin's been around for decades as a private label manufacturer making shirts for the likes of Land's End and Eddie Bauer among others and was a senior executive for Hathaway and Gant. He started the Fairway & Greene line and then retired. Well, he's back.
Many buyers think only of price, style, and color, but forget about shrinkage and looking good after repeated laundering. Well, this is one of the details that Rick Martin considers. Martin also was dismayed by the lines in which everything from shirts to slacks look like it has to be bought together from the same line to coordinate well.  As a result, Martin set out to develop the superior 100% cotton lisle golf shirt and what he calls "natural colors" that will coordinate with other classic colors such as khaki. It is not the contrived look or pointed fashion statement of the clothing some of the younger touring pros wear, but rather that timeless, classic statement of a Ben Hogan or Byron Nelson – "Gentlemen that always looked well." Besides, I want clothes that feature as well off the course as they do on it; Martin's have.
These are magnificent shirts that are marketed primarily at the middle-aged, but younger customers soon love them for their exceptional look and feel. They are currently sold only through golf professionals at about 600 private golf or country clubs.
"Navy, forest green, and red are longevity colors," says Martin. "They match almost any outfit." As for shrinkage, while cotton normally shrinks at 6-7%, Martin's shirts shrink rate is less than 2% What more, I've found that the cotton collars don't roll up or turn under, but always lay flat. Iron is not required. And with no synthetics, the shirts breathe and allow my moisture to evaporate. That all spells more comfort and looking good longer.
Martin states that today's technology allows him to identify and source the optimum cotton yarn, a Pima cotton fiber that is knitted at a level more demanding than industry standards. I don't understand all that stuff, but thankfully Rick Martin does. All I know is that I feel good and my shirt looks as good now as when I first put it on with no color fading and no inconsistent collars. When you add in the classic lines and colors, the Martin shirts may be precisely what sage buyers are looking for. I know I will.
Refer to www.martingolfapparel.com for more information.