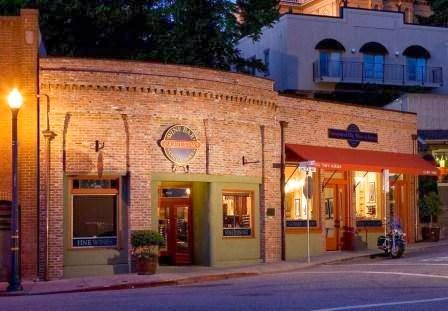 Carpe Vino proves that "Fine Dining" is far from an oxymoron in historic downtown Auburn, California as this restaurant has made Top 100 in America lists!
If you were to combine a fine dining experience with a fun, up-and-coming gold country community, what might I be describing? There are a few communities that might come to mind, but the Carpe Vino experience in Auburn, California is what I'm referring to. Yes, this is the historic downtown Auburn that is less than a minute off of the Interstate-80 Corridor between Reno and Sacramento/San Francisco, and granted there are the usual fare of fun, tasty taverns, and family establishments, but Carpe Vino is a game-changer.
My visit there involved a preset 4-course theme menu of "Jerusalem," which if I had been ordering off of a more extensive menu, I would have likely not ordered a single item. Oh my, what a culinary tragedy that would have been. With two or three choices per course, I felt like a hit four home runs.
My first course was a Dungeness Crab Falafel with hummus, cucumber salad, and thahini. A Fattoush Salad with summer vegetables, purslane, sumac, and fried pita made for a second hit in a row. I chose the Za'atar Crusted Swordfish in a bed of green chickpeas, sweet corn, cherry tomato, and harissa butter washed down first by a peppery pinot noir and finished with a light-bodied, but complex burgundy. As its name would suggest, you will savor a nice variety of wines.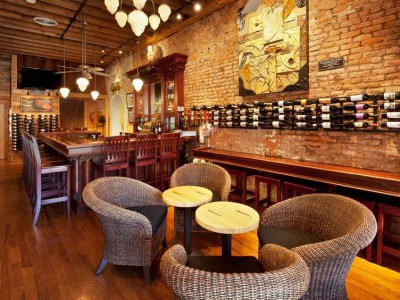 Carpe Vino provides a great atmosphere to unwind and savor the finest wines.
Candidly, I am not a big fan of puddings and never have been, but the Rosewater Malabi dressed with raspberry, coconut, and pistachio made me an instant fan, and would have had me licking my plate were I alone. My palate has seldom been more surprised, yet alone been overwhelmed by an entire meal.
Old Town Auburn has many reasons to visit, but with the 2002 addition of Carpe Vino, there is a huge new one. As I was savoring my meal, it was fun to overhear the other diners express how delighted they were with each and every aspect of their dining experience. One couple shared that they routinely travel from Sacramento expressly to discover what Carpe Vino has next to discover on its menu.
If  innovative combinations, great service, and tasty, fresh locally sourced and excellently present dishes whet your appetite, a visit to Carpe Vino is a must!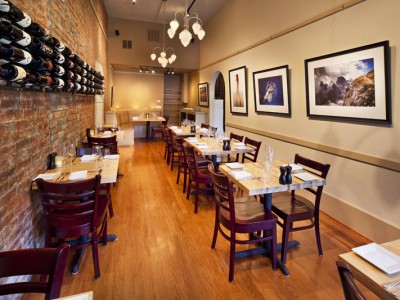 Carpe Vino's intimate, rustic Gold Country setting is just the spot to tease and then satisfy your most demanding culinary expectations.