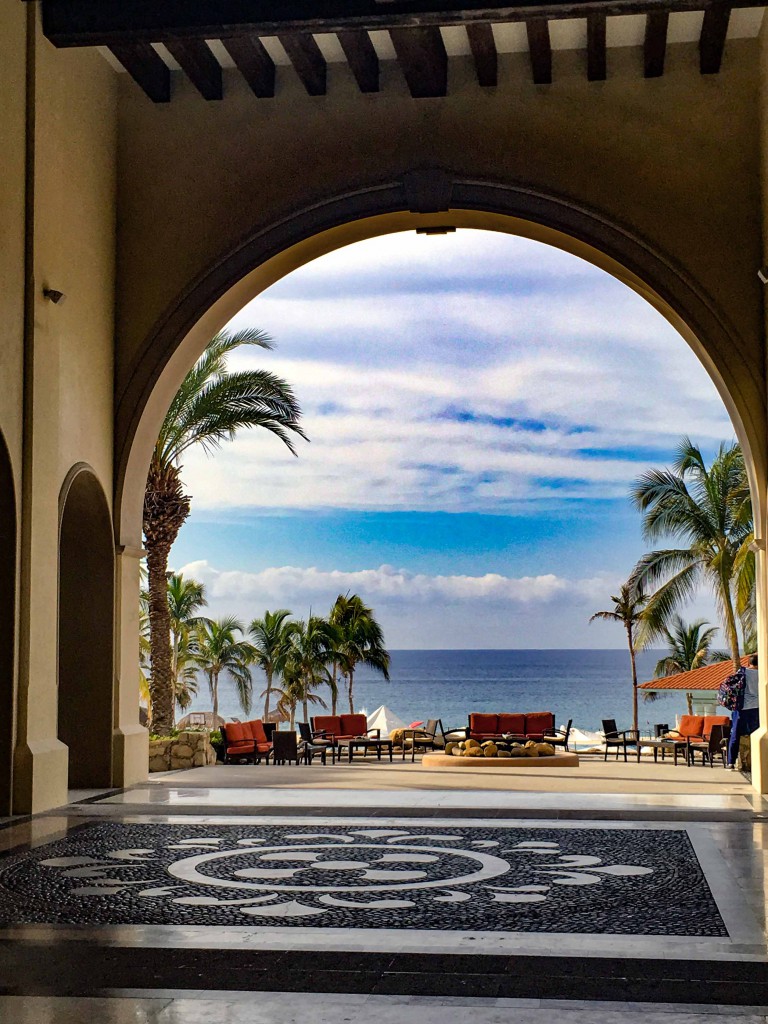 This lobby view from this Dreams Resort capitalizes on it proximity to the Sea of Cortez to the east. (Photo by Robert S. Fagan)
As a travel writer, sometimes you just want to go and relax without any obligation to write or report. Such was the case on a recent visit to the seaside Dreams Los Cabos Suites Golf Resort and Spa just north of Cabo San Lucas, Mexico. I actually paid my own way just like you would. Dreams in Cabo is a medium-sized all-inclusive family resort and my stay was for five nights – and I never left the property. I discovered the resort on the Internet and secured an all-transportation, all-inclusive package for less than $1,100 USD. Timing in hot August, the prices were more affordable and the full rack rate would likely be twice that, especially in season. Was I pleased with the stay and would I return? The answer is "Yes!"
Choosing a family versus an adult-oriented resort offered some savings and might not fit everyone's temperament, but it was fine with me. It was also nice to stow your credit cards in your room safe and except for sometimes carrying a stash of $1's for tipping, not having to reach into your pocket at every turn. This is what is so appealing about the all-inclusive concept, but prepaying can also make traveling to eat off-site defeating the purpose – you become a self-imposed prisoner of the resort for eating. Anyway from the breakfast buffet to the swim-up bars, and several-course meals at five eateries and a cafe at this Dreams, it's all worthy of a detox when returning home.
Transportation from the airport went pretty smoothly as did our greeting and check-in. Before visiting my room I was escorted to a agent intent on selling me on their "Dreams Affinity Program," a variation of a timeshare. And if you don't know by now, timeshares  and the like may fit some, but they have proven to be a horrible financial investment even with the attraction of trades. Escalating maintenance fees, commissions, and disappointing resale markets see to that, something that has been candidly shared more than once with me by former sales people who used to make well more than half a million dollars a year selling them. Anyway, the allure of discounted massages or wine held no attraction for me and I quickly dispatched the idea of any such offer. Besides with free booze, why would anyone care to buy a discounted wine of dubious value? Anyway, I recommend you steer clear of these tactics. Thankfully, no one hounded me about them after that.
This Dreams Resort then began to improve. Spotting a breathtaking view of the Sea of Cortez, beach, and palm-laden pool from the lobby, we found our very attractive and spacious room. The grounds were lovingly manicured as well making this a Mexican tropical oasis. For the price, this was a very pleasant surprise. Soon I also discovered the service to be outstanding. During my entire stay, the help ranging from the maid service who attended to the room twice daily to the front desk, bartenders, waiters, etc. were all cheerful, smiling, and eager to help. Overall they were as good as any more expensive lodging I've enjoyed, all-inclusive or not. The beach was clean and roped off keeping beach vendors hustling counterfeit Cuban cigars, trinkets, hats, and clothing a respectful distance. What a relief!
The pool and beach looking eastward toward the Sea of Cortez are the centerpiece feature. (Photo by Robert S. Fagan)
As for the quality of the food and drink, let's just say that it was average at best, acceptable by all-inclusive standards, but poor and a total rip-off if you didn't take the inclusive package and had to pay the stated menu prices. (Of the five eating venues, the two nights I wanted to visit the French Restaurant, it was inexplicably closed. When there would be an outdoor buffet another restaurant would also be closed perhaps because this was off-season and occupancy was low.) Anyway, the portions were sensibly small given the oversized appetite approach of most customers and children often sampling, but the flavoring was bland. There was scarcely a dish I found remarkable or wanted to repeat. Remember that the all-inclusive concept is more about convenience and quantity. If it's quality you want, skip that feature and eat off site.
Thankfully, this resort had a separate adult pool isolated on another side of their building though the family one was larger and featured an infinity edge and waterfall below – fun to hide in and escape the sun. The adult pool was much more quiet and relaxing. The unfortunate thing is that it lacked a hot tub jacuzzi. The only one at the resort was situated as part of the family pool and though it had several signs indicating "Adults Only," such was totally ignored and not policed. You'd typically find more very young unsupervised children there than adults. I shudder to ponder how many were relieving themselves in the warm waters or spent too much time there. This all spells poor planning and unacceptable lax policing – a health hazard to all.
The hot tub wasn't the only shortcoming. Eating breakfast at an outdoor restaurant, I was interrupted with hotel staff who began shooting rifles at mushrooms just 8-9 feet away from where I was sitting. Another day, the same folks were out again at breakfast instructing novices in archery in the same spot aiming adjacent to where I was sitting, not away from me. Not only was this distracting, but so unsafe as well. I could have never imagined this happening in the United States. Each time I was forced to move inside. Finally, there was a drill pump operating between the adult pool and the beach facilities. Talk about the endlessly loud pounding and thumping noise. Thank goodness I hadn't drank too much, but the construction noise was painfully distracting to say the least!
Detriments aside, the weather was hot and sunny, the service and room great, and food and drink never more than a few steps or strokes away. The hotel people were friendly and the customers were having fun. It's not perfect and may not appeal to a more discerning, older clientele, but given a good value, Dreams Resort in Cabo San Lucas is a place I would go back to for a warm, relaxing, carefree getaway.
(I did not participate in the Spa and only played the golf course too long ago to be able to comment.)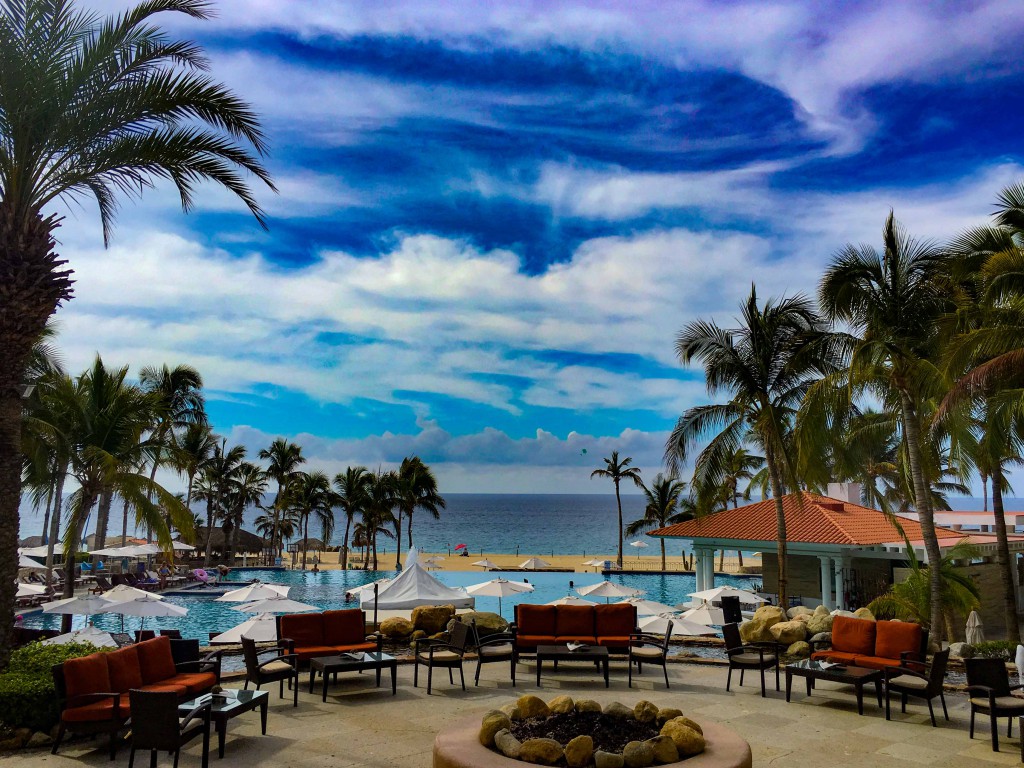 (Photo by Robert S. Fagan)