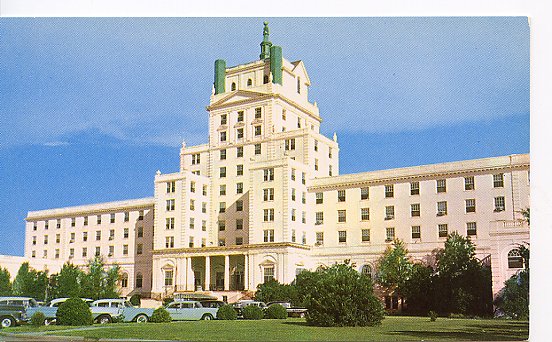 The Ocean Forest Hotel pictured in 1961.
Did you know that in 1925 Myrtle Beach only had 200 year-round residents and no golf courses. Becoming golf's Mecca did not happen overnight.
In 1911, Simeon Chapin, a New York stockbroker while visiting Pinehurst learned that 66,000 acres on the South Carolina coast were available. The owner, the Burroughs Family, went into partnership with Chapin and initially decided to pursue timber and farming, but that didn't last long. A year later the Partnership sold 65,000 of those acres to the Woodside Brothers from Greenville, SC. for $850,000. The Woodsides envisioned a plush resort that would attracted visitors from around the world.
As part of their plan, the Woodsides built the oceanfront Ocean Forest Hotel. It was a grand facility with white columns, marble floors, and crystal chandeliers. Their second move was to build a 36-hole golf course called the Ocean Forest Country Club. Transplanted Scot Robert White, who had already served as the first President of the PGA of America was brought in to design the layout. The Great Depression took quite its toll on the undertaking though the hotel survived as did 18 holes. The course was eventually renamed "Pine Lakes" and flourishes to this very day as "The Granddaddy" among all the courses in the Myrtle Beach region. It retains its Scottish influences and also is the site of the Myrtle Beach Golf Hall of Fame. Interestingly, the idea for the "Sports Illustrated Magazine" was hatched in its clubhouse. It would be more than twenty years until a second golf course (The Dunes) was built, but many have since followed and more than 4.1 million rounds of golf are played in the area annually.
Burroughs, Chapin, Woodside, and White are all names that remain in the Myrtle Beach legacy to this day.
Below is the Pine Lakes Country Club – "The Granddaddy." Shown below is the par-four 15th from behind the green.