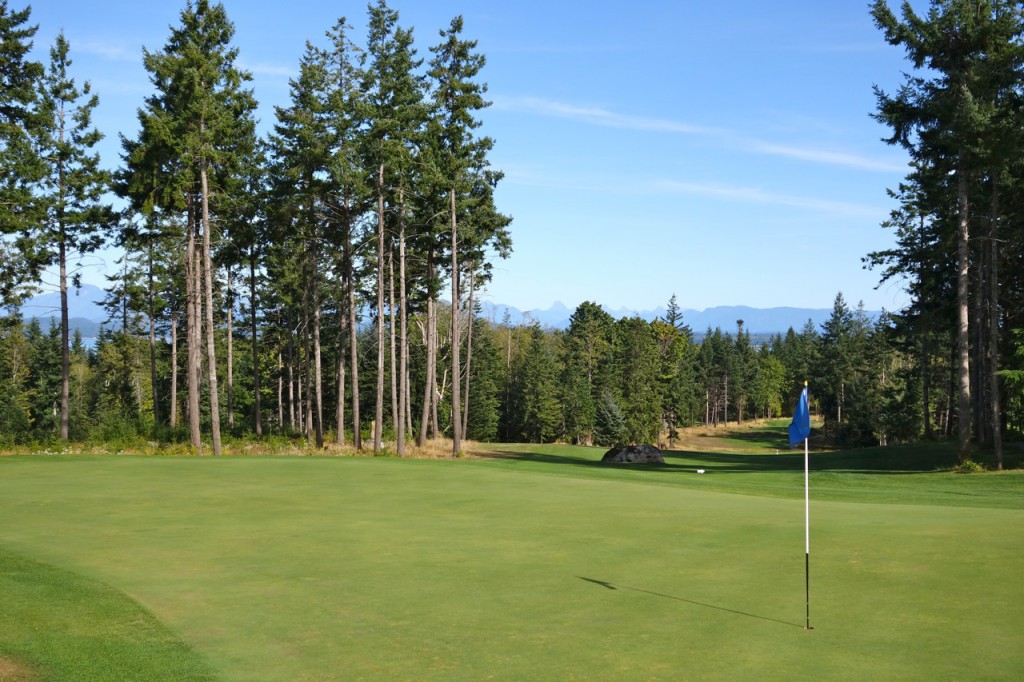 The view uphill par-four 7th reveals only part of the treat that is in store for you when you play the Quadra Island Golf Club!  (Photo by Robert S. Fagan)
Quadra Island is an island off an island (Vancouver). It was over ten thousand years ago that retreating glaciers carved out an inland ocean leaving islands of all shapes and sizes. Quadra Island is one of them and today it is home to a little enchanting 9-hole masterpiece – the Quadra Island Golf Club. Just a short ferry ride east of Campbell River, the sizable island can be several hour's drive from top to bottom and it is one of those spots where visitors come and may fall in love with the surrounds. Well, such a spot needs a golf course. In fact, it is the Canadian West Coast's (and Golf Vancouver Island Trail's) newest golf course!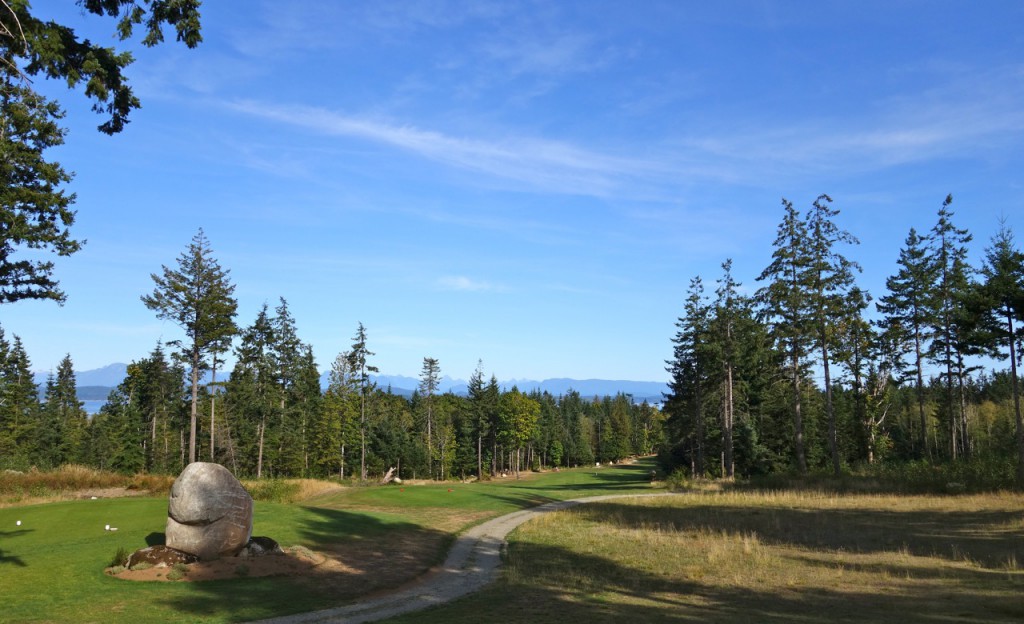 Trees, rugged fescue, and again that gorgeous view frame the tee shot of the par-four 6th hole.  (Photo by Robert S. Fagan)
Overlooking the Sutil Channel and British Columbia's mainland coastal mountains, this secluded simple little layout was literally carved out of a thick forest and built by local golfers with the input of a golf course architect. The architect established the routing and would occasionally check in on them, but this handful of enterprising golfers took to the bulldozers to clear the thickly forested property as well as finance and literally build and finish what has become a really engaging layout, easily worth of the trip.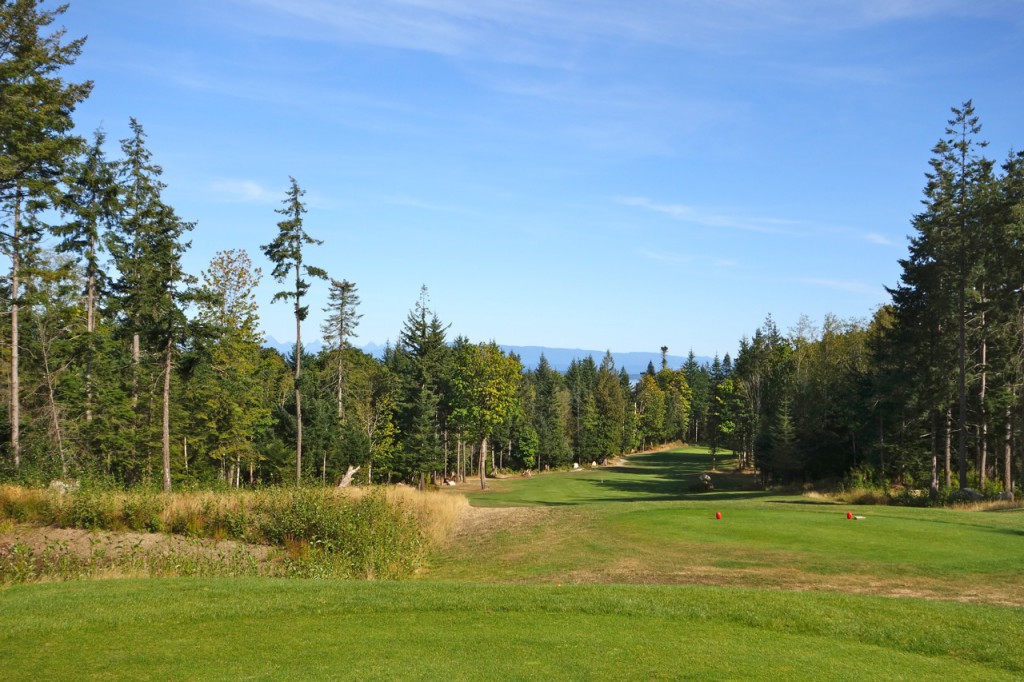 You had better be very accurate or work your ball from left to right on the downhill first hole.  (Photo by Robert S. Fagan)
Speaking of trips, once you are on Vancouver Island, it is not really difficult to reach the Quadra Island Golf Club. A ten-minute ferry ride from a couple of Campbell River spots delivers you to one of two docks and the golf course has a free back-and-forth shuttle right to the property. It couldn't be easier – and the people couldn't be nicer!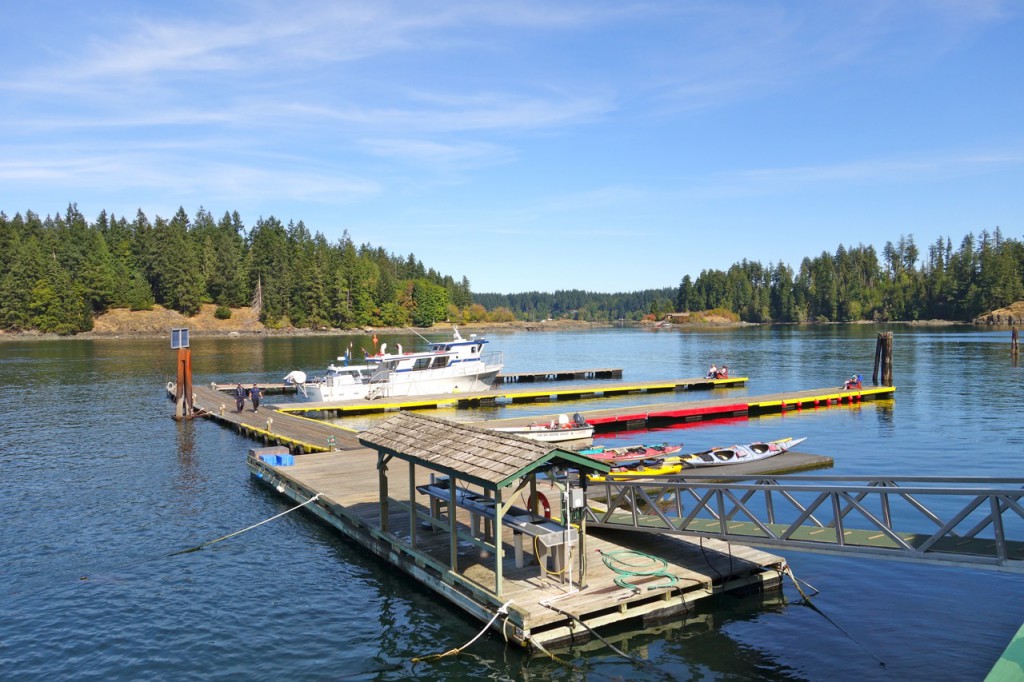 Above is the dock where I landed from Vancouver Island and caught the free shuttle to the golf course, and below is the adjacent April Point Resort & Spa, a gorgeous ocean side spot I certainly enjoyed staying!  (Both photos by Robert S. Fagan)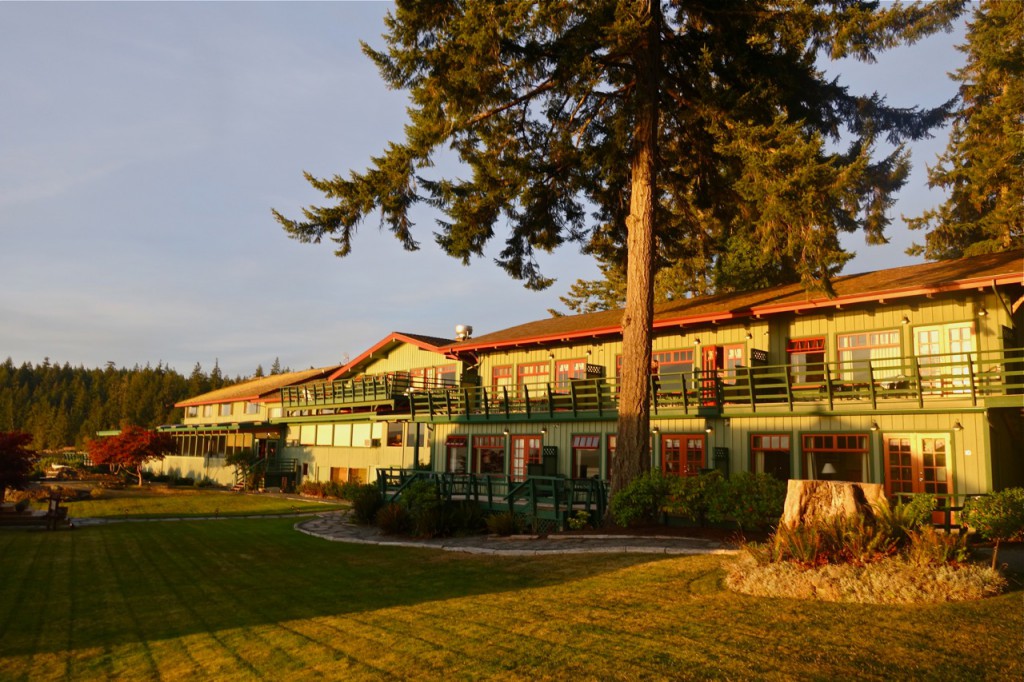 When I queried folks before my visit here about whether there were any "weak sisters" on the Vancouver Golf Trail, the answer repeatedly was "No!" As I was approaching the property and catching my glimpse of perhaps the world's tiniest golf shop, I was harboring a doubt or two, but what the heck, this would be fun just the same. Right?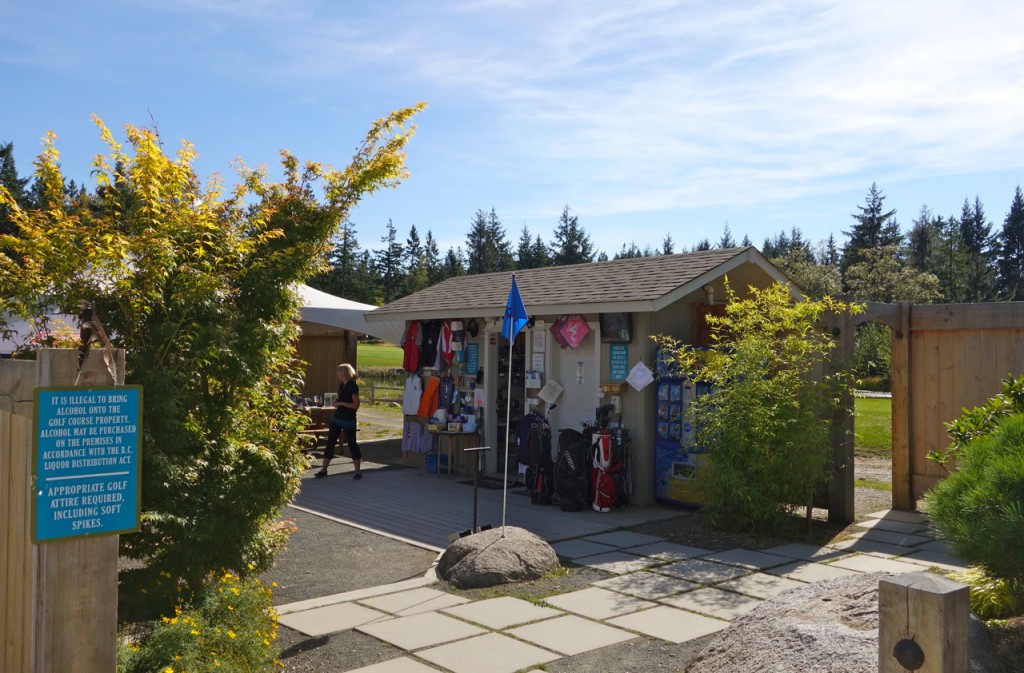 A view of the golf shop that is as big as it needs to be.  (Photo by Robert S. Fagan)
Make no mistake about it, this is no frills golf. While there is a practice range and riding carts, portable toilets are about the biggest structure you will currently encounter here. The great thing is that because of the people and the golf course, it really doesn't matter. This is a really fun golf adventure.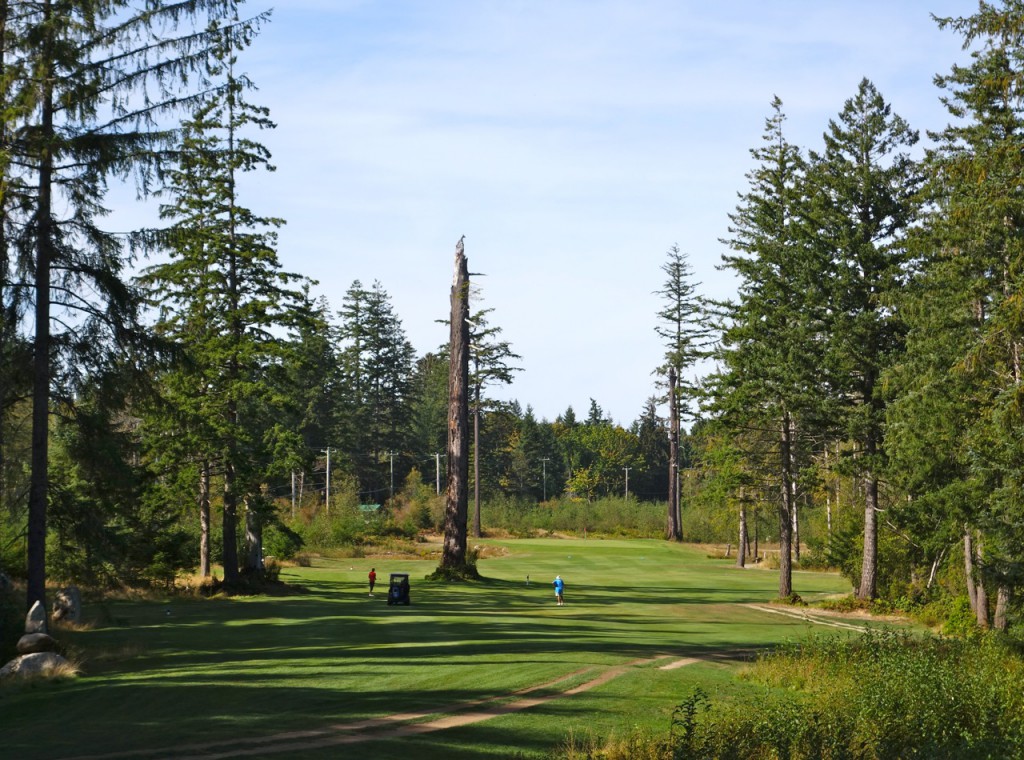 The architect suggested that the tree remnant be removed from the landing area, but wisely the constructing members resisted. It "makes" the par-four 8th hole.  (Photo by Robert S. Fagan)
The golf course did not disappoint in the least.  Working on a tight budget, there is no overworking of the land, no frilly mounds, and the fairway corridors are thankfully more than adequate though fescue and thick woods swallow any wayward shot. Therefore a couple tee shots suggest less than a driver, but for the most part you can fire away. And you must have the honed deft short-game of a practiced local to get it up and down from around the greens.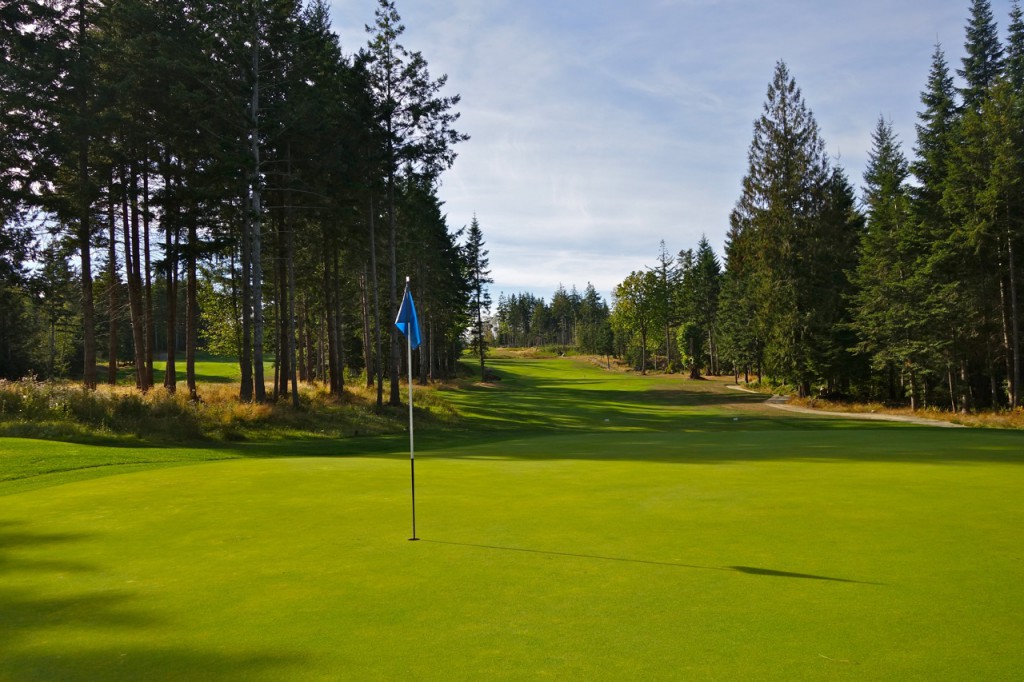 The first green introduces you to the many subtleties of scoring at the Quadra Island Golf Club.  (Photo by Robert S. Fagan)
The contours of this secluded forest landscape do indeed create a memorable unique nine-hole experience. There are plenty of elevation changes to the Quadra Island Golf Club and the eastward views from the first and sixth tees and 7th green of the water and distant mainland mountains will have you reaching for your camera. The putting surfaces definitely have some character to them; they are firm and run smooth and surprisingly quick. At 3,219 yards on a par-36 frame, there is nothing anemic about the challenge. While both par fives are reachable to two powerfully accurate blows, both are uphill and blind making them anything but easy.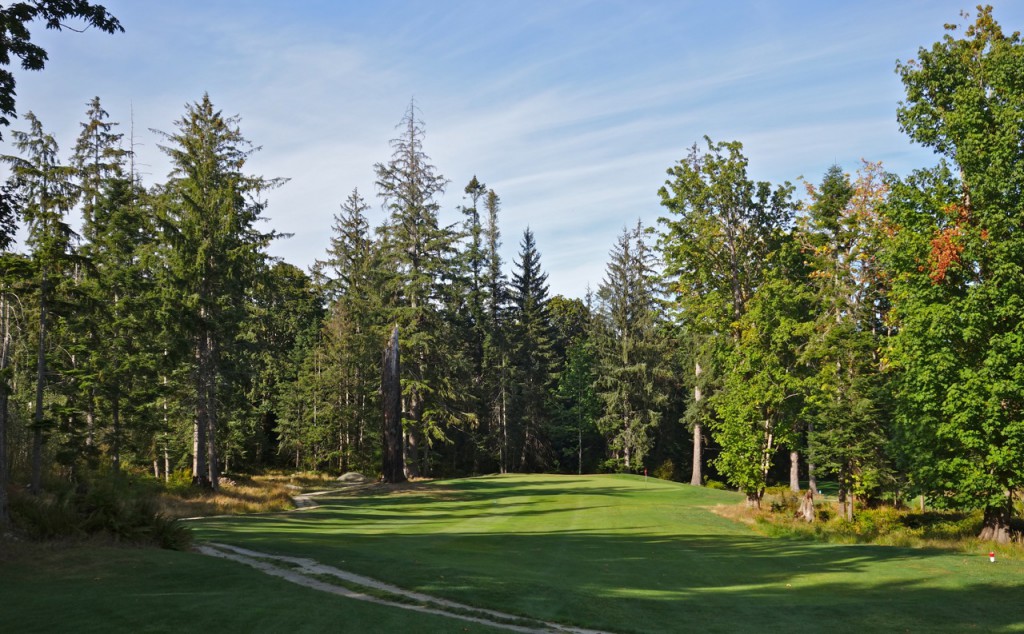 The very demanding sweeping dogleg right 2nd hole may be the toughest par on the course. Trees, fescue, and a hump fronting the treacherous putting surface are part of the challenge.  (Photo by Robert S. Fagan)
The starting three holes will spell p-a-r as a successful beginning, but it might be the 180-yard finisher that makes or breaks your round. The hole that has about a 155-yard carry over a pond looks innocent enough until you spot that the right falls off toward a bunker while the left half steers balls gently to that side. If that wasn't enough, hit beyond the hole and you have a speedy downhill putt with some break.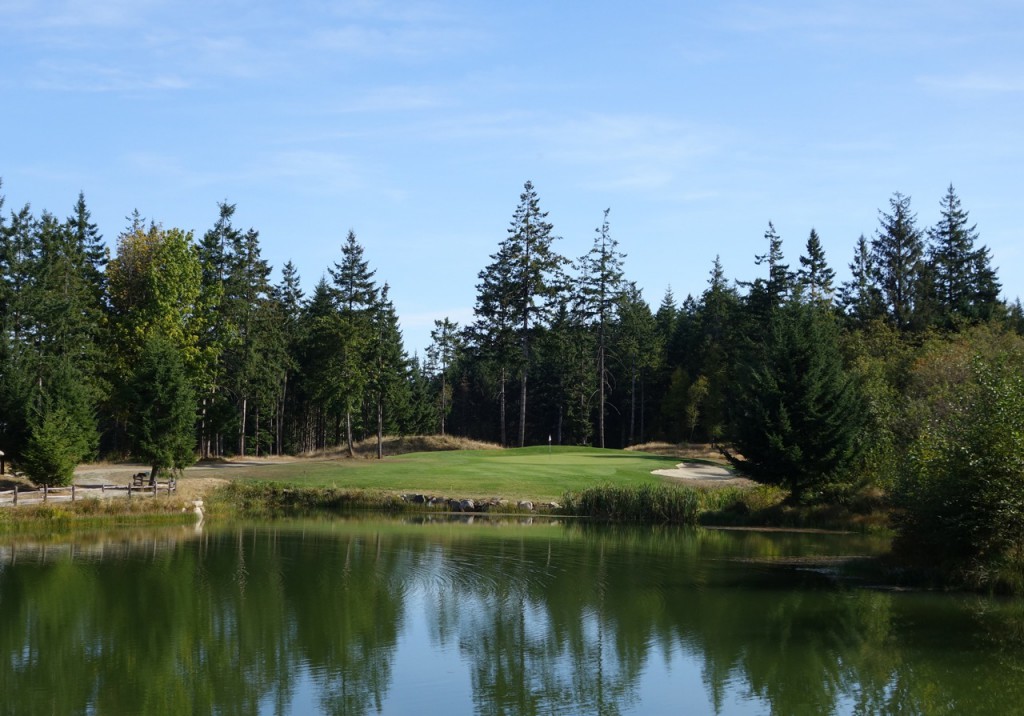 The devilish par-three 9th hole pictured above and below is far more challenging than first meets the eye.  (Both photos by Robert S. Fagan)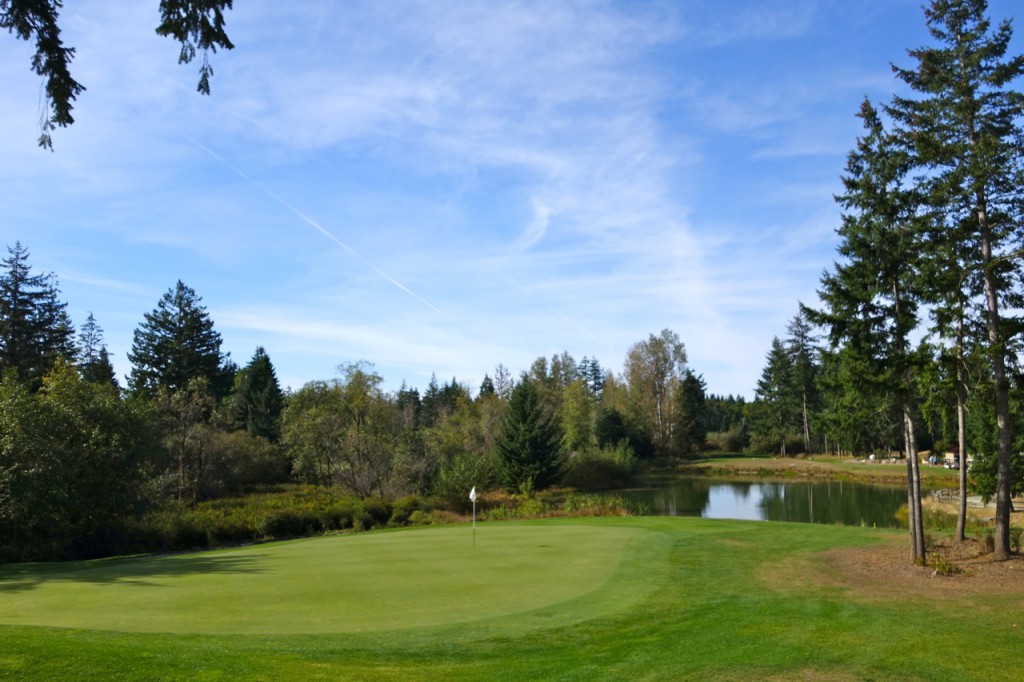 There is some talk or hope that someday an additional nine holes might be added, but in the meantime Quadra Island Golf Club is very nicely holding its own. It has enough character so as to require some local knowledge, patience, and ability if you want to beat it. When you add in the wonderful views and friendly folks, the Quadra Island Golf Club becomes a most inviting and engaging play!
Refer to:  www.quadragolf.com.