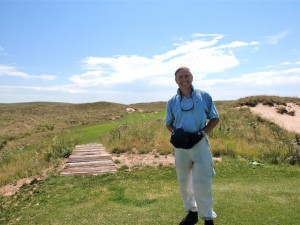 Yes Siree, this list will certainly provoke more arguments!  So get ready to nod your head or–so be it–shake your fist. Asterisk indicates courses that are public-access (and the photo is of Ballyneal, in Colorado, with yours truly doing on-site research.)
Alaska – Moose Run Creek Course* – It's also the toughest, most scenic, despite a couple of terrible golf holes
Arizona – The Rim Golf Club …somewhat atypical, but for me easily the best.
Baltimore – If you like old, it's Baltimore Country Club's Five Farms.  For new, it's Caves Valley.
Big Island of Hawaii – Mauna Kea* still prevails.
Boston – The Country Club Composite Course wins with its history, but the area is so golf course-rich.
Chicago – Chicago Golf Club…Where the oldest is still the best, but I love Shoreacres too in another golf-rich region.
Cleveland – The Country Club & Kirtland vie for Best Classic Course while Sand Ridge captures the Modern Category.
Colorado – The Golf Club of Castle Pines, the Colorado Golf Club, and Ballyneal feature different strokes for different folks.
Connecticut – Country Club of Fairfield…  Where simple outdoes the silly, slick putting surfaces of Stanwich.
Florida Private – Seminole Golf Club…some things just don't change.
Florida Central – World Woods Pine Barrens* the better of two great World Woods courses that must be played, but chased by Victoria Hills*, Isleworth, Mountain Lake, and Bay Hill*.
Florida Northern Public– TPC Sawgrass Stadium* has matured into an outstanding golf experience.
Hilton Head Island –  The Dye Creations of Long Cove Club and Harbour Town Links* are my choices among some really solid golf offerings.
Idaho – Gozzer Ranch and the Club at Black Rock finish in a dead heat.
Indiana – Wolf Creek and Victoria National nose out Crooked Stick.
Kauai – The Prince Course* is the most formidable and memorable of some very good courses.
Las Vegas – Shadow Creek* and Cascata* prove that expensive layouts still prevail.
Louisiana – Bluffs at Thompson's Creek* is a wonderful routing on good piece of property and it's open to the public.
Long Island – Friendly Neighbors – National Golf Links and Shinnecock Hills are the best among a host of great ones.
Maui – The Plantation Course* at Kapalua shares honors with Wailua Gold*.
Michigan – too many favorites, but Crystal Downs wins.
Mississippi – Old Waverly Country Club is a flat, tough, entertaining golf course, but Fallen Oak* may be the best.
Montana – Rock Creek Cattle Company has a terrific and challenging golf course.
Monterey Peninsula  California – Public Pebble Beach and private Cypress Point Club are followed closely by the Monterey Peninsula Country Club.
Myrtle Beach- Caledonia Golf & Fish Club*  This is a course nearly everyone including me likes and The Dunes*.
Naples – Calusa Pines -this Hurdzan-Fry course has it all edging out another of their designs, Naples National.
New Jersey – Pine Valley Golf Club wins in a landslide over many other terrific layouts.
New Mexico – Black Mesa* edges out Paa Ko Ridge* and the duo at Las Campanas.
Ohio – The Columbus duo of the Muirfield Village Golf Club and The Golf Club edge out the classic Courses such as Camargo, Moraine, and Brookside.
Oklahoma – While I have no problem with Southern Hills or Oak Tree National as championship venues, but my favorites end up being two Tom Fazio courses – Karsten Creek and GC of Oklahoma with Cedar Ridge being a real 'sleeper.'
Orange County California – Pelican Hill Ocean* is not the hardest, but the prettiest and most expensive of the lot.
Oregon – Take your pick from any of the four courses at Bandon Dunes*.
Palm Springs Area – PGA West Stadium*, Stone Eagle, the very private Porcupine Creek, and The Tradition win.  This area tends to be "resorty," with many look-alike layouts, but not these.
Pennsylvania – Is a tie between venerable stalwarts, Philly's Merion East Course and Pittsburgh's Oakmont Country Club in a dead heat.
Philadelphia – Pine Valley Golf Club, enough said already…America's Best too!
Pinehurst Other Than Pinehurst Country Club – Pine Needles* and Tobacco Road* are my choices.
Pocono Mountains – Modern Huntsville and the vintage CC of Scranton win out.
Reno-Tahoe – Lahontan Golf Club, Clear Creek Tahoe Golf Club, and Martis Creek are the cream of the crop.
St. Louis – Bellerive Country Club edges out St. Louis CC and Old Warson by a nose.
San Diego – Barona Creek* edges out Meadows Del Mar*, Aviara*, Maderas*, and Torrey Pines*.
San Francisco – It's a tie between the venerable San Francisco Golf Club, penal Olympic Lake Course, and the renovated California Golf Club.
San Francisco North of the Gold Gate – Nicklaus' best in California, the Mayacama Golf Club takes the prize for modern with The Meadow Club since its restoration claiming the vintage prize.
South Dakota – Magnificently unique Sutton Bay is an easy choice.
Tennessee – The Honors Course and The Golf Club of Tennessee edge out Holston Hills.
Texas – Dallas National is the new gunslinger in town though Whispering Pines is the quiet gem.
Texas Public – Crown Colony* is simply a terrific wooded parkland layout.
Washington – Chambers Bay*.  The "new kid on the block" takes the prize.
Westchester County New York, Winged Foot West over Quaker Ridge by a nose.