The 18th on the Palmetto Course at Myrtlewood is considered one of the best finishing holes in the region!
Here is a 36-hole facility in which the customer base is split between which is their favorite course. Operators indicated that the Palmetto Course with its Intercoastal Waterway finish gets more than half the play, but that they, like I, slightly prefer the Pinehills layout. That's a nice problem to have as both are attractive solid layouts.
Edmund Ault designed the Palmetto Course that opened in 1966 and was the fourth course to open in The Grand Strand. It is a fairly long, straightforward design through the pines with traditional bunkering and large flattish greens. This parkland variety layout exhibits gentle shaping and soft features – a feature that you will often encounter among many Myrtle Beach area layouts. There is nothing sudden or abrupt in any form making for a pleasant cart ride though there is nothing anemic about its 7,015 yards from the tips with a stiff 135/73.7 slope/rating.
Above is the par-three 17th with the Intercoastal Waterway in the distance.
There is no doubt that the Palmetto Course finishes on a high note. The 179-yard 17th plays over an inlet of the Intercoastal Waterway, while the beastly 468-yard finisher plays the entire length of it with the water to the golfer's left. Observing the water, one will take note that there is a sign by the clubhouse that reads:
Miami – 713 miles
New York – 650 miles
The choice is yours if you have a boat, go left or go right.
There is also a second choice at Myrtlewood as well, and that's the Pinehills Course. Originally designed by popular Southeast golf course architect George Cobb, Arthur Hills came in and redesigned the layout in 1993. While a bit shorter at 6,640 yards, this layout for me was a bit more interesting and aesthetically pleasing. It requires a more accuracy off the tee, but is far from claustrophobic. While it is rated just a tad easier than the Palmetto, I am not sure that most golfers would agree. There is a little more movement in the smaller greens and twists in the fairways.  The bunkers have more interesting shapes and flashing to them to better highlight the approaches to the greens, and the bunkers on this course are definitely more imposing and also more of a challenge to escape.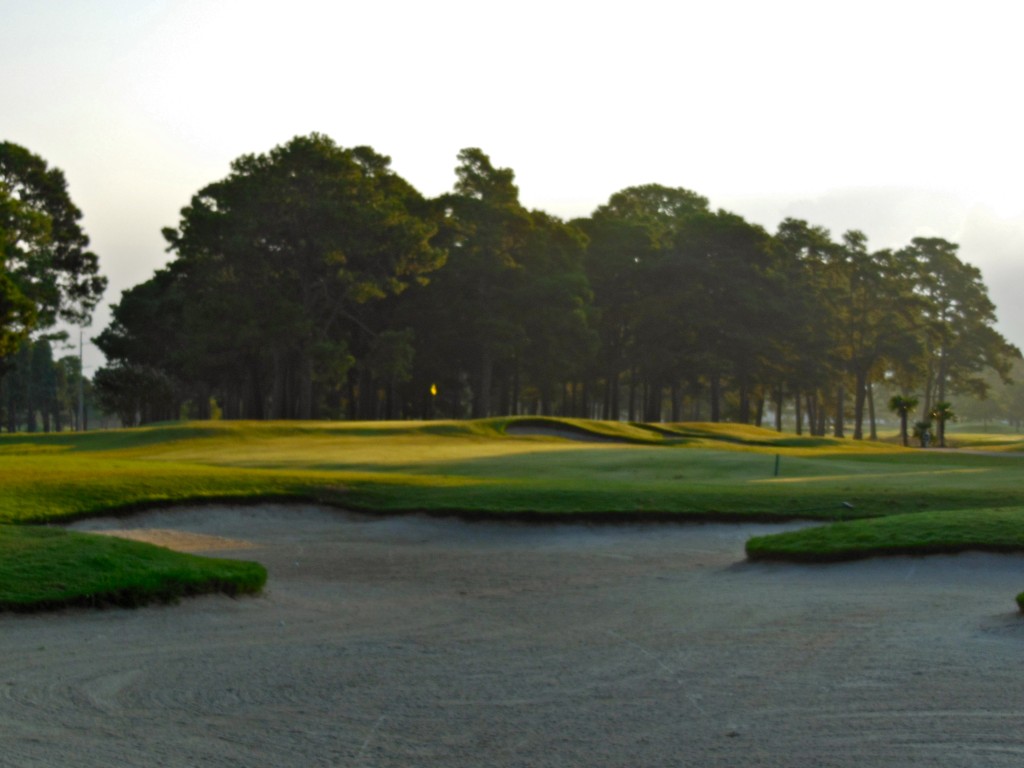 Bunkering comes into play in a more pronounced manner on the Pinehills Course as shown by this early morning view of the 2nd green.
No matter what your choice of course to play at Myrtlewood, you can't go wrong. Centrally and conveniently located, its attractive clubhouse and practice facilities make for a relaxing and enjoyable round of golf with soothing views of the waterway.
Below water guards several putting surfaces at the Pinehills Course as seen by the par-four 7th.