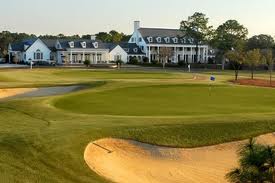 The venerable Pine Lakes Country Club started golf in the Myrtle Beach area in 1927.
I've enjoyed quite a love affair with the game of golf, but it really blossomed in March of 1965 when I got to take my first golf vacation.  This vacation was to Myrtle Beach, South Carolina.  I was just fourteen at the time and my parents along with a spry 78-year old friend of the family, George Thorpe, and I embarked to this South Carolina coastal town that had but three golf courses at the time.
My parents took advantage of one of those early package deals where you could play golf and stay fairly
inexpensively as well as play all the area golf courses – the famous Dunes Golf & Beach Club, the venerable old Pine Lakes International, and the Surf.  In the few years that I had been playing, I'd seen many advertisements for the "Waterloo" of a hole the 595-yard 13th at the Dunes that only touring professional Mike Souchak had ever powerfully reached in two shots.  The Pine Lakes layout was the course that started the area playing golf and the Surf was an exciting new course north of town.  I found all the courses thrilling and playing them just encouraged me to want to play more golf.
Yes, we played all the three courses and my parents and George Thorpe taught me how to play Gin Rummy.  Except that I didn't drink, of course, it was the usual fare of great golf, playing cards, enjoying a good meal and the camaraderie of friends that still endures in Myrtle Beach today during those late winter days and early spring days.  The difference is that the area has grown and the choices for golf have grown exponentially to feature more than one hundred golf offerings.
Yes, I have returned to Myrtle Beach and those three original courses still exist.  In fact, the Dunes is one of the more revered Robert Trent Jones, Sr. courses in existence.  Now the Grand Strand as it is called extends north across the North Carolina border and further south.  There are many more hotels to choose from as there are golf courses.  In fact, there are too many to highlight except to mention that the Caledonia Golf and Fish Club designed by the late Mike Strantz is one of my all-time favorites with some of the best framed greensites in America.
The nice thing is that most all of these many courses are accessible to the public and the values are really worth pursuing.  If The Masters golf tournament is an annual rite of spring, the precursor to that are the stag trips to Myrtle Beach that begin in late February.  While the weather can be "iffy," men from all over the Middle Atlantic and Northeastern states converge on Interstate 95 heading south to this Mecca of golf to play golf in Myrtle Beach.  For several days, they will all play 36 holes a day, eat, perhaps drink and play cards all in what is as much a ritual as college kids celebrating at some other beaches during spring break.
Just as I did in 1965, golfers will speak  of their upcoming trip to Myrtle Beach during the snow-covered winter with great anticipation.  With spring, the area blossoms into a full-blown great golf destination and evolves into the very popular family summer resort.  Autumn may be one of the best times of the year to visit, and many fall in love with the area so that it has become an attractive retirement option.  You can pick any time of year to discover Myrtle Beach, get pick one of the many great Myrtle Beach golf courses,  and to expand your golfing love affair.