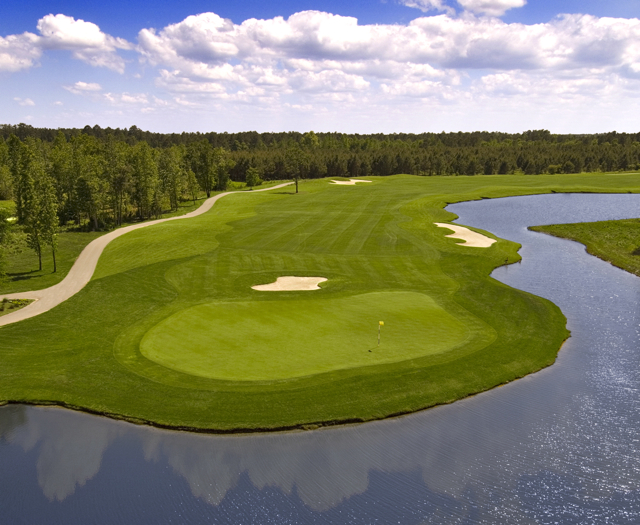 The gargantuan 767-yard 18th at Farmstead begins in South Carolina and finishes in North Carolina. If it's long flat terrain doesn't get you, its bunkers and plentiful water just might!
How often do you get to play a golf course in which you can hit a golf shot from one state into another? How about playing a mammoth 767-yard par-six finishing hole that begins in South Carolina and ends in North Carolina? Well, that's what you will encounter when playing the Farmstead Golf Links in Brunswick County, North Carolina.
Golf course architects Willard Byrd and Dave Johnson fashioned a 2001 product that is versatile enough to test the expert and docile enough not to overwhelm the novice. Ranging from a healthy 7,242 yards to a very manageable 4,998, this flat layout rates high in playability. What's more, this is a very popular layout due to in part to the excellent playing conditions. From the five sets of tees to the mildly undulating and smooth greens, Farmstead provides a very engaging golf experience.
Built on level terrain amidst the pines, water comes into play often, but the fairways are generous if you don't miss shots on the wrong side. When you add the very friendly, attentive service, it is easy to see why Farmstead is a busy, popular golfing establishment.