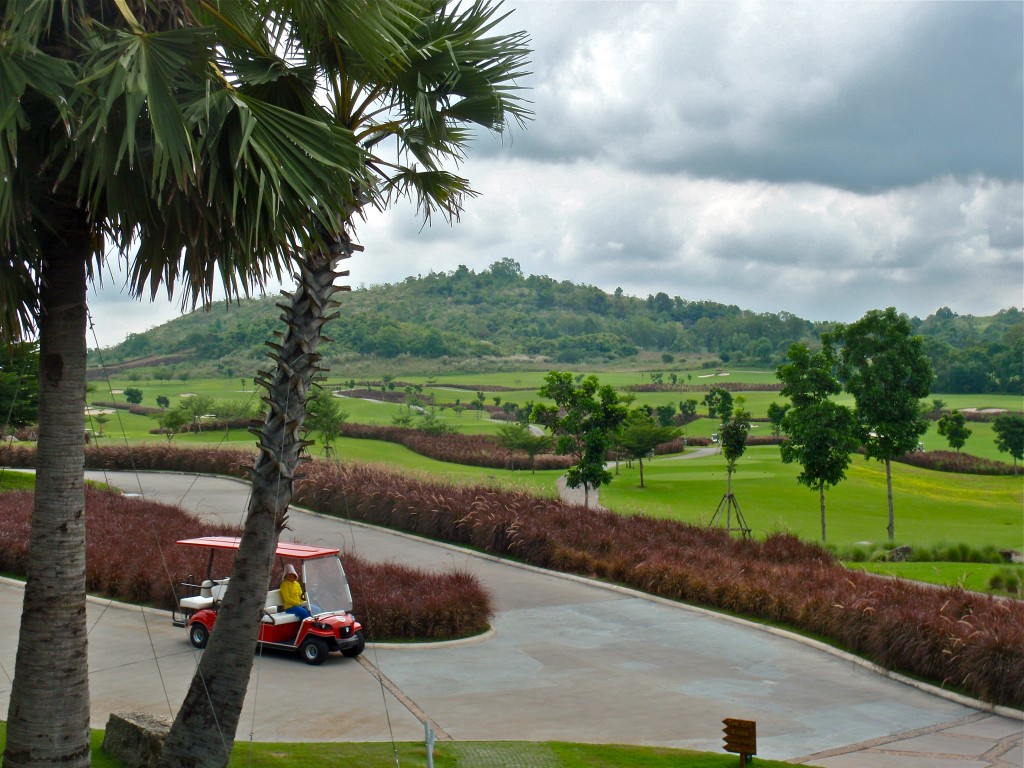 Gorgeous views abound from the luxurious clubhouse at Siam Country Club's Plantation Course. (Photo by Robert S. Fagan)
If you are searching for a golf Mecca with lots more to offer, Thailand should be right at the top of your list!  You will discover Thailand to be one of the most unique golf destinations in the world, not just because of the golf courses themselves, but because of the fascinating life around them.
The term "experience" would better describe what you encounter in Thailand. As this story's title suggests, you will find much, much more than mere golf fare there to interest you. If, however, you are a golf junkie that only travels to play golf, there's enough golf quality and quantity to more than satisfy your appetite. Let's face it however, if golf is all you seek, you'll will likely not be interested in traveling to southeast Asia to do so.
I have long heard from many travelers of how they loved the beauty, culture, and friendly people in Thailand. Many hope to return there again and again.  Mark Siegel, an American expat who is the Managing Director for GolfAsian sums up the unique pull that Thailand has. His company
provides first-class tour services for Thailand, Vietnam, Cambodia, and Malaysia that feature both golf and non-golf adventures. Siegel says that while he receives good reviews from clients on their trips to Vietnam, Cambodia, and Malaysia, virtually none return there and continue exploring other destinations. In contrast, in Thailand, Sigel reports a whopping 70% become repeat visitors. That speaks volumes!
Why? Well after a whirlwind ten-day excursion to Thailand in which I only scratched the surface of the country and the golf courses – there are approximately 280, I can tell you that the reasons are many. And did you know that the European and Asian Tours have visited twenty separate courses in Thailand in the past five years?
First of all the people are truly among the most friendly I've encountered. You often hear that comment made about places, but in Thailand it's genuine. Not only are the natives so very respectful and friendly with foreign tourists, but observing them interface with each other, you discover that they are truly kind, gentle, friendly folks.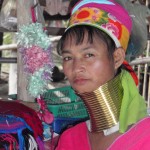 Secondly, Thailand is a country of rugged mountains, large cities, jungles, meadowlands, and beautiful beaches whose fascinating culture has its roots in its centuries old monarchy and Buddhism. Those features in themselves offer much and there are other adventures such as visiting an indigenous tribe such as the "Long Neck people" (women wear rings around their neck), one of the many temples or gardens, or perhaps even riding an elephant. Suffice it to say that there are a host of interesting cultural activities to keep you occupied.
Thirdly, our dollar goes a long way in Thailand. While the time and cost to travel to Thailand may be substantial, once you are there you can live the life of luxury for only a fraction of what it might cost most elsewhere. Rooms in modern five-star hotels typically cost no more than $200 a night, and you will marvel that a delicious full dinner usually will not cost more than $20 and a beer $2-3. Then there are those famous Thai massages. For $6-8, you can get an hour treatment, and for $16-18, you can get just about anything you want extending for two hours or more.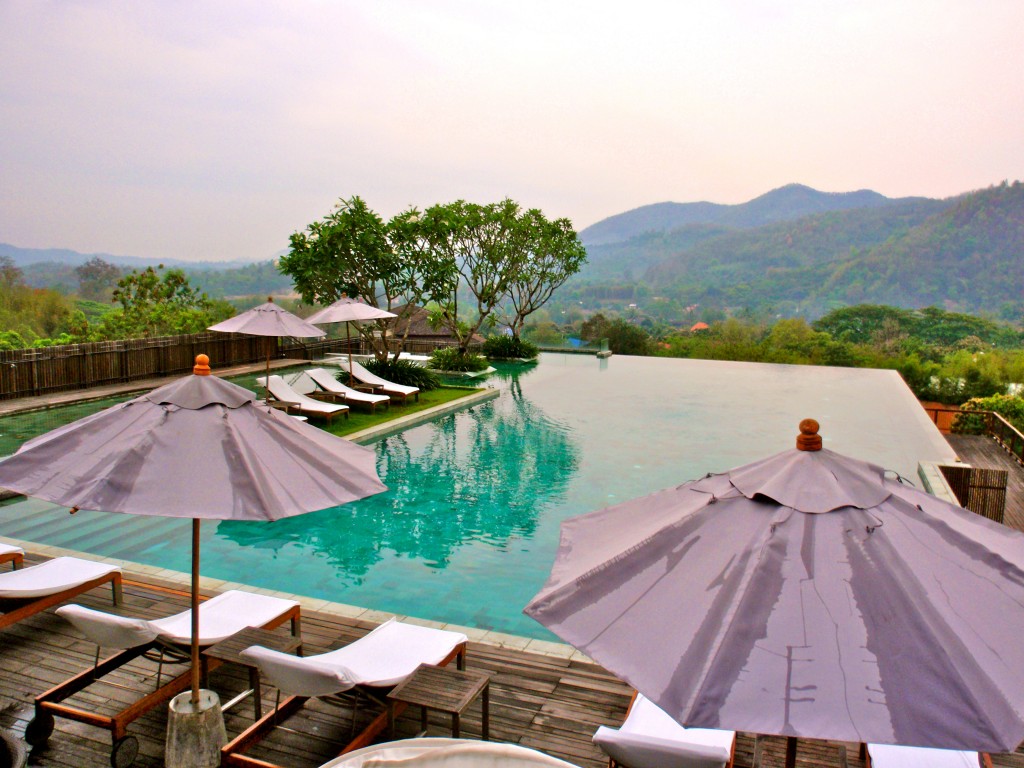 Can you envision yourself relaxing in this getaway resort pool for $150 a night? (Photo by Robert S. Fagan)
While the food is inexpensive, the quality is superb. For those who want something other than the Thai cuisine, there are many international offerings available for a change of pace. And if you spot street food you like, relax it's safe to eat. And once finished eating, you don't have to go far to find exciting shopping, nightlife or spas. In short, you don't just play golf when you visit Thailand.
While a typical week's cost at a premier American or European golf resort will cost between $1,250 to nearly $2,000, the same will run less than $800 at a comparable facility in Thailand. Virtually all the courses are open to public play and a few are lighted as the Thai golfers enjoy playing once the sun sets and it becomes a bit cooler.
Golf is played 365 days a year with the prime season being from November through February. In the summer, the afternoon rains visit daily, but you can easily play in the mornings and the water evaporates quickly. What's more, the courses are far less crowded and the rates are lower.
Speaking of golf, I played eight courses that were grouped around the cities of Bangkok, Pattaya to the south, and Chiang Mai to the north. While Golfasian's Mark Siegel remarked that no one would travel half way around to play the courses in Thailand, I will venture to say that if they did, they would be thrilled with their good fortune. Seven of the eight those layouts would not disappoint anyone.  In just these three areas alone, you could play a different highly rated course that has hosted a PGA or LPGA event (won by the likes of Tiger Woods, Vijay Singh, or Lorena Ochoa) every single day of the week.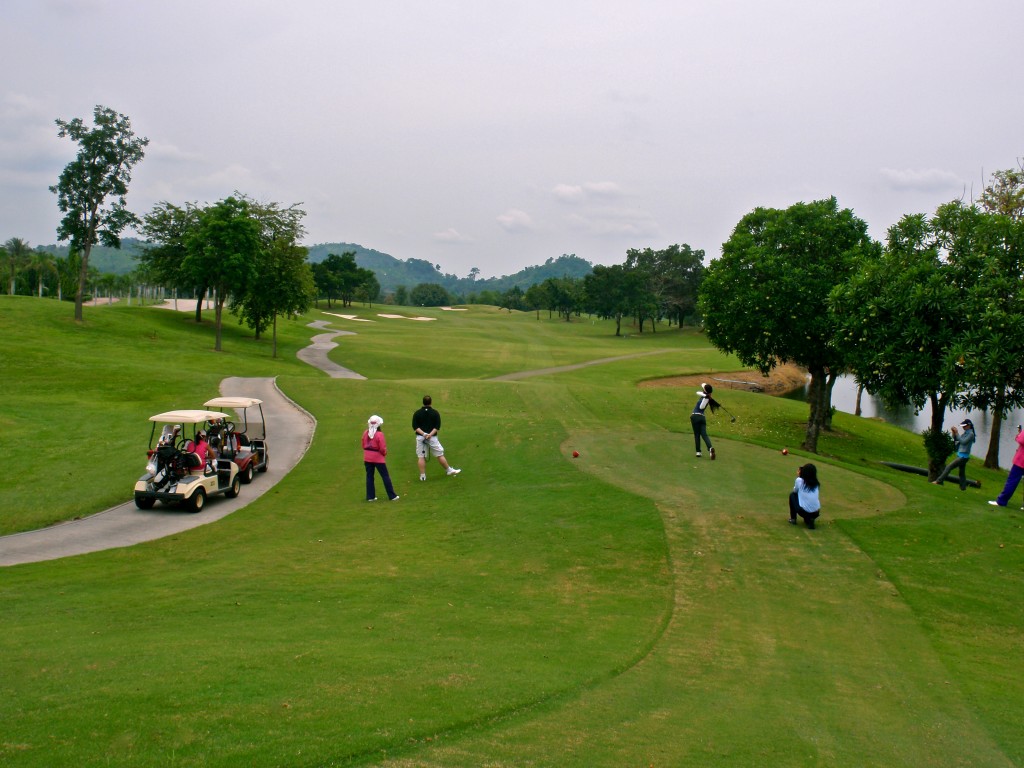 Teeing off the first hole at the beautiful Burapha Golf Club's West Course. (Photo by Robert S. Fagan)
The city of Pattaya is located about two hours south of Bangkok and features the best value in golf, but less of the cultural attractions. Quite frankly, the nice hotels and great golf courses are the highlights as the other areas of the city are dirty, though safety did not appear a concern.
Cooler night golf is popular at the Jack Nicklaus-designed Laem Chabang International Country Club.
Here I thoroughly enjoyed the Burapha Golf Club's West Course designed by Gary Panks and David Graham. It features rolling terrain and some gorgeous views of the city in the distance from its last three holes. Next I played the Plantation Course at the Siam Country Club. Spread out over vast expansive of rolling fields, the course features punishing bunkering and very challenging green sites and hosted the LPGA when Lorena Ochoa won there. This section of the trip concluded with the wooded Jack Nicklaus design at Laem Chabang International Golf Club where we played 9-holes under the lights. The Lake Nine there really impressed me as not only a gorgeous garden spot, but also a shot-maker's course.
In the Bangkok area I was treated first to the Thai Country Club where Tiger Woods won his first international professional title. This is one of the country's most upscale private clubs, but is open to public play during the week from those coming from outside of Thailand. Situated on a flat piece of property, it features much water, bunkering, palm trees, and subtle mounding very reminiscent of Florida golf courses. Next was the Muang Kaew Golf Club. Candidly the mundane routing on its flat terrain was rather unremarkable, but the Lee Schmidt bunkering with its tongues and fingering was surprisingly good in the style of the San Francisco Golf Club. In contrast, situated nearby was the Summit Windfall Golf Club in which enough earth had been moved and trees planted to transform a flat property into a pretty spectacular from both a visual and playing perspective.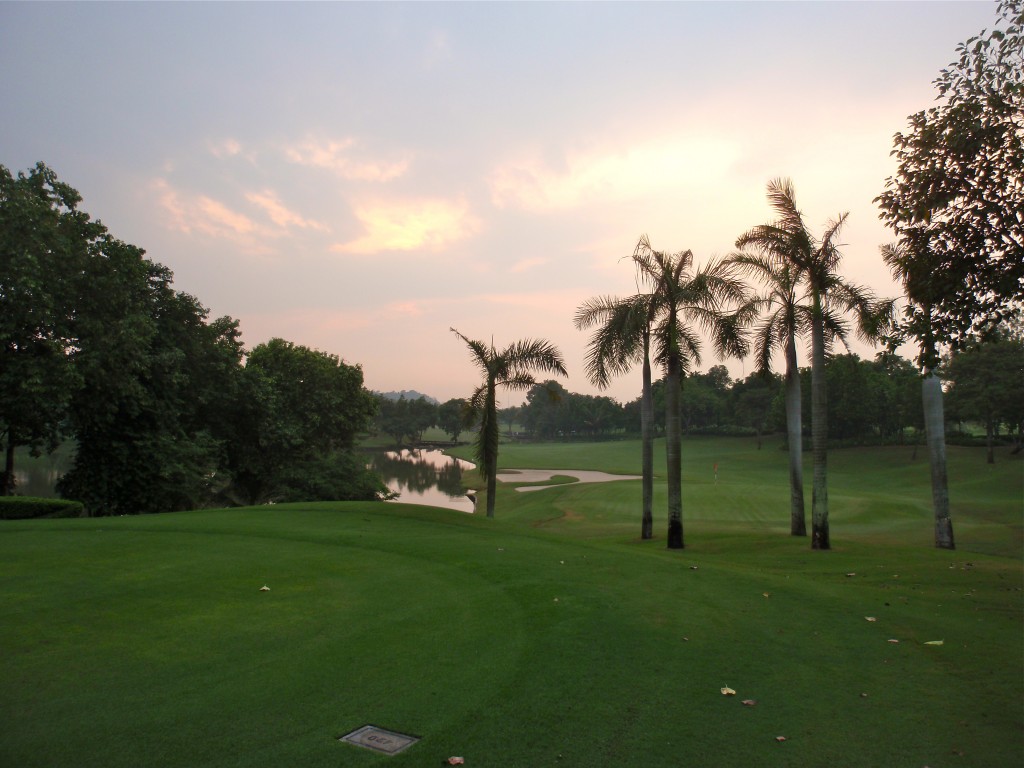 Dusk falling on The Lake Nine at Laem Chabang International Country Club. (Photo by Robert S. Fagan)
An hour's airplane ride north of Bangkok in the mountains is the city of Chiang Mai of more than million people. There I was treated to two more remarkable golf courses. The first was Alpine Chiang Mai Golf Resort. Situated in a valley setting the tree-lined course is maintained in a garden-like manner. This is another "championship" layout that was really upgraded into one of the country's top layouts by Ron Garl a few years ago. It features plenty of water and gentle elevations changes. Perhaps my favorite course was the Chiangmai Highlands Golf Club designed by Lee Schmidt.  The dramatic bunkering and wide fairways provide a real "Wow!" factor.  In fact, the eighth hole features seventeen bunkers and the short par-four eleventh hole curving around the lake is one of the finest short holes I've ever played.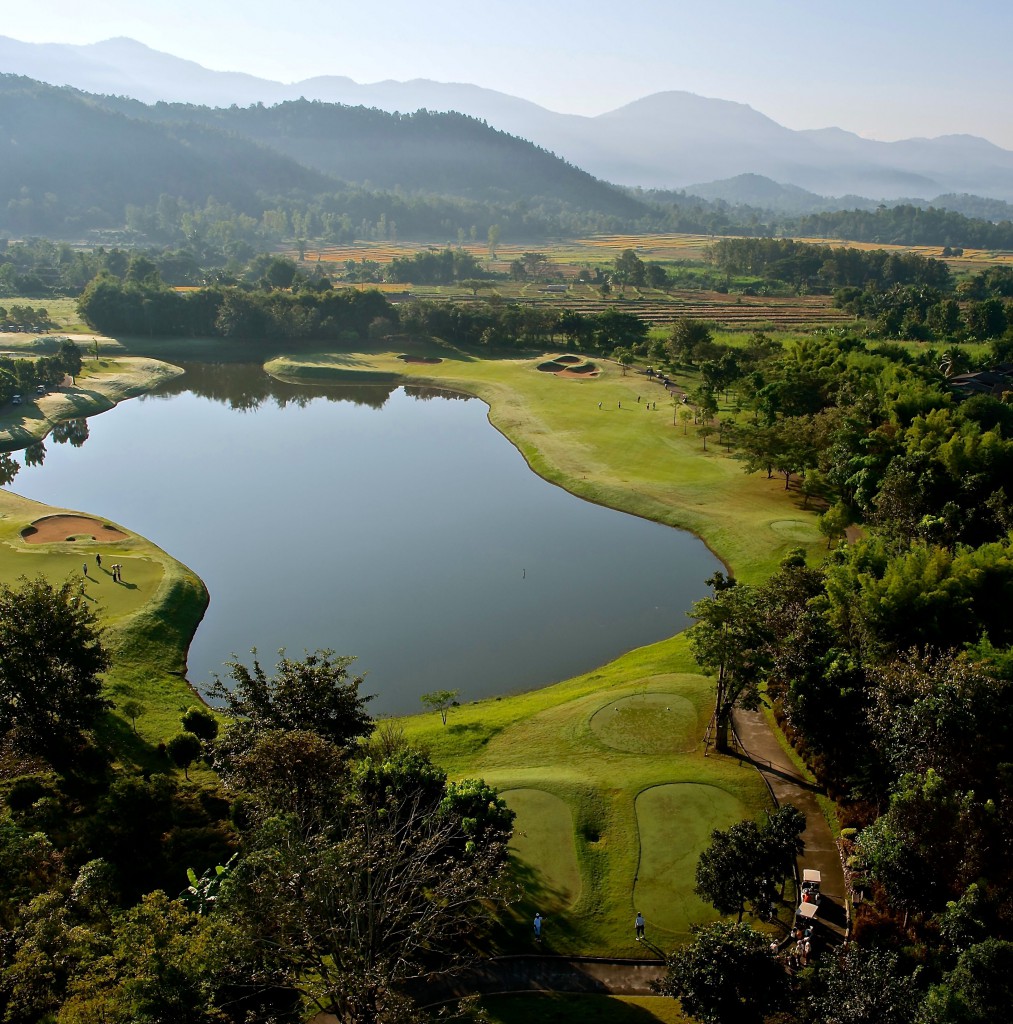 The outstanding 342-yard eleventh at Chiangmai Highlands is outstanding offering great risk-and-reward options.
I have saved a fun golf secret for last. In Southeast Asia, everyone must take a caddy with no course excepted. They will drive your cart or pull your bag … and they are all women. Their base fee is included in your green fee and typically the equivalent of $10-15USD covers the expected tip. All the caddies are attired in uniforms that protect them from the sun. (In their culture, light skin is desired and tans are scorned.) The caddies I encountered were all well-trained, and more than half could read the greens like a touring pro as well as club me to a tee. The only drawbacks were that most caddies struggle with English so the communications are minimal. In one walking round during a wait, my caddy whipped out a folding chair and gave me a great message right on the spot. Either way, I'm confident that even if you have experienced caddies in the US or the British Isles, you are in for a treat in Thailand.
If you consider visiting Thailand, I heartily recommend that you work with someone locally who knows not only the golf scene, but also the logistics of getting around in Thailand. Bangkok is quite confusing for an out-of-town westerner to get around.  While most of the signage is in both Thai and English, the metropolitan area is known for its traffic gridlock, and it really pays to have a local driver. The Golfasian group makes for the perfect solution no matter your trips theme or duration. They made my trip completely carefree so I could totally enjoy the sights and arrive easily for my tee times. Founded in 1997 and servicing more than 50,000 golfing clients, not only does Mark Siegel and his folks know the language and the golf courses, but they also can recommend and schedule all the extracurricular activities that can make a golf trip a truly unforgettable experience.  Reference www.golfasian.com.
As you can see, I only scratched the surface of golf in Thailand. The area around Phuket and Hua Hin are even more popular tourist and golf destinations with some of the country's best courses. Perhaps in the future I will have the opportunity to share more about those as well, but for now the courses and attractions of Bangkok, Pattaya, and Chang Mai along with the special Thai attractions will provide you a most memorable and enjoyable trip – as they did me!
Note: For more detailed reviews on the courses mentioned, refer to the "Course Reviews" tab here at www.theaposition.com/robertfagan.
Below is another view of the superb short par-four 11th at the Chiangmai Highlands Golf and Resort Spa. (Photo by Robert S. Fagan)