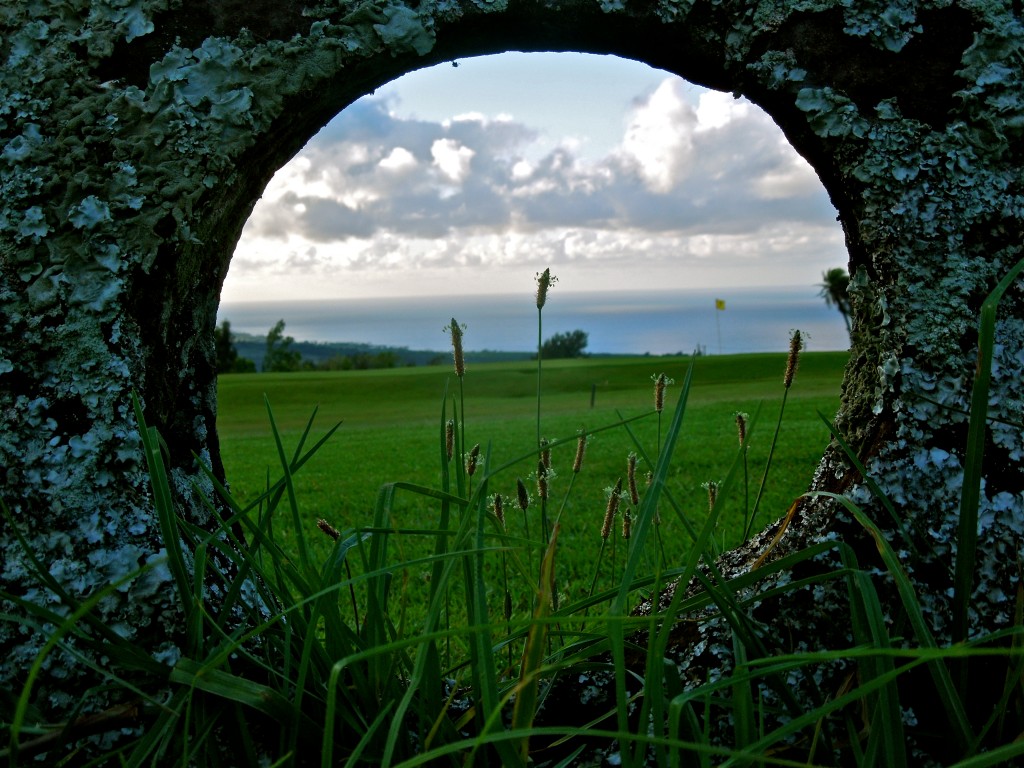 Word has it that if you look out the center of the carved circle in the rock behind the 7th green on a clear night at Kukuiolono, you can see the distant lights of Oahu.
Every word in the above title was carefully chosen. Now if you want to start with a really laidback place in America, it would definitely be the Garden Isle of Kauai. And on Kauai, there is a simple little no-frills 9-hole golf course that is so laidback and inexpensive that it becomes so much fun. In fact, for me it was a really special golf experience. That little treat would be Kukuiolono Park.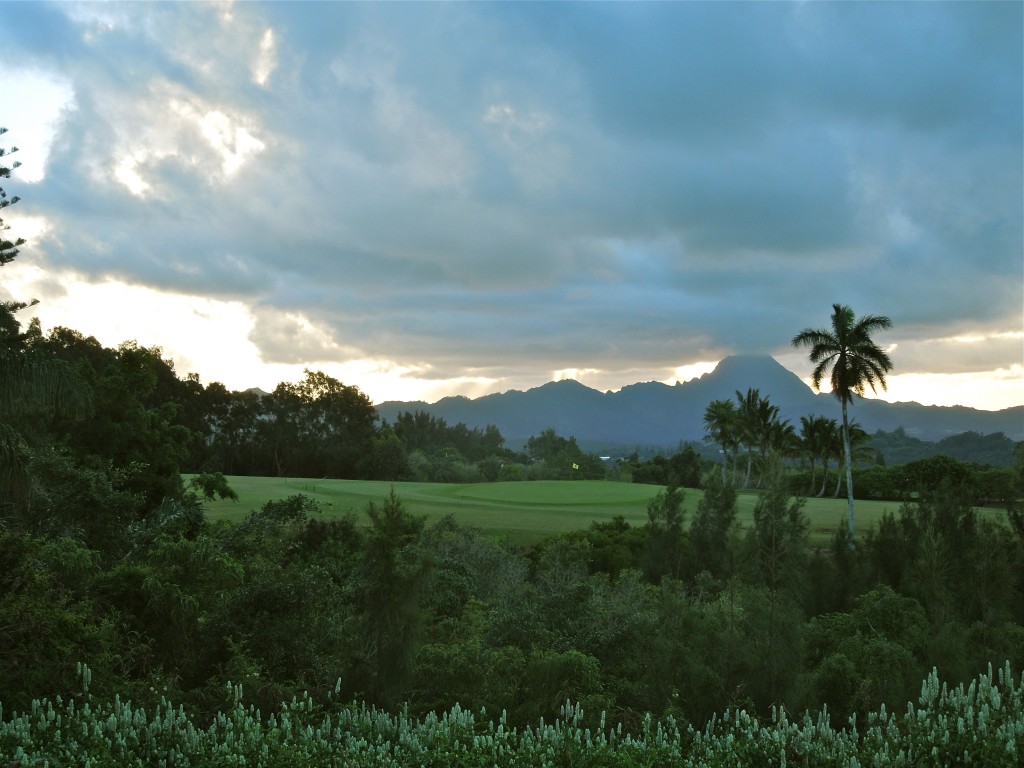 Dawn reveals that the par-three 6th hole is a tough, but gorgeous little target!
Kukuiolono Park will never show up in any list of "best golf courses" and it doesn't get much tourist play either, but it is illustrative of what the game needs: affordable fun simple golf that is sustainable. Now the treat of Kukuiolono is that it features some world-class views of the southern section of the Garden Isle of Kauai. Situated on a hill overlooking the Pacific in Hawaii's first sugar plantation town of Kalaheo, this is one of those little known treasures that defines a magnificent walk.
For me, my trip to Kukuiolono was made possible by several friends at the last minute as I was going to catch a midday plane back to the mainland. While it is hardly an adventure to play this fun course, mine started early so I could catch my flight. Talk about extraordinary service, Kellie Pleas, the PGA General Manager at the Puakea Golf Course picked me up at 5:20 a.m. and had me take her to her course only to then give me her car and directions to continue my journey to the course. Talk about going above and beyond the call of duty – Wow! Well that's Kellie and maybe some of the Kauai hospitality. Suffice it to say, it was a fun, quick round in the company of another local, and it's an excursion I'd like to share more with you about.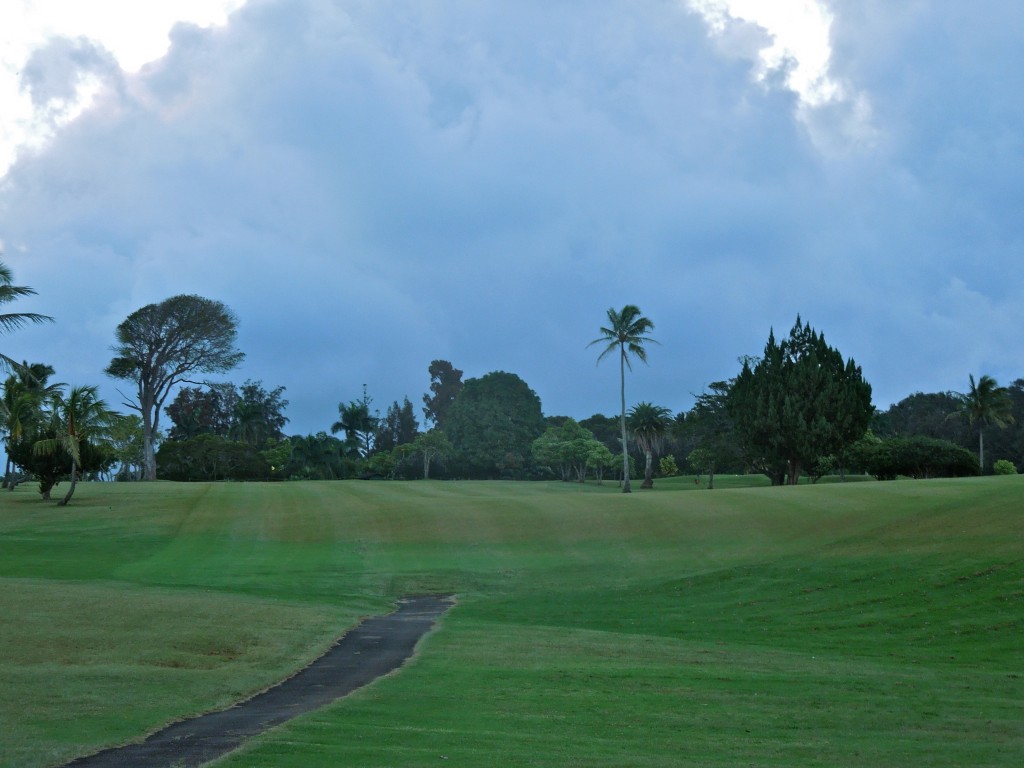 The uphill par-four 3rd hole is shown before dawn.
If as a golfer you don't take yourself or course conditions and accoutrements too seriously, this is worth the drive east on the south end of the island. At cost of a dollar per hole even for tourists, you know this is not going to be Pebble Beach. The turf is rock hard though closely cropped, and the course shaping is well, essentially non-existent or "minimalist" to the core. Played twice, its combined yardage is a scant 6,154 yards, and eminently playable. There was no "name" designer. Kukuiolono Park was previously the private course for Walter McBryde who later gifted it to the State, and is buried near the eighth hole.
I have heard that the layout has been the favorite of locals for many years. The pro shop is little more than an oversized closet with a person to serve you, but at the cost of a dollar per to play, you don't expect too many frills right? As you view the first tee and the trees and mountains in the distance, the wide tree-lined fairways seem more like large wide "yellow brick roads" to golfing paradise with lots of pastoral mountain and ocean vistas in the distance. There are no penal features like deep scalloped bunkers or multi-level greens.  Instead the fairways play firm, no make that hard and fast. You'll enjoy lots of roll on your drives making the yardages play much shorter provided you're not hitting into a tradewind. Why, I even had a short eagle putt on the 595-yard 2nd hole so you know the course plays fast!
The putting surfaces are merely round or oval extensions of the fairways allowing you to putt or chip from well off them. The conditioning is no worse than average. The challenge is that the greens are quite small making it no cinch to hit and hold them.   Thus scoring is not as automatic as you might assume though the par-fives are reachable as are a couple of par-fours.  That said, a crafty local senior player may easily outmaneuver many a long-hitting tourist here.
So how laid back is Kukuiolono?  There is no dress code, so t-shirts and playing shirtless won't stop any man from teeing up. There is a driving range, practice green area, and golf carts, but none of them have the spit and polish that many tourists may want or expect. Kukuiolono offers no pretense. When you find so many other course operations spending so much trying to be something they're not, Kukuiolono is refreshingly comfortable in its own skin. If you are a local, you can get an annual membership with unlimited play for on $160!
Kukuiolono is bargain basement golf that still manages to work. As such, I can't even say that it's for everybody, but I will tell you that "It's for me!" When you add the friendly regular folks who you are apt to meet, the transforming views, and harmonious simplicity, Kukuiono Park becomes a special experience. It is not so much a memorable golf course as it is a memorable golf experience – one I'd enjoy revisiting and introducing fellow kindred souls to. In fact, should I ever have the good fortune to spend more time in Kauai, there's a pretty good chance that we might encounter one another at Kukiolono Park. Mahalo!
Below is the view of the par-five ninth green.