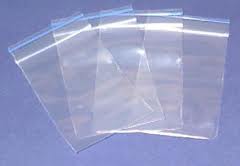 Ziploc and plastic bags are very versatile and offer many ways to improve your travel experience. Use them on your next trip to…
1.    Keep your important documents together and safe from moisture — your passport and boarding pass for example.
2.    Keep your receipts all in one organized place.
3.    Sort your currencies — dollars in one bag, another in another,
etc…
4.    Make a "kit" of all the things you want to bring on your trip but
don't need until your trip home: return trip itinerary, cab fare for
the ride home, house keys, etc.
5.    Keep breakable items safe. Put the item you want to protect in a
Ziploc bag and close it almost fully, leaving just enough open to fit
a straw through. Then, inflate the bag, remove the straw, and close
the Ziploc completely. Presto…self-made bubble-wrap!
6.    Store your liquids or powders to prevent mess.
7.    Keep your clothes wrinkle-free. Larger bags can hold rolled
clothing — which makes for neater packing and less wrinkled outfits
on the other side.
8.    Make a pillow. Fill a large Ziploc with cotton balls for a light
and compact travel pillow.
9.    Keep your luggage contents clean. Wrap your shoes in bags to
prevent dirt from their soles rubbing off on other items.
10.   Pack a big trash bag and place it on the bottom and then around your clothes.  If your bag is sitting out in the rain waiting to be loaded on a plane, the plastic liner will provide a wetness barrier.  Use it coming home to put your dirty laundry into.
11.    Clean-up. Wet some thick paper towels with liquid anti-bacterial soap and water.  Fold up while still wet and place into a zipper bag to take with you.
12.   Store snacks to travel.  Filling a bag with nuts, candy, trail mix, or granola is just a beginning to what you might want to take with you.
13.   Store your camera, cell phone, chargers, adapters, sun and eyeglasses, keys, and other essentials in one clear plastic bag.