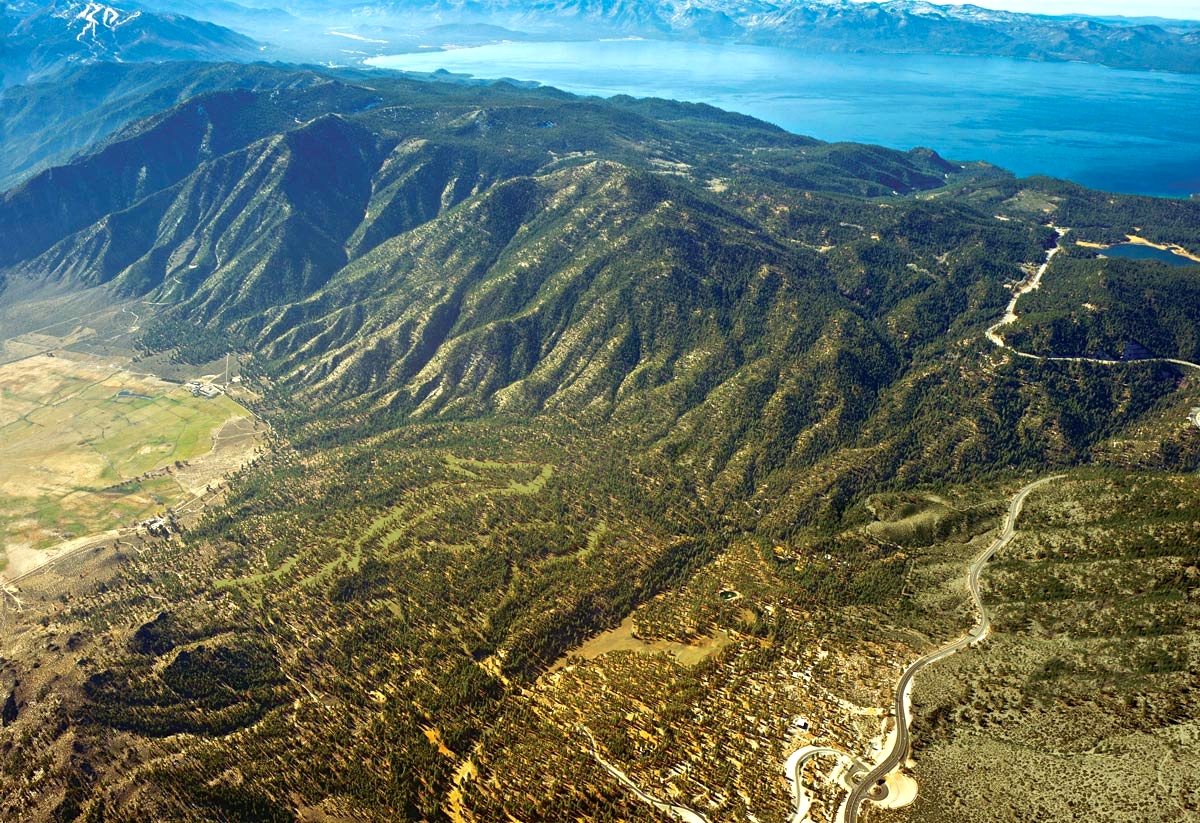 As you can see from above, The Club at Clear Creek Tahoe occupies some heavenly Sierra Nevada territory adjacent to Lake Tahoe (above). It all contributes to a world-class golf experience. (Photo courtesy of The Club at Clear Creek Tahoe.)
In the golf industry today, it is seldom that a new golf course gets a second chance at life, especially in a competitive golf-rich area as the Reno-Tahoe-Truckee area of Northern Nevada and California where there are already some pretty amazing golf properties. The area has been correcting its once overbuilt status. Can it fit one more? Well, one very special facility has been afforded a "mulligan," and it's no gamble anymore that the The Club at Clear Creek Tahoe is the clear choice to succeed.
A private golf course property of almost 1,600 acres with plans to eventually develop high-end residences mostly apart from the golf course, Clear Creek was originally conceived at the wrong time as the economy tanked and there were already more golf courses than the demand could handle. Clear Creek scarcely opened, but it soon ceased operation in 2011. That was a huge loss, but hardly noticed as few had played this exclusive course and even fewer had joined it. Fortunately a group resurrected this remarkable property in 2013 investing more than $21 million. The golf course is debt-free and its promise as a world-class golf facility has come to fruition.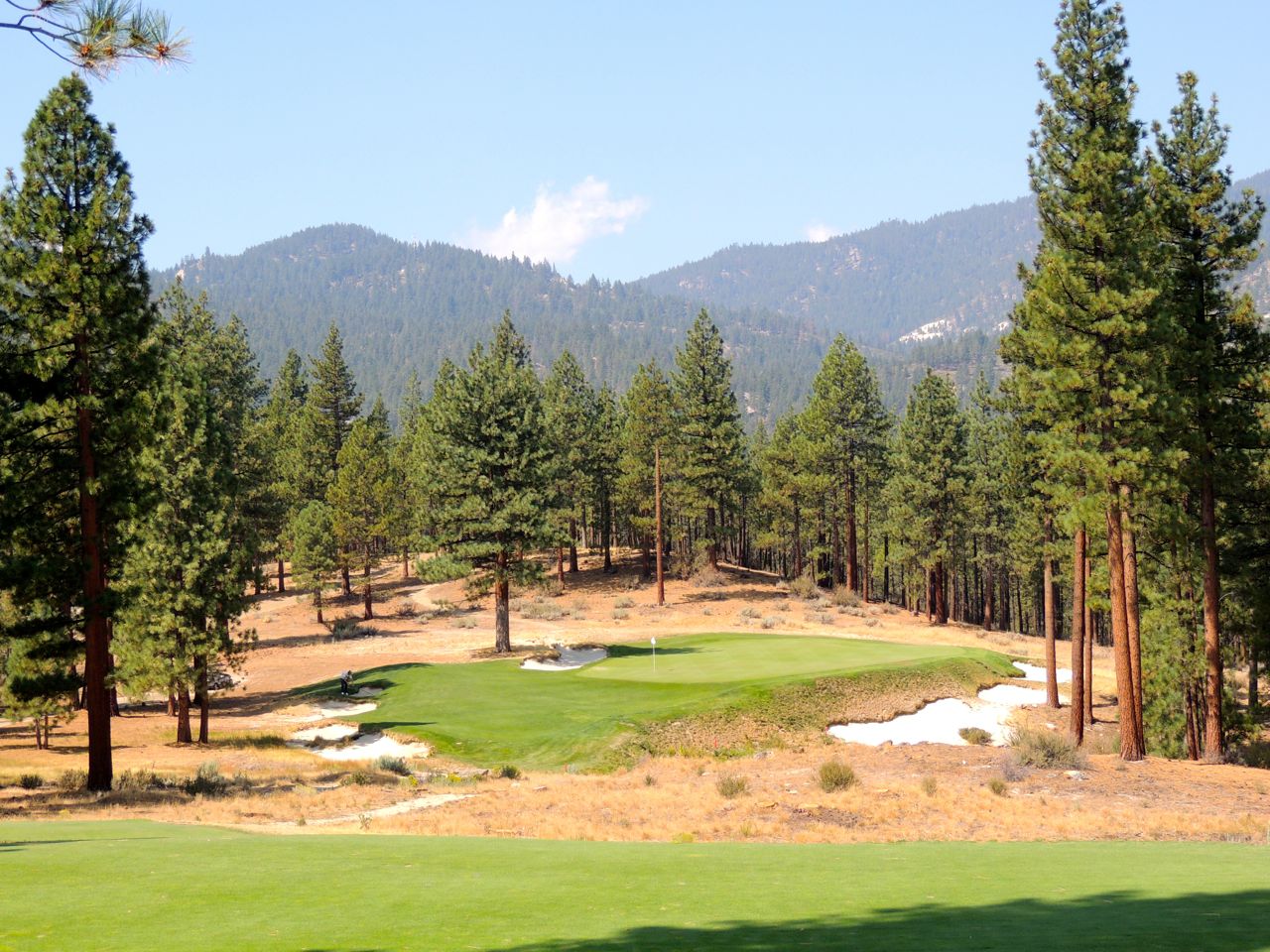 You had better avoid that deep bunker to the right of the par-three 4th green. Thoughtfully there is a "bailout area" to the left. (Photo by Robert S. Fagan.)
Imagine day-after-day of warm, but not hot weather with almost no rain. Sound perfect? Now add in walks among the pines and valley views that can stop you in your tracks and restore your soul. Now add a vintage Coore-Crenshaw creative masterpiece that is world-class in its design and immaculate in its execution. I have just described the summer golf season for you at Clear Creek.
Clear Creek is spectacularly situated on the eastern pine-laden slopes of the Sierra mostly facing south. Sunrise and sunset are particularly spectacular. Only a mile south off Highway 50 just above Carson City, Nevada, you feel a thousand miles away from everyone. Lake Tahoe is only ten miles to the west; Stateline on the South Shore is just a 25-minute drive as is Heavenly Ski Resort. The Reno-Sparks Airport is only a 45-minute drive with you smaller airports just 15 minutes away. How convenient.
In case you're not familiar with the golf architectural team of Bill Coore and Ben Crenshaw, they are considered at the very top of the industry and noted for the onsite time and attention they bring to every project – unlike numerous other popular designers. The result is their limited numbers of courses are much acclaimed and include Sand Hills, usually ranked the #1 Course in America built since 1960. And you may also have experienced or heard of their work at Bandon Trails, Streamsong, Friar's Head, Hidden Creek, Kapalua, Cabot Links, Barnbougle Dunes, We-Ko-Pa, or Old Sandwich just to name a few. It was a real tribute that they were chosen to conduct an extensive renovation of the venerable Pinehurst #2 Course. Well having played most of them as well as all of the Top 200 Courses in America, I will venture to say that Clear Creek is unique and already a valid "Top 100 Contender." Yes, the golf course is that good and matched only by the experience!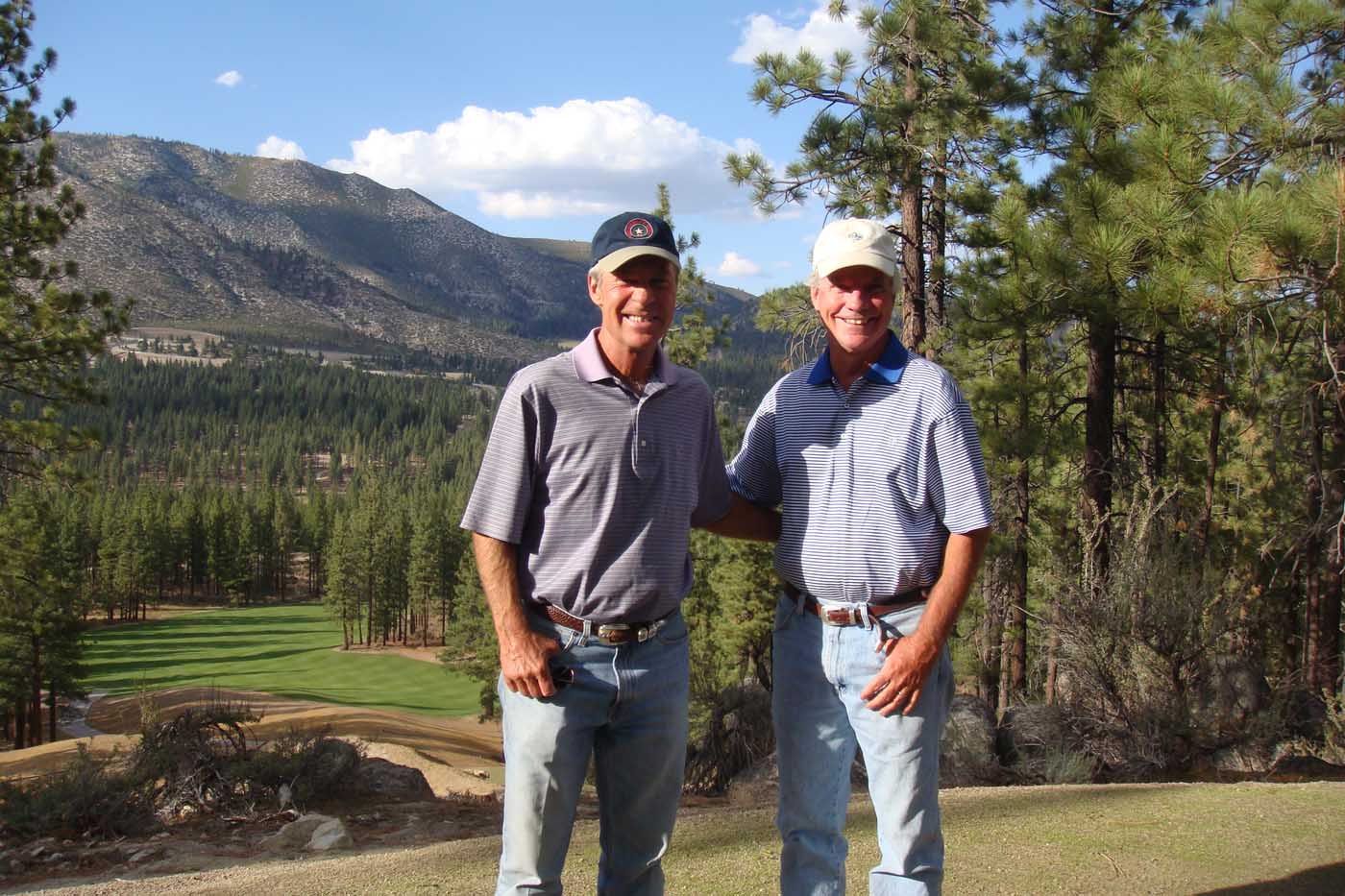 Clear Creek's design team of Ben Crenshaw and Bill Coore pose while on site at Clear Creek. (Photo courtesy of The Club at Clear Creek Tahoe.)
I believe that golf when played along the ground with firm, fast turf becomes far more interesting than the "dial-it-in" yardage mode exercised by the aerial play. Bill Coore and Ben Crenshaw are one of the handful of golf course architects that both appreciate this and allow the land to dictate most of the challenge disturbing as little of it as possible, a concept termed "minimalism." (Interestingly, of all their courses, perhaps less earth was moved here!) The Coore-Crenshaw philosophy is to let the land speak for itself.
Absent at Clear Creek are the sweeping bulldozer passes inflicting a sense of sterilization upon the landforms, or homogenous bunkering, or thick rough you find some other popular designers employing. Instead you will encounter fairways that appear that they were always there as part of the natural forest floor bleeding off into the surrounding native areas. Many, though not all landing areas are expansive, though they may play a bit narrower because of the firm, fast conditioning. The bunkers are placed strategically, but also with their natural rugged edging form an artistic union with their surroundings. There are some extremely penal bunkers, but they never convey the look or feel of claustrophobia, and thankfully there are usually avenues for less-skilled players to avoid them.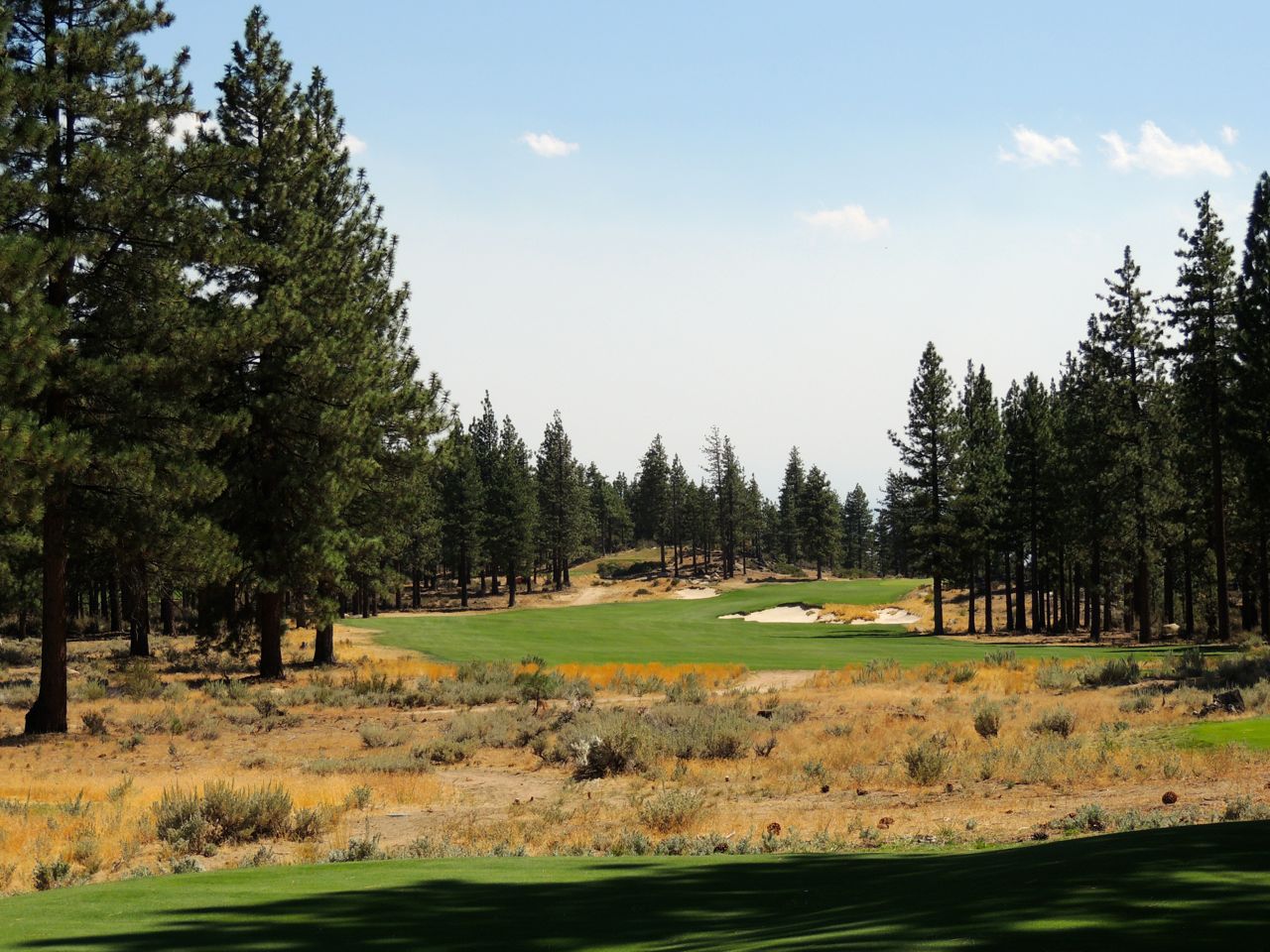 The fairways just naturally bleed into the forests at Clear Creek and it is so apparent that little earth was moved. Shown above is the tee shot on the dogleg right par-five 13th and below is the crescendo as you approach the infinity green. Once on the green, the views to the south of Jack's Valley are ones you won't soon forget! ) (Above and below photos by Robert S. Fagan.)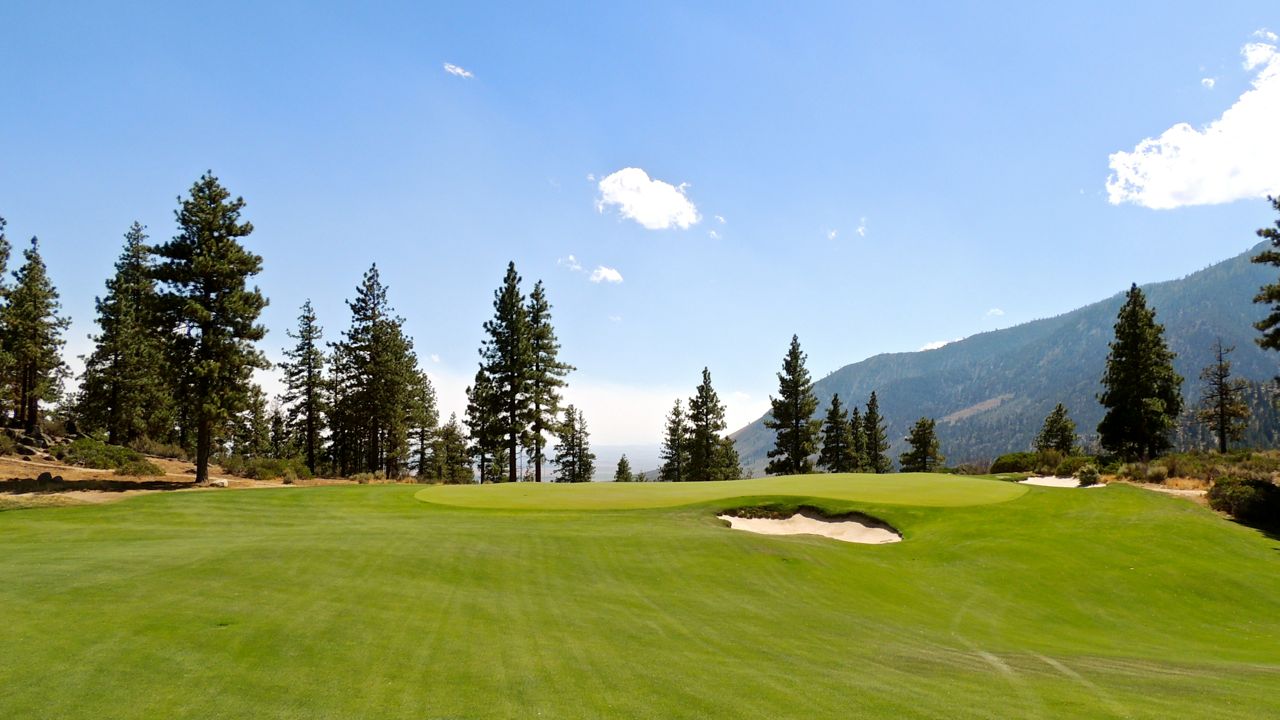 The putting surfaces and surrounds are complex and treacherously fast. A first play around Clear Creek will likely have the golfer wasting several strokes. If you favor more simple or mundane greens, Clear Creek may not be your cup of tea. On the other hand, if you savor using your imagination and enjoying a lifetime of self-discovery while learning the nuances of rolling a ball on a pristinely smooth, quick surface, Clear Creek will absolutely captivate you.
Overall, Clear Creek is aimed at the better playing, discriminating golfer. The course is difficult without being overwhelming and with careless play, the strokes can really add up around the greens. At just over 7,100 yards on a par-71 frame with a slight altitude assist, it features just enough muscle for most. As for shorter straight hitters with a competent short-game, it is extremely playable.
It has been my experience that mountain courses seldom play as well as they photograph. Clear Creek is the exception and plays even better, though it is also quite photogenic. The reason for this is the usually poor draining soil. This site is blessed with a sandy loam that is ideal for draining – nothing short of ideal for firm and fast conditions. Every little nuance of the site comes into play and must be figured out if you want to take home a good score. How fascinating!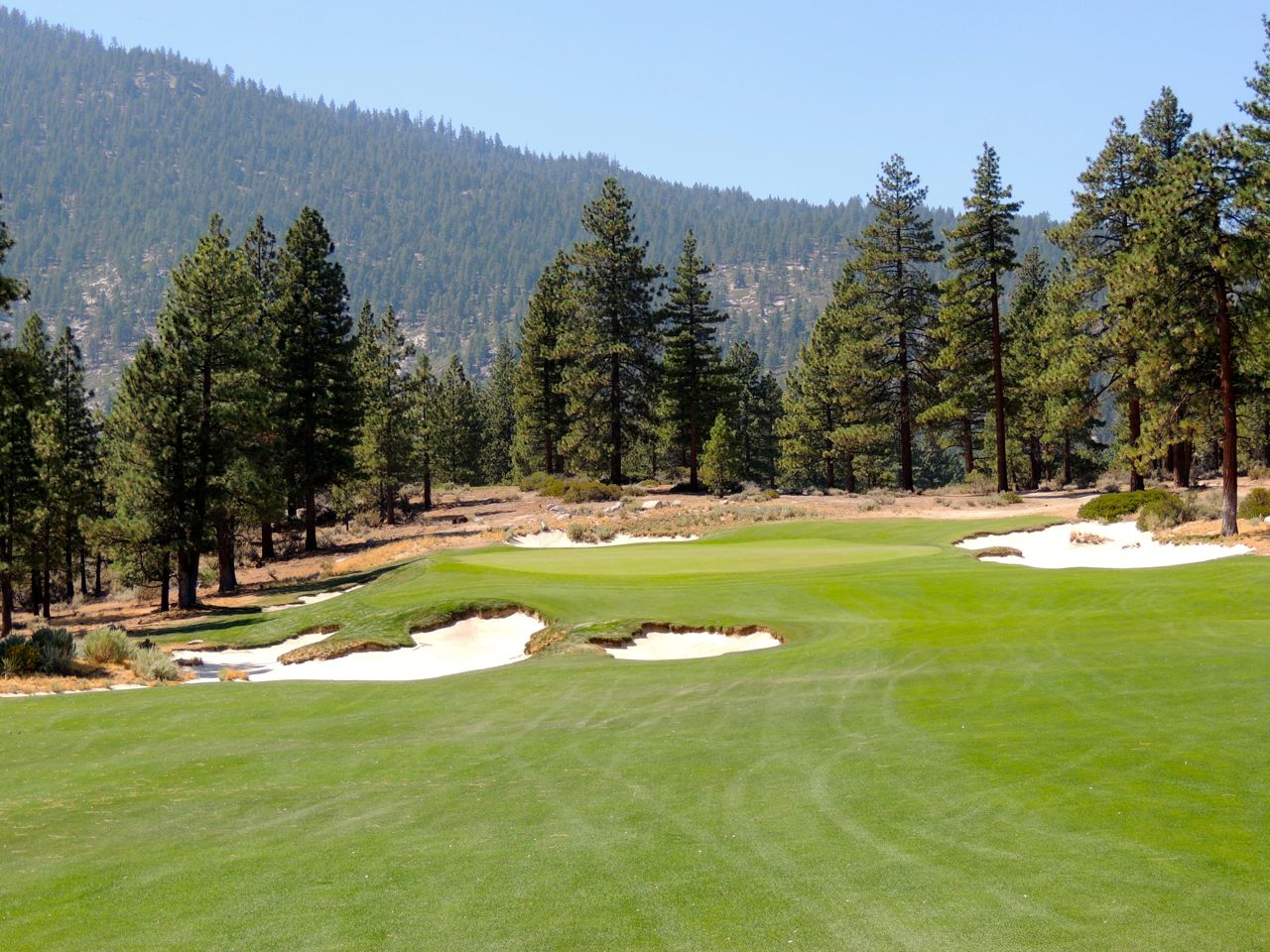 You must never get too distracted by the scenery as shown here with all the intricacies of the approach to the par-four 10th. Below, you will often have to pick your line of play of the tee as with bunkers or fairway grades will dictate your strategy as demonstrated by the par-four 5th hole. (Above and below photos by Robert S. Fagan.)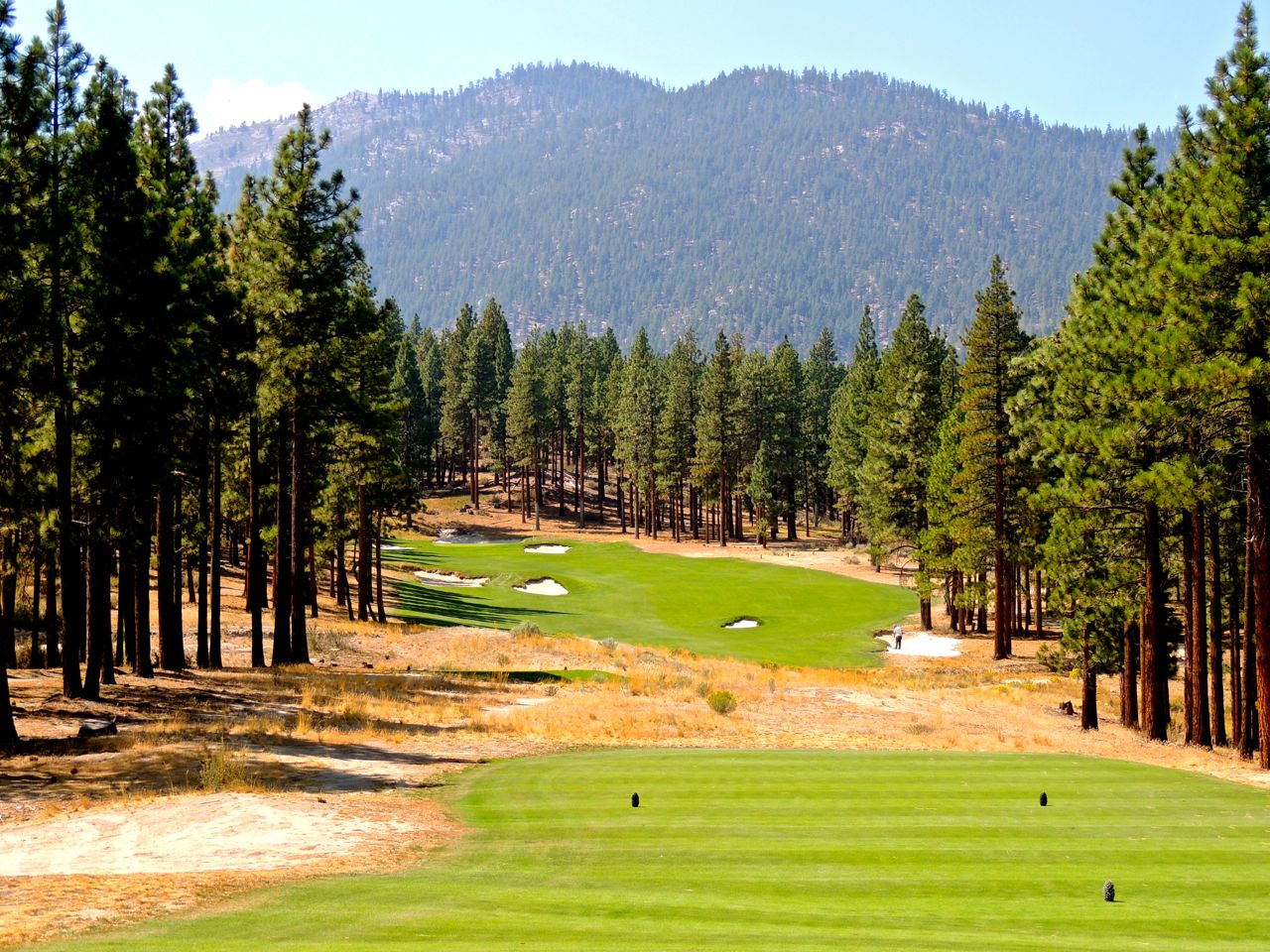 Your trek around Clear Creek will take you among the trees affording singular looks and then surprise you with some ridiculously delightful extended panoramas that will force you to pause – it's impossible not to. As soon as the third tee, you will gaze out on the 55-yard, widest fairway at Clear Creek and then descend from the highest point on the course to the lowest, a drop of almost 200 feet. Otherwise, you will encounter undulating walkable terrain, rock outcroppings, knobs, pits, a pond, pot bunkers, waste areas, and a bunkerless par-three. Oh, did I mention the crowds? That would be the four-legged sort that you typically share your round with and then there is the noise – only the breeze whistling through the tall pines to make for a most enjoyable spot to enjoy your game.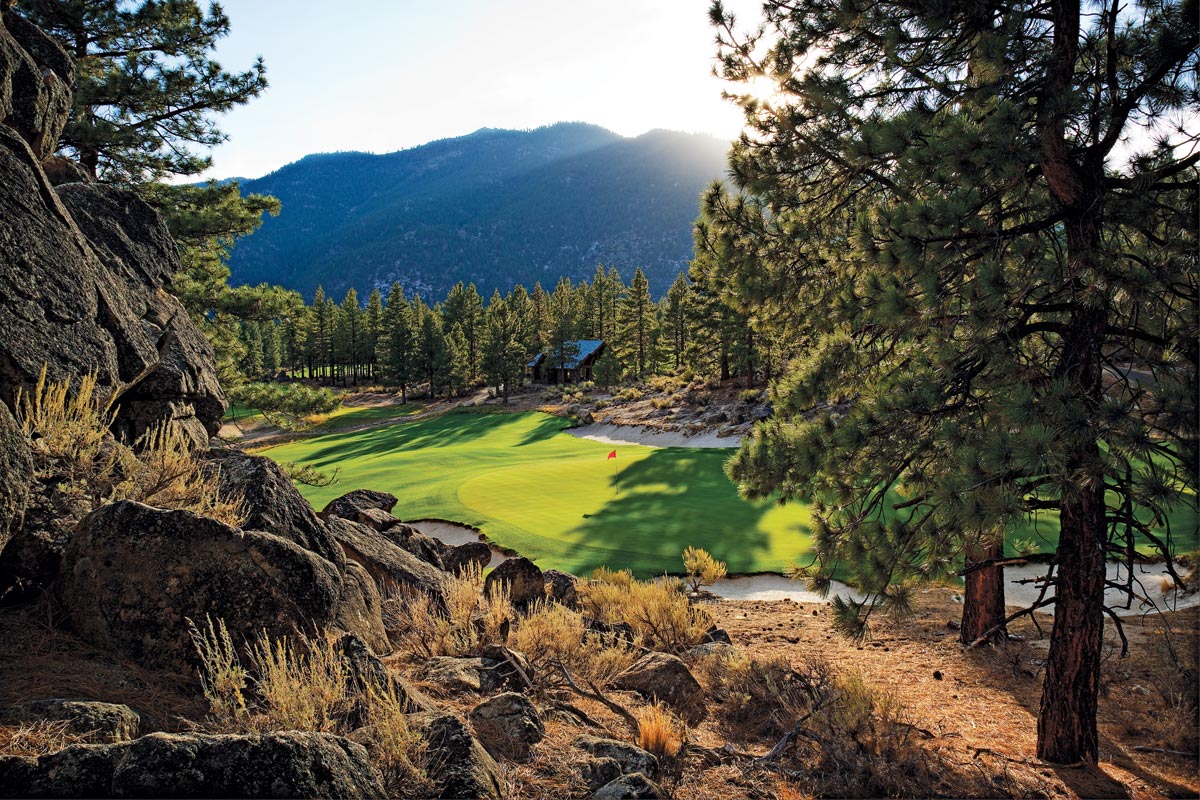 Above the beauty and complexity of Clear Creek's par-three's is introduced early on at the second hole. Below is a closer look from the another side of the hole. (Above photo is courtesy of The Club at Clear Creek Tahoe and the below photo is by Robert S. Fagan.)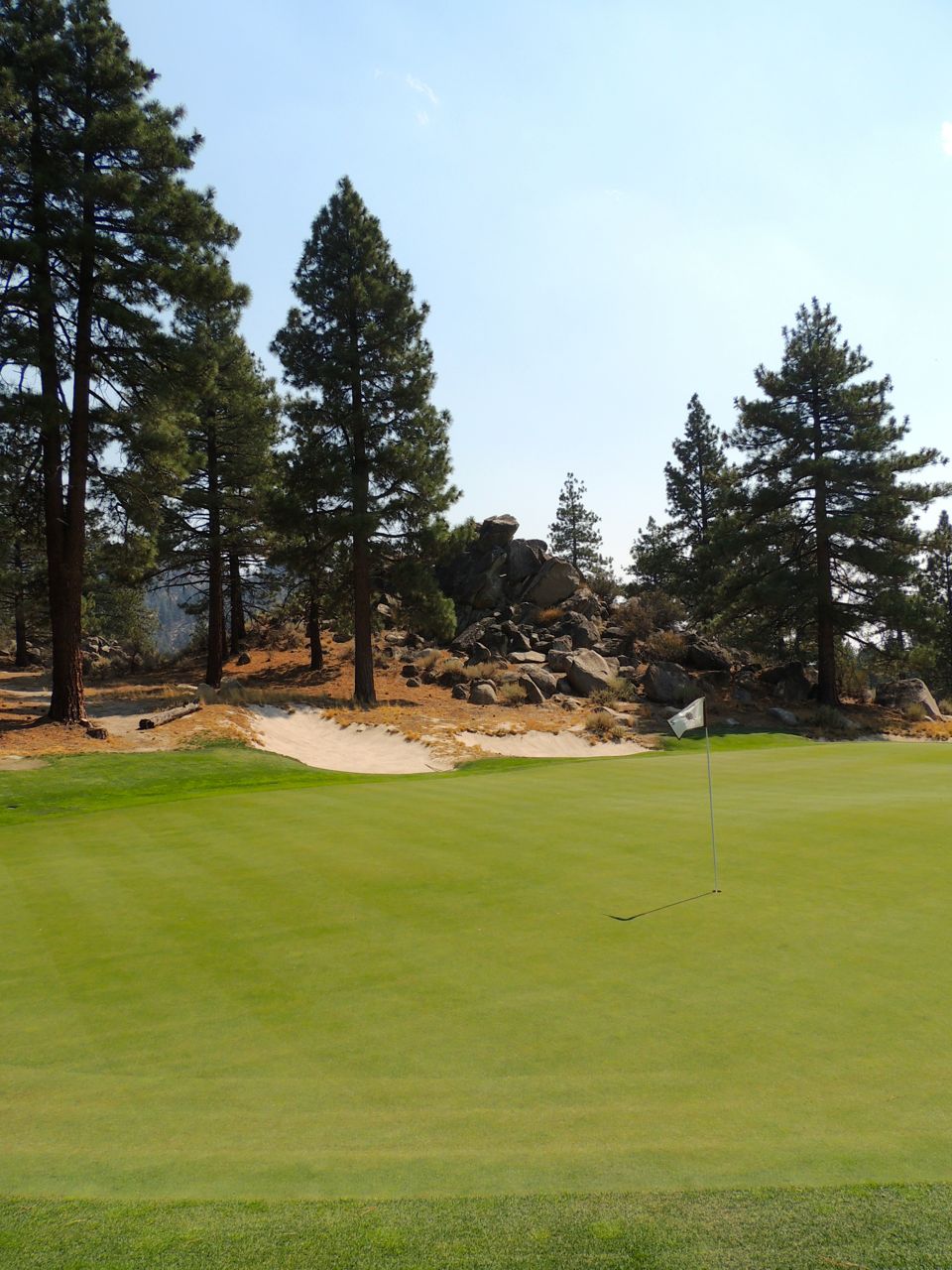 Speaking of par-threes, Clear Creek's quintet is amazing. Playing in different directions, they are completely different in their personalities. Ben Crenshaw intimates that the little 17th may be one the best one-shotter he's ever built. It's one of the best I've ever played and evokes comparisons to the 10th at Pine Valley or the 17th at the TPC Sawgrass minus the water. The 4th hole features a particular deep, dastardly bunker to the right that you simply must avoid in a reverse-Redan fashion. The 8th called "Deception" is slightly downhill and with bunkers and sloping oriented gently left plays similarly to a traditional Redan. The 12th is a stoutly long bunkerless strike absent of any artificiality, but nonetheless a most demanding par. As for another beauty, the second hole plays up into an area surrounded by spectacular rock outcroppings in which you better keep your approach shot below the hole.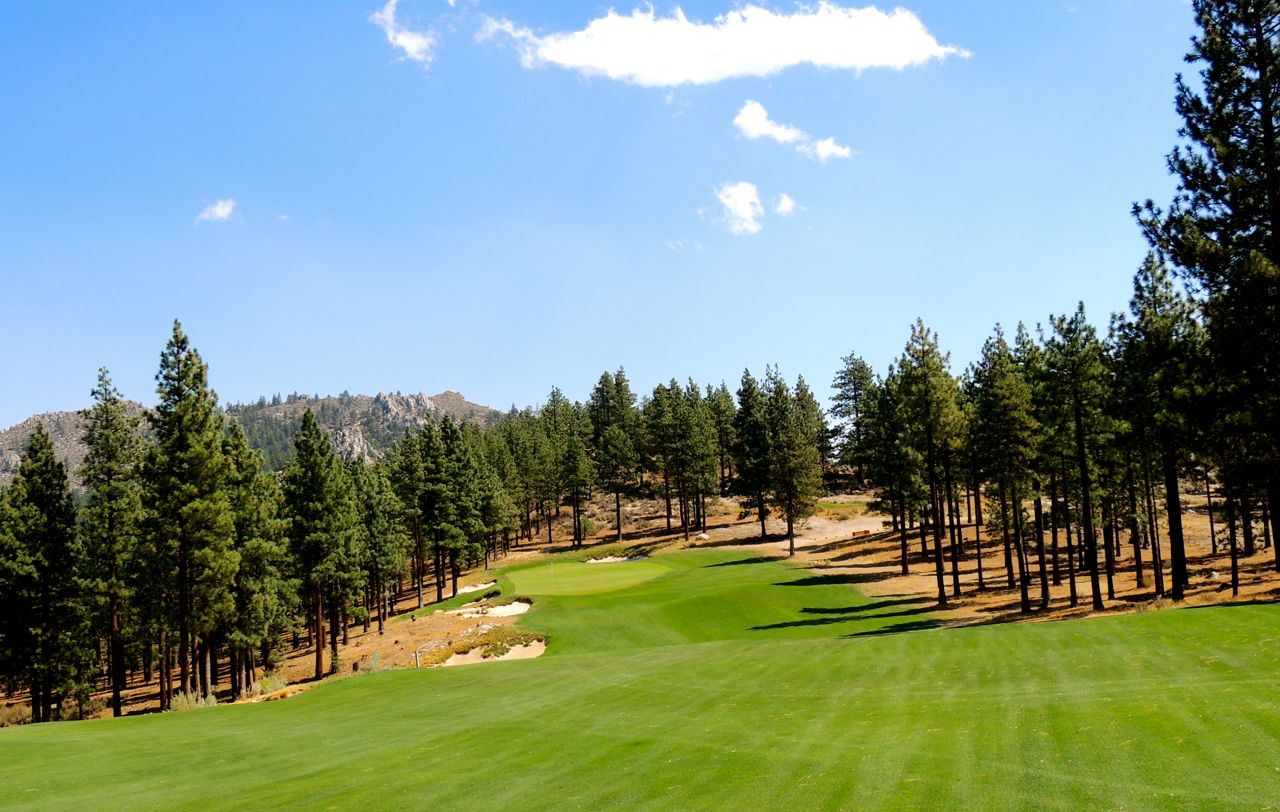 Similar to their work at Kapalua's Plantation Course, Coore & Crenshaw dictate you aim away from the hole in order to get your ball close to it. Such is the case with the approach to the par-four 9th. (Photo by Robert S. Fagan.)
I could continue on. To me the mark of a great course, and that includes Clear Creek, is that it has no weaknesses. Clear Creek doesn't. Another often-overlooked factor is the pacing of the golf course. The putting surfaces make every hole a challenge to finish off, but the overall difficulty has a nice ebb and flow. There are some penal hazards, but for the most part, the landing areas are relatively forgiving and very playable with a pleasing variety of looks and stances. The first hole is a good example. It started out as a stout par-four, but has since been lengthened slightly and turned into a relatively gentle par-five. In fact, strong players should be able to reach all the par-fives in two shots, but none of them would be characterized as "easy."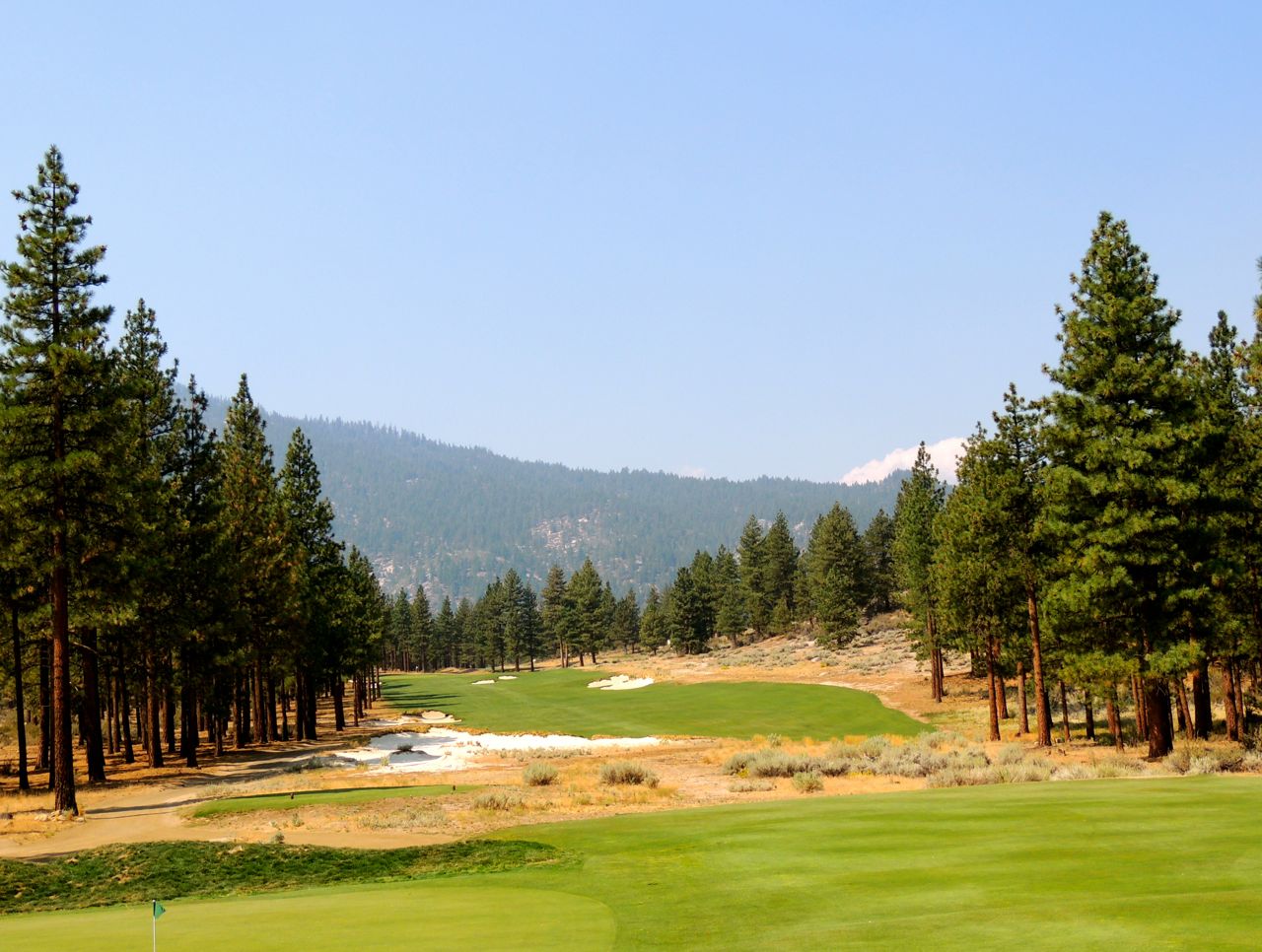 The Golf Club at Clear Creek Tahoe starts off gently with a gentle par-five though the putting surface is one of many complex Coore-Crenshaw masterpieces. (Photo by Robert S. Fagan.)
As for the two-shotters, they are so fun and none remotely similar to one another. Dry creek beds, a few fun blind shots, large and small greens, uphill and downhill, and doglegs left and right all combine to keep you thoroughly engaged.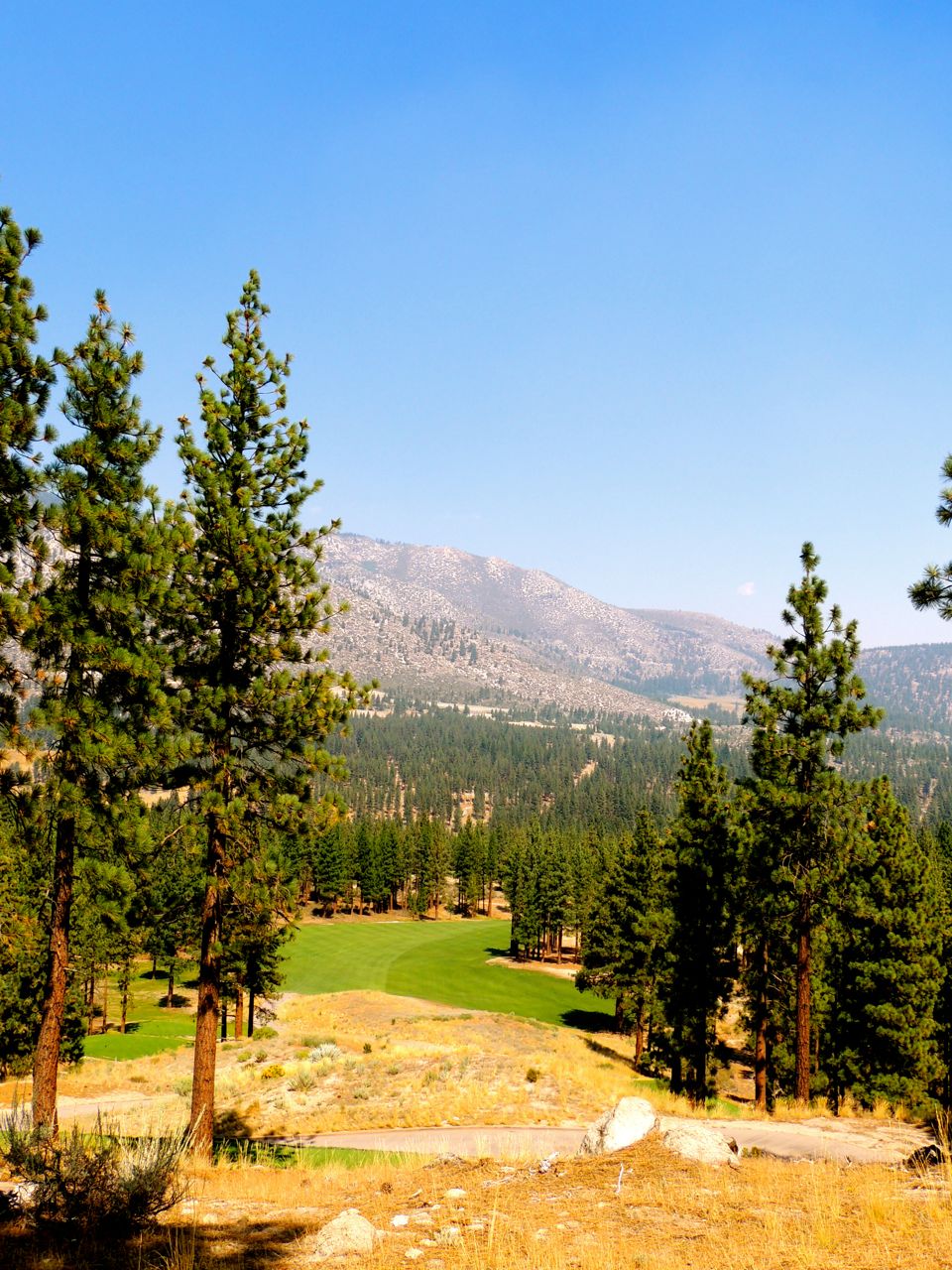 Above is the 508-yard dogleg right 3rd hole,  the first par-four you encounter. It takes you from the highest point on the golf course to the lowest and fortunately plays much shorter. Below is the approach to that 3rd – the first of many splendid two-shotters! (Above and below photos by Robert S. Fagan.)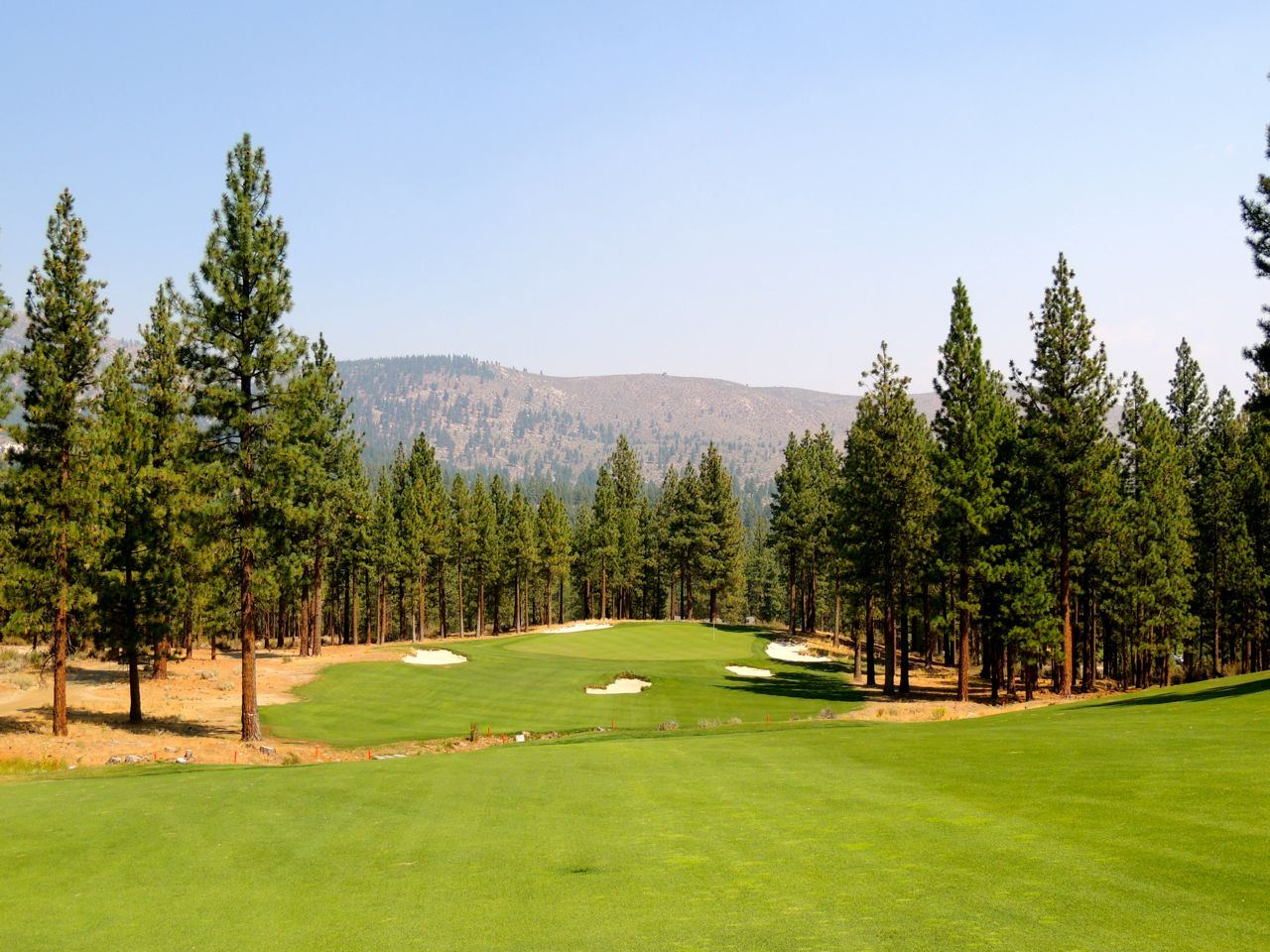 Another wonderful feature at Clear Creek is the world-class practice facility. Former Club President Mark Sollenberger (himself an Arizona Golf Hall of Fame member) designed it along with the Coore-Crenshaw staff (not Bill and Ben) to approximate many of the shots you might encounter on the course. Though it is a cart ride from the clubhouse, it contains all the essentials and is a great place to warm-up, perfect your game, or simply wile away your day.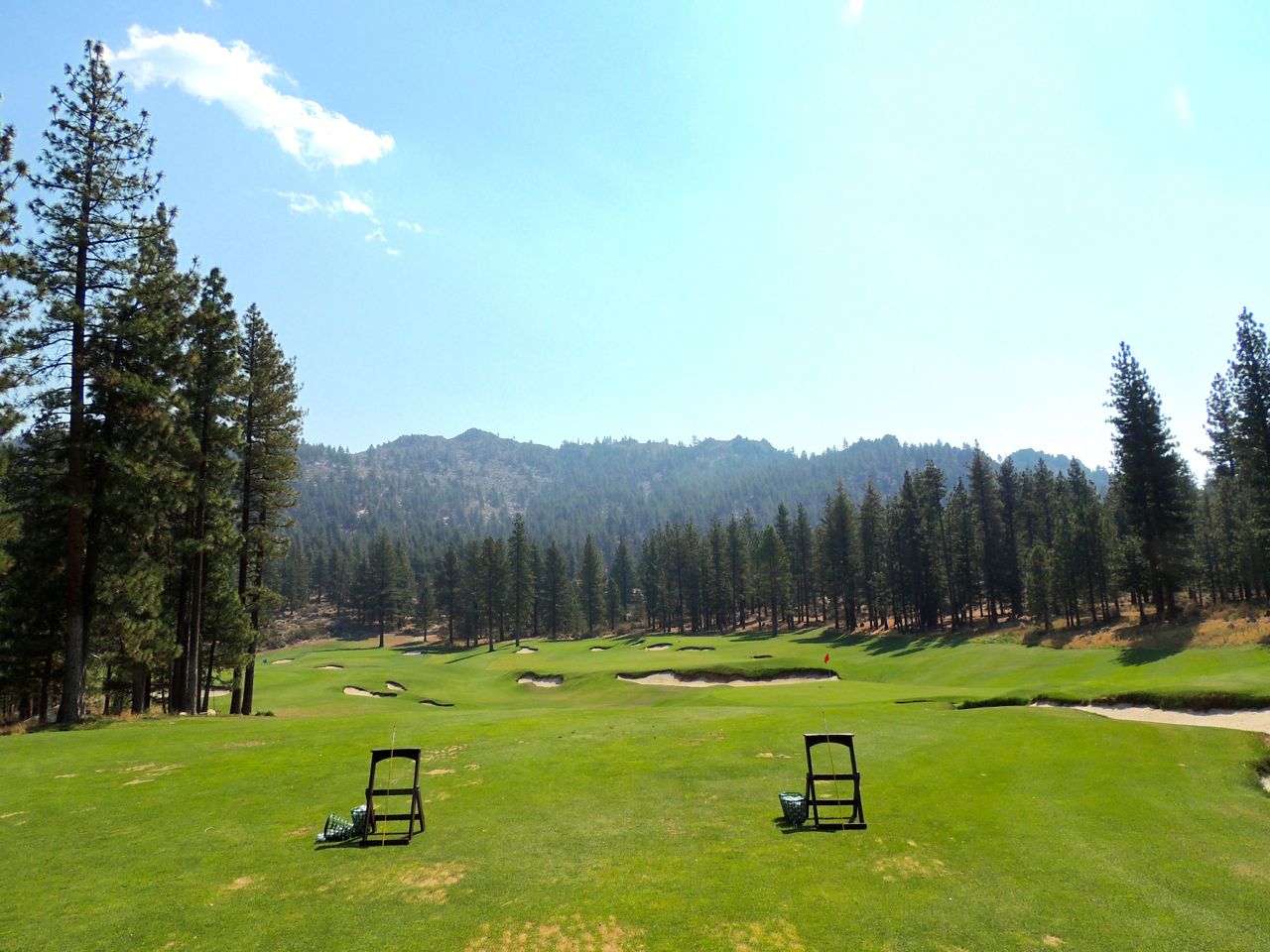 The practice tee (above) and the adjacent short game area are as complete and beautiful as you will ever encounter! (Photo by Robert S. Fagan.)
One other point that is ever so important is the people who bring experience serving some of the world's finest clubs and courses. Golf Professional Colin Campbell came to Clear Creek after 13 years as Director of Golf at Scotland's esteemed Loch Lomond. Assistant Golf Professional Maxwell Riggs has spent several seasons at The Quarry Golf Club in La Quinta and Shooting Star in Jackson Hole, Wyoming prior to joining Clear Creek last season. Golf Course Superintendent Mike Cunniff has served at both the highly regarded Old Sandwich and Charles River golf clubs in Massachusetts. Carts are available and the clubhouse is modest, but very comfortable. Suffice it to say, that golf is the centerpiece of a larger residential picture with friendly unpretentious service a vital ingredient.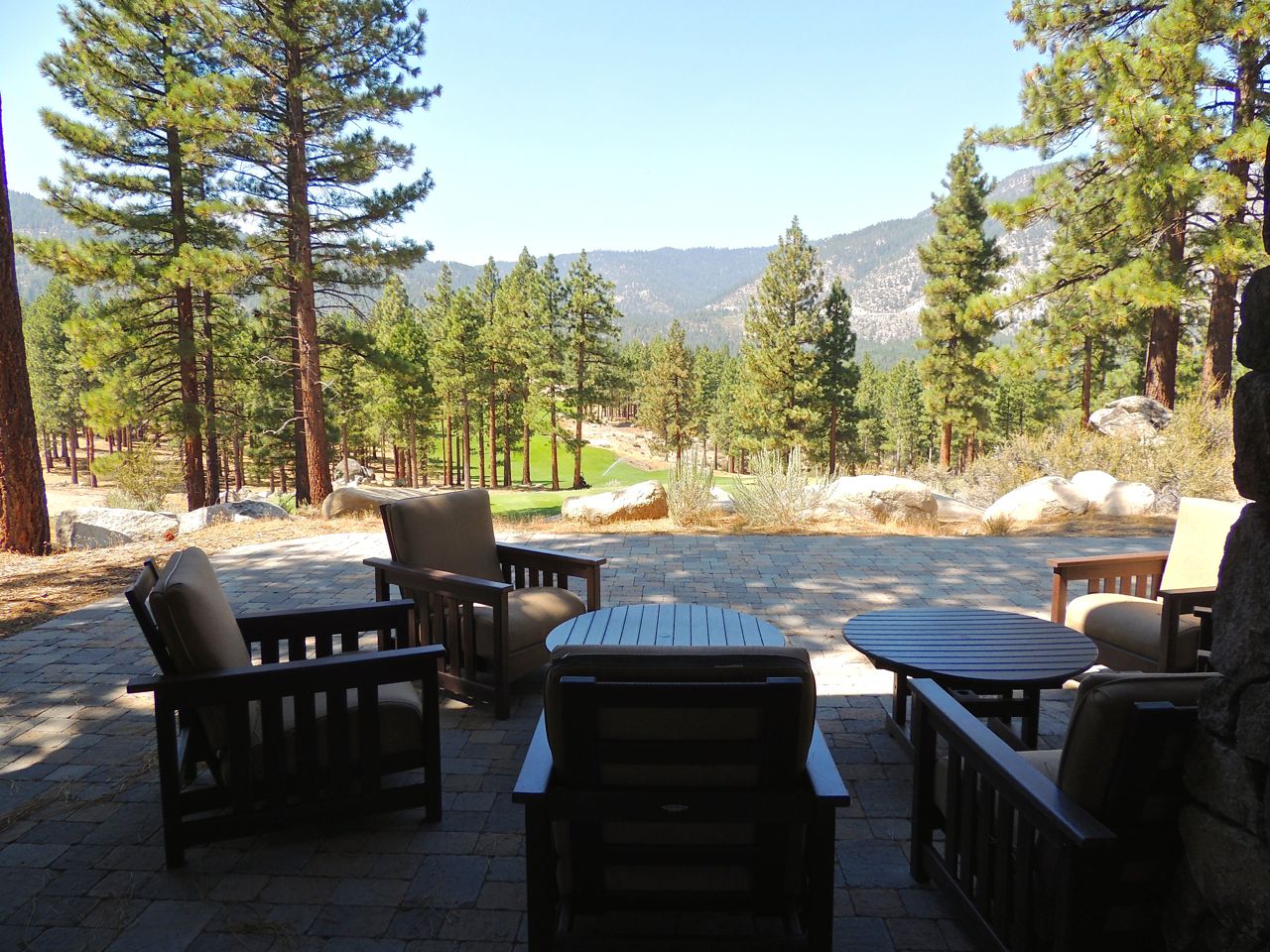 The comfortable shelter overlooking the 9th green and 10th tee is a great place to rest and just one of many nice touches at Clear Creek. (Photo by Robert S. Fagan.)
In addition to the scintillating golf experience, Clear Creek Tahoe will feature some 360 residential units. They will range primarily from 1/2 to 2-acres parcels, while a dozen or so lots of up five acre parcels will also be featured. The plan also includes the construction of 98 custom-designed turn-key mountain cottages ranging from 2,350 to 3,300 square feet. Conscious of their amazing golf property, the developers have wisely allocated only a small number of homesites to the golf property adjacent to just a handful of holes so as not to be intrusive. Those properties have extended setbacks, while the others enjoy a quiet, tasteful Sierra community atmosphere apart from the golf. How exciting!
It has been just over six months since my visit to The Club at Clear Creek Tahoe. I love the many courses in the region and have long admired the Coore-Crenshaw golf courses, but Clear Creek exceeded my already high expectations. Clear Creek is one of their best and now the class of the region – in my opinion a bona fide Top 100 golf course.
If you have ever considered playing or living in a serene Alpine environment with amazing golf, as well as skiing, and fly fishing nearby (in an area with no state income taxes), the Club at Clear Creek Tahoe is magic. So too might be a membership to this private enclave.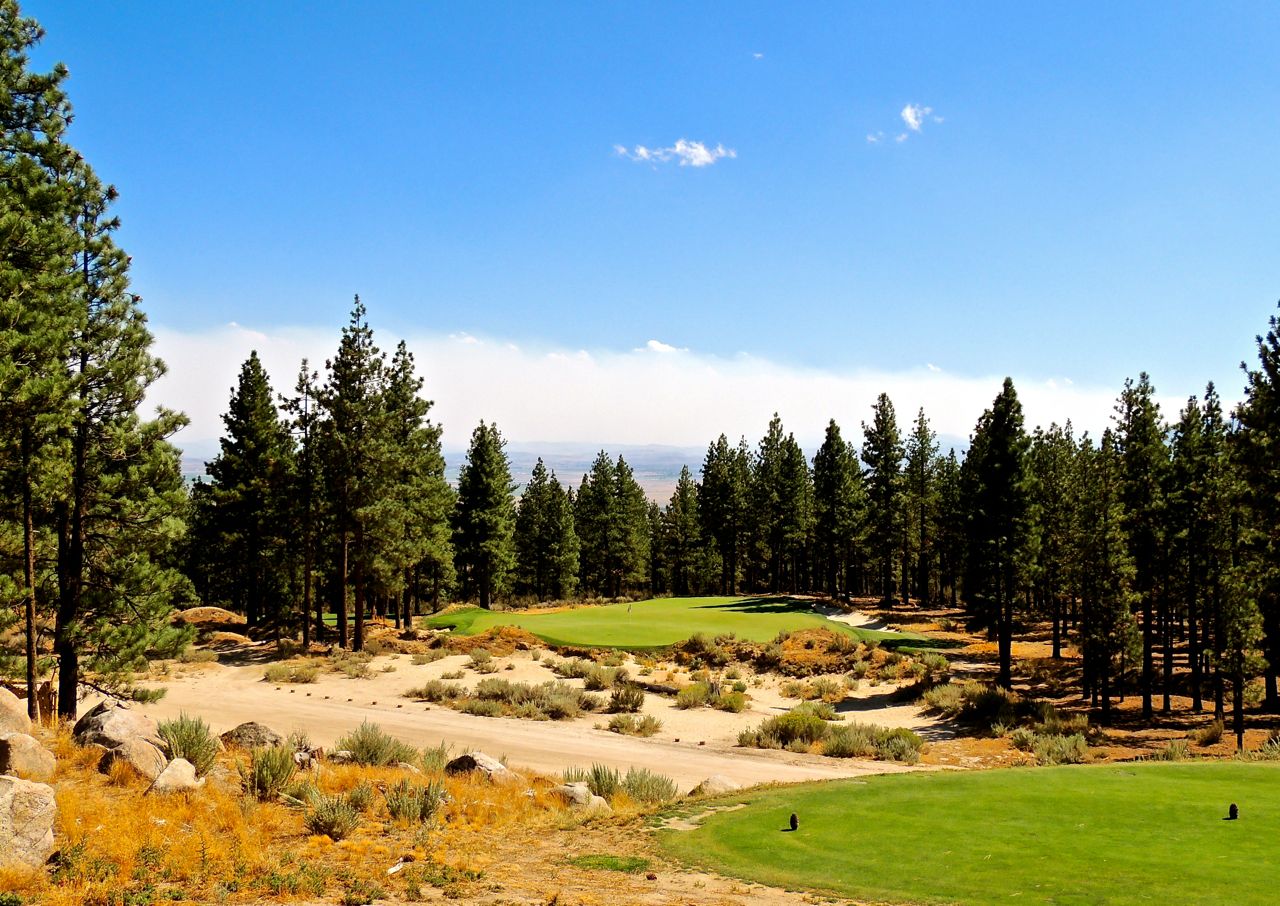 The short little 17th at Clear Creek jumps into the list of elite short one-shotters in America. The view, club selection, and undulating putting surface will all be memorable. It's maybe a birdie or a quick double bogey! (Photo by Robert S. Fagan.)
My only disappointment regarding my visit to the Golf Club at Clear Creek Tahoe was leaving – the people were as friendly and the service as good as the golf course was fun and fascinating.  Because the site is so spectacularly natural and the golf course unfolds so seamlessly, it is possible the architects, Bill Coore and Ben Crenshaw, may never realize their full due for their artful design – the mark of their genius. Yes, Clear Creek is now THE clear choice!
For more information on memberships, contact Steve Schroeder at steves@clearcreektahoe.com or refer to:www.clearcreektahoe.com.
In any direction, the views at the Golf Club at Clear Creek Tahoe are sublime as demonstrated below looking back on the 16th green from the 17th tee area. (Photo by Robert S. Fagan.)