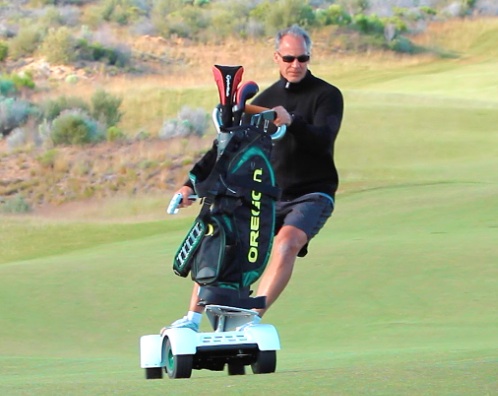 Golfboarding at Colorado's Grand Elk Golf Club!
Up to now, you could walk or take a cart to play Granby, Colorado's Grand Elk Golf Club. Now you can traverse (or surf it) in sporting style on the Golfboard. This is a battery-powered stand-up, personal mode of transportation somewhat akin to surfing or snowboarding the golf course on its four tiny wheels.
"Technology has affected the clubs we play with, the data golfer have available, and now, even how we get around the golf course, " said Grand Elk's PGA Head Professional Mike Ritter. "Golfboard is perfect for Colorado mountain golf because it puts the focus back on the fun instead of the score."
This is earth-surfing at its finest on a 125-lb. base that can travel between 5-10 miles per hour and cover 18 holes in a single battery charge. The unit also holds a golf bag with a set of clubs. Grand Elk is one of more than 250 golf courses worldwide to offer the Golfboard.
For more information on playing or 'surfing the earth" with a Golfboard at the Grand Elk Golf Club, contact Mike Ritter at 970-887-9122 or email him at mritter@grandelk.com. And check out the Golfboard at www.golfboard.com.