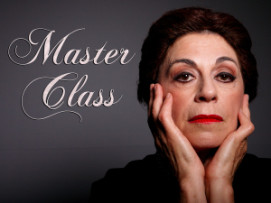 "Master Class" featuring Monica Cappuccini at the Hillbarn Threatre
There are no accidents.  Sometimes people, events, and happenings find some way to weave themselves into our lives to make an impact when you least expect them.  At times, the person or event can be so substantial that there is no mistaking its effect.  Okay, perhaps a community play may not be earth shattering, but just maybe the right combination of people, thoughtful direction, and inspired performances can transcend ordinary art and expression.  For what reasons, I am not sure and for certain, I don't pretend to know why.  All I know is that it happened.
Plays are meant to entertain, provoke, and/or to convey another's experience.  God knows there are many venues around the world with thespians of all abilities applying their craft in ways that hopefully are worth our time watching them – and often unfortunately not in my opinion.  On the 6th of November in Foster City, California there concluded a three-week perfect little storm of inspired acting, casting, and direction conspired to tug at my heart strings, and inspire, educate, and entertain me in ways I could not have predicted – especially within the realm of community theater.
The site was the Hillbarn Theatre, the play "Master Class" by Terrence McNally.  Greg Fritsch lovingly directed this production.  This is a story or better yet, a performing class with opera legend Maria Callas.  This role has been performed by more famous actors, but it may have never been better performed than by Monica Cappuccini of Palo Alto.
Maria Callas was an American-born Greek soprano who combined wide-ranging vocal gifts with a flair for the dramatic – the very definition of a diva.  Born in New York, and raised by an overbearing mother, she was educated in Greece and established her career in Italy.  Callas dealt with poverty and very poor eyesight, and was overweight, but transformed herself into a glamorous and svelte figure – a factor that may have contributed to her premature vocal decline.   Her diva-like temperamental bouts, rivalries, and love affair with Aristotle Onassis became as much a subject of interest as her immense talent, as many viewed her as one of the most renowned opera singers of the twentieth century.  "Master Class" is Callas conducting a class for aspiring talent and we are able to get a glimpse into not only her artistic career, but her life and the struggles and passions that affected this remarkable woman – a strong personality to say the least.
Attending such an inconspicuous staging, I had no idea of what a masterful production that Director Fritsch and lead actress Monica Cappuccini as well as the supporting staff and production crew would present.  Community theater is quite often entertaining, but moving too?  What I encountered was one of those special moments that you wait years to witness, but sometimes wonder if you ever will.  I did.  Ms. Cappuccini became Maria Callas taking full command of the Callas character in a way that no one has and likely may never again.  It was more like an entertaining "channeling" with Cappuccini becoming the late diva – stern, playful, demanding, witty, sorrowful, proud, and more.  Cappuccini's fluency in Italian, her passion, timing, expressions, delivery, and unexpected adlibbing with the audience at times made for most unusual and entertaining theater, not to mention an authentically powerful, incredibly believable and memorable performance.  I was not alone.  By intermission, the audience was absolutely buzzing.
This was my first opportunity to witness Ms. Cappuccini and time will tell whether she will approach or exceed the Callas character, but here she exuded a powerful presence that gripped every member of the audience, while expressing the colorful life of glory, love, controversy, glamor, and pathos that Maria Callas embodied.  It was uncommonly special by all counts and her supporting actors of Gabrielle Cohen, Marcelle Dronkers, Susanna Jiminez, Daniel Lockert, Jenny Matteucci, and Peter Schuurmans so wonderfully complemented her lead.  I have never before observed any of these actors, but I can only imagine that Director Greg Fritsch must be so very proud.  He and his troop left many a Hillbarn Threatre patron "wowed" by what I would describe as more than just a "wonderful" performance.   Here's hoping that each of them will continue to have opportunities to allow their lights to shine brightly.  Bravo to all!
All performances end with a regret.  Mine was that I caught the play toward the end of its two-week run as I would have absolutely relished witnessing another performance.  Who knows what will become of its participants, but each can take satisfaction that with "Master Class" at the Hillbarn theater in 2011 they combined for something very special – perhaps extraordinary.
Yes, sometimes when you least expect it, even the simple aspects of life including local theater will delightfully ambush you and impact you in ways you may never even have imagined!