Carolina Velez, the General Manager of the Ohlala Bistrot in the Walled City of Cartagena relates that cooking and the manner in which food is presented always tells a story. It may be one of memories that related to being served certain dishes by certain people. She goes on to say that women typically cook differently than men with men tending to be more structured, by the book, and more competitive whereas women might be a bit less structured and more emotionally involved with the process. In a way it might be like science versus art with women's cooking more like an art form holding the emotional memories associated with the tastes, smells, and circumstances of food. How's that for an introduction to one of those rare, inconspicuous, but amazing eateries you might pass by on your travels? Anyway, here's my story.
Jairo Cuesta with the Conrad Cartagena arranged for my wife and me to join him in experiencing this little boutique restaurant located in the Getsemani neighborhood of the Walled City. We were amazed. Had we been navigating the ancient, narrow cobblestone streets or on a brisk walk, we would have definitely missed it as only a simple high positioned little sign signals this eating gem. Situated in the former home of one of Cartagena's most interesting families, it features a black entrepreneur that processed timber and was married to a white woman. He overcame the social stigmas of the 1800's to live a life of influence and spawn children successful in the medical and legal fields. For us, it was an airy, charming interior in which we felt more like family than customers.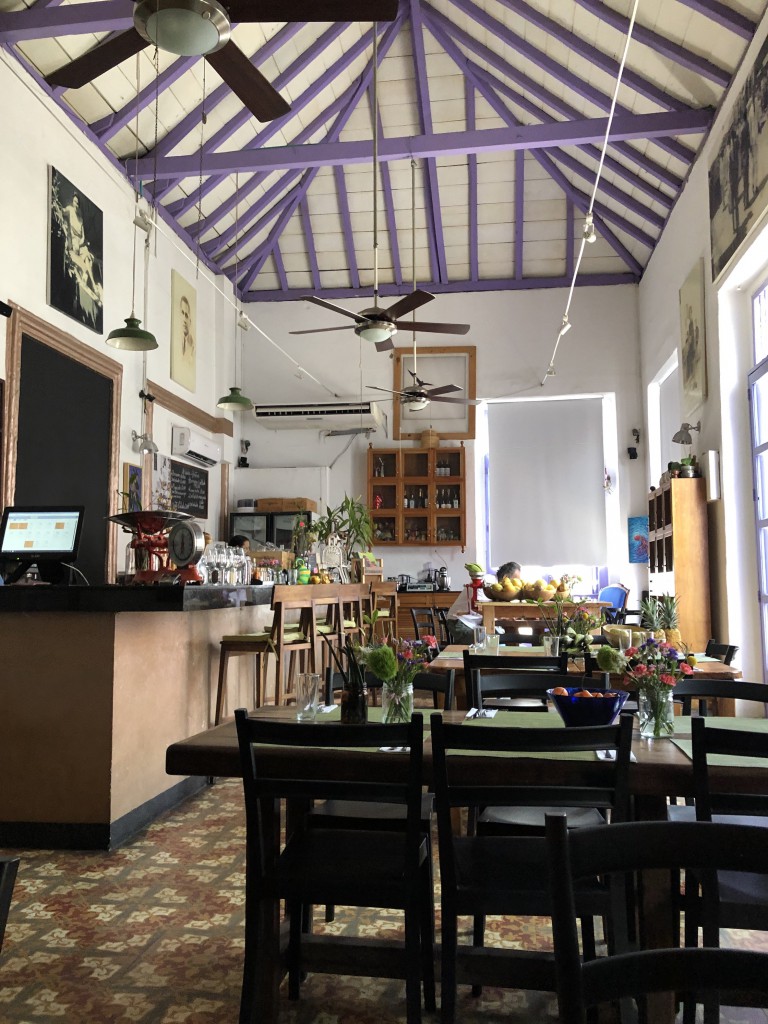 (Photo by Robert S. Fagan)
You are comfortably seated in an intimate, but casual interior of but nine tables topped by high vaulted ceilings and old blown-up pictures of the original family inhabitants. The freshness and creativity of each of the five-dish lunch was immediately delightful. The soup, mango ceviche, bolitas de yuca y queso (yuca balls filled with cheese), meat, juice, desert, and mojitos each made a significant and different sensation on our taste buds, but it was as much the energy that engaged us. From the disheveled French cook to the happy mischievous women including the engaging Ms. Velez, there was a pride present as delicious as the food.
The Ohlala Bistrot owners, a French-Colombian couple, are putting a lot of emphasis on bringing lighter and healthier dining options to the coast which is so used to carb-heavy, fried foods. With vegan options also available, the menu options tend to be light, fresh, and sugar-free featuring natural, organic minus any processed ingredients.
What I didn't learn until later is that the restaurant also offers popular cooking classes emphasizing healthy, sugar-free dishes. Anyway, the ambiance, service, friendliness, and, of course, the food make for a gem of spot for breakfast, lunch, or dinner. Now go make my story yours and visit here!
(Below Cooking Class photo courtesy of Ohlala Bistrot)