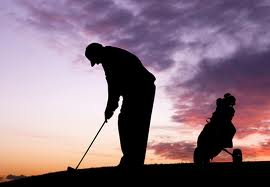 You probably have not played nearly as much golf in a week as Tom Bucci did at the Albany Country Club in New York in June, 2009 unless you are Australian Troy Grant.  You see, Bucci set the all-time record for most holes played in one week with 1,801, one more than Grant.
Raising money for Diabetes, the 44-year old got up at 4 a.m. each morning to begin his round at 5 a.m. and continued playing by cart until dark.  Despite losing 75 minutes to a lightning stoppage and also dodging rain drops, Bucci completed 15 rounds per day and 90 strokes per round.  He had at least one witness and often many more for every hole he played, and ate and did everything (except bathroom breaks) on the golf course.  Other than lack of sleep and a sore left hand from all the hitting, Bucci was just plain tired and none the worse for wear.
Even more important than making 32 birdies and his first-ever hole-in-one, Bucci raised more than $15,000 to help eliminate the disease that his wife suffers from.
As the World's All-Time Golf Nut, I thought I played quite a bit of golf in binges, but nothing compared to what Tom Bucci did.