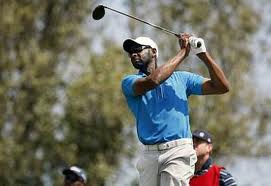 Yesterday I got to meet Jerry Rice, a man many regard as the greatest football player ever; it wasn't the first time.  The occasion was the press conference for the Fresh Express Classic at TPC Stonebrae (Nationwide Tour event) to be April 12-17 in the beautiful Hayward Hills just southeast of San Francisco.
Rice is a man of incredible strength, energy, and focus and continues to enlarge his world after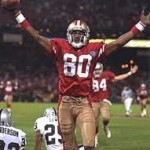 football when many other ex-athletes are still re-living their past.  It is no secret he has a passion for golf as he serves as the Tournament Host.  He is also now a very creditable golfer having played in a couple of Nationwide events.
Jerry Rice wasn't always a hot-shot golfer; I know first-hand.  Interestingly, my first personal encounter with Jerry Rice was at the Sunset Whitney Country Club outside of Rocklin, CA where the 49ner's used to have their training camp.  It was a hot August afternoon back in the 1990s with the temperature in triple digits and I was in a twosome playing through Jerry.  The only shot I saw Jerry hit was a 150-yard approach shot with a short iron.  He was obviously a beginning novice golfer, but he swung so badly and hit so far behind the ball that the turf curled over the ball.  The ball didn't even move an inch – the divot covered it.  Pretty funny or embarrassing, depending upon your point of view.  I have since retold the story about how world-class athletes like Jerry Rice can find golf a pretty difficult game to master, but he has since progressed to being a better player than probably 98% of you reading this article.  Let me assure you that he's far from the golfer I witnessed that day and at the time, I never would have predicted that.
What impressed me that on this extremely hot day Rice had participated in an intense training camp just a few hours earlier.  His teammates were back in the air-conditioned dorms napping, but here was this man obsessed with tackling this crazy game.  Rice was out living life to the fullest just in the same manner he was famous for doing on the football field.  Will Jerry threaten the Tour or Champions Tour?  Probably not and he knows it, but what a remarkable transformation!
Rice again stepped outside his comfort zone when he chose to perform outside his comfort zone in the television contest, "Dancing With the Stars," where he finished a very creditable runner-up.  With that in mind, I asked Jerry about the pressure of performing publicly outside his area of football expertise.   He answered me saying that we need to try new things, to take chances and open ourselves up to criticism, and life is about growing and improving.  We know with Rice that such is not just talk, he has lived his life that way.  It is no secret to anyone that meets Rice that his football success was due to much more than quick feet and great hands.  His beliefs are lessons to all of us.
Now Jerry is leveraging his celebrity stature to not only promote golf, but help raise money for celebrity causes.  His participation is far more than cameo as he stayed to play golf with us.  What's more, he has a reputation of being generous with his time and money, treating those he meets in a warm caring manner.  Meeting Jerry really impressed me that we not only need more Jerry Rice's on the playing field, but more importantly off it.  So how might you copy Jerry?
I hope you can come out and see the amazing talent at the Fresh Express Classic in April at the gorgeous TPC Stonebrae from April 11-17.  When you consider that you will be able to see tomorrow's golf stars with skills virtually indistinguishable from the most elite players, it makes for a great reason to support meaningful local charities including Rice's own Jerry Rice 127 Foundation.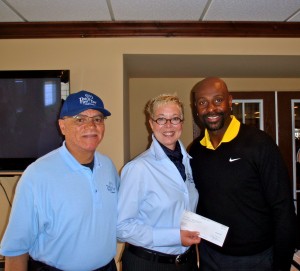 I am pleased to be an Advisory Board Member of the First Tee Program of Oakland.  In the above picture, Jerry Rice is presenting my friends, our President Spencer Tyrus and our Executive Director April Kenyon, with a check for $10,000 from the more than $125,000 raised last year from this Nationwide Tournament.