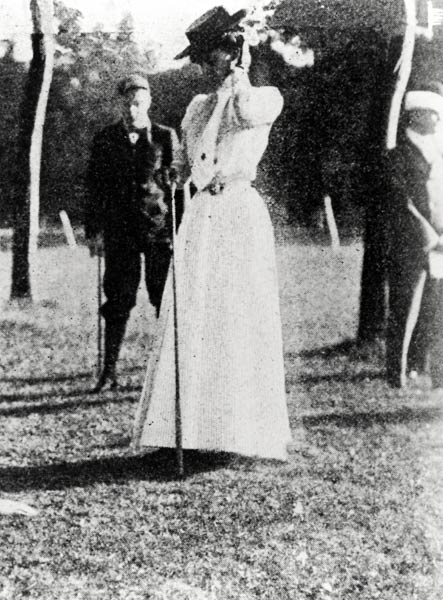 Twenty-four year-old American Margaret Abbott would become the first American woman to win a championship in the Olympics!
Did you know that Margaret Abbott was the first woman to win an Olympic Gold Medal? If not, don't feel bad, neither did she!
The date was 1900 and the sport of all things was golf. Paris was the site and this was only the second modern Olympiad and the first that included women. Unlike today's event, the contests were held over several months. Believe it or not, they included motorcycle racing, croquet, cricket, and golf.
An American man, Charles Sands, won the the 36-hole men's competition contested on October 2, 1900. The next day the women played 9-holes for their contest. An American art student, 24-year old Margaret Abbott and her mother Mary decided to enter. Margaret had viewed an ad for a golf tournament and she and her Mom decided it would be fun to play in it. Margaret fired a 47 and won the contest while her Mother finished a respectable 7th. As fate would have it, Abbott was only in Paris to study art. She actually thought that the event had something to do with the World's Fair that was also taking place there. She wasn't even aware that this was an Olympic contest.
For winning, Margaret received a porcelain bowl and no medal, and for years she was unaware that she was the first American woman to win an Olympic event!   It was only years later that she was informed that the bowl represented an Olympic gold medal from the Paris Games, which had been poorly organized.
Golf returned to the Olympics again in 1904, but only for men as the woman's contest was cancelled for lack of participation. Seventy-seven men competed and Canadian George S. Lyon won with a round over the Glen Echo golf course in St. Louis that included a course-record 77. In the finals, the 46-year old former cricket champion Lyon, a prodigious driver hitting shots more than 230 yards, defeated reigning 21-year old US Amateur Champion Chandler Egan by a score of 3&2. Lyon was so excited with his win that he walked across the Great Room in his post-victory celebration on his hands to demonstrate his vitality while his young adversary was downright despondent.
In an interview with the Toronto Star, he was asked if this victory indicated that he was the best golfer in the world, Lyon stated the following. "While the winning of this trophy carries with it the title of Champion of the World, I am not foolish enough to think that I am the best golfer in the world, but I am satisfied that I am certainly not the worse!"
After that, golf was dismissed as an event only to return more than a century later in 2016 in Rio.
P.S. And did you know that figure skating was part of the Summer Olympics until the Winter Games originated in 1924?