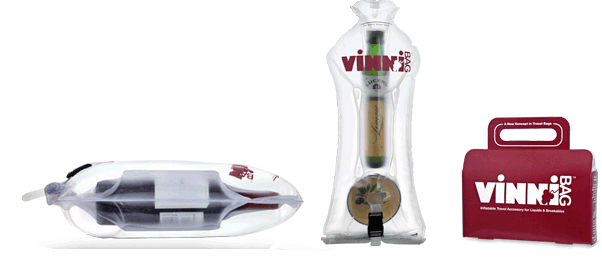 Are you on the go, traveling? Busy in airports, boats, cars, or even carrying a backpack perhaps? Now, are you ever transporting wine, liquor, food, perfumes or delicate valuables or keepsake items? Or maybe you are at the beach and want a safe, dry, secure container to put your camera, wet swimsuit, cell phone, keys or medication in. If you are still saying "Yes, " you should definitely check out the VinniBag. It's simply perfect for you and these kinds of items.
Yes, you may have tried using bubble wrap, towels, zip lock bags, or cushioned items with soft fluffy clothes, but what if the security inspector doesn't put things back just right and the items break or leak? What a disaster! Or how about something like your keys, watch, glasses, etc. falling off a boat?
I will travel and secure a great bottle of wine or some delicate item only to have the container spilled in my luggage or the item broken. Until I got the VinniBag, I was apt to leave the item behind or pay expensive shipping charges. And now that I'm into hiking, I may want to transport a delicate item, but cannot afford the space or weight to cushion it. Again, this is where the VinniBag comes in.
The VinniBag is a nifty inflatable, reusable travel bag that will hold and immobilize one or more items in liquid air-tight chambers that you can simply TOSS into your suitcase, trunk, boat, backpack, or put on the beach or most any hostile environment. And for boating, putting your keys, camera, or phone in it makes perfect sense because it floats. Use it also as a travel or bathtub pillow – it is so versatile. This dandy $28 accessory meets all TSA and airline regulations with its translucent material, it allows for visual inspection without opening.
Packaged in an attractive suitcase-looking package, the VinniBag is made in the USA, recyclable, and produced by a mother-daughter founded company, Ellessco. It stores flat, rolled, or folded when not in use making it your new best travel companion. You can confidently hit the road with the VinniBag!
Refer to: www.ellessco.com/vinnibag/