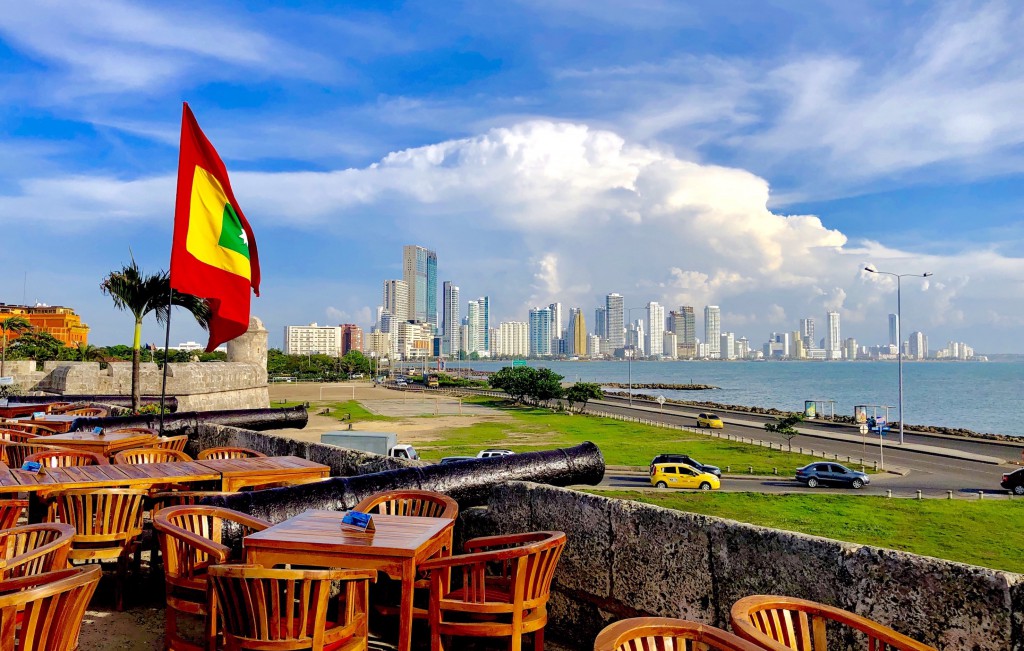 Few cities feature as much contrast between the old and new as does Cartagena, Colombia. (Photo by Robert S. Fagan)
I recently had the good fortune to visit the magnificent Conrad Cartagena resort for a writing assignment. In preparing for my trip, I was a bit surprised, or maybe embarrassed is a better word, to discover how little I knew about one of the most intriguing and storied coastal cities in the Western Hemisphere – Cartagena, Colombia. If you have even a passing interest in history, culture, art, or music, this is a city will want to visit.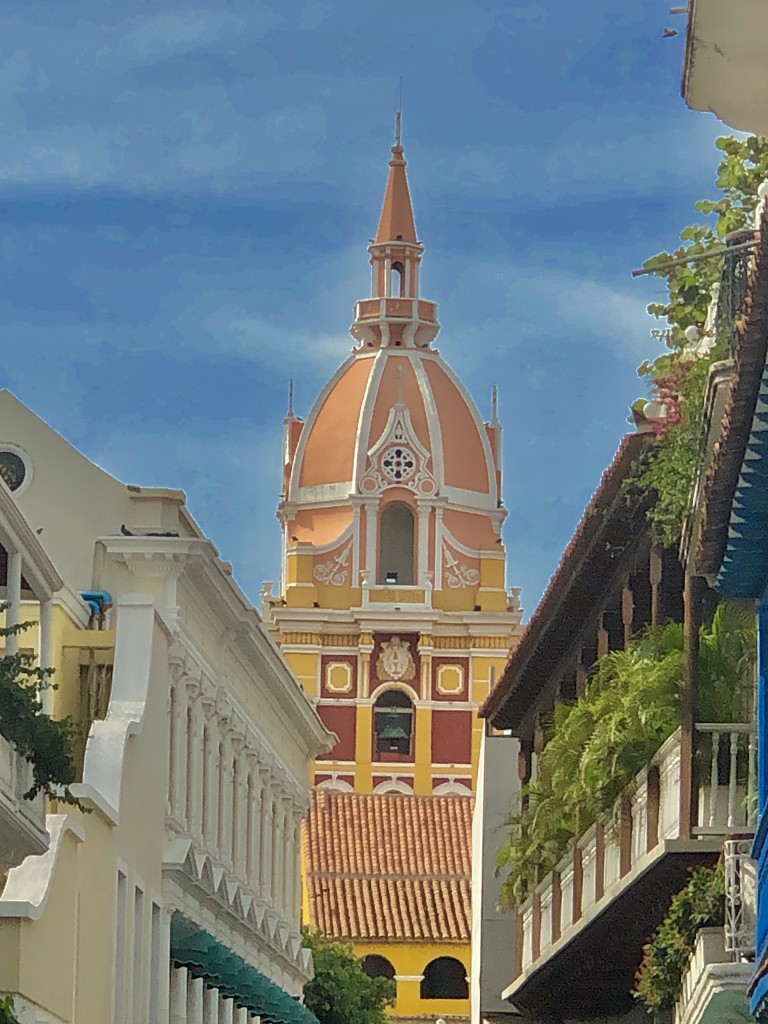 Beautiful cathedrals are numerous in Cartagena's Walled City. (Photo by Robert S. Fagan)
Hot, sultry, and filled with the sounds of music and bright with color and tradition, Cartagena has been an important port on the Caribbean and South America since it was founded in 1533. Gold and silver left the port bound for Europe, pirates looted the city, and a walled fort grew to protect both shipping and the slave trade. No coastal city in North America quite compares to this.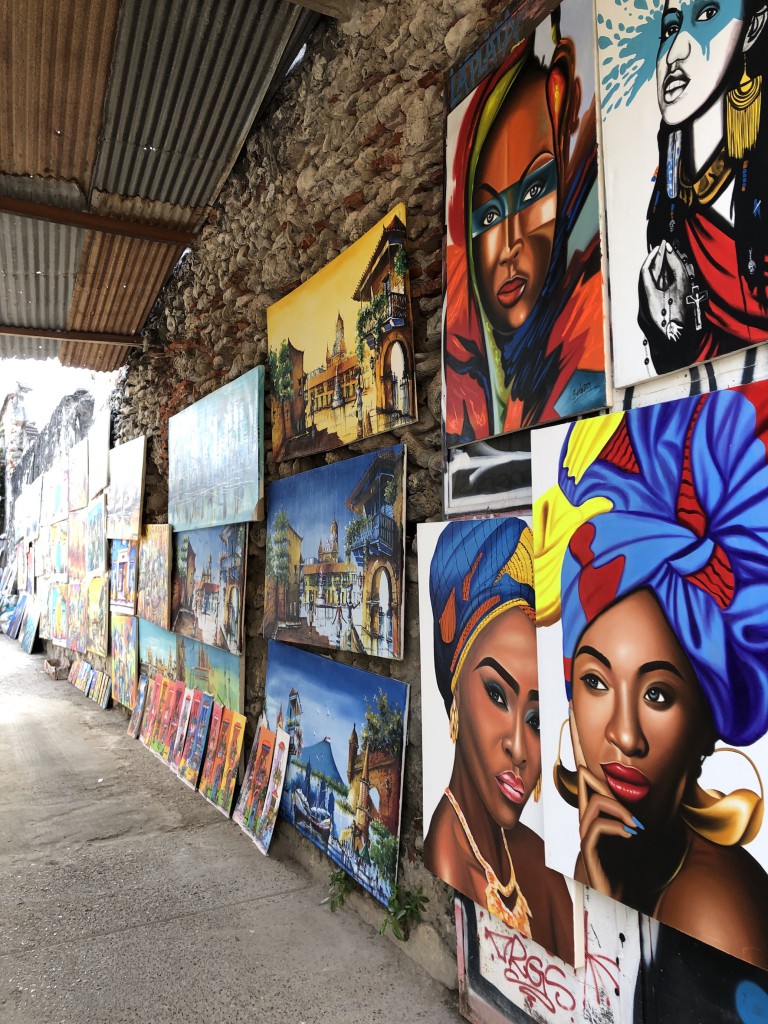 Art abounds in the Walled City and particularly in the improving Getsemani neighborhood. (Photo by Robert S. Fagan)
Cartagena is unique as it has two very different contrasting neighborhoods: the ultra modern high-rise hotel-filled Bocagrande and the old Walled City. Aside from being partially set beside the sea, they have little else in common.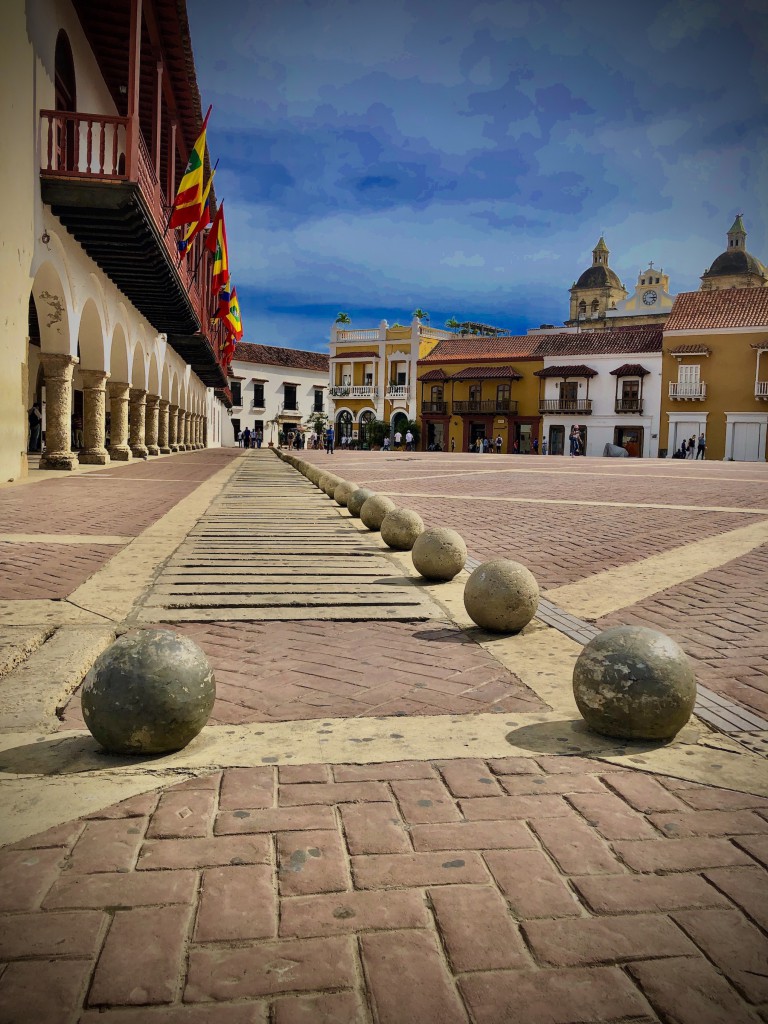 On the left, flags adorn City Hall in Cartagena's Walled City. (Photo by Robert S. Fagan) 
Designed as a mini-version of Rio's Copacabana, Bocagrande is lined with an assortment of high-rises, chain hotels, often congested traffic, and pockmarked sidewalks. You will encounter modern shopping malls and casual beach-shack cafes. Its shoreline is dotted with umbrellas and lounge chairs for hotel guests while the lower-income locals rest on lawn chairs beneath canopies emblazoned with cell-service logos. I found little particularly inviting in Bocagrande.
At the end of the 16th century, the city of Cartagena decided to build a wall around the city to protect it from pirates and invaders. This wall complemented the existing forts and castles located in the city for at that time Cartagena was the largest and most important port in the Americas. It took 120 years to complete, but remains intact. This wall, or Las Murallas, was also used to separate the city's rich and poor population. This remarkable feature is still intact today, providing visitors with a colonial construction that you can walk on the top of and admire the ocean or city views from. It is also considered along with other forts in the city a UNESCO World Heritage Site.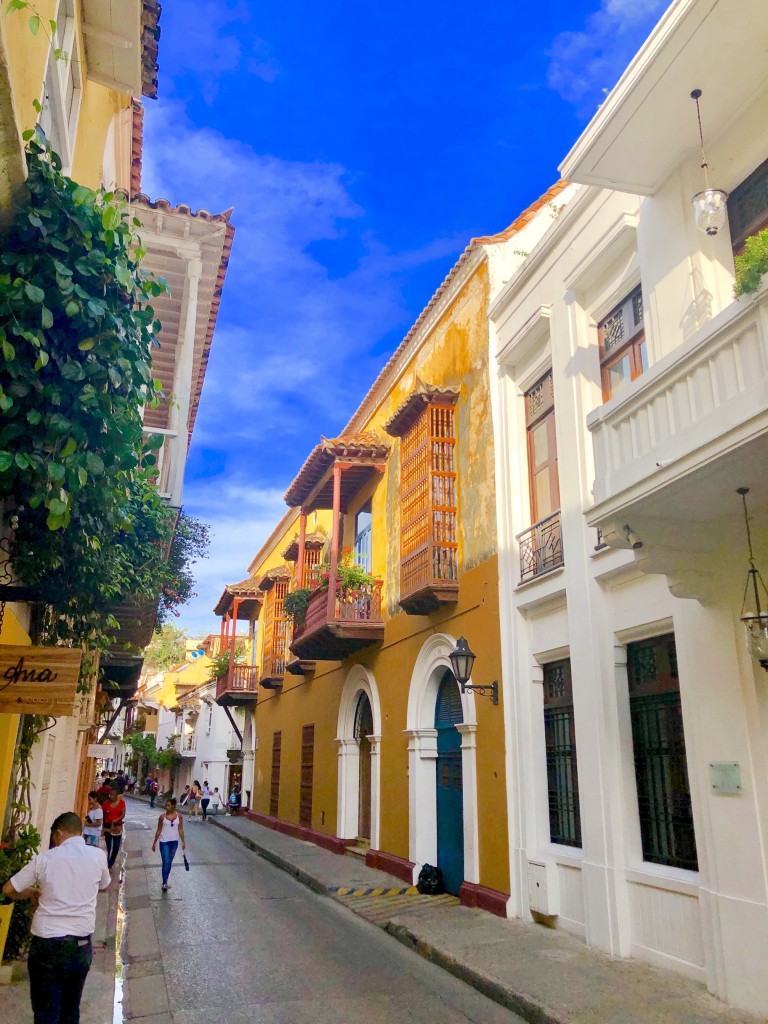 Colorful homes give off a definite Caribbean vibe, but there is also a bit of fun reminiscent of New Orleans in the Walled City of Cartagena, Colombia. (Photo by Robert S. Fagan)
Within the more than nine miles of walls that fortify the Walled City you will find streets that may remind you of the French Quarter within New Orleans and the vibrant splashes of color typified in the Caribbean. Weathered walls reveal Spanish-Colonial architecture that's been either lovingly restored or left to crumble. There is a photo opportunity on each and every street corner with tiled roofs, flower-filled balconies, and oasis courtyards of luxury that are hidden from the streets. They are but a few of the items beckoning visitors to stroll the narrow streets. You will also hear the mix of street performers and the sound of horses' trotting hooves echoing on the stone paved streets as they pull a carriage of visiting tourists behind them.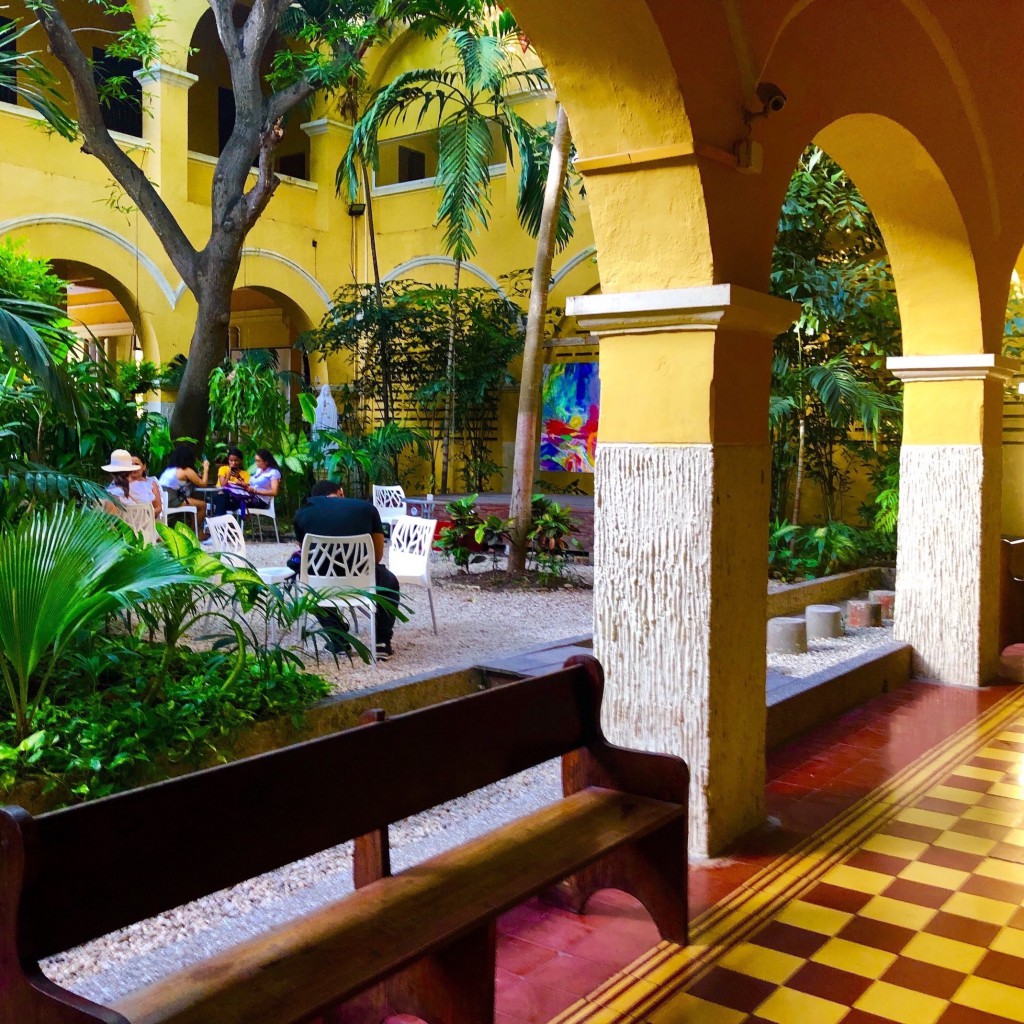 Beautiful, expansive interior courtyards are hidden behind exteriors and present unexpected opulence throughout the Walled City. (Photo by Robert S. Fagan)
A few mom-and-pop places are still mixed in with hip new restaurants, upscale shops, boutique hotels, and green-filled plazas. Be prepared to bargain with local vendors who typically might ask for three times their final price. Like many tourist areas, the area's only negative is that locals can spot North Americans a block away and the panhandling is about as aggressive as I've ever experienced. Anyway, plan on at least three full days to begin to do this area justice.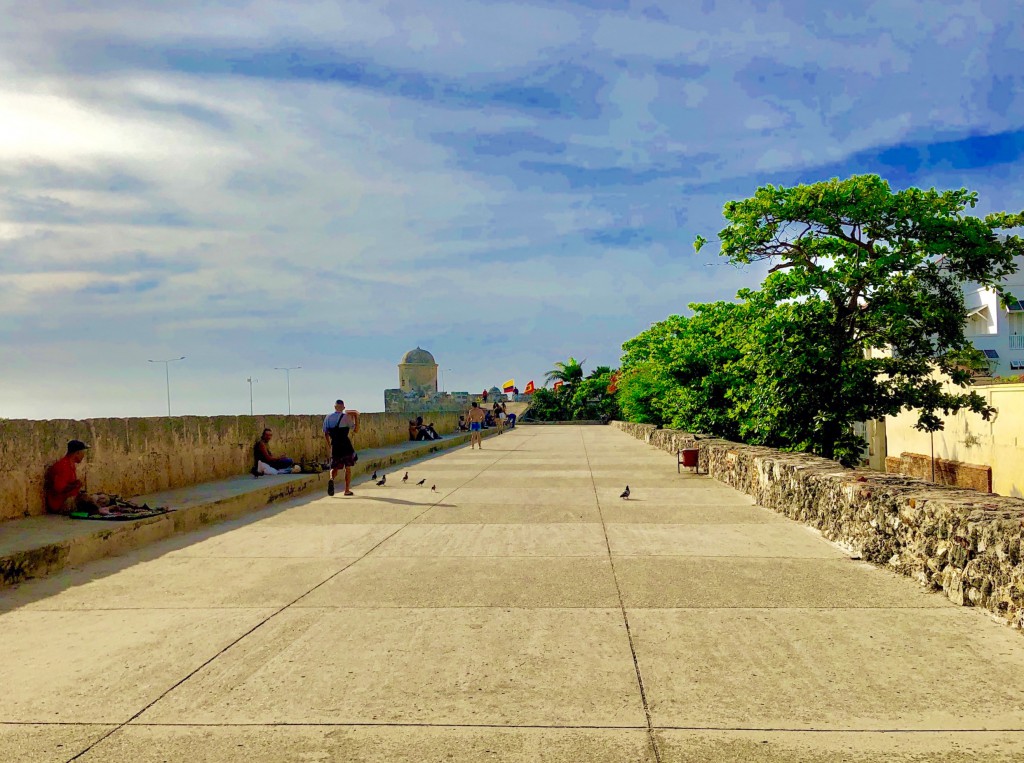 The massive tops of the fortress walls make for spacious walkways to traverse the perimeter of the Walled City. (Photo by Robert S. Fagan)
Perhaps you might want to immerse yourself in the 16th century for a few hours, do some shopping, then climb the northern ramparts to serenade the sunset with a cocktail and lounge music at Café del Mar, an extremely popular open-air bar that looks out on the sea, the traffic on Avenida Santander and the modern skyline of Bocagrande.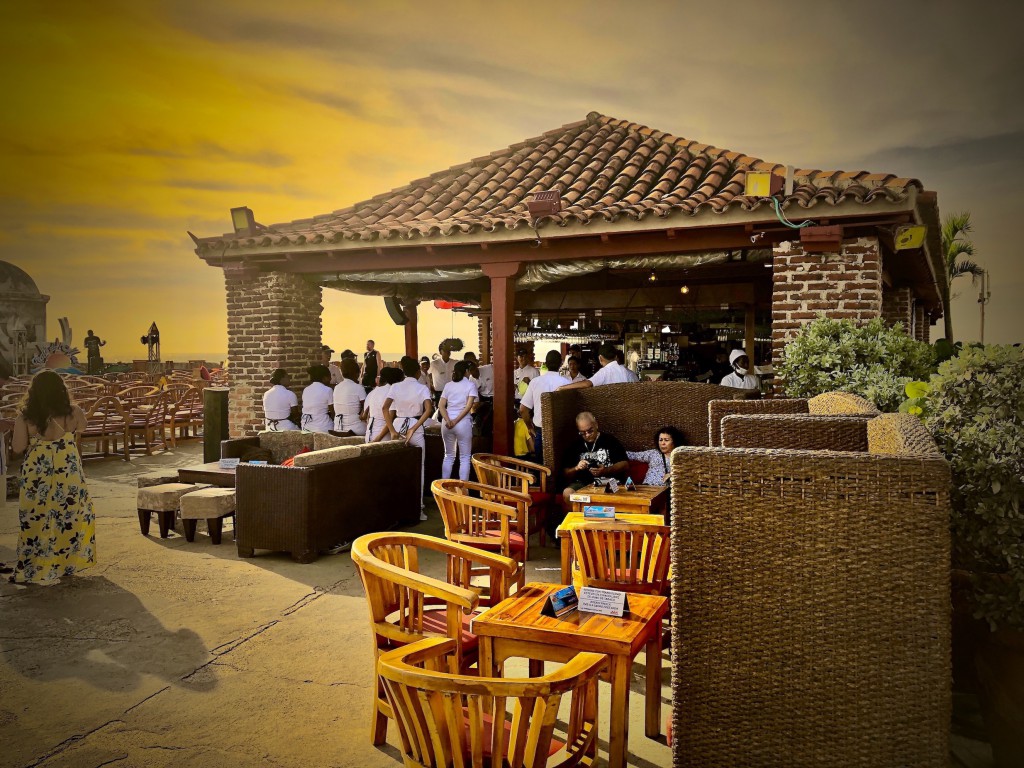 The staff at Cafe del Mar gets organized before customers come to enjoy a ravishing sunset. (Photo by Robert S. Fagan)
Cartagena is also said to be one of the safest places in Colombia, so it's no wonder it's a popular port of call for cruise ships.
Yes, Cartagena is a city of the old and the modern and for me, the old wins by a landslide.