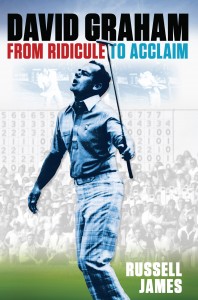 My primary reason for reading this book was to explore the reasons behind David Graham being forced to resign as the captain of the 1996 Presidents Cup International team. It was an embarrassing setback for Graham, a two-time majors champion at the 1979 PGA at Oakland Hills and the 1981 U.S. Open at Merion. Thoroughly exploring the events and machinations of that sorry episode, the author also does a commendable job in chronicling Graham's hardscrabble upbringing and how he ascended to the top rungs of the game.
But the President's Cup affair most intrigued me. At the time, Graham insisted Greg Norman was the major instigator behind the coup, a charge quickly rejected by Norman and some of the players. But given Norman's notorious role in 1995 when he falsely accused Mark McCumber of cheating at the World Series of Golf, I wanted to see if this book shed any light on not only Graham but also Norman himself.
As background, Graham in 1994 was the first non-playing captain of the International Team for the Presidents Cup held at the Robert Trent Jones Golf Club outside Washington, D.C. The favored U.S team won in comfortable fashion but the success of the event was clearly established. So when the Cup was held two years hence, Graham was again named Captain, a post he didn't seek or campaigned for. The author states that the events leading up to Graham's resignation is "still something of a mystery." Yet he performs able forensics in dissecting the "player revolt." It seems Graham, well before the Cup, had not only ticked off Norman but also fellow teammates Ernie Els and Steve Elkington, all for different reasons.
Norman was peeved at Graham because supposedly The Shark was still harboring ill will for the captain nixing him being a guest commentator for CBS-TV when it telecast the '94 event. Explained Graham at the time: "The President's Cup is not Greg Norman's tournament. It's a twelve-man. It's not Greg's team." And so, Graham rejected the CBS request to have Norman—not on the team due to injury—up in the TV tower.
Elkington was upset because during the '94 event, Graham refused his request, prompted by Elkington's pregnant wife, for the entire International Team to leave early from a pre-tournament reception at the White House. The Elkingtons didn't want to appear rude by leaving alone so they urged Graham to have to entire team leave together. Graham declined given the setting. The Elkingtons, very close friends with Norman, fumed. Adding salt to the wound, Graham was later overheard by Mrs Elkington on the team describing her with the B-word.
Finally, the even-tempered Els also had a bone to pick with Graham. This was also due to another two-year-old remark made by Graham when he learned Els was skipping the '94 Presidents Cup due to a prior tournament commitment. At the time, Graham said: "I hope those who skipped the Presidents Cup will regret it the rest of their lives."
At the '96 British Open, a majority of International team members present voted to replace Graham, a first ever happenstance for any team competition. Without further discussion, Mike Bodney of the PGA of America promptly asked Peter Thomson, a long time nemesis of Graham, to fill the vacancy.
"When I first heard that I had been ousted from the 1996 Cup, I cried," said Graham. "To get toward the end of your reputation and your credibility, you take it personally. I cried, absolutely. So did my wife." When asked by the author if he could forgive "the collaborators," Graham replied: "I won't forgive them…the wound is healed but the scar is still there."
Incidentally, the International team led by Thomson again lost the Cup but in a close one-point margin. My conclusion is that Norman was definitely a ring-leader in the coup but with willing accomplices. Also, Tim Finchem didn't help matters by not intervening.
The book explores Graham's humble upbringing in Australia. Oddly enough, his first clubs—found in his garage and purchased by his mother—were left-handed although he was naturally right-handed. His big breaks came when as a junior golfer he was mentored by pro John Crean at a nearby public golf course and later in a "traineeship" under respected pro George Naismith. Graham quit school at age 14, contrary to his father's wishes. The two of them had a life long strained relationship and one that undoubtedly shaped the youngster's "flinty" personality.
It was Naismith who became a father figure for Graham and who was responsible for him becoming a right-handed golfer. To make the switch, Graham didn't play competitive golf for nearly a year. "It was at least eighteen months before I won anything …playing right-handed." The book traces not only the arc of Graham's international golf career but also the slings and arrows prompted by his "hard-edged character" and the insecurities of fame. It's a complete and telling story of Graham's failings and triumphs and his "blunt" personality.
A few shortcomings about the book, published in Australia, include the poor quality of some of its photographs and the omission of any background on the author, Russell James. (I had to learn from the publisher that James is a nephew of George Naismith and used to play junior golf with Graham.) But all in all, it's a solid and recommended read—with ample and diverse quoted sources—about an enigmatic, somewhat distorted, but accomplished figure in golf.
Other tidbits I relished from the book:
At the '79 PGA at Oakland Hills, Graham had a spat with his caddie on the 72nd hole when he was leading the tournament. After an errant drive, he was in a spot where he couldn't determine the yardage to the green so he asked his caddie, Willie Peterson. "You haven't asked me one question all the way around. I don't know. Figure it out yourself," said Peterson. Upset by the exchange, Graham took a double-bogey six on the hole, ending up in a playoff with Ben Crenshaw which Graham eventually won.
After his US Open win at Merion which was lauded for his nearly flawless final round of 67, Graham received a call from Ben Hogan who extended his congratulations and said, it's "one of the best rounds of golf I've ever seen."
Since 1993, Graham has served on the six-man "Cup and Pins Committee" for the Masters. He counters the misconception that the greens are "tricked up" during tournament week. Instead, he says there are "very subtle shelves on the greens and it takes time to get to know them." He also says "the pin positions the members play are far more difficult than what the tournament pins are."
A turning point in Graham's battle with congestive heart failure in 2004—when he became depressed—occurred when he saw a television program about a young cancer patient. On camera, she said, "I can choose to be sick and unhappy or I can choose to be sick and happy. I choose to be happy." Struck by her upbeat attitude, Graham immediately changed his outlook on his health predicament.
Now living in Montana and playing little if any golf, Graham is now a U.S. citizen (along with his Aussie citizenship) as are his two sons. "I will be forever grateful for what golf in the U.S. has given me."
"David Graham: From Ridicule to Acclaim" is published by Ryan Publishing and is available through a number of online sources, including Amazon.